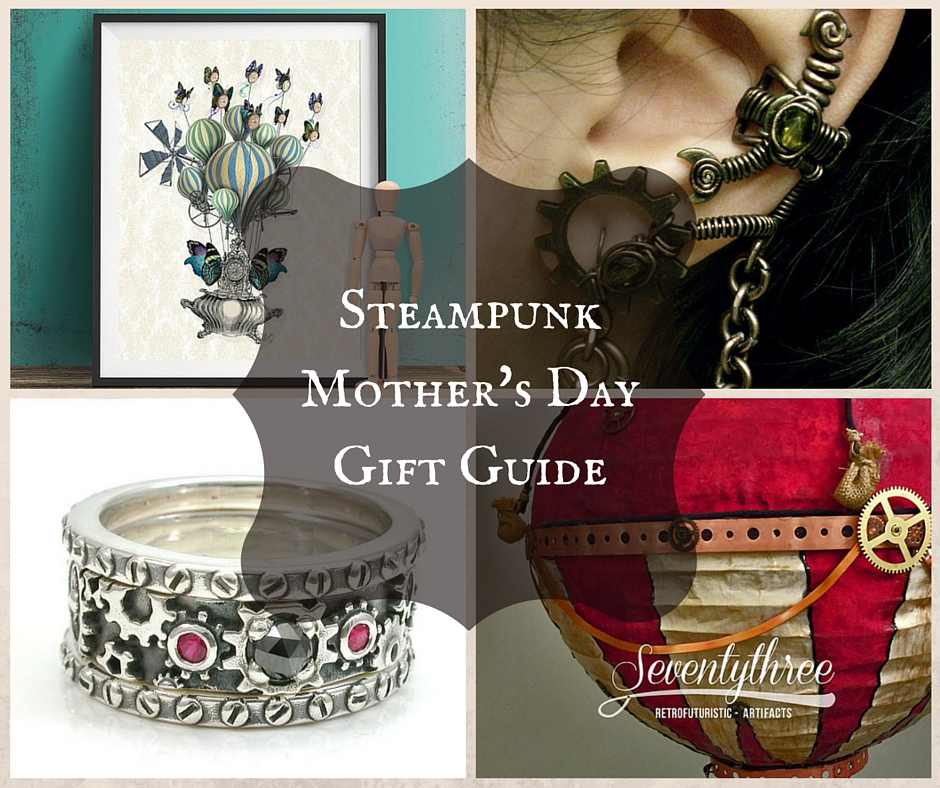 If you are looking for a Mother's Day gift for a mom that loves steampunk, you have come to the right place. This page is full of handmade items that would please the most discerning steampunk shopper. Every item on this page is perfect for a Mother's Day gift, (or a birthday, Christmas or just because gift). These items are unique, one-of-a-kind gifts that are made by artists who specialize in steampunk. To learn more about each artist, their craft and details on the gift, just click the image or button below. For each item pictured here, there are numerous other items in the artist's Etsy shop. And you can send them any individual questions you may have about sizing, materials or shipping. So get your shopping mode on, and let's take a walk through this Steampunk Mother's Day Gift Guide.

The gifts are grouped in sections and the first section is steampunk jewelry. As you can see on this page, there is a wide variety in styles, materials and pricing giving you an excellent selection to choose from. Steampunk jewelry featured gears, is sometimes made from actual recycled machine parts and can also have a Victorian style to represent the era.
Stacking Steampunk Gear Ring
This set of three stacking rings is only one of many stunning jewelry pieces made by Swank Metalsmithing. Each ring can be worn stacked or alone. You can use these for a wedding set or just as a lovely gift for Mother's Day.
Winter Rose Antique Locket
This necklace is a gorgeous antique locket that is perfect for Mother's Day. You can tuck away a message or image inside or let Mom select her own.
Gothic Victorian Crown Engagement Ring Set
Another example of Swank Metalsmithing's work. This one has an Art Deco appearance and is meant as a wedding set. They truly make stunning work.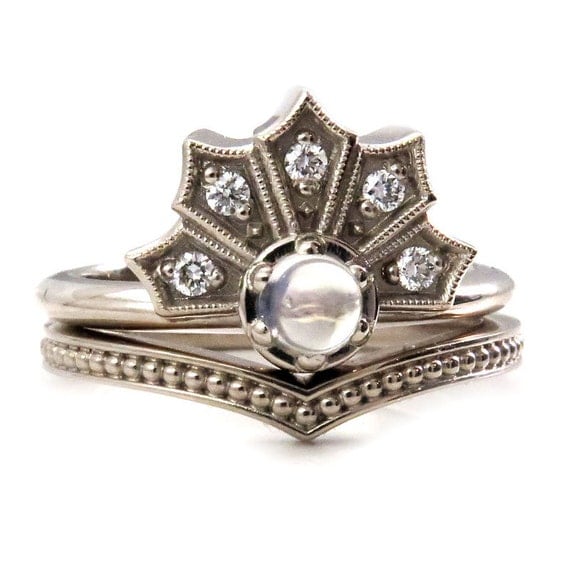 Gothic Victorian Crown Enagement Ring Set

Moon Earrings
This pair of earrings is made from recycled watch parts in the shape of the moon. You can see the writing along the edge designating the Elgin National Watch Company.
Steampunk Filigree Dragonfly Ring
Very affordable, this handmade dragonfly ring is perfect for Mom. The ring is adjustable and easy to fit.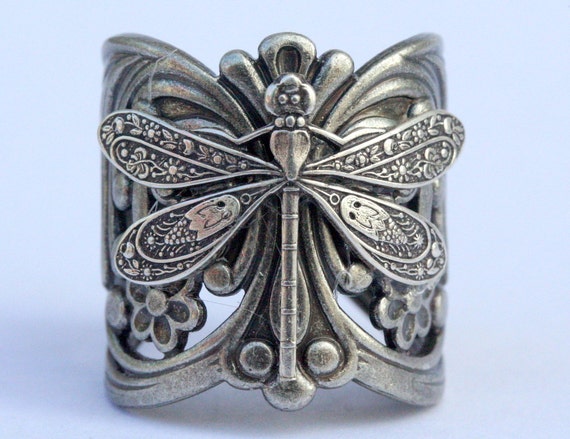 Steampunk Filigree Dragonfly Ring

Dreamdust Ear Cuff
Jynx's Box specializes in making unique ear cuffs. This one is very interesting because of the design of upper and lower parts. You can also order matching earrings. You can see the other styles by clicking through to the shop.
Cameo Necklace
There is nothing more representative of the Victorian period than a cameo necklace. This one is made from natural mother-of-pearl.

Steampunk has gone beyond costumes and cosplay and right into day-to-day fashion. You can see several lovely examples of steampunk fashion below that can be worn on a regular basis or added to a costume for your next con. Click the buttons for sizing questions and how to order.
Octopus Skirt
A modern skirt with a steampunk theme, this octopus skirt is really cute. Comfortable and soft, the design is perfect for spring and summer, or can be worn with leggings in cooler weather.
Striped Leggings
These leggings make a great addition to a steampunk wardrobe and look great with any solid color top. You can use them for cosplay or regular wear. A great Mother's Day gift.
Steampunk Bustle Skirt
A fun skirt to wear for parties throughout the year, or use it to enhance a steampunk costume. Talismana Designs creates a range of skirts in a steampunk style. Click through to see more skirts.
Steampunk Dress
This dress is adorable and perfect for regular wear. Or you can use it as the basis for a steampunk cosplay costumes. Made to order and available in several colors. Order early so you can get it in time.
Long Steampunk Bustle
Need a bustle for your Victorian steampunk costume. This bustle can be used to add to any skirt or dress.
Steampunk Skirt with Clips
This lovely skirt can be worn up or down because it comes with clips for the sides. Part of a line of clothing in a similar vein by MyOppa.

These decor and gift items are completely unique and range in price depending on the time and materials used for each items. Browse through this interesting collection of artwork, lamps and accessories.
Flutter Time
A cheerful steampunk art print featuring hot air balloons, a staple of the steampunk genre. Give this print for Mother's Day or for another special occasion.
Owl Sculpture
May is a great month to spruce up your yard, and maybe your garden needs an owl. This owl sculpture is perfect for a garden and will definitely be a conversation piece.
Hot Air Balloon Lamp
This is the most interesting steampunk lamp that I have seen. It is so rich in color and design. It is perfect for an office or bedroom, and Mom will love it for Mother's Day.
Edison Lamp Nostalgic
The Edison Lamp is a fun gift for a desktop or display. It can finish off a steampunk-themed room or just be a curiosity for your bookshelf. A fun gift for Mon to enjoy for Mother's Day.
Pulley Table Light
This steampunk lamp is perfect for an industrial decor or for any room that needs a steampunk accessory. Great for a reading lamp due to the fact that it is adjustable.
The Diviner Keyboard
Give Mom a steampunk keyboard for Mother's Day for her desktop computer. She will love the look and feel of the vintage style buttons and keyboard. Datamancer Labs makes several interesting keyboard styles. Click through for more information.
Sewing Machine Bookends
This gift will last for years with its fascinating design and is perfect to add an accent to a room. It is functional and beautiful made from an antique sewing machine and reclaimed wood.
Steampunk Rose
Give Mom flowers for Mother's Day, steampunk flowers. These roses are made from steampunk gears and are only $10 each.

If your mother prefers to make her own steampunk items, then there are lots of interesting craft gifts you can give her. These items are a small representation of steampunk crafting items that can be combined with printable steampunk craft labels and papers or used to make jewelry or other crafts.
Steampunk Gear Rubber Molds
Make your own steampunk decor, artwork or jewelry with this cool rubber mold set. Use it for a variety of materials including polymer clay. Great gift for a steampunk crafter.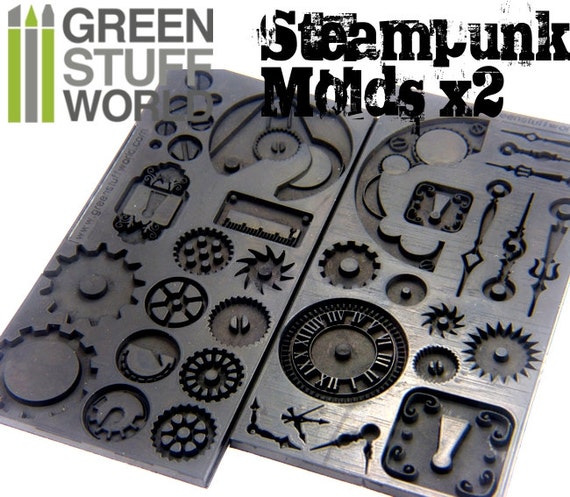 Steampunk Gear Texture RUBBER MOLDS

Antiqued Copper Skeleton Key Pendants
These steampunk keys are the start of a pendant, necklace, or can be added to decor or clothing. Multiple uses for these keys for a crafter.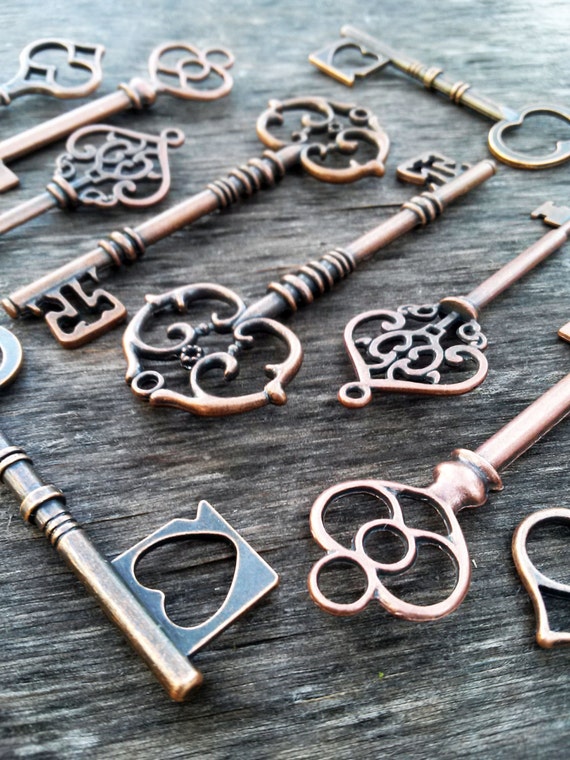 antiqued copper skeleton key pendants

Antique Copper Chain
Copper chain is perfect for hanging the keys shown above or to make one-of-a-kind jewelry. It can also be used to embellish a steampunk costume.
Steampunk Keyboard Set
Make your own keyboard or use these keys for other projects. Another great steampunk gift for the Mom who likes to make her own steampunk gifts.
&

(Visited 1,030 times, 1 visits today)
Check Our Related Pages Before You Go!