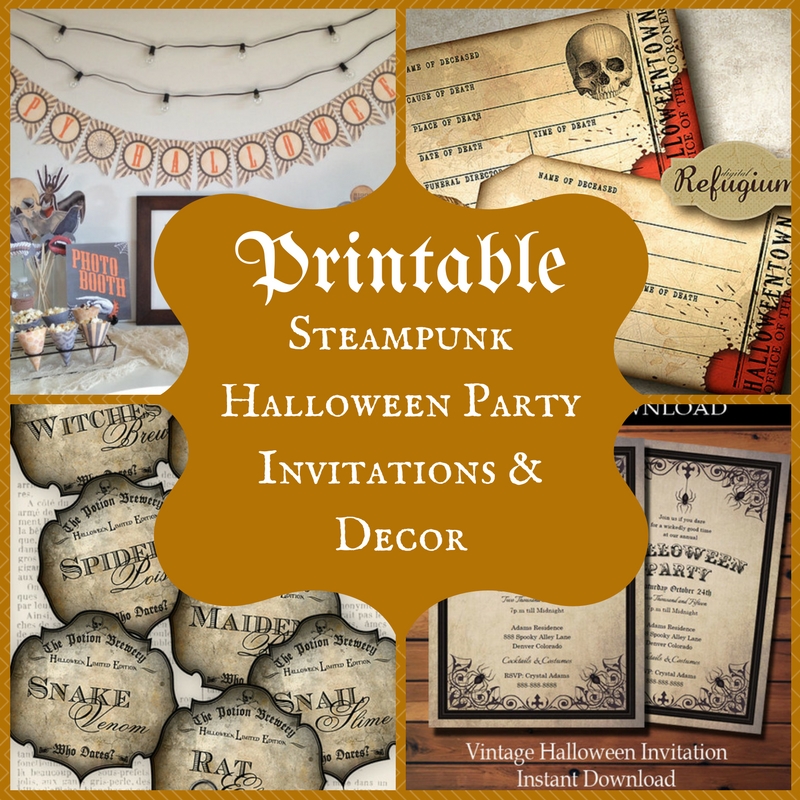 Updated for 2018
Halloween is a time for costumed parties and gatherings, which provides the perfect opportunity for dressing up in fun Steampunk fashions. You can also add a touch of Steampunk flair to any Halloween party by inviting your guests using these great printable Steampunk Halloween party invitations and decor items available from Etsy sellers.
Halloween Party Invitation Spider
This vintage Halloween invitation has a great Steampunk feel and is available as an instant download of two PDF files. White background features a black border and black lettering which can be customized In each corner, on both the top and bottom of the card face, there are intricate scrollwork spider "webs," with creepy spiders dangling from them. Measures 5 inches by 7 inches.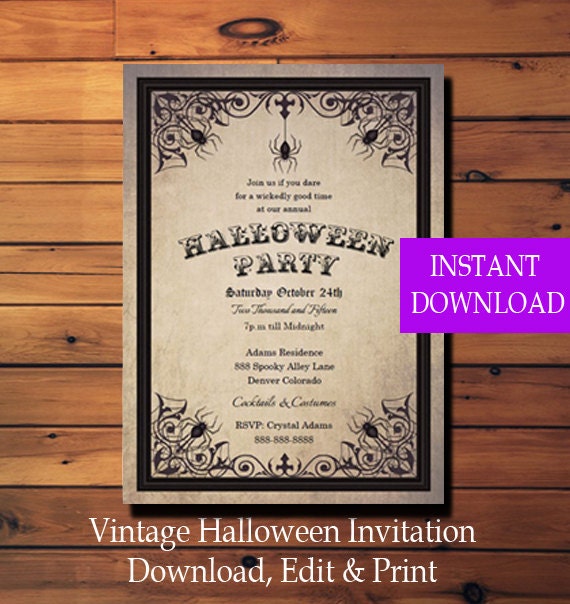 Spider Halloween Party Invitation

Customizable Digital Invitation- Vintage Gothic Invitation- Skulls and Roses
This is a do it yourself digital print file that is edited by the seller and sent to you so that you can print it yourself or have the file printed elsewhere. The design is done in black and gray tones with gothic figures around a central text area. Perfect for use as a printable Steampunk Halloween party invitation.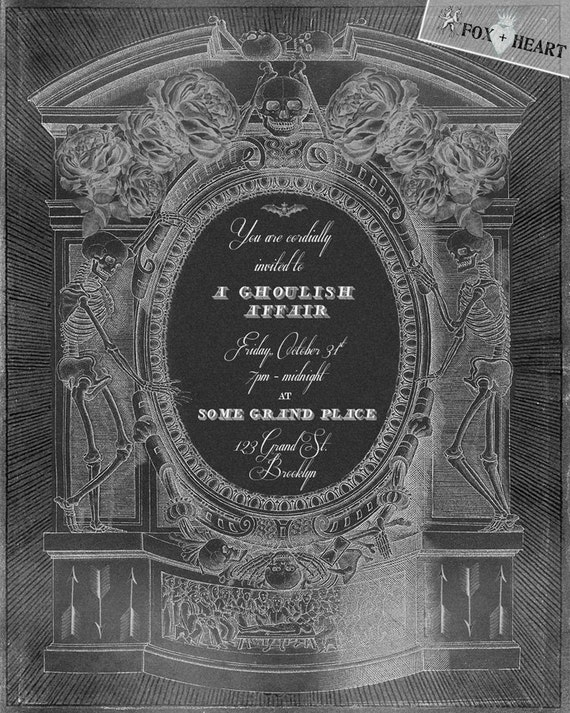 Customizable Digital Copy- Vintage Gothic Invitation- Skulls and Roses

Steampunk Editable Halloween Invites
This digital download has a vintage parchment paper style background with a thin black border, and a black bat at the top. Halloween symbols are throughout the invite. Text is in black lettering and the design is front and back of invite. Invitation has a great Steampunk look.
Printable Halloween Invitation Template
Available as PDF files for downloading, this invitation can be printed only on front, or both the front and back. Front design is a simple design with bats, scrollwork and unique text. Back has chalkboard damask pattern. Great for a costume party.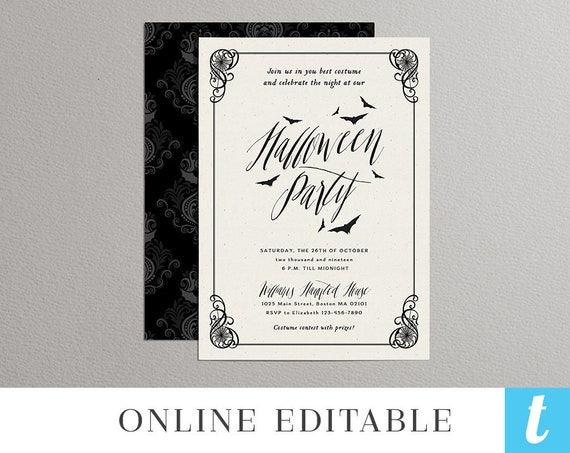 Printable Halloween Invitation Template

Printable Halloween Envelopes
This item is available as two JPG downloads. Create your own invitation envelopes with these slightly creepy Steampunk designs. Both images feature a vintage looking sepia tone. The first image is of a small Victorian girl with poofy hair, with bat wings and a witch hat and a large spider web behind her, The second design features a young Victorian lady whose face is somewhat transparent so we can see portions of her skull, with a haunted mansion in the background.
Printable Halloween Drink Labels
These fun printable labels make a great addition to any Steampunk themed Halloween party. Can be used a in a variety of ways to enhance your party experience. Each label is 3 by 3 inches and have fun titles such as "Zombie Goo," "Snake Venom," and more. Each label features a small skull and crossbones at the top and the phrase "Who dares?" at the bottom.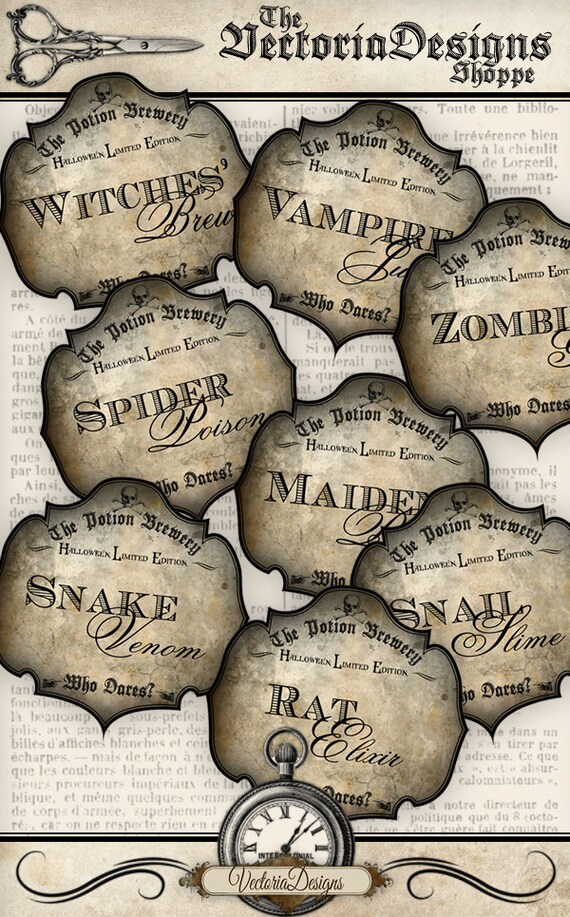 Printable Halloween Drink Labels

Halloween Orange and Black Invitation
This invitation comes in a ready to print JPG and PDF file and is offered in two sizes, 4 inches by 6 inches or 5 inches by 7 inches. Black background with white and orange lettering. Features orange scroll-like border and skull, spider, and spider webs as part of the design.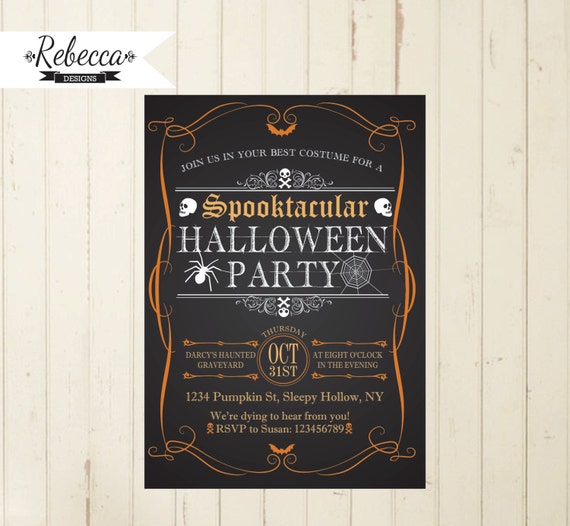 Halloween Chalkboard Printable Invitation

Printable Halloween Banner Flags
Create super cool Steampunk garlands and banners for Halloween with this instant digital JPG download. Features vintage Steampunk skull designs that you can print and put together to make a festive banner.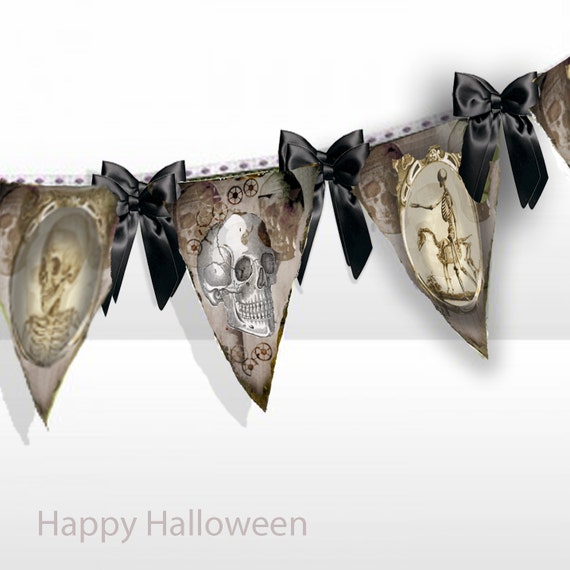 Printable Halloween Banner Flags

DIY Halloween Potion Label Printables
Decorate for Halloween in Steampunk style with these great labels that can be used for labeling apothecary bottles and other Halloween decorating ideas. Order includes one JPG and one PDF download. Set of ten, featuring titles such as "Toadstool Tincture."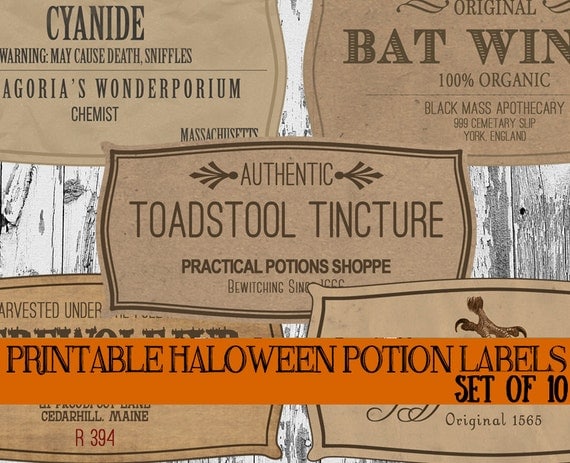 DIY Halloween Potion Label Printables

Printable Halloween Party Kit
Download includes three ZIP and one PDF file. Use this kit to create Steampunk style Halloween banner, cupcake toppers, water bottle labels, buffet tent cards, and much more. Black, orange, white and gray color scheme.
Witch Love Spell Love Potion Labels
These digital labels include Witch love spells, Spider spell charm and even a good fortune spell. The tags are featured on a water-marked, age-stained, paper background or on plain white paper. You will receive 6 different labels in 2″ round and 2″ square format per 8.5 inch x 11 inch printable sheet. These are 2-color JPG files in 300dpi for printing on 8.5″ x 11″ paper.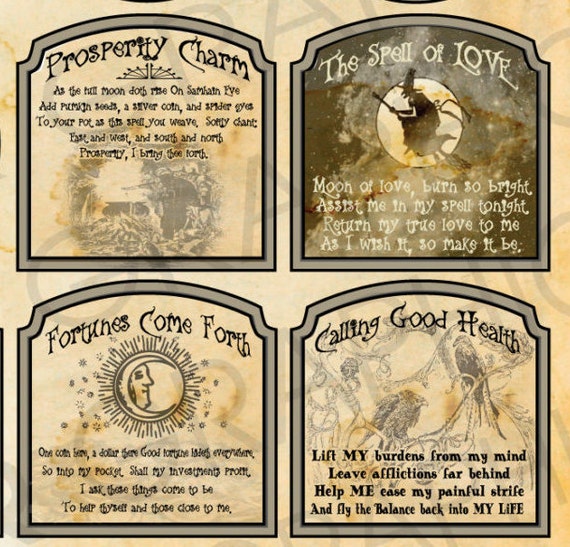 Witch Love Spell Love Potion Labels

Printable Halloween Party Victorian Favor Cones
This printable set includes a JPG and five vintage Halloween cones to print. Use them to create party favors or decorations for a Steampunk Halloween party or get together. Designs include an owl, a Victorian witch with a black cat and more.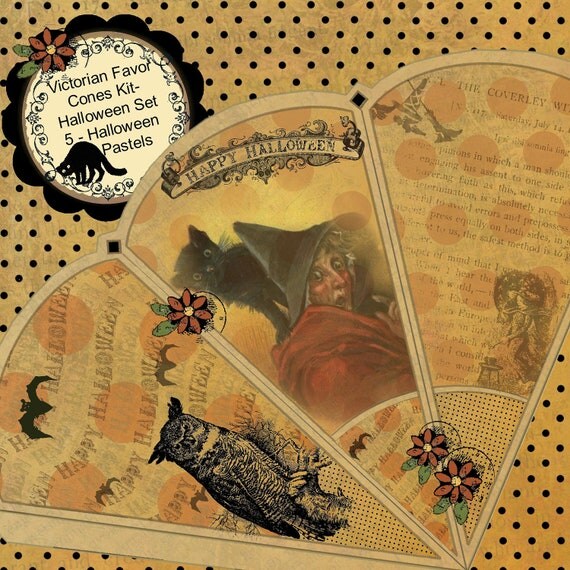 Printable Halloween Cones for Candy

Printable Halloween Tea Bag Holders
Wrap your tea bags in cool Steampunk style with this great instant digital download. Makes a festive and decorative place setting for Halloween Steampunk themed parties. Images include a skull in a cameo type frame, one against a white background, the other against a black and white background.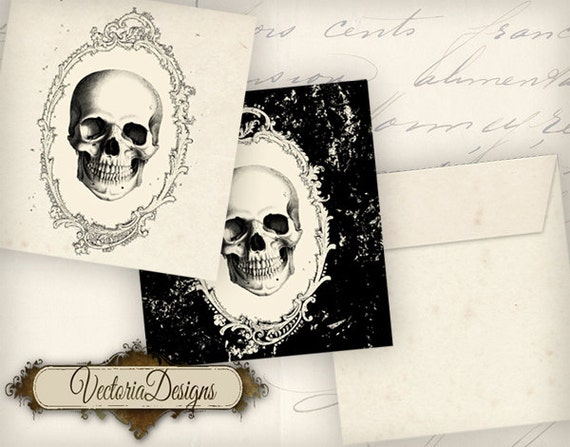 Printable Halloween Tea Bag Holders

Blank Vintage Apothecary Labels
An instant digital download of two PDF and one JPG file that allows you to add your own text. Vintage style labels have the heading "The Magic Apothecary" on the top. Cute idea for labeling jars and bottles for Halloween decor.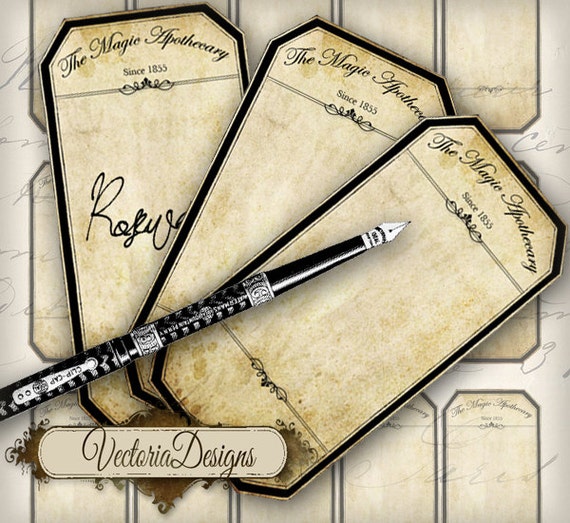 Blank Vintage Apothecary Labels

Halloween Witch Vintage Sign Broom Repair
Incorporate these cute Witch Broom Repair signs into your Halloween decor. These signs measure 8.5″ x 11″ and are 300 dpi high resolution. Three background choices are available.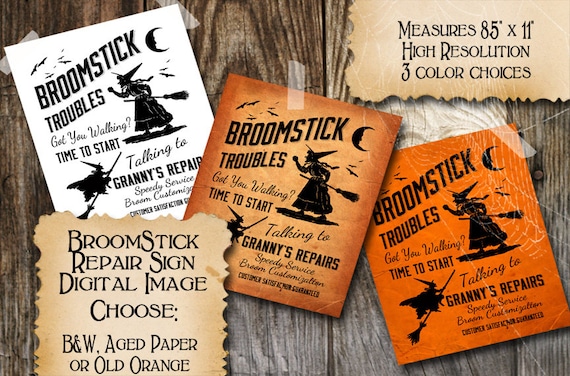 Halloween Witch Vintage Sign Broom Repair

Printable Halloween Tea Bag Holders
Add some festive Steampunk flair to your place setting with these cute tea bags envelopes. Serve your favorite Witch's Brew, Coffin Tea or Moldy Tea for the enjoyment of your guests. Comes as a digital download of one JPG and one PDF file.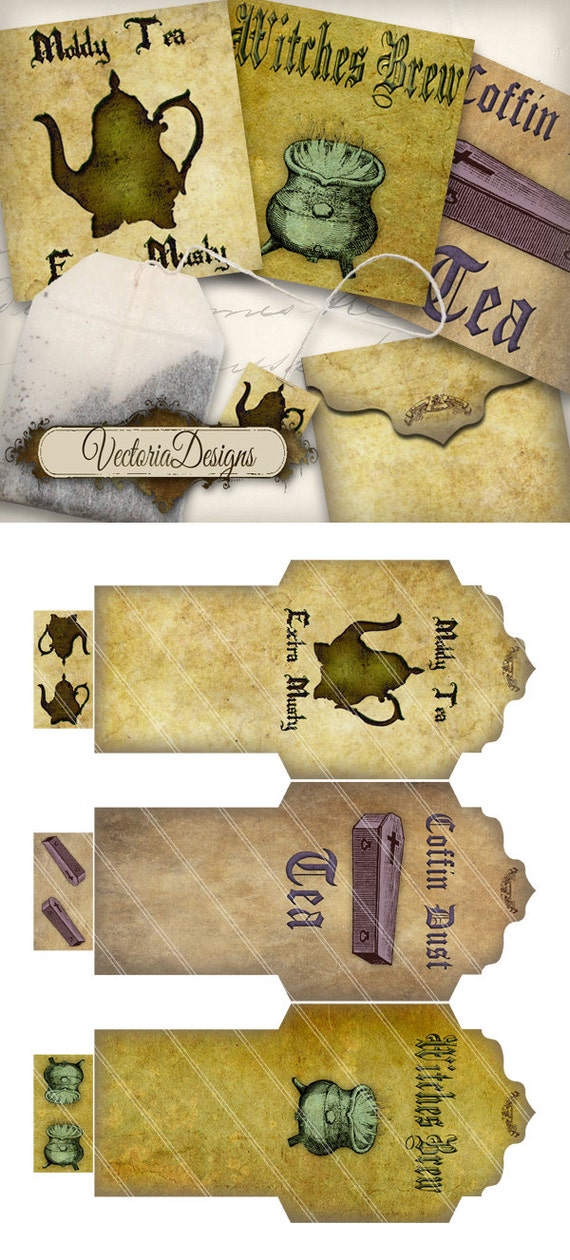 Printable Halloween Tea Bag Holder

&
Printable Halloween Invitation Toe Tags
Instant digital download of one ZIP and two JPG files. Use these fun toe tags as invitations, price tags, gift tags, for scrapbooking, etc. Makes a fun addition to any Halloween party and adds a touch of Steampunk style. Design features vintage looking parchment style background and skull in top right corner.
&

(Visited 5,463 times, 1 visits today)