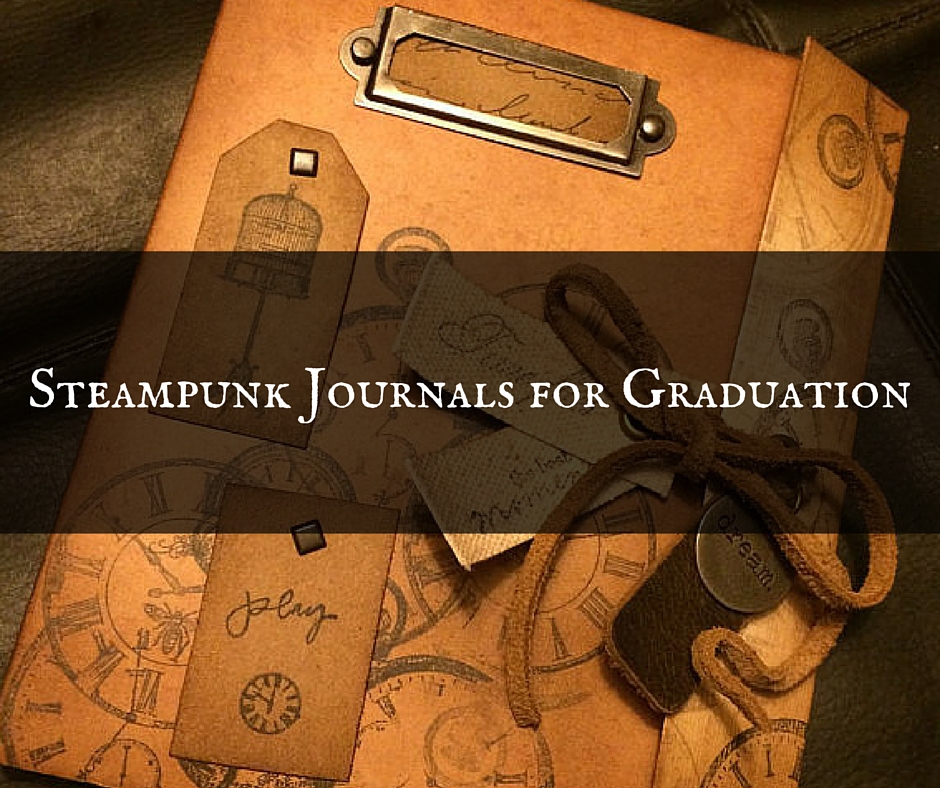 A high school or college graduation is an event that requires giving a special gift. A journal is always a great gift idea, as it gives the recipient a place to jot down their thoughts and feelings, and graduation is certainly a time when they'll be experiencing a lot of different emotions they might want to write about. Etsy offers a wide variety of Steampunk journals that are extra special and a bit out of the ordinary. Make sure the graduate gets a unique, handcrafted gift for this special occasion, while at the same time supporting an independent crafter. Here we look at some of the great Steampunk journal options available in various price ranges and categories.
Updated 2021
STEAMPUNK JOURNALS PRICED UNDER $200
The Engineer's Notebook (Lined Leather Journal)
This journal is a one of a kind made from vegetable tanned cowhide, with zinc sheets riveted to the leather. This is a very sturdy design made from top notch materials that should last for years to come. Inside journal pages are stitched to leather strips also riveted to the cover. Guaranteed to be one of kind, this book would make the perfect graduation gift for a young man. This maker has journals of a variety of materials and price points available.
Steampunk Heart Journal – Leather Bound
This Steampunk journal is an original design made from red Latigo leather, creating a tough, study cover. The leather can be softened and trained over time. Closes with a stainless steel heart clasp. Te journal also has a pen holder and bookmark built in. Measures 8 inches high by 6.5 inches wide and holds 280 pages of 7.5 inch by 5.5 inch paper. Great craftsmanship makes this a special gift for either a male or female graduate.
 Rustic Heart – Leather Bound Journal

JOURNALS PRICED AT $60 & UNDER
Steampunk Leather Journal w/Bee & Clock
This is a great looking journal made from genuine leather, heavy cardboard, rivets, polymer clay, dye, metal, and glue. Contains 280 hand sewn pages and top quality paper. Measures around 6.5 inches high by 5 inches wide. Leather cover is textured and has a great section with Steampunk clocks and gears. Metal closure and rivets add to the charm. This is a really beautiful piece that anyone would love to receive, and the craftsmanship is exquisite.
 Steampunk Leather Journal

Steampunk Bird Lined Journal
This Steampunk bird notebook design will wow anyone and can be made for lefties! It measures 6 X 9 inches. This book can be used as a diary, recipe book, journal, school notebook, or anything else your imagination can come up with. Buy as is or personalize with a name, unique saying, or message to make it the perfect gift.
 Steampunk Bird Lined Journal

Steampunk Journal
Embrace imperfection with this Steampunk journal. This is handcrafted with polymer clay that is very textured and distressed. It has 3 watch faces, gears, zipper, key, and rusty wire. This measures 8 X 5 inches in size.
 Imperfect Steampunk Journal

DIY Printable Steampunk Journals
Steampunk Digital Journal Pages Pack of 8
This set of eight Steampunk journal pages is available as an instant download of two zip files. Pages could be printed numerous times and used to create a journal that you assemble yourself to give to the graduate. Each image measures 8.5 x 11 inches. Images are in jpg format. Designs include a Victorian lady, gears, a globe, etc.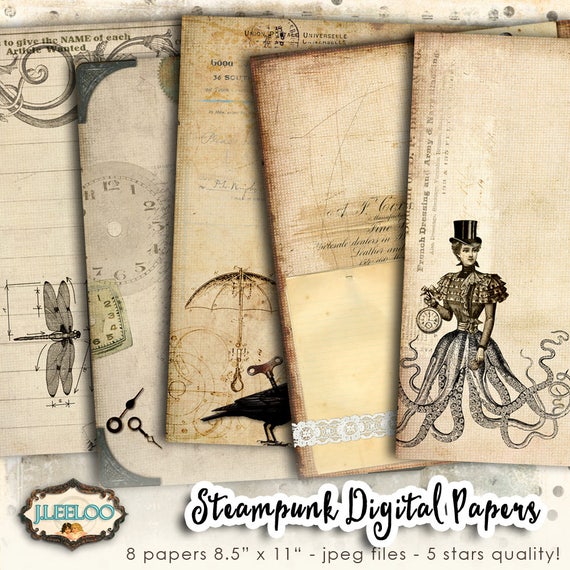 Steampunk Digital Journal Pages

Steampunk Journal Pages – Digital Collage Sheet
This set of printable Steampunk journal pages is available as an instant download of eight 4 inch by 6 inch images, four 2.5 inch by 3.5 inch tags, and four labels. You will receive a digital sheet of 8.5 inches by 11 inches and five digital files in JPG format. Designs feature gears, a compass, a Steampunk fish, etc. Print out pages a create a cover to assemble a cool journal for gift giving.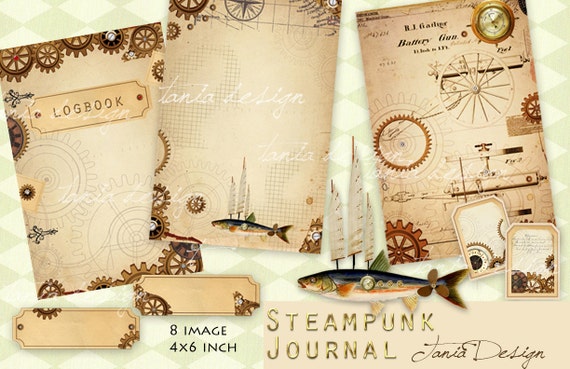 Digital Steampunk Journal Pages

Steampunk Junk Journal Kit Digital Journal Kit
Use this great Steampunk journal kit to assemble a great gift for the graduate. Available as an instant download, this journal kit entitled Impossible Dream contains 12 scrapbook papers/backgrounds, and several ephemera pieces for creating scrapbooks, journals, letters, cards, etc. Two 5.5 inch by 8 inch images are printed on one 8.5 inch by 11 inch standard letter size paper sheet, which can be folded down the middle to create a journal. Instant download contain 3 ZIP files. Designs include a Victorian lady, a butterfly, a winged clock, gears, etc.
ARTIST-DESIGNED STEAMPUNK JOURNALS & NOTEBOOKS
If you want to buy artist-designed Steampunk notebooks/journals that are ready to go, take a look at these possibilities below. You can find these and other designs on Zazzle.
 Dusk Blue Hot Air Balloon Steampunk Handwriting Notebook

 Anatomie 3, Journal, Notebook

 Victorian Lady Birding Journal

 Steampunk Design No1 Journal

 Steampunk Custom Notebook

 Victorian Steampunk Old Lock Key Red Poppies Notebook

 Steam Elegance Steampunk SUBJECT JOURNAL

 Write It! Series Vintage Alphabet Journal Notebook

 Steampunk Winged Balloon Journal

 Steam Punk Gears Modern Retro Abstract Pattern Extra Large Moleskine Notebook

 "Alice in Clockwork" Notebook

 Steampunk Notebook

Pin It for Later
Love this idea but not ready to buy now? Bookmark this page by pinning it to Pinterest.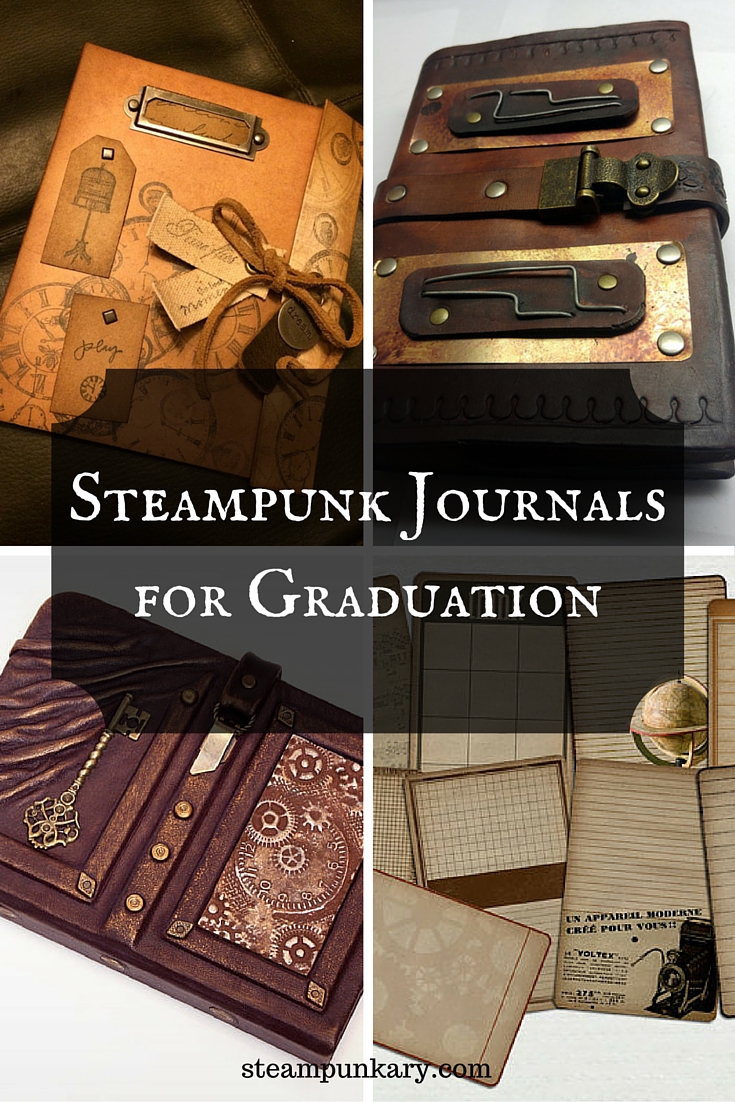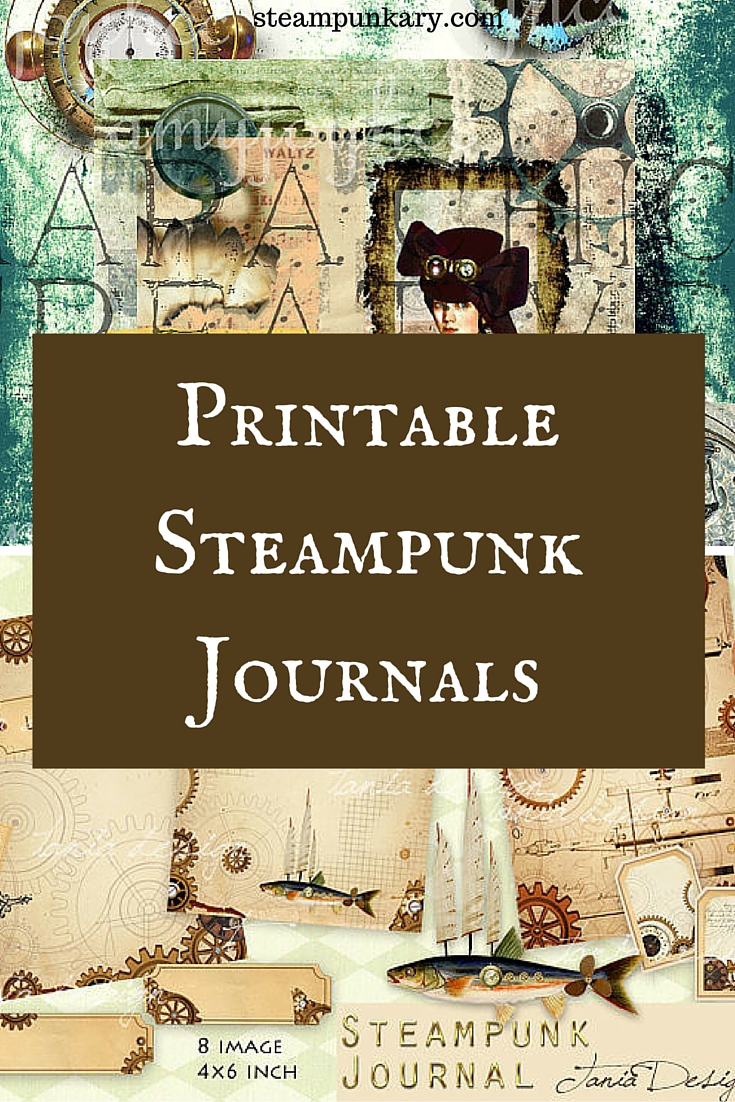 (Visited 12,295 times, 4 visits today)