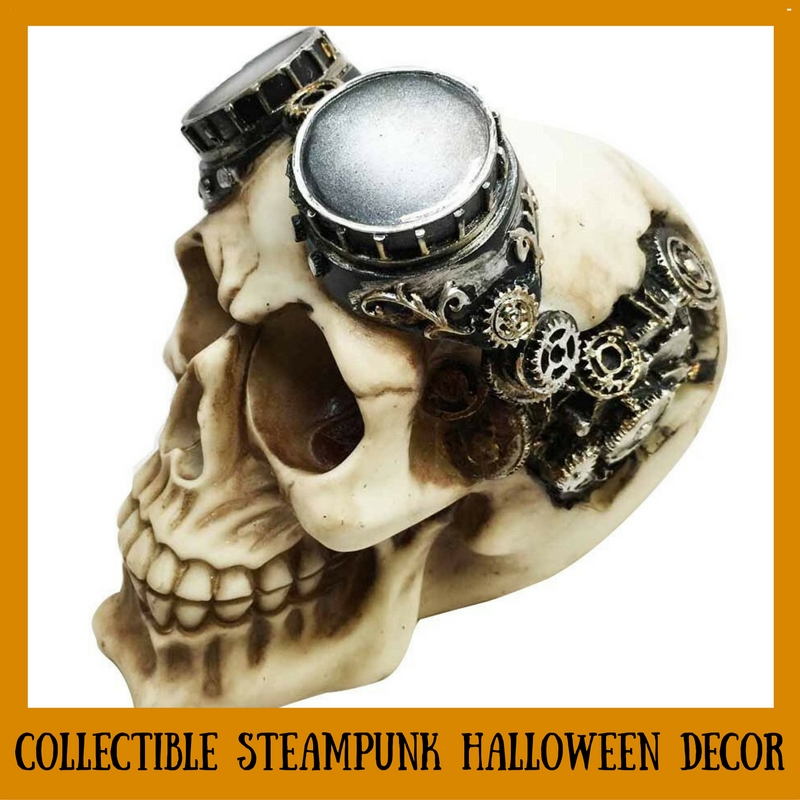 The Steampunk style is really catching on and Halloween provides the perfect opportunity to dress up in vintage style Steampunk costumes and to have Steampunk-themed Halloween parties. To add to the atmosphere and festivities, these great collectible Steampunk Halloween decor items can be used to spice up your home for Halloween. Give your party a Victorian flair by adding these interesting Steampunk pieces to create a great look that your guests will love.
5-Inch Steampunk Jewelry Trinket Box
This is a great trinket box that would work well in about any room in the home. Features great craftsmanship and is made with cold craft resin. Box is bronze in color and is decked out with a variety of gears and clockwork pieces for a great Steampunk look. Perfect for use around Halloween or any time of the year.
Steampunk Mechanical Jewelry/Trinket Box
&
Steampunk Protruding Gearwork Human Skull Figurine
Perfect collectible Steampunk Halloween decor for the home, this skull has a portion of it open where you can see the wheels of thought grinding. (Gears do not actually move.) Exposed "brain" is a collection of cool Steampunk gears and makes a great decorative conversation piece. Measures 5 inches high and 5.5 inches in length. Highly detailed and made from premium cold cast polyresin.
&
Steampunk Aviator Protruding Gearwork Skull Statue
This great decorative piece measures 4.75 inches high by 5.5 inches long. White skull has part of the "brain" area exposed with a multitude of gears showing, and skull is wearing cool Steampunk aviator goggles. Super cool decoration for Halloween, Steampunk style! Made from hand painted and polished composite resin.
Steampunk Aviator Skull Statue
&
Steampunk Owl with Jetpack Sculpture
Made from cold cast bronze, this owl sculpture measures 6.25 inches tall and comes gift boxed.  This Steampunk fella is wearing goggles, boots, and a cool Steampunk backpack. Owl is standing on a large gear. Makes a great decorative piece for an end table, shelf, or mantle, as well as a fun Halloween decoration.
Steampunk Owl with Jetpack Statue Sculpture
&
Steampunk Giant Octopus Deep Sea Figurine
Measuring 5.5 inches tall and 5 inches long, this octopus sculpture is made from designer composite resin that is hand painted and polished. Bronze color makes piece look metallic  and the eyes of the octopus are windows with rivets around them. Great decorative accent piece with Steampunk charm.
Steampunk Giant Kraken Figurine
&
Steampunk Octopus Trinket Box
This round trinket box  is made from cold cast resin and measures 3.5 inches tall.  Features an antique bronze finish with hand painted accents.  Box measure 3.5 inches tall. A cool Steampunk octopus lays across the top of the trinket box, while the sides are decorated with colorful gears and detailed accents.  Makes a charming decorative accent for Halloween ad can also be used all year round to hold trinkets.
&
Steampunk Submarine vs. Octopus Trinket Box
This trinket box statue measures 9 inches long and is made from cold cast bronze with an antique look finish. Large octopus takes on this cool Steampunk submarine. Very detailed and highly accented piece that is perfect for fans of the Steampunk genre. Makes a great Halloween decoration for any room in the home. Box is also perfect for holding little trinkets all year round.
Steampunk Submarine Vs. Octopus Trinket Box Statue
&
3.5-Inch Steampunk Sitting Winged Dragon Figurine
Let this great Steampunk dragon oversee your Steampunk themed Halloween party. Looks great on any end table or shelf. Measures 3.5 inches tall and is antiqued gold in color. Highly detailed piece features gears and wings that look as if they are made from sheet of metal.
3.5 Inch Steampunk Sitting Winged Dragon Resin Statue
&
8-Inch Steampunk Skeleton Wedding Couple Statue
This lovely resin couple is dressed in their Steampunk wedding day best and measures 8 inches tall. Would make a great Halloween decoration or creepy cake topper. The woman's dress features a lovely layered Victorian skirt, with a brown lace up corset. She holds a bouquet of flowers and wears a small top hat that matches her dress. The man is wearing black pants, brown boots, a brown vest, and a brown waistcoat. A decorative gear graces his lapel, and he wears a large brown top hat with Steampunk goggles around them. Make this lovely skeleton couple part of your collectible Steampunk Halloween decor.
8 Inch Steampunk Skeleton Wedding Couple Statue
&
Steampunk Airship Illuminated Sculpture
Add a touch of mood lighting to your Steampunk Halloween with this great airship sculpture.  Looks great on a desk or shelf, or even a table. Measures 6.5 inches wide by 10.5 inches high. Hand cast from real crushed stone then bonded with high quality designer resin.  Item is individually hand finished by talented artisans. Airship has a cord with a convenient switch for turning it on and off.
Design Toscano Steampunk Airship Illuminated Sculpture
&
Steampunk Painting Fantasy Art Rail Road Train
This poster measures 24 inches by 18 inches and would make a great wall decoration to compliment a Halloween party or haunted house look. Poster is vinyl like with single side glossy lamination. Includes a free glue stripe for hanging with every order. Poster depicts a black locomotive  driving through a highly industrialized area, with crowds of people waiting for its arrival. The darkness of the picture and the Steampunk theme lends itself for use as a Halloween decoration as well as year round decor if you like a gothic style.
Steampunk Painting Fantasy Art Rail Road Train
&
Steampunk Mechanical Spider Statue
Add this creepy spider to your collectible Steampunk Halloween decor for a great look. Features great design and craftsmanship and is made from resin material. Item is hand painted in an antiqued bronze color. Spider measures 6 inches high and has very complex looking legs with a lot of mechanical parts. Makes the perfect addition to your home decor. Let this spider hang out on a table, end table, or sit on a shelf. He is sure to delight your Halloween guests!
Steampunk Inspired Mechanical Spider Resin Statue
&

(Visited 1,071 times, 1 visits today)