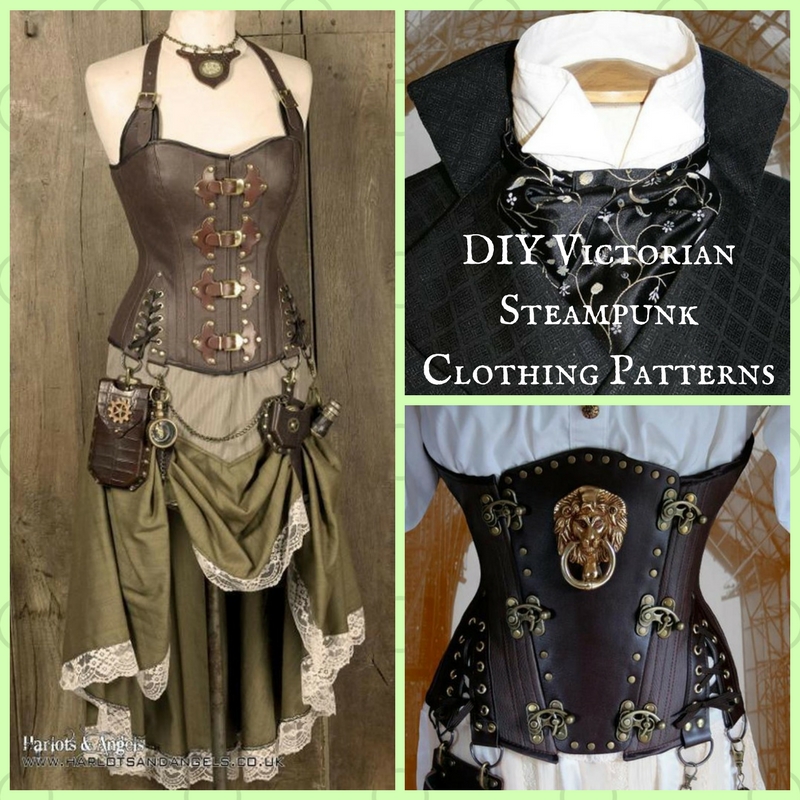 If you like to make your own cosplay costumes for Steampunk events, you will love these clothing patterns for several Steampunk pieces for both men and women. They are all from a clothing designer called Harlots and Angels who is based in France, and by using the patterns here, you can create some really cool costumes without the issue of shipping from overseas. Of course, if you are in Europe, you might prefer ordering them already made. For those who like to sew, you will find that these patterns are mostly digital downloads for you to use to make your own unique costume.
Updated 2021
Each pattern lists supplies needed, skill level you need to make the pattern and any other tips such as recommended fabrics and tools. Click through the patterns to see all of the images available for each item, and you will get inspired by fabric choices and modeled clothing. Several of the patterns come in additional sizes so click through to see what your options are. So much fun!
Steampunk Top Hat Sewing Pattern
 Steampunk Top Hat Sewing Pattern

This is a full-sized pattern for a 3/4 sized top hat to make out of buckram, leather or many different stiffened materials. Full instructions are included on how to assemble and make the hat. The crown size of this hat is approximately 5 1/2″ x 6 1/2 " (14cm x 16cm). The brim of the hat is approximately 8 3/4 " x 9 1/2 " (22cm x 24cm).
Mini Top Hat Making Pattern
 Easy Pattern For Mini Top Hat

Perfect easy-to-make pattern for Steampunk, wedding top hats, burlesque, Alice in Wonderland, Mad Hatter and Gothic styles. Cute and curvy mini top hat sewing pattern. It is designed for making out of traditional milliner's buckram covered in fabric but can also be made from vegetarian tan leather, cardstock, paper mache or even stiffened felt. Brim diameter (front to back widest part 17cm 6 3/4 inch ) brim diameter (sideways 16cm – 6 1/4 inch) crown size (front to back 12cm 4 3/4 inch).
Men's Victorian Day Waistcoat Vest
 Mens Victorian Day Waistcoat Vest

This design is perfect for weddings, Steampunk, Gothic, Wild West, or Victorian vests. This pattern includes sizes to fit from a 38″ chest to a 48″ chest. For the larger sizes there is also and extra pattern included that provides for a more rotund belly shape. When the stomach is larger than the chest size this makes an excellent fitting vest. Made in late Victorian style, these can be made with a high neck for day wear and horseshoe neck for evening wear.
Men's Sweeney Todd Vest Waistcoat
 Sweeney Todd Waistcoat Vest

This is a pdf version of our popular sewing pattern for a man's stunning Victorian-style fully tailored double-breasted waistcoat. It is fully lined with welt pockets and a standing collar. This listing is for the full sized instantly downloadable sewing pattern which includes 3 pattern sizes which are 48-50″ chest, 52″ -54″ chest and 56-58″ chest. There is a good 3″ ease of wear allowed in the pattern. All seam allowances are included in the pattern. These are best made with wool or wool blend fabrics, brocades, linen, natural fibers, etc. Perfect for weddings, proms, Steampunk, Gothic, period costuming, theater and evening wear. Detailed instructions on making the waistcoat are included.
Steampunk Explorer Corset Pattern
 Steampunk Explorer Corset Pattern

The ultimate Steampunk corset. Be unmissable after making your own uniquely decorated corset. A highly adaptable design for Steampunk fantasy outfits, Gothic, fetish, theatrical, or even alternative weddings. Uniquely designed underbust corset pattern with interchangeable center front panel. Enjoy many different looks from the same corset by making different centers. Pattern is for size Large which has 32″-34″-36″ (80-85-90 cm) FINISHED corset waist sizes. Advised for experienced dressmakers. This is suitable for tight lacing down to 3″ on your natural waist size. Sizes listed are for finished corset waists. EXAMPLE: If you have a natural waist of 33″ buy the medium size pattern and cut the 30″ corset. Materials and notions listed below. This pattern takes several different materials and tools to complete.
Steampunk Hiked Skirt Sewing Pattern
 Steampunk Hiked Skirt

You can't fail to love wearing these skirts. Sassy, cheeky, sexy and oh so mischievous! Let your inner wild, wild west girl come out to play. Strap on a holster or three, tuck your derringer into your garter and let them see that you mean business. This fantasy Steampunk skirt is easy to sew. It is a must have item in your time traveling luggage trunk. You will want to make more…… This listing is a one size pattern that has waist sizes from 24″ to 36." (60cm -90cm) Easy to make larger or smaller. This pattern makes a skirt with hiked up swagged front and lace edging hemline. Yoke top for smooth fit. Can be made either with invisible side zip or placket and button opening.
Stunning Victorian Hat Millinery Pattern
 Stunning Victorian Hat Millinery Pattern

Stand out by making this Victorian-inspired hat. Perfect to show off hair up-do's and styled wigs. Full-sized easy-to-print at home pattern and instructions. Made from fabric over a millinery buckram base.
"Susan" Victorian-Inspired Perched Hat
 "Susan" Victorian-Inspired Perched Hat

This pattern makes a gorgeous one-sized perched-style Victorian hat. Steampunk, burlesque, Gothic, evening wear, races, or wedding. Full assembly and making instructions. Inspired by Susan From the BBC Drama "Ripper Street" licensed for personal use only.
Late Victorian Men's Shirt Pattern
 Victorian Men's Shirt Pattern

Every gentleman needs a fine collection of shirts and Harlots & Angels has crafted a sewing pattern to allow to make your very own. Perfect for weddings, Steampunk, Gothic, larp, cosplay, theater and just the well-dressed gentleman. This pattern has a High-Victorian-style detachable collar and fixed large fold-back cuffs. Suitable for day and evening wear. The pattern includes 4 sizes: Medium: 36/38″ chest. 15 1/2″ collar Large: 40/42″ chest. 16 1/2″ collar X Large: 44/46″ chest. 17 1/2″ collar XX Large: 46/48″ chest. 18 1/2″ collar.
Tight Lacing Victorian Corset Pattern
 Tight Lacing Victorian Corset

Classic long line full overbust Victorian-style tight-lacing waist training corset. This pattern has 12-14 panels depending on pattern size. Can be front opening with metal busk or swing clasps or straps and buckles. Can also be made with no front opening. This corset creates beautiful smooth lines and cinched waist for all sizes. This listing is for the LARGE size which has FINISHED corset sizes of 32″-34″-36″ (80cm- 85cm -90cm).
Men's Victorian Cravat Pattern
 Men's Victorian Cravat Pattern

Full-size pattern for this ever-popular Late Victorian cravat. Pre-tied so very simple to arrange and pin. Can be made in many fabrics for day and evening wear. Perfect for Steampunk, Sherlock Holmes, Victorian, prom, weddings, and Gothic.
Pin This Image to Save It for Later
Too busy to make these great Steampunk cosplay patterns right now? Pin this image to Pinterest to save it for later.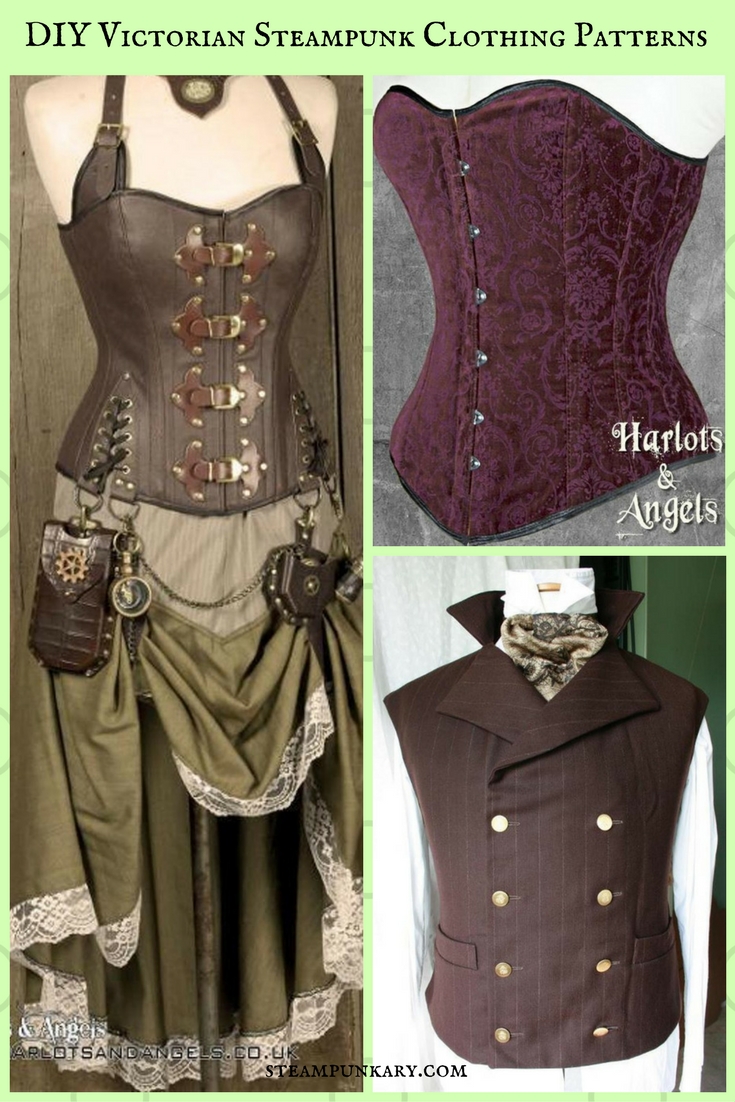 (Visited 13,940 times, 1 visits today)