What is Steampunk? There really isn't just one simple answer for this, so let's look into the history and culture behind the term "Steampunk."
The term "Steampunk" was originally coined by K.W. Jeter in his 1979 novel, Morlock Night. For this reason, Jeter's book is typically considered to have established the Steampunk genre. The first reference of Steampunk was used to describe a particular sub-genre of science fiction and speculative fiction which features an element of fantasy. This genre first became popular in the 1980s and the early 1990s, although there had been similar works written well before this period of time. Through the years, Steampunk caught on and became more than just a reference to literary works and more of a sub-culture all its own. In modern times, Steampunk has inspired everything from fashion, art, jewelry, and home decor. There continues to be a growing movement towards establishing Steampunk as a culture and lifestyle.
According to The Steampunk Tribune, Steampunk is considered to be related to the cyberpunk genre. Many Steampunk fantasy novels are set in an alternative version of the nineteenth century. Examples of this include settings such as the Wild West for American-based stories and the Victorian Era for British-based stories. Plots in Steampunk novels typically revolve around a far off, distant future that has been torn apart by some catastrophic, apocalyptic event. In these futuristic worlds, steam-powered machines play a major role. This explains the reason why Steampunk is often referred to as being "neo-Victorian." Steampunk explains the way people from the nineteenth century imagined the world would change and what it might be like in the distant future. This includes aspects such as art, machinery, architecture, fashion, and culture.
In the Steampunk world, the technology we know today in the form of modern electronics no longer exists. However, these modern electronics we use are often replaced by something even cooler like a ray gun or perhaps a time-traveling device. What we know as the modern aircraft might be replaced by a traveling ship that runs by the power of hot air balloons. Basically, the Steampunk genre combines elements of both the past and present. While in some ways it may take the reader back to simpler times of steam-powered machinery, it also introduces gizmos and gadgets and methods of travel that are highly advanced in many ways. A common theme in Steampunk literature is an elaborate piece of machinery designed to perform a fairly basic task.
The Urban Dictionary defines Steampunk as "What the past might look like if the future had happened sooner", which seems to be a pretty good one sentence description of both the genre and subculture it has spawned.
STEAMPUNK CLOTHING AND COSTUMES
Steampunk fashion has no set guidelines, but tends to synthesize modern styles influenced by the Victorian era. This may include gowns, corsets, petticoats and bustles, suits with vests, coats and spats, or military-inspired garments. Steampunk-influenced outfits will often be accented with a mixture of technological and period accessories including timepieces, parasols, goggles and ray guns.
Women's clothing combines pieces such as a solid-colored peasant-style top and a corset or waist cincher for a great Steampunk look. Full, lacy skirts are also key in creating Steampunk looks, along with boots and shoes. Think of styles that are reminiscent of the Victorian era with laces or buckles. Black and brown are always good color choices to use when creating a Steampunk outfit. Thrift shops are a great place to find vintage pieces. You can also use some handy do-it-yourself ideas that can be found online to create accessories such as a cool Steampunk top hat.
Men's clothing includes suits and capes paired with a top hat for a great Steampunk look. Opt for vintage styles and add fashionable accessories such as goggles or pocket watches to enhance the theme.
There are also many ready-made Steampunk costumes available online. Using these costumes and a few key accessories, you can have a great Steampunk look for any dress-up occasion such as Halloween or Cosplay events.
Accessorizing with jewelry is a great way to embellish your Steampunk outfit. This might include adding a pocket watch or pendant featuring a pocket watch. Other typical jewelry themes include pieces with gears or dangling clock parts, or perhaps a special piece depicting an owl or kraken.
STEAMPUNK HOME DECOR
Some examples of how Steampunk might influence home decor might include an industrial-style lighting fixture with visible rivets and vintage appeal. One might decorate their living space with art work that features gears, the internal workings of a clock, images such as steam-powered machinery or futuristic looking airships, or eerie sea monsters.
These days, adding a bit of Steampunk flair to your home is easy, as there are many items available featuring everything from lighting, to wall art, to sculptures, book ends, clocks, shower curtains and more.
ENTERTAINMENT
Steampunk has definitely had an impact on the entertainment industry. The 1954 film 20,000 Leagues Under The Sea is a prime example of an early Steampunk film. In this film, the submarine called the Nautilis, the interior of the ship, and the gear of the crew were definitely ahead of their time. Other Steampunk movies include the 2009 release of Sherlock Holmes, A Series of Unfortunate Events in 2004, The Time Machine in 2002, and The Golden Compass in 2008.
Even Disney parks have jumped on the Steampunk bandwagon, with Magic Mountain even having its own themed area known as the Screampunk District.
In 2017, the Bristol Renaissance Faire even had a weekend dedicated to Steampunk days. This gave visitors a fun opportunity to visit the fair while dressed in their favorite Steampunk attire.
LITERATURE
Steampunk literature commonly takes place in a world where steam power is still widely used. A prime example would be Victorian England, but with prominent elements of either science fiction or fantasy. This might include such elements as fictional technological inventions, or real technological developments occurring at an earlier date than in reality. The Steampunk genre was influenced by and often adopts the style of the 19th century science fiction of authors Jules Verne, H.G. Wells, Mark Twain, and Mary Shelley.
The 1990 historical fiction novel, "The Difference Engine" written by Bruce Sterling, is often noted as being a pillar for the modern Steampunk genre.
Some other more modern Steampunk novels include the Mortal Engines Quartet, also known as the Predator Cities Book Series, by British author Philip Reeve. This set of four novels takes the reader through twenty years of post-apocalyptic adventures. In December of 2018, a major motion picture release is scheduled for Mortal Engines, a movie based upon the novel. This is a must see for fans of the novels or just of the Steampunk genre in general.
WEDDING
Steampunk is easy to incorporate into your wedding. For starters, you can use printable bridal shower and wedding invitations with a Steampunk theme. For more detail you can add cool Steampunk cake toppers featuring gears or top hats.
If the bride and groom wish to dress for the part, incorporate elements of Steampunk fashion into your outfits. For example, a groom could wear a vintage-style suit with a top hat adorned with goggles. The bride could wear a vintage gown with a white corset and a cool Steampunk headpiece. You could have the wedding party dress in Steampunk fashion as well. With today's options, it's easier than ever to add this style to your wedding or everyday life.
TRAVEL
If you are looking for a cool Steampunk destination in your travels, search for events such as Renaissance Faires to see if they have Steampunk days. Also, the above mentioned Disney attraction, the "Screampunk District," sounds like a lot of fun. Local areas in larger cities often have Steampunk clubs and restaurants.
Fans of 20,000 Leagues Under The Sea by Jules Verne may want to visit Paris. The Paris Metro Station at Arts et Metiers was redesigned in the year 1994 by an artist from Belgium named Francois Schuiten. The artist decked it out in true Steampunk style; making a copy of the submarine in the film, the Nautilis. The station in sheathed in brass and has giant cogs in the ceiling, along with portholes where you can take a look at the outside world. When in Paris, add this to your list of Steampunk-inspired must-sees.
If you are truly adventurous and want to visit the "most Steampunk city in the world," opt for a trip to Oamaru, New Zealand. This city holds several weekend festivals full of Steampunk fun and dress up opportunities. It also has its very own Steampunk Headquarters, complete with displays of Steampunk sculpture and art pieces.
You can always bring Steampunk home as well, by hosting a fun-themed party. Have your guest dress up in their best Steampunk attire for Halloween or to celebrate a birthday or any special occasion.
Pin It for Later
Don't have time to read this now? No problem, pin this image to Pinterest for later.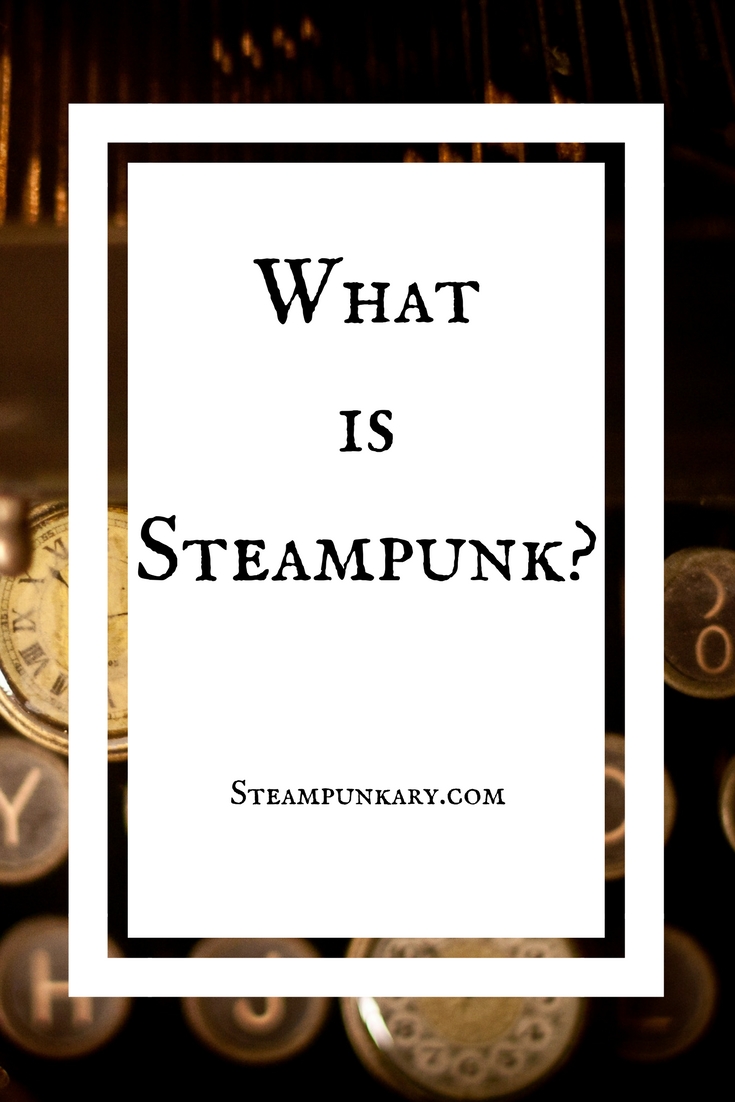 (Visited 6,122 times, 2 visits today)