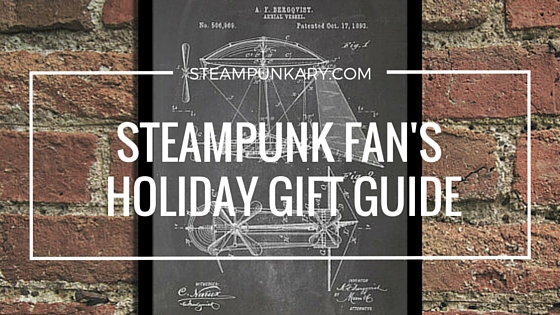 If you or someone you love is a steampunk fan, then finding a holiday gift for them is not something that is easy. Steampunk gifts are not what you can find in every store or even online unless you know where to look. In that vein, Steampunkary has put together this list of steampunk gifts from individual artists on Etsy. Each item is handmade by an artist in the steampunk style, perfect for your holiday shopping list. You are sure to love these ideas, and you can click through to each artist's Etsy site to see what else they have. (Updated for 2018)
Resin Octopus Bottle Stopper
This adorable bottle stopper is great for a small hostess gift or as an adjunct to a larger gift. Perfect for wine lovers, beach lovers or just anyone who loves creative bottle stoppers. Look for more octopus and sea-creature-related gifts in this artist's store. Lots of small items to decorate any steampunk lover's home.
Steampunk Airship Patent Print Poster
This cool airship patent print of an 1893 airship vessel, presented as a vintage industrial or steampunk style patent drawing. This artist has several of these prints that would make lovely office prints in pairs or sets of four. Only $25.00 for an 8″ x 10″ print, but you can also get other sizes. Check the Steampunk Things shop for more cool prints.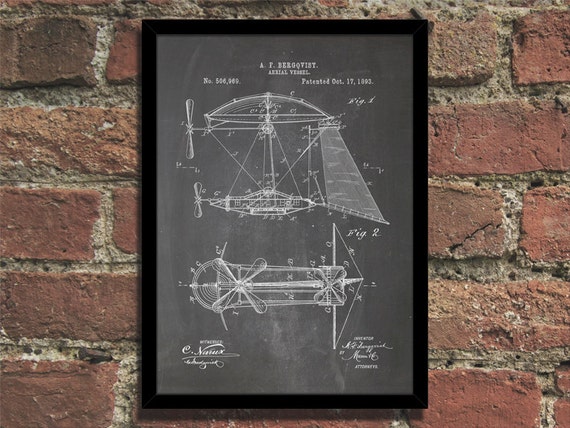 Steampunk Airship Patent Print

Techno Steampunk Teapot Sculpture
This made-to-order techno steampunk sculpture is made by RichardSymonsArt in London. He makes several designs besides this teapot which are really cool to take a look at. This is not meant to be used for making tea, just for your admiration. Takes one week before it ships.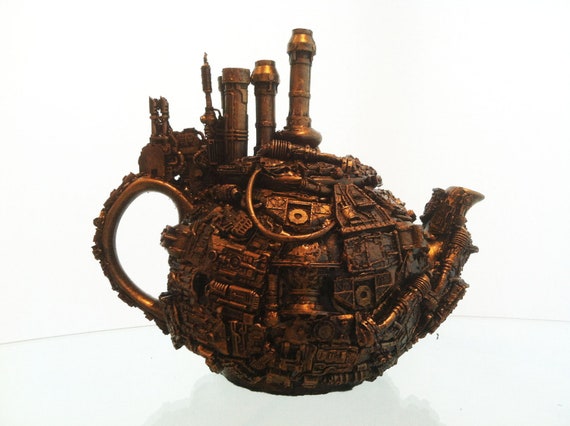 Techno Steampunk Teapot Sculpture

Industrial 'Starr' Steampunk Table Lamp
I am completely in love with this table lamp design. This item ships from Arizona from the Etsy shop of BillyBoi. Ground shipping is included in the price of $189.00. Totally functional, this lamp is perfect for reading, a desk or a living room.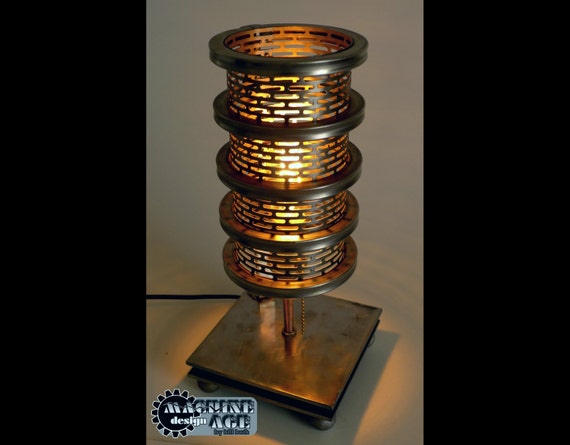 Industrial 'Starr' Steampunk Table Lamp

Women's Teal Blue Steampunk Coat
This gorgeous coat is only one of the beautiful coats made by this designer, Malam. The designer is from France, so allow time for shipping. You can find out exact measurements on the product page as well as detailed information about the fabric. This is a wool blend coat, great for cooler weather. $434.05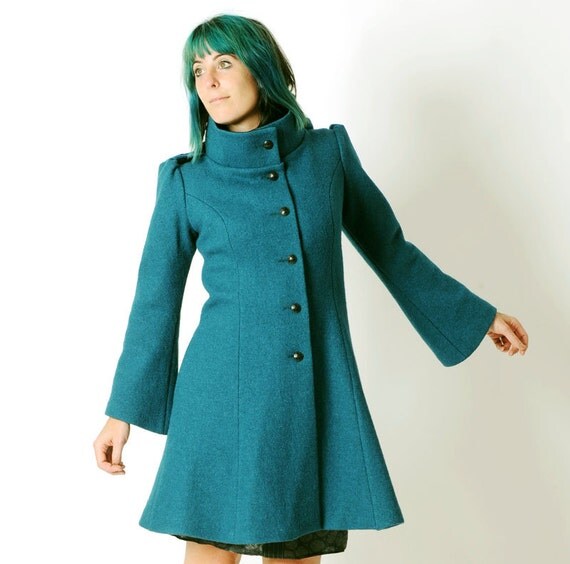 Women's Teal Blue Steampunk Coat

Steampunk Corset Jacket
This versatile corset jacket can be worn with many separates. KMK Designs LLC makes this out of silk. You can order this design in other colors, but need to allow for manufacturing time. You can also buy the skirt from this store. Ships from the U.S. for $850.00
The Alchemist's Daughter Costume
This incredible outfit comes with the dress, corset and chemise for cosplay (or just for fun!) There is a full discussion on sizing on the product page, with measurements listed for each size. It is available in several colors, and the artist gives instructions on how to measure yourself for a better fit. Made by Armstreet, only one of many lovely costumes for $462.00 and ships from the Ukraine.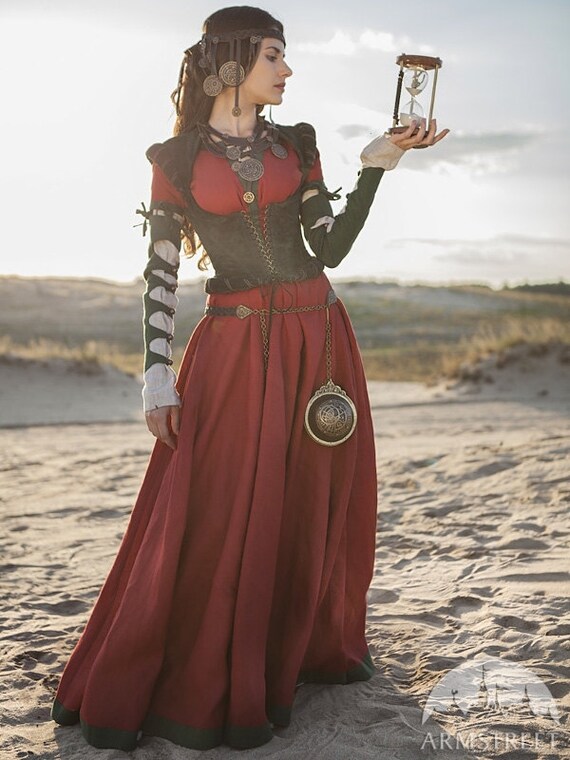 Steampunk Dress, Corset and Chemise Costume

Lighted Open Sign, Rusted Recycled Metal Vintage
This is a handmade galvanized steel lighted "OPEN" sign. The lights are battery powered and can blink or remain on. This sign measures approximately 36×13.25×2.5 inches. This sign will only patina at the cuts and the welds, which give it a rustic vintage feel. Made by Custom Citizen in California for $150.00.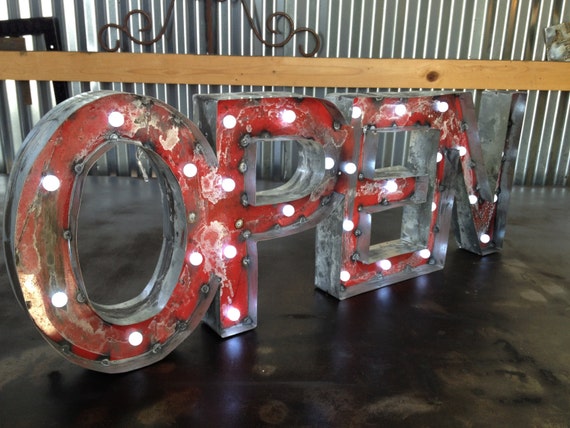 Lighted Open Sign, Rusted Recycled Metal Vintage

Designer Hot Air Balloon Clock
Hot Air Balloon Clock is an authentic handmade clock designed by Alexey Shevchuk and stylized as an air balloon. It is made of a metal frame and decor elements. This clock is a wonderful gift for new parents or anyone who collects hot air balloon pieces. You are able to move passengers, changing the composition in relation to your daily mood. Click through to the product page to see other related pieces in the Lighter than Air series.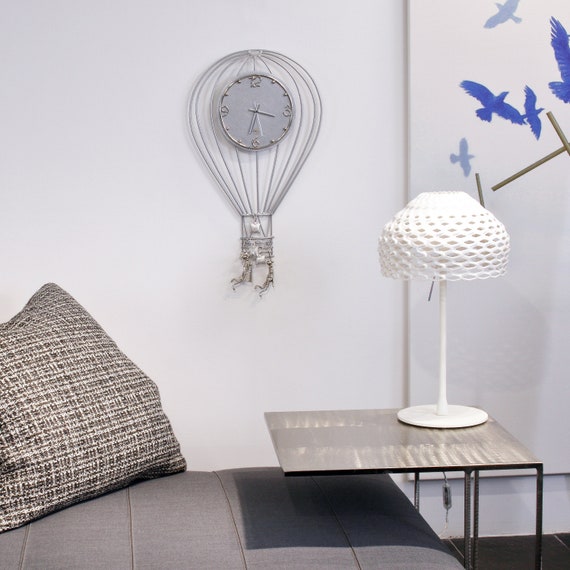 Designer Hot Air Balloon Clock

Steampunk Industrial Table
This incredible side table is designed by Ferrero Art Design as an industrial steampunk art piece for your home or office. Made with wood & industrial pipes, it will look great as a nightstand or a side table. Each piece is unique and will not look identical to picture. Contact Ferrero Art Design with questions or to order a custom item.
Steampunk Snowflake Christmas Ornaments
Made from wood, these steampunk Christmas ornaments will meet any budget. The set of three sells for $15.00, and arrive in a gift box ready to give to someone you love. Ships from Washington and made by Etched in Time, LLC.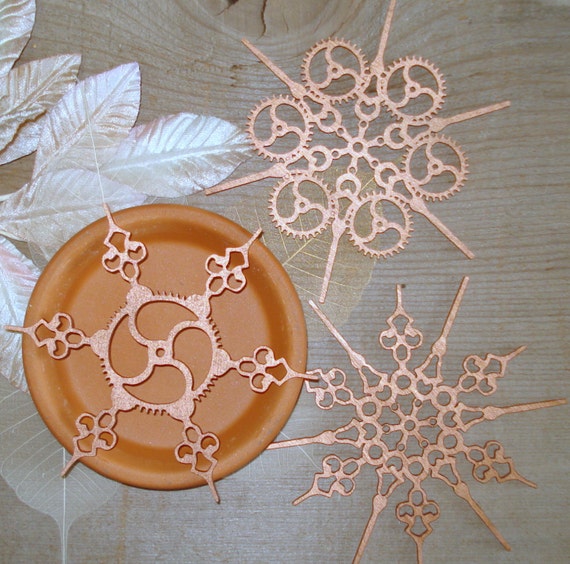 Steampunk Snowflake Christmas Ornaments

Steampunk Vintage Industrial Pipe Lamp
This fun steampunk lamp is made from industrial steel pipe and a Whitall Tatum glass insulator. Made by The Vintage Bulb, this item is $105.00 and ships from South Carolina.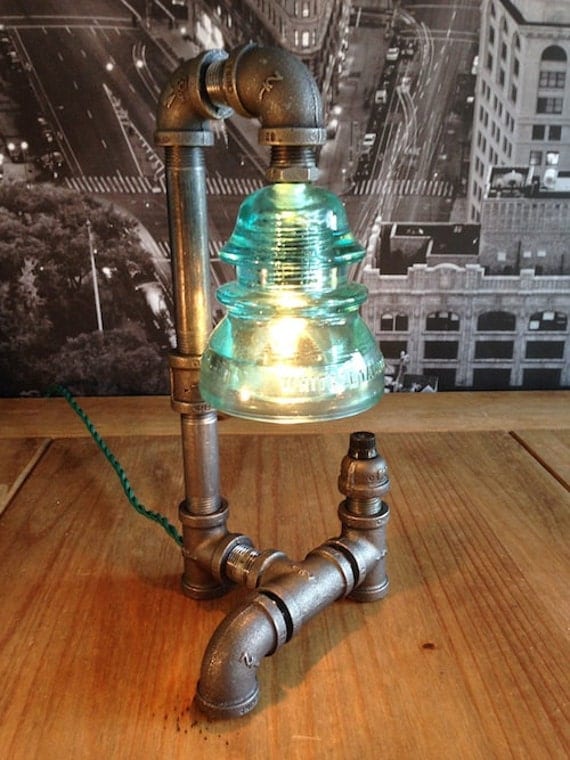 Steampunk Vintage Industrial Pipe Lamp

Steampunk Vintage Octopus Door Handle
I love this cool idea! Change your doorknob to an octopus tentacle with this gift. Originally designed for a boat, Greg's Home is now selling these for customers. Ships from France for $110.00. You can also buy two of them for a discount.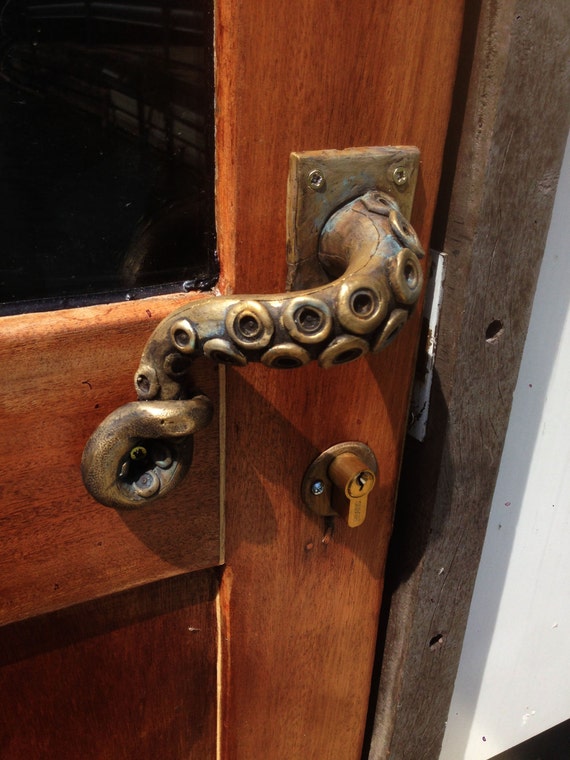 Steampunk Vintage Octopus Door Handle

Steampunk Picture Frame, Multiple Sizes
Starting at 3″ x 5″ size for $21.00, this awesome frame can be purchased in several sizes for your needs. Made from wood, this frame ships from California from Wholesale Frame, and makes a terrific and budget-friendly gift for a steampunk accent for home or office.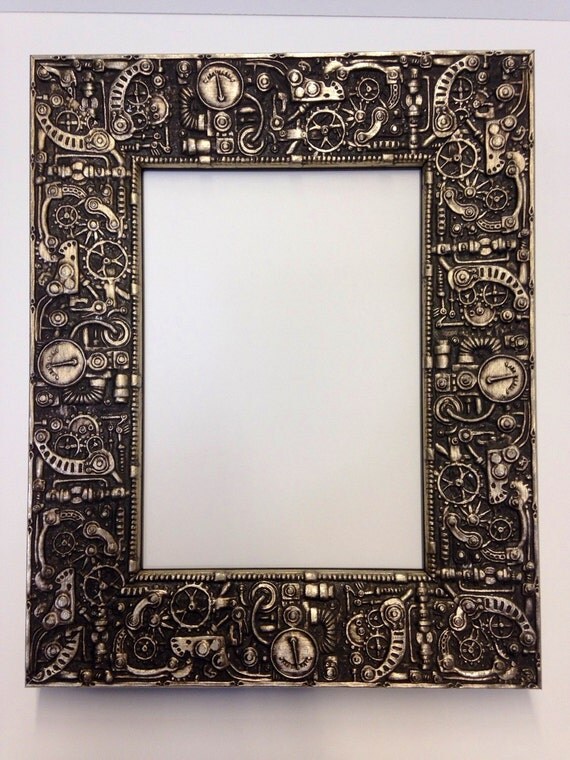 Steampunk Picture Frame, Multiple Sizes

Antique Victorian Brass Bird Cage
Awesome Old Solid Brass Victorian Bird Cage. Heavy and substantial. Weighs over 7lbs. Sits on three ornate feet. Large ring on top for hanging.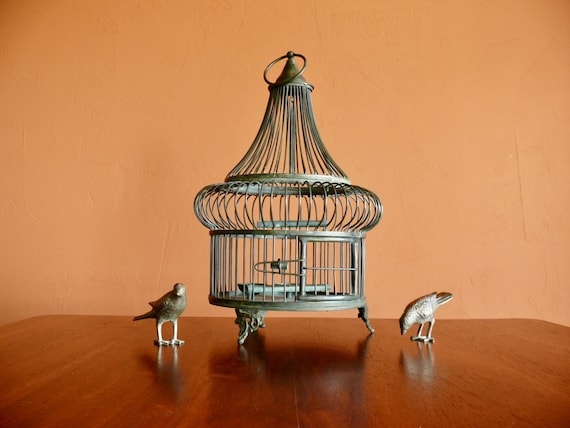 Antique Victorian Brass Bird Cage

Bugle Boy Robot – Assemblage Art
Gunther is made of a Bugler Tobacco tin, vintage shoe tree parts for legs and wooden feet from different shoe trees. His head is vintage aluminum coffee pot, a little crumpled around the top, but his hat hides it nicely. Maybe a war wound, I bet! His hat is an aluminum plate with a toy aluminum bot/collander. He has brass keys for eyes. The horn is securely attached, it actually screws onto a piece of endless thread inside his head.
He stands 17 inches to the top of his hat and is about 6 inches wide. It's about 12 inches from the tip of his horn to the handle on the back of his head.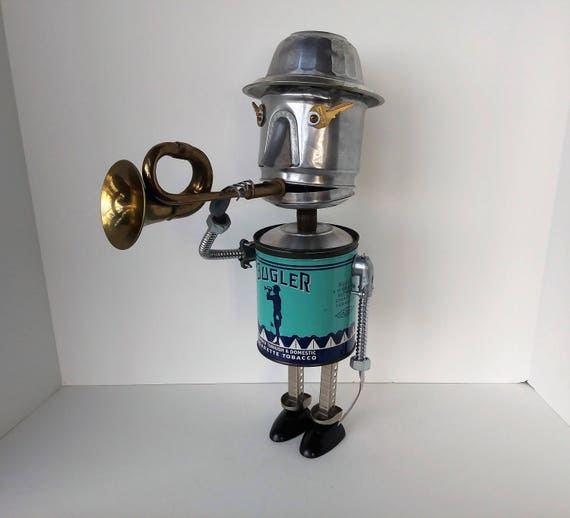 Bugle Boy Robot – Assemblage Art

Steampunk Terrarium Necklace
These darling terrarium necklaces are just plain cute! Comes in a paper gift box as a piece of jewelry or you can ask for the chain to be left off. Ships from London and price is $31.22.
Salvaged Steel & Wood Speaker Podium "The Dylan"
This podium was used for the 2015 MusiCares Person of the Year event honoring Bob Dylan during GRAMMY week. Ships in 2 to 4 weeks from New Haven, CT. Made with distressed pine wood and raw steel, this podium costs $825.00.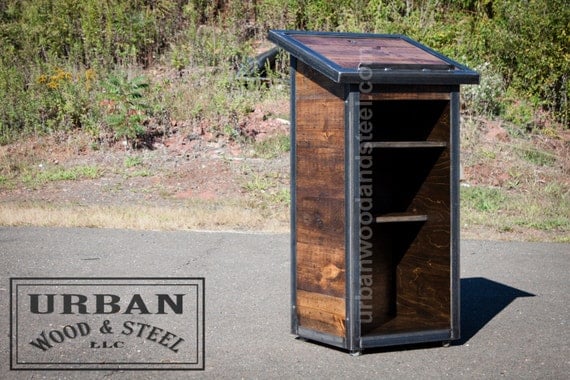 Salvaged Steel & Wood Speaker Podium "The Dylan"

Printable Digital Vintage Scrapbook Pages
Vectoria Designs makes all sorts of steampunk and vintage printable designs that can be used for various events. This particular design can be used for scrapbooking, journaling or stationary. Click through this link to browse through the other cool printables available from this shop. Lots of cool stuff. Download this one for $4.29.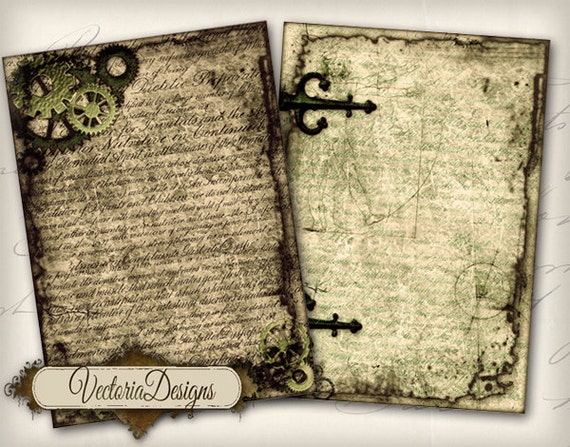 Printable Digital Vintage Scrapbook Pages

Steampunk Pin Robot Owl
This cool steampunk owl brooch is a great gift for just about anyone you know. Cosmic Firefly makes several animal brooches similar to this one using vintage clockwork parts. This item ships from Las Vegas for $55.00. Great for steampunk and owl fans.
Monocle Necklace
Last but not least, is this monocle necklace that would look very cool with a long tunic top or turtleneck. This necklace is only $18.73 and ships from Brighton, United Kingdom.
Bold Statement Pocket Watch Necklace
Designed with a real, functioning pocket watch, this necklace exhibits many kinds of faceted crystals with an AB finish for that extra punch of color. Enjoy various shades of blues, purples, pinks and a splash of classic black. A chain of midnight blue faceted crystal cubes completes this necklace with a large, ornate toggle for easy wear.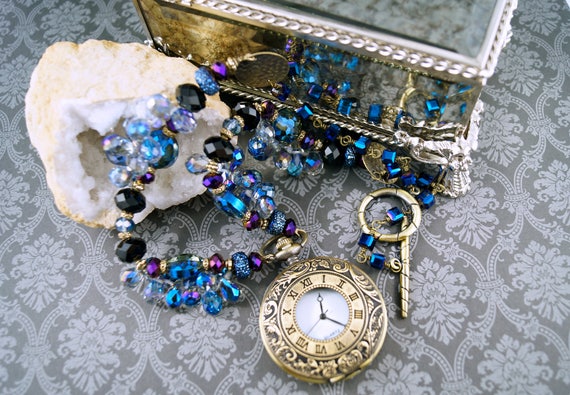 Bold Statement Pocket Watch Necklace

Steampunk Owl Sculpture
A Steampunk owl figurine to decorate your home or office and add an interesting Steampunk accent. It is hand forged using varying devices, black in color with copper patina. The size is:
Height: 60 cm (23.63″)
Width: 38 cm (14.97″)
Depth: 15 cm (5.91″)
Weight: 7 kg (15.4 lbs)
Steampunk Corset Brooch
A tiny corset is sculpted from polymer clay and embellished with copper wire, brass, chains and glass beads. Delicate color is added with a metallic finish and a satin sealer protects the polymer clay. A metal brooch pin is attached to the back. The piece measures approx. 3cm (1.25 inches) in width and 4.5cm (1.75 inches) in height excluding the chains.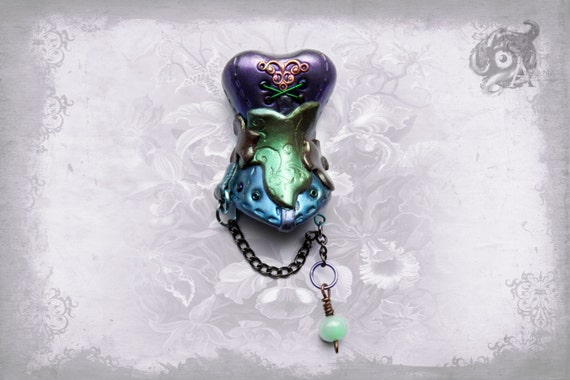 Miniature Polymer Clay Fairyland Corset Brooch

Vintage Angel Tea Time Monster Sculpture: Gracie
Vintage angel tea time monster Gracie is ideal for a mantle or bookcase Christmas scene and is great alternative for a teacher Christmas gift. Her vessel is silver plate and her halo is silver. Place her on a table with other tea time monsters or other angels for an amusing center piece that will keep your guest smiling. Measures 6 x 6 x 3.5 inches.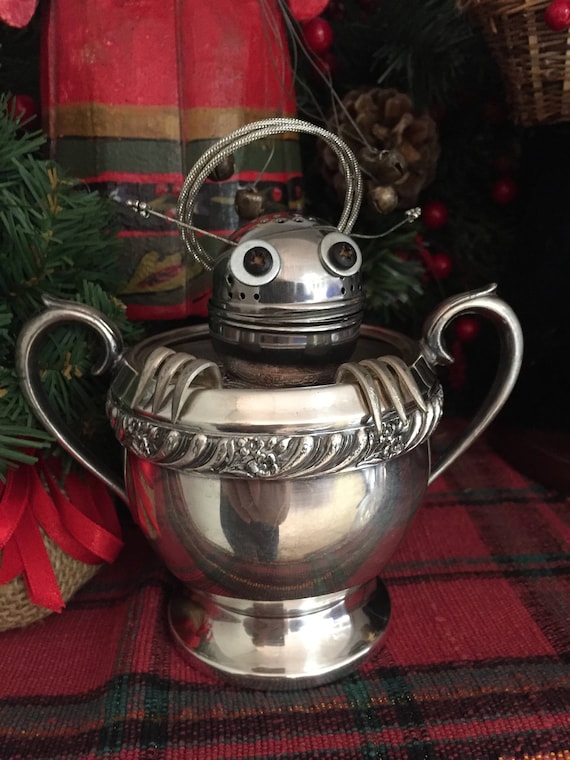 Vintage Angel Tea Time Monster Sculpture: Gracie

Pin It for Later
Like an idea from this page? Pin it to Pinterest to save it for later.


This post is part of the Pinterest Party Holiday Blog Hop. The Pinterest Party is a group of people who collaborate and share in order to grow their Pinterest following.
November
14. Personalized Handmade Christmas Gift Guide
15. Snowman Decorating Ideas for Christmas
17. Christmas Themed Throw Pillows
18. Steampunk Fan's Holiday Gift Guide (that's this page!)
19. Best Friend Gift Ideas for Teens
20. Mickey Mouse Ears Hat Ornaments
21. Holiday Gift Guide for Tolkien Lovers
(Visited 3,558 times, 1 visits today)
Check Our Related Pages Before You Go!