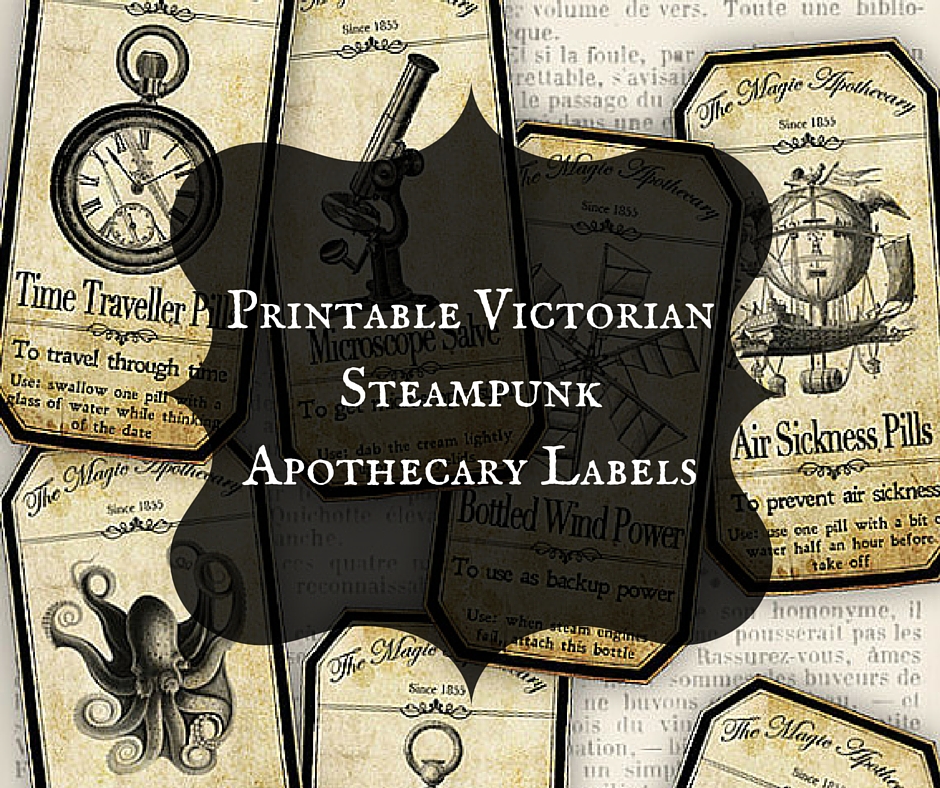 Updated for 2020
If you are a fan of the Steampunk genre, there are many ways to incorporate a little Steampunk into everything from your home decor, fashions, and even your holiday celebrations. These fun printable Steampunk apothecary labels will add some fun to your Halloween. You could use them to mark bottles and jars as part of the props for a haunted house, or maybe send the kids home with a little jar of goodies labeled with a funny Steampunk theme.
Steampunk Apothecary Labels Printable Craft
Receive these fun labels as an instant digital download of one JPG and one PDF file. Fifteen labels fit on one 8.5 inch by 11 inch sheet and each label measures 3 inches by 1.5 inches. Labels feature Steampunk themes such as a stopwatch, octopus, and man on an old fashioned bicycle.
Steampunk Vintage Style Printable Collage Sheet
These fun labels read "It Never Fails, Poison Laudanum, Prepared by Calamity and Doom". Perfect for labeling apothecary bottles for Halloween fun. Available as a digital download, with labels measuring 4 inches by 2 7/8 inches. Five labels fit on a standard 8.5 inch by 11 inch sheet of paper. Choose from four finishes: antique aged, black and white, antique, and black and white aged.
Vampire Halloween Apothecary Labels
The Newest Product for Vampires! Vampiric Elixir – add extra zesty flavor to your midnight meals! Three drops in your unsuspecting victim's drink and their blood will be extra sweet! Each 8 inch x 11 inch sheet contains 2 labels – measuring a little over 4 inches wide.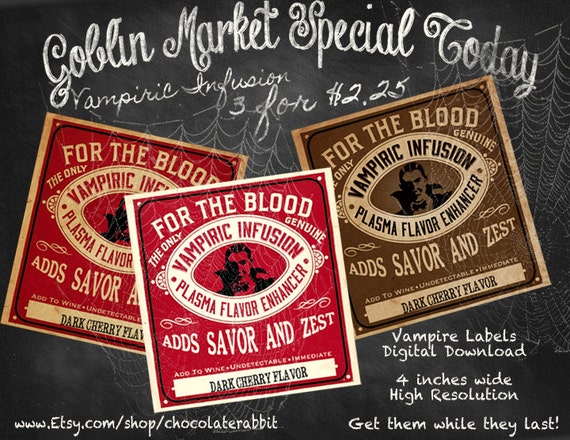 Vampire Halloween Apothecary Labels

Halloween Printable Labels
This is a download for eight creepy specimen jar images that fit on one 8 inch by 11 inch sheet of paper. Makes a cute prop for Halloween decorations or haunted house decor. Images feature scorpions, an octopus, skeleton, and skulls inside jars, with cool Steampunk tags.
&
Halloween Potion Labels
These labels are available in two sizes: 5″ tall and 3.5″ tall. Customers receive a high resolution digital file. Designs include the words Black Cat Cauldron Polish. Cute for decorating apothecary bottles, goody bags, and more.
Printable Zombie Gothic Halloween Apothecary Paper Labels
Use these great tags as part of a Halloween party and as decoration ideas. Delivered as a digital JPG file. Tags feature an antique style background and creepy characters, with room to write on the tags. Use them to label jars and bottles, or even kitchen items in containers during the Halloween season.
&
Digital Collage Sheet Blank Apothecary Labels
These antique/vintage look labels come in one size as a JPG download. Blank labels allow you to fill in with your own writing, making them perfect for labeling apothecary bottles, or use as stickers or scrapbook embellishments. Labels measure 3 inches by 1.5 inches.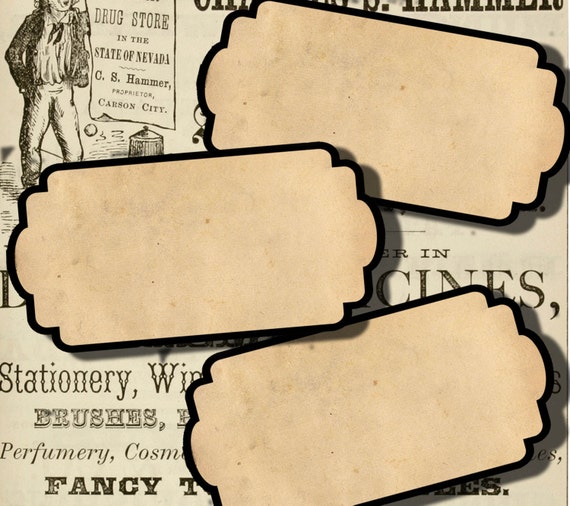 digital collage sheet blank apothecary labels

&
Vintage Halloween Witch Potion Bottle Labels
These printable Steampunk apothecary labels range in size from around 2 to 4 inches tall and have an aged, vintage look. These not only make great apothecary labels, but awesome scrapbook art as well. Labels are colorful and have vintage style images and titles such as "Imported Stinging Nettle". These would also be great for use as gift tags, jewelry charms, card making, and more. Digital download of one JPG and one TXT file.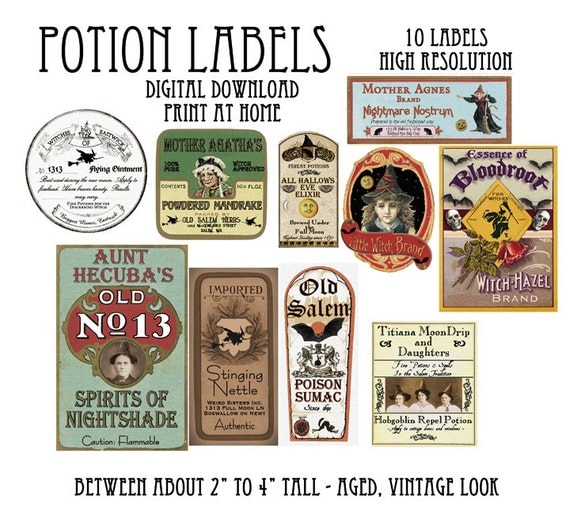 Vintage Halloween Witch Potion Bottle Labels

&
Apothecary Label Halloween Witch Potion Sheet
These labels measure six inches wide and can be chosen in either black and white or sepia tone. Two labels fit per 8.5 inch by 11 inch sheet of paper. Use as a "poison bottle label", gift tag, or frame it as a great Vintage piece. Instant download of one JPG file.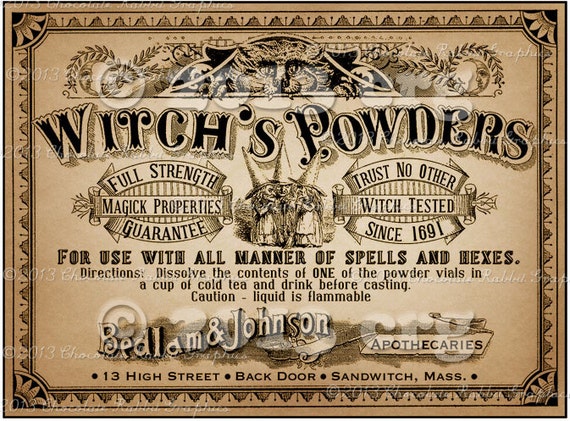 Apothecary Label Halloween Witch Potion

&
Halloween Potion Bottle Apothecary Label
These labels are available as a digital download of two JPG and one TXT file. Five different labels measuring four inches wide, all with a name of a different elixir such as Poison Foxglove and Deadly Nightshade. Choose from regular or aged look. Great Steampunk art is also great for scrapbooking projects.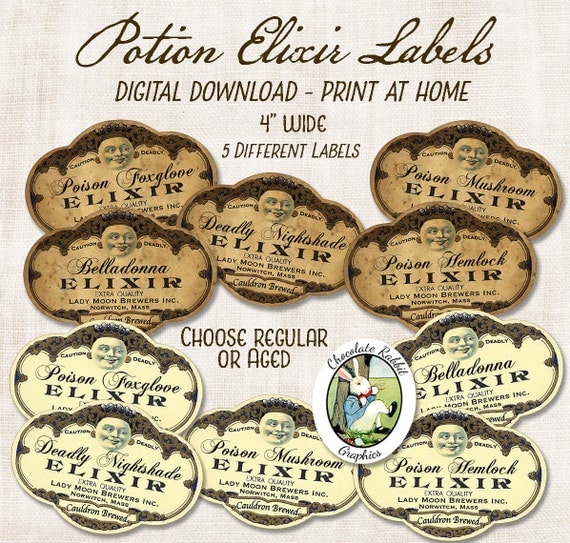 Halloween Potion Bottle Apothecary Label

&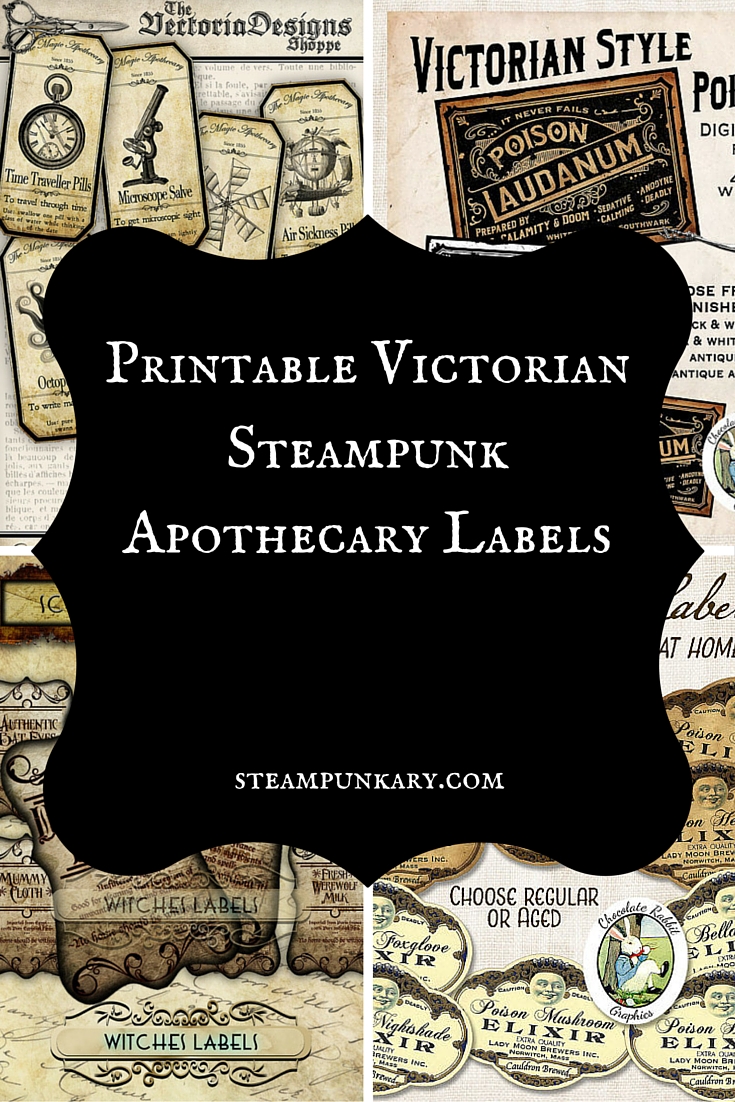 (Visited 32,195 times, 2 visits today)