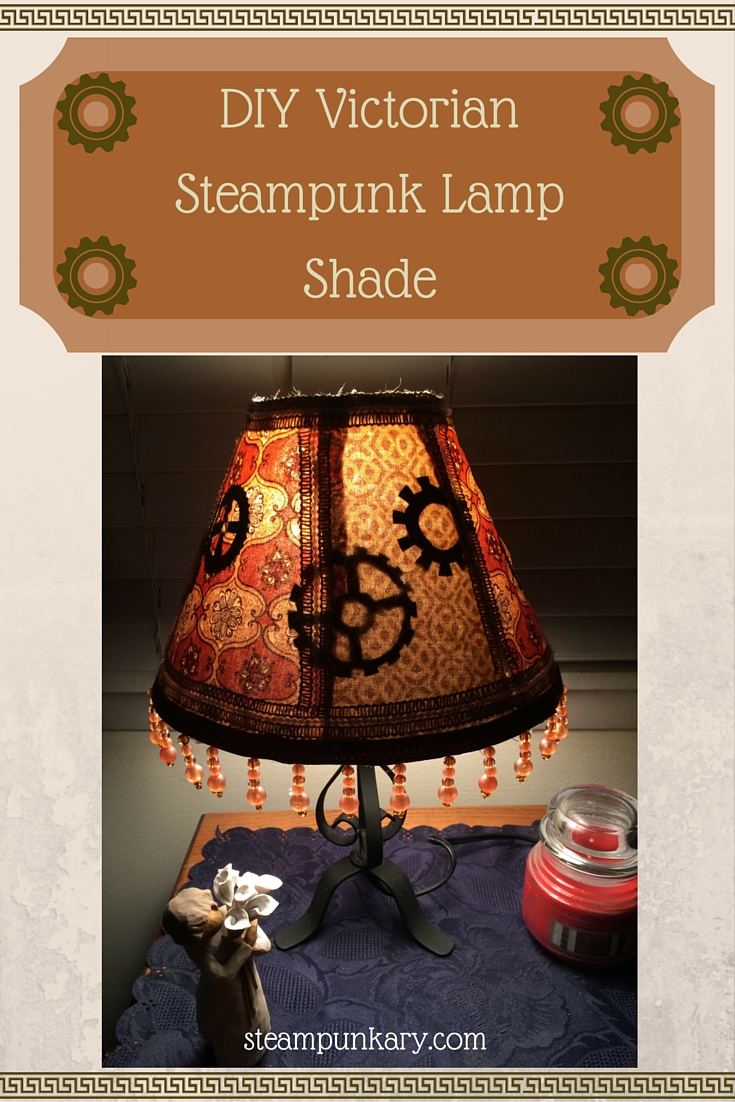 Steampunk has taken the world by storm, with everything from science fiction literary works to fashion inspirations to home decor. You can easily add your own touch of Steampunk to your home decor by making this DIY Victorian Steampunk lamp shade. Making a Steampunk lamp shade requires a bit of time, and a variety of materials, but the end result is worth it. Here is a tutorial that takes you through the step-by-step process of creating this lamp shade.
STEP ONE: Gather Your Supplies
Two coordinating fabrics
Trim/ribbon
Beaded fringe
Black construction paper/black chalkboard stickers
Plain paper (for patterns)
Non-toxic glue
Bowl
Sponge brush
Glue gun/glue sticks
Scissors
Xacto knife
Lamp shade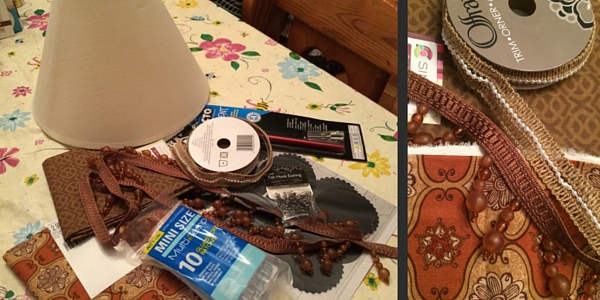 Getting everything you need gathered together for this project will help make things go smoothly. You will need two different fabrics that go well with each other. Choose tones of browns or burgundies for an authentic look. You will also need trim or ribbon in coordinating colors and beaded ribbon or fringe with beads to go along the bottom.
Other supplies needed include black construction paper or black chalkboard stickers. Plain paper on which to create patterns, non-toxic school glue, a bowl, sponge brush, glue gun and glue sticks, scissors, and an Xacto knife. You will also obviously need the lampshade you wish to work with. White or off white works best, and if you're able to find the simplest one possible that will not require you to remove a layer on the outside of the shade that will work best for this project.
STEP TWO: Prepare Shade and Make Gears
If your shade has a layer of accordion like material, that needs to be carefully removed before you can use the lamp shade for this project. Mine was a plain white one with the plain woven linen type fabric, which required no removal. I was able to find the shade at Goodwill and saved some money that way.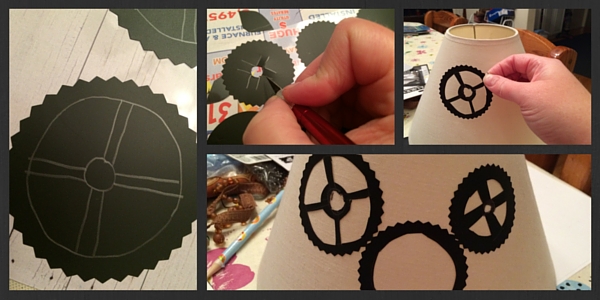 Once your shade is ready to go, it's time to prepare your gears. I looked online for some printable images of gears and found some, but was still unsure what I wanted to use for the making the gears. While searching for construction paper, I stumbled upon some black chalkboard stickers made by Darice. They were already circular, and some had gear tooth-like edges already on them, while others were perfect circles and could be cut to create the teeth of the gears. The package was mixed with a small and large sized assortment, which was perfect! I spent a few hours that evening drawing on the gears with pencil and cutting out the spokes and circles and teeth with an Xacto knife.
(***Please note that in the photos, on the example shown I accidentally forgot to place another circle around the middle circle to allow a place for the spokes to attach, so please don't make that mistake. I realized this after I had used all of the other stickers so could not create another correct example. If you do make that mistake, just cut a big circle and leave that one fairly plain with no spokes.***)
Take your time drawing and cutting and place the stickers all around the lamp shade in random order, maybe one by itself, or maybe a cluster that looks as if it's interlocking. If you are using construction paper, mix a dab of glue with a few drops of water and brush onto the gear and place it. If using glue, allow to dry before placing the fabric on the lamp shade.
STEP THREE: Create Patterns and Cut Fabric
For the small lamp shade I used for this project, I decided to make six separate sections, three slightly larger with the primary fabric, and three slightly smaller with the accent fabric. Before I could begin cutting or placing fabric, I needed to create a makeshift pattern from plain white paper. I eyeballed, placed and cut quite a few before getting them just the right size, allowing space for the other three pieces of fabric.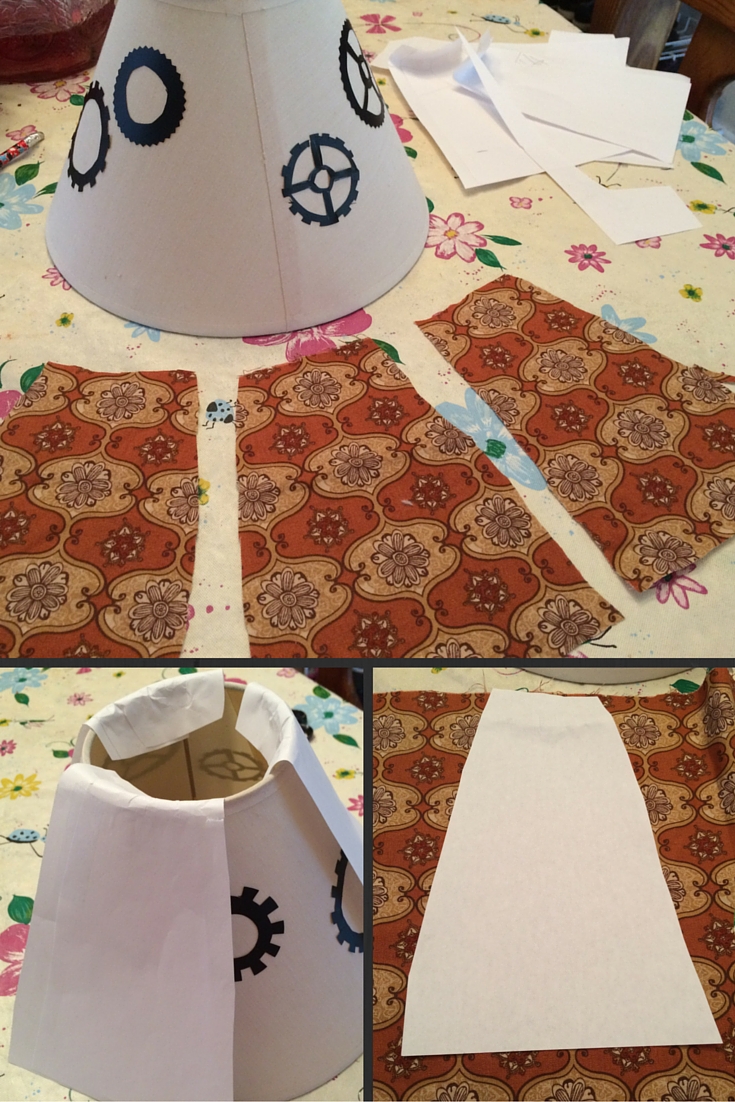 STEP FOUR: Applying Fabric Pieces
After cutting the main fabric pieces using the pattern, I mixed school glue with a few drops of water to create a semi-thick paste. I turned the fabric over and applied the glue mixture to the backsides of the fabric swatches and placed them one piece at a time.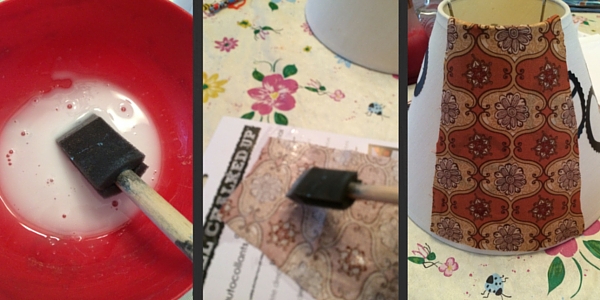 When placing the fabric near the top of the shade, I had to cut small notches to allow for the metal wire that holds the light bulb. After all three of the first fabric pieces were in place, I brushed over them with the glue mixture, paying special attention to edges.
Next, repeat this process by creating a slightly smaller pattern for your remaining fabric swatches. Cut and carefully place the fabric after applying the glue mixture. Allow lamp shade to dry before continuing.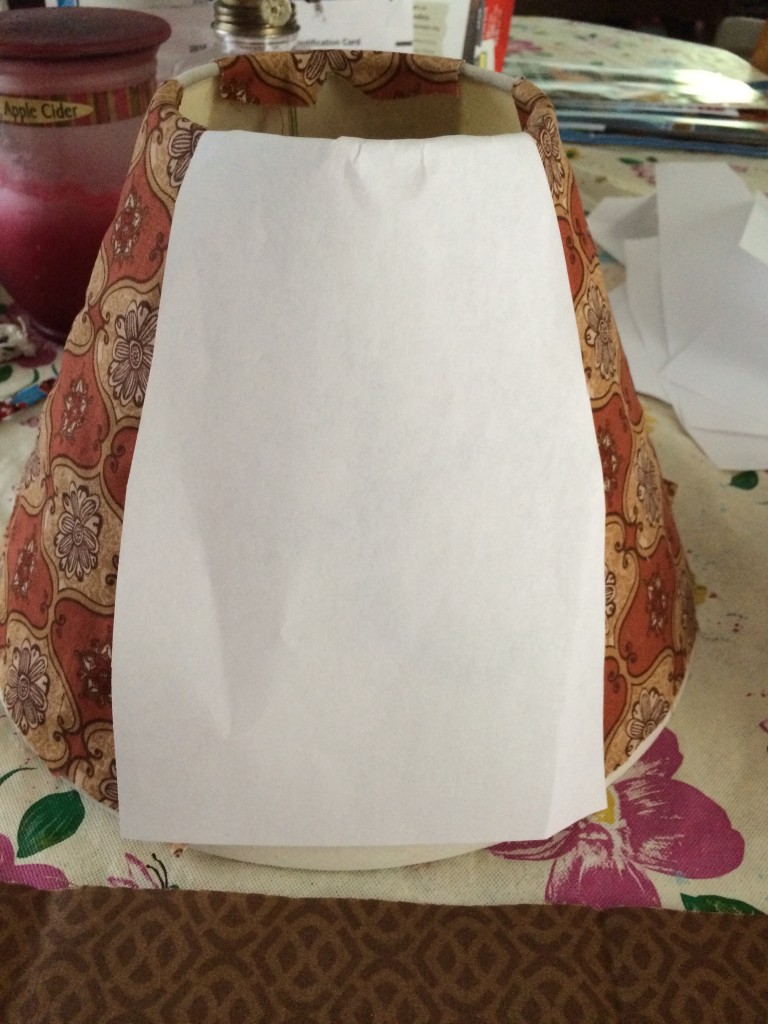 **NOTE: The fabric pieces are applied directly OVER the Steampunk gears. This way, the lamp shade looks perfectly normal during the day, coming alive when lit and revealing the hidden gears.
STEP FIVE: Adding Trim
Once all of your pieces are dry, it's time to move on. With your glue gun turned on and ready to use, first glue any sections of fabric around the top of the lamp shade that may have come slightly loose. Also, glue any little edges that may have come a bit loose before proceeding.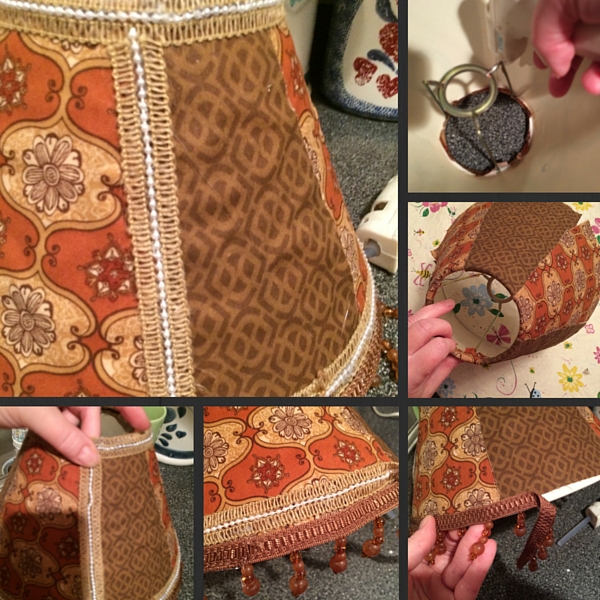 When everything is glued and looks good, begin with the bottom edge of the lampshade. You can either add a row of fringe or ribbon with beads for this part. (I had originally purchased earring wire to attach Steampunk charms to add to my beaded row, but was unable to find what I wanted when purchasing supplies. If you can find them, this would look cute!)Start gluing whichever trim you want for the very bottom of the lamp, making sure all white parts of the lamp shade are covered.
Once your bottom row is complete, begin adding the trim that will go above the bottom row of trim, along the top of the shade, as well as on each seam where the two fabric patterns meet. Do the bottom and top rows first, then cut the trim to the proper size for the seamed areas within the shade. I used a beaded Jute trim and had to make sure to pull it taut as I glued to make the beads nice and straight.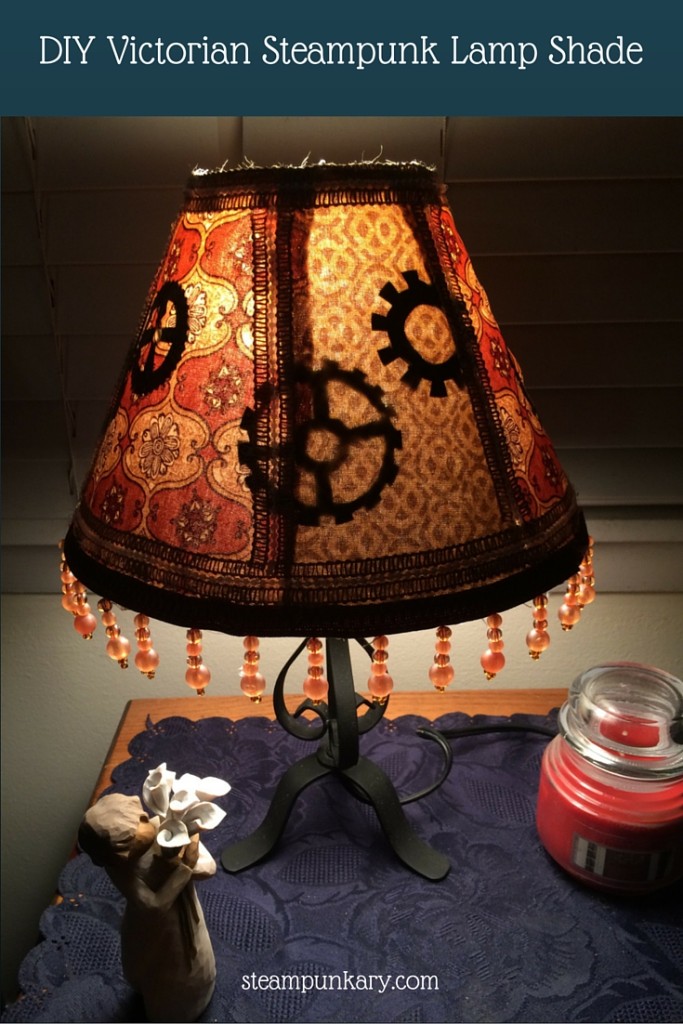 Now you have created a really cool Victorian Steampunk lampshade that will look great in the evenings when lit. Turn the lamp on to revel the hidden gears. Makes a great conversation piece and accent for the home, especially if you decorate in a Victorian style.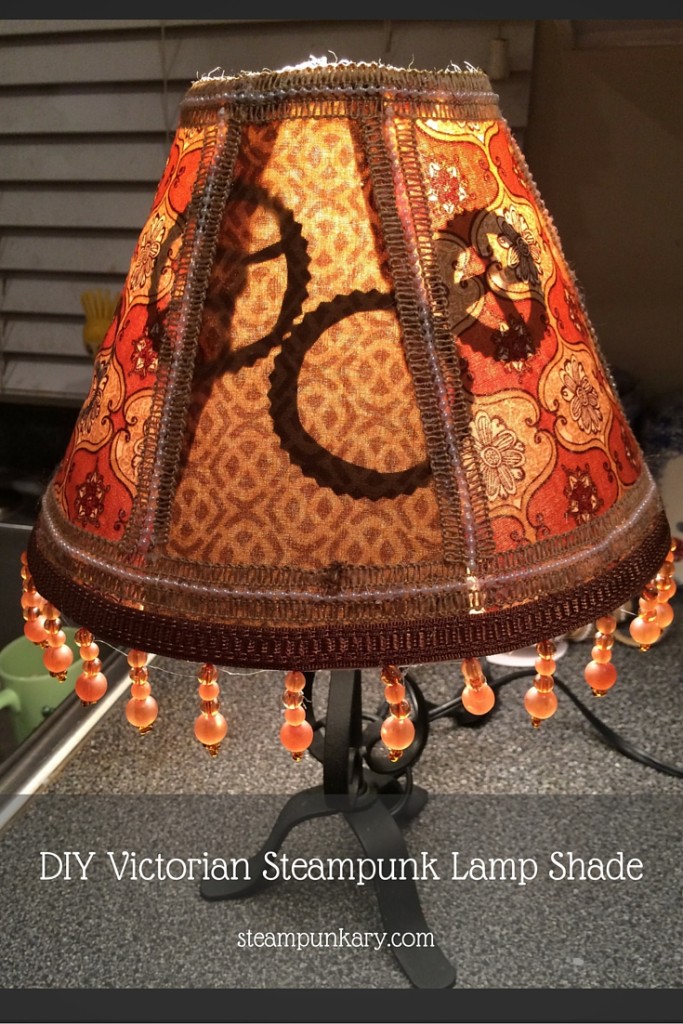 (Visited 3,575 times, 1 visits today)