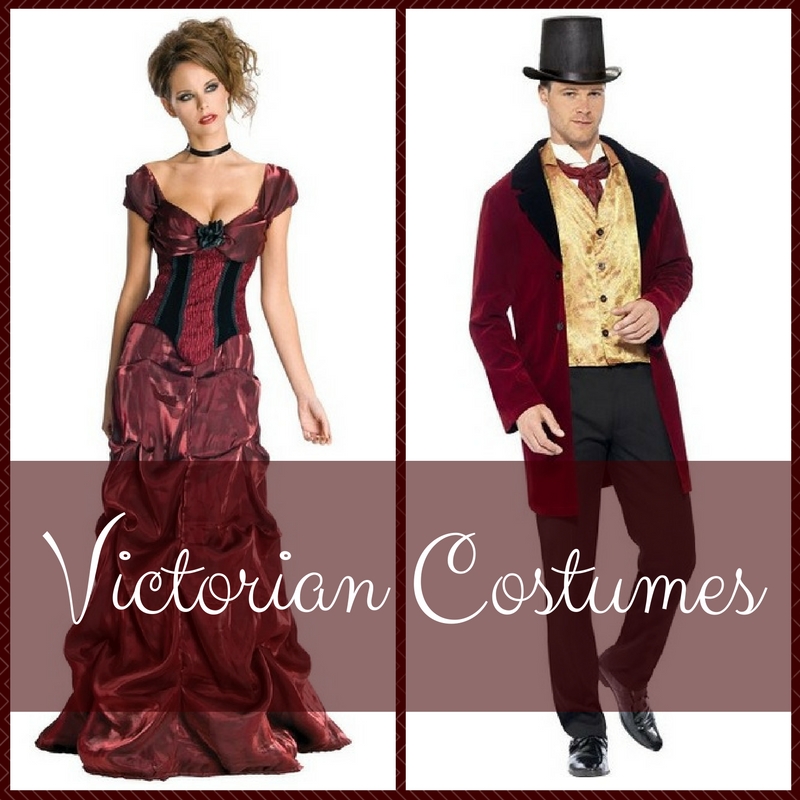 Updated for 2020
The Victorian era spawned many popular fashion trends for both men and women that are still popular choices for dressing up in Halloween or Cosplay costumes. Along with traditional Victorian fashions are the even edgier Steampunk fashions that are super cute and fun to wear. Here we take a look at some of the Victorian costumes and Steampunk fashions for both men and women that are available for this coming Halloween.
Victorian Steampunk
This costume combines the elements of classic Victorian fashion with Steampunk flare. Costume includes pants, top, overskirt, mini top hat with veil, and fingerless gloves. Pants have brown and black stripes and are revealed by the hi-low style of the overskirt. Overskirt and top are a rich burgundy color with ruffled edges. Costume comes in sizes ranging from extra small through extra large.
 Steampunk Victorian Lady Costume

 Steampunk Victorian Cosplay Skirt

 Steampunk Mistress Costume

 Lieutenant Estfeld Trench Coat

 Victorian Vamp Steampunk Costume

 Victorian Vamp Vampiress Costume

 Girls Victorian Vampira

 Victorian Steampunk

 Girls Royal Vampire Costume

 Victorian Cincher Skirt

 Steampunk Victorian Gothic Skirt

 Steampunk Fingerless Gloves

 Steampunk Victorian Gothic Costume

 Steampunk Victorian Inspired Corset Dress

 Victorian Retro Skirt

Victorian Priest Adult Men's Costume
For males who wish to get in on the Victorian theme, this priest costume fits the bill. Made from 100% polyester, this costume includes the black robe and belt. Belt features gold trim with gold fringe edging and has a gold cross on it. Costume can be machine washed on cold setting, but not tumbled dried or dry cleaned. Hang to allow to dry. Combine with black pants and shoes for an authentic look. Comes in sizes medium/large, and extra large.
 FunWorld Adult Priest Costume
 Priest Costume

 Traditional Priest

 Priest Halloween Costume
 Medieval Hooded Monk Costume
Masquerade Ball Costume
This black ball gown with silver accents is made from 100% polyester interlock and metallic knit fabrics. Costume includes gown and eye mask. Dress is a pullover style with vertical metallic silver ruffle at center. Features a U shaped neckline with silver ruffle, and a strand of faux teardrop pearls on each shoulder. Sleeves are fitted up to the elbow, then go into a large flounce with silver metallic cuffs. Skirt is full length and has wide silver knit ruffle around the hem. Mask is also black and made from plastic and is attached to a ten inch long rod. Mask has black lace and silver metallic braid edging. Available in sizes Junior 14 to 16, and Large 10 to 12 in Women's sizes. Women's size is temporarily out of stock but should be available on August 21, 2015. Perfect costume for portraying the Victorian belle of the ball, or a darker, more edgy Gothic type of look.
 Masquerade Ball Queen

 Rococo Ball Gown

 Deluxe Victorian Ghost Bride Costume

 Square Collar Gothic Victorian Dress

 Costume, Black/Grey

 Victorian Doll Adult

 Gothic Victorian Dress Costume

 Posh Victorian Lady Costume

 Victorian Raven Showgirl Dress

 Marie Antoinette Rococo Ball Gown

 Dark Queen Dress Ball Gown

 Sweet 16 Quinceanera Dress

 Partiss Bowknot Ball Gown

 Lace Marie Antoinette Costume

 Gorgeous Victorian Train Ball Gown

 Strapless Bustier Corset Lace Skirt

 Lace up Victorian Corset Skirt

 Long Sleeve Off Shoulder Dress

Dark Rose Costume Dress
Victorian costumes are full of rich colors as well as high on style. This dark rose/burgundy colored gown is made from 100% polyester fabric that is hand washable. A full length gown with cap sleeves that can be worn either up or down. Features a low cut bodice with a black flower accent in the middle. Bodice also has two black sections that add a great accent to the dress. Full skirt has a ruched appearance. Comes in sizes small through extra large. This is a truly stunning gown, especially when worn with a black choker.
Victorian Man Adult Costume
This costume comes in men's sizes small/medium (34 to 40). Costume includes the black velvet tail coat, reversible blue and red vest, ruffles lace cravat, and removable medallion. Tail coat features gold buttons with button down detail and gold buttons at the cuffs. Vest is reversible and has black ties and black piping. Pair with black pants for an authentic Victorian look.
Classic Victorian Men's Pants

Airship Pants Trousers

Victorian Gothic Mens Waistcoat

Victorian Gothic Mens Waistcoat

Dapper Dracula Costume

Victorian Pirate Gothic Coat Jacket

Victorian Cosplay Airship Shirt

Victorian Classic Men's Shirt

Victorian Gothic Cosplay Jacket

Victorian Pirate Gothic Cosplay

Victorian Gothic Mens Cosplay

Steampunk Victorian Gothic Waistcoat

Victorian Frock Coat Uniform

Gothic Tailcoat Victorian

Plus-Size Steampunk Jack

Women's Gothic Victorian Dress
This is one of the most beautiful Victorian costumes for women, done in a gorgeous royal blue and black. Available in sizes ranging from extra small to XX large. (Check size chart before ordering to ensure proper fit.) This is a full length, off the shoulders gown. Blue fabric is gathered up to reveal black underskirt. Black bow graces the front of the dress. Perfect gown for Prom, a fancy ball, or for dressing up for a Victorian event, Halloween, or for use in Cosplay. Comes with blue and black neck piece. Would look perfect with long black gloves.
Cosplay Hooded Collar Dress

Gothic Victorian Ruffles Dress

Bowknot Gothic Victorian Dress

Gothic Victorian Ruffles Dress

Vintage Gothic Lace Dress

Gothic Victorian Dress

Ballgown Gothic

Vintage Gothic Dress

Make a Steampunk Bustle from a Thrift Store Skirt
This video tutorial gives a nice history about the bustle as a once popular fashion piece that has now come back into favor for use in Victorian or Steampunk fashions. Video includes both text and pictures of the step by step process, as well as narration by the crafter. The crafter constructs a bustle from using a $4.00 skirt from the thrift store. Would look great with a skirt and corset.
DIY Victorian Dress
This tutorial shows us how to make a DIY Victorian dress using a hot glue gun, safety pins, a base dress, and embellishments. The base of the dress was a ten dollar thrift store wedding dress. The artist also uses some curtain swags to make other parts of the costume. Follow along with the videos as it is in several parts. The main advantage to this costume idea is that there was no sewing involved, which is great for those who don't possess sewing skills or simply don't have time to sew. The designer also goes on to make a matching hat. While this tutorial isn't the most informative when it comes to actually telling how to make the costume, it does provide some information and photos and definitely provides a lot of inspiration for creating your own inexpensive and original Victorian costumes.
Steampunk Jack Costume
This costume is not only Steampunk, but could also be used as a man's Victorian era costume. Made from 100% polyester, this costume comes with jabot, vest, and jacket. Fits adult standard size of chest size up to 42 inches. Jacket is brown with black accents and collar. Vest is a black and gold color scheme with a pattern printed on it. Pair with pants and boots for an authentic Steampunk look. This is the perfect men's costume for either Halloween or Cosplay fun. Top off with a Victorian era hat to really complete the overall look.
Victorian Steampunk Costumes on Milanoo
I recently discovered a new source for some lovely Victorian and Steampunk costumes. Many are full-length dresses with all of the poof and petticoats you need to dress properly. Here are some examples of what is available for women. There will be another post with men's costumes.
 Victorian Long Dress

 Victorian Formal Dress

 Long Sleeve Shirt

 Victorian Long Dress

 Victorian Formal Dress

 Victorian Ball Gown

 Victorian Blue Long Dress

 Gothic Ball Gown

 Gothic Long Dress

 Ruffled Long Dress

These are all long dresses, but they have some in this style in shorter dresses. Of course, no one in Victorian times would have worn those. Click through for more colors and details about these dresses. You can get measurements for sizes and several color choices.
Pin This Image to Save This Page for Later
Love these costumes, but not for right now? Just pin the image below on Pinterest to save it for later.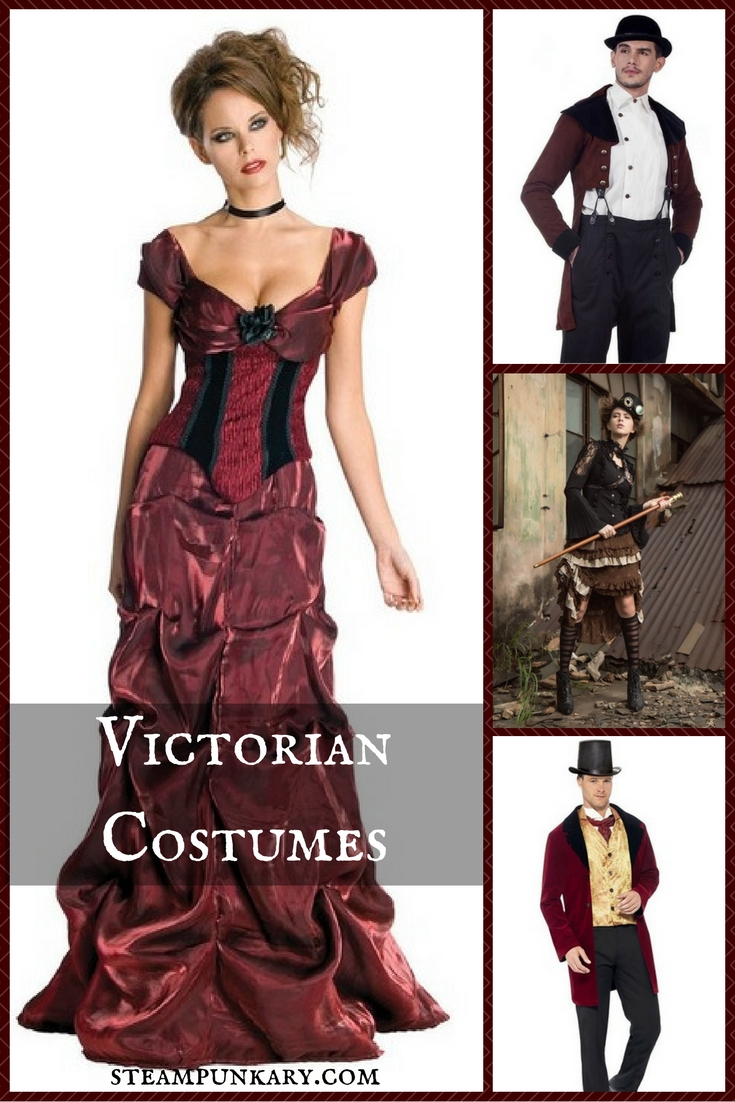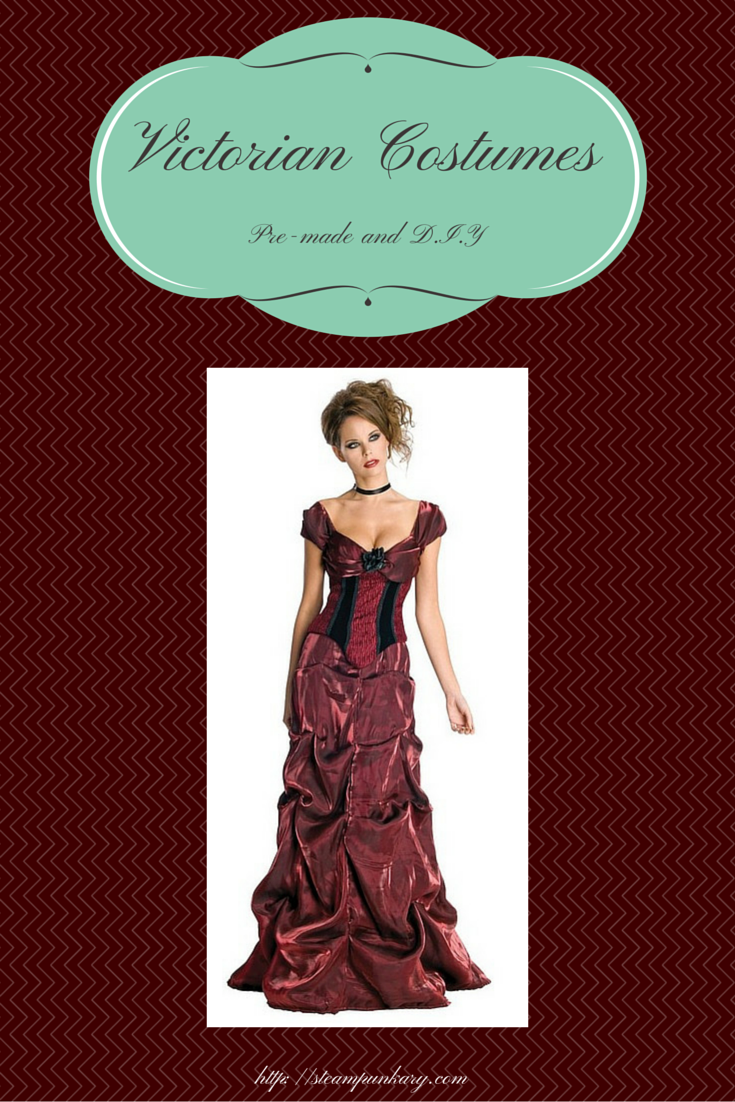 (Visited 6,510 times, 1 visits today)