Most of us have spent the last several weeks staying at home either working or taking care of children and homeschooling. It is tough to fill your days at home with with stimulation and fun. In fact, many of our readers are finding that older types of games and puzzles work well to do with family at home. In light of this situation, we have added a lot more Steampunk jigsaw puzzles to our Zazzle shop which you can personalize as gifts or buy as is for yourself, your family or donation to a shelter or group home. These puzzles come in a variety of difficulty depending on who you are buying for.
Steampunk Puzzles That You Can Personalize
All the puzzles on this page are a selection from our Zazzle shop. We have added a lot of new designs for you to browse, and remember that you can personalize them when you order with text or images.
This first group of puzzles either feature a hot air balloon in some fashion or other Steampunk elements such as a birdcage. If you want to include your own text, you can add a shape on top of the design and then your text so it stands out. Click through any puzzle to get more information on size, number of pieces, and level of difficulty.
 Victorian Love Thoughts Dreams Butterfly Bird Cage Jigsaw Puzzle

 Dusk Blue Hot Air Balloon Steampunk Handwriting Jigsaw Puzzle

 Adorable Steampunk Hot Air Balloon with Flag Jigsaw Puzzle

 Steampunk Hot Air Ballon Ride Graphic Fonts in Red Jigsaw Puzzle

Personalize these Floral Puzzles for Any Occasion
These floral designs are great for weddings, Mother's Day, and gifts for anyone who loves flowers. Your own text or images can be added to any of these puzzles when you order them. Bridesmaid gifts, mother-in-law, or guest bags are better when you add a personalized puzzle.
 Vintage Victorian Music Romance Tulips Jigsaw Puzzle

 Thank You Mom Faded White Dogwood Blossoms Jigsaw Puzzle

 Beautiful Romantic Summer Bouquet with Red Rose Jigsaw Puzzle

 Victorian Purple Pansy Bouquet for Mother's Day Jigsaw Puzzle

Victorian Jigsaw Puzzles for Personalized Gifts
If you love the Victorian period, this group of puzzles should please you. All of these have a feminine air to them, making them terrific Mother's Day gifts. However, you don't need to give them to mom, other people will love figuring out how to put them together with you at home. Or send them to someone who is looking for activities at home. Click through for more information.
 Distressed Victorian Woman w/Flowers on Watercolor Jigsaw Puzzle

 Mother's Day Vintage Advertising Glycerine Soap Jigsaw Puzzle

 A Cup of Tea for Mother's Day Pink Jigsaw Puzzle

 Vintage Show Girls Hotel France Flowers Feathers Jigsaw Puzzle

Distressed Vintage Jigsaw Puzzles for Personalizing
This group of puzzles are made from images usually used for scrapbooks or journal pages. They all have a distressing style with mixed elements making up the background. These make great gifts for scrapbookers or crafters. You can easily add your own message on any of these designs.
 Mother's Day Old Sheet Music Score Roses Butterfly Jigsaw Puzzle

 Mother's Day Vintage Post Mail Pink Tulips Bird Jigsaw Puzzle

 Mother's Day Distressed Vintage Pink Green Flowers Jigsaw Puzzle

 Distressed Fantasy Woman Gathering Flowers Grain Jigsaw Puzzle

Mother's Day, Easter and Other Holiday Puzzles to Personalize
We've mentioned Mother's Day, but we will all be social distancing to some extent this entire year (and maybe longer). Here is a selection of our puzzles that can be sent for other holidays such as Easter, July 4th, or Mother's Day. Note that other than the Easter puzzle, the text can be personalized by changing what's already there.
 Vintage Shield Red White Blue American Eagle Stars Jigsaw Puzzle

 Vintage Easter Greetings Birds Nest Rustic Fence Jigsaw Puzzle

 Mother's Day Vintage Frame Tea Cup Roses Daisies Jigsaw Puzzle

 Mother's Day Garden Carnations Roses Butterflies Jigsaw Puzzle

Steam Engines, Clockwork, and Other Steampunk Puzzles
For our dedicated Steampunk fans, here is a selection of puzzles featuring Steampunk themes such as clockwork, Edison lightbulbs, gears and other mechanical images, trains and steam engines. These make great Father's Day gifts, and can be personalized with a message when you order.
 Steampunk Mechanical Bird Engineering Father's Day Jigsaw Puzzle

 Steampunk Gentleman Pocket Watch Bowler Hat Jigsaw Puzzle

 Steampunk Vintage Old-Fashioned Copper Clockwork Jigsaw Puzzle

 Vintage Locomotive Train Steam Engine Railroad Jigsaw Puzzle

Nautical Puzzles for Father's Day and More
We also have a selection of nautical puzzles featuring nautical images including sailing ships, maps, lighthouses, sea creatures and more for you to browse through on Zazzle. These make great Father's Day or birthday gifts for someone you know who likes being on the water. Click through for more information about sizes and difficulty.
 Vintage Nautical Sailing Ship Navigation Map Jigsaw Puzzle

 Vintage Nautical Standing Lighthouse for Ships Jigsaw Puzzle

 Victorian Steampunk Deep Sea Diver Red Roses Jigsaw Puzzle

 Painted Nautical Octopus Kraken Squid Jigsaw Puzzle

Pin This Image to Save This Idea for Later
Not ready to buy a jigsaw puzzle for a gift or for yourself? That's OK, just pin this image to Pinterest to save this idea for later.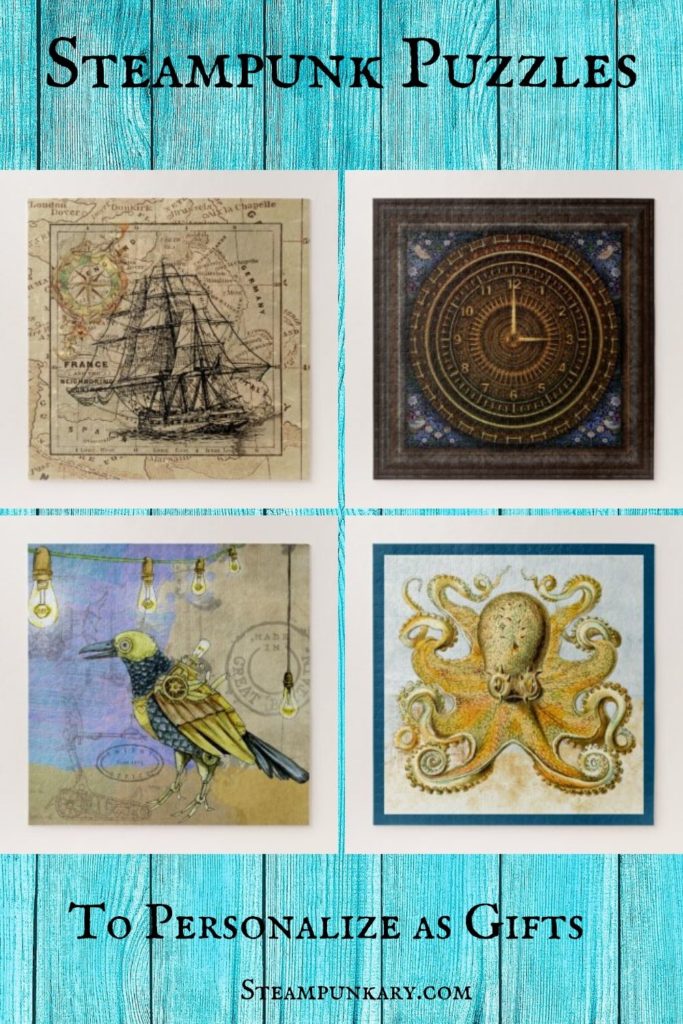 (Visited 959 times, 1 visits today)