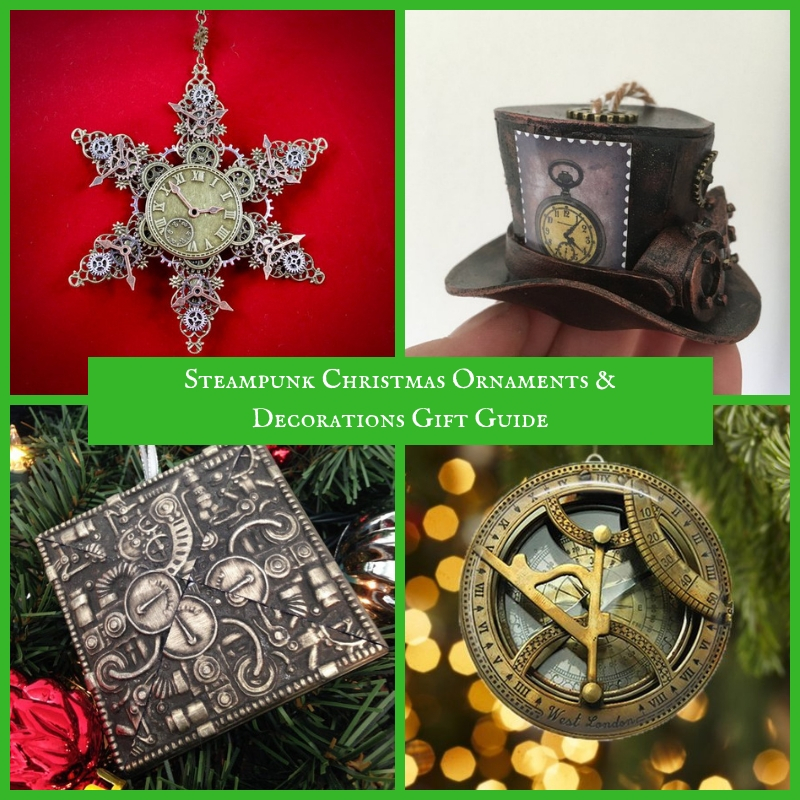 Fans of steampunk can have a lot of fun creating a steampunk Christmas tree or decorating their home with steampunk holiday decorations. Steampunkers are already very creative people who use their imaginations, so making your own ornaments is one way to do this. In fact, if you are really handy, you can recreate this wreath with all clockwork gear elements. However, for those of us without any time or tools to make decorations, here is a steampunk Christmas ornaments & decorations gift guide to help you shop for your own additions to your decorations this year. Many of these are very affordable and will also make lovely gifts for other steampunk fans.
Handmade Steampunk Ornaments
Miniature Steampunk Christmas Tree
This miniature Christmas tree makes a lovely ornament, and I had to include it because it is so beautifully done. Handmade from polymer clay, this tree is only about 2 inches tall. The artist has several other Christmas decorations in the shop that you can browse including some adorable steampunk gingerbread men ornaments.
Red Octopus Ornament
This red octopus is sold as a necklace, however it would also make a lovely octopus Christmas ornament. This artist sculps these from polymer clay before finishing them in various ways. They come in an array of colors and can be worn as a necklace throughout the year when not on your tree.
Steampunk Vintage Compass Ornaments SET of 3
These handmade ornaments are perfect for someone who loves all things nautical. They can be used as decorations throughout the year in a nautical setting or saved for Christmas tree decorations. Cool vintage style and steampunk nautical compass pieces. Give all three to one person or separate the set and get 3 gifts in one.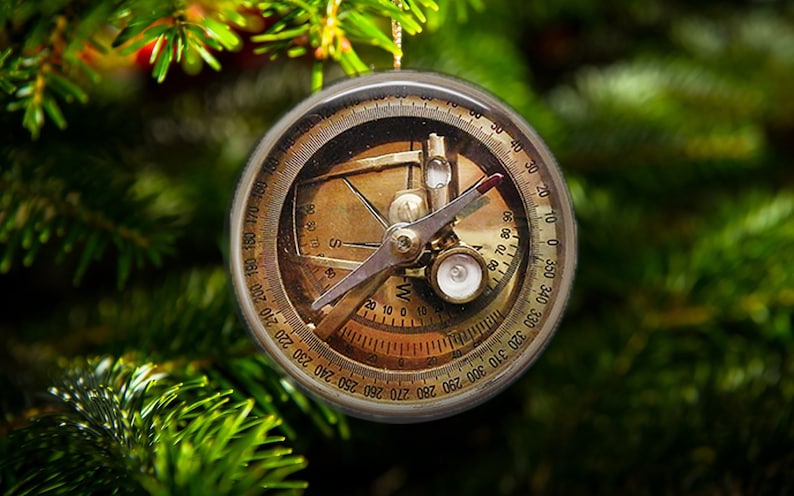 Steampunk Vintage Compass Ornaments SET of 3

Steampunk Christmas Ornament
This unique handmade steampunk Christmas ornament is created using a stamped pattern. Features lovely steampunk elements and finished in a bronze tone. It would contrast nicely to the red and green colors of Christmas.
Steampunk Ornament/Industrial Style Ornament
One of several steampunk Christmas ornaments by Dragon Tracks Studio, this ornament features polymer clay gears and watch parts set in resin on a glass ornament. Great colors for a Steampunk Christmas tree.
Steampunk Ornament/Industrial Style Ornament

Steampunk Airship-Steampunk Submarine Ornament
This cool Steampunk Airship ornament is made primarily from wood with some gears as accessories. Builders Studio makes an entire gallery of interesting retro and Steampunk doodads including jewelry, sculpture, ornaments and cake toppers. Have fun browsing their shop.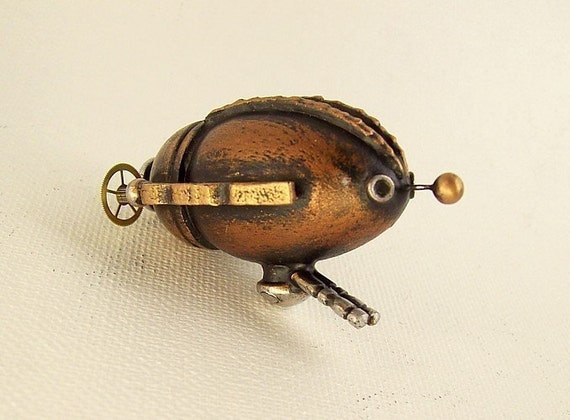 Steampunk Airship Steampunk Submarine Ornament

Scissor Snowflake Christmas Ornament
Arcanum By Aerrowae has several unique snowflake ornaments like this one available in their very interesting Etsy shop. This ornament features scissors as the arms of the snowflake, but you can also find keys and other items in these cool ornaments. You can also order them in other colors. Click below to see more images and to order this Scissor Snowflake Ornament.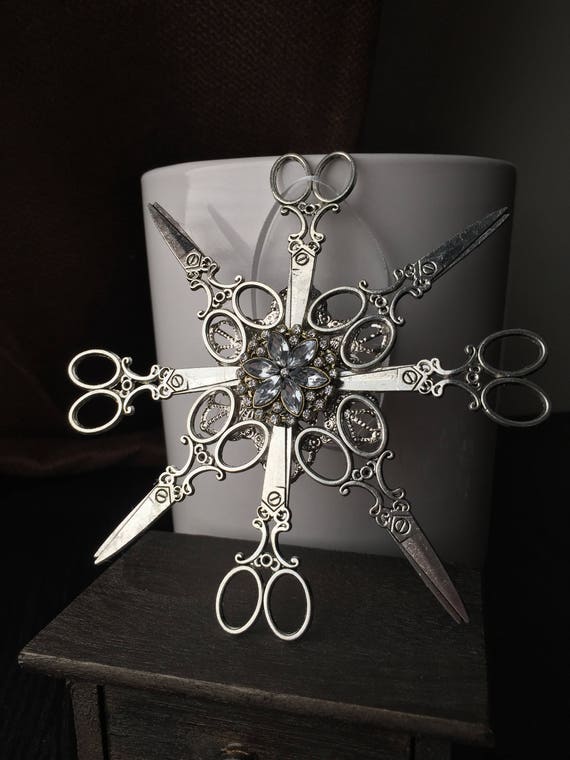 Scissor Snowflake Christmas Ornament

Steampunk Gear Christmas Ornament Set of 8
For a simple way to steampunk your Christmas tree, adding this group of 8 gear ornaments is a great start. They look great on the tree and will offer a steampunk mood to your holiday decorating.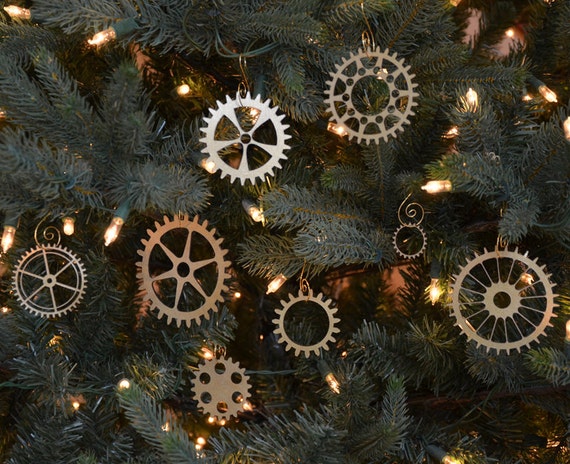 Steampunk Gear Christmas Ornament Set of 8

Steampunk Snowflake Ornaments
These steampunk snowflake ornaments are lightweight and really stand out. They are painted in bright steampunk colors and blend the concept of snow and steampunk into your holiday decorations. Great additions to any steampunk Christmas decor.
Mini Hat with Glasses Ornament
Another incredible handmade steampunk ornament, this miniature hat features goggles and clock motifs. Top hats, clocks and clockwork and goggles are some of the most popular steampunk themes that you can find. Very nicely made and would be a great gift too.
Steampunk Clock and Gears Filigree Christmas Ornament
This Steampunk Clock ornament is one of several in the unique shop of Hedwig's Baublry. We've featured this shop before in another post with the full range of what is made. However, during the holiday season, you can find loads of cool assembled ornaments in various themes.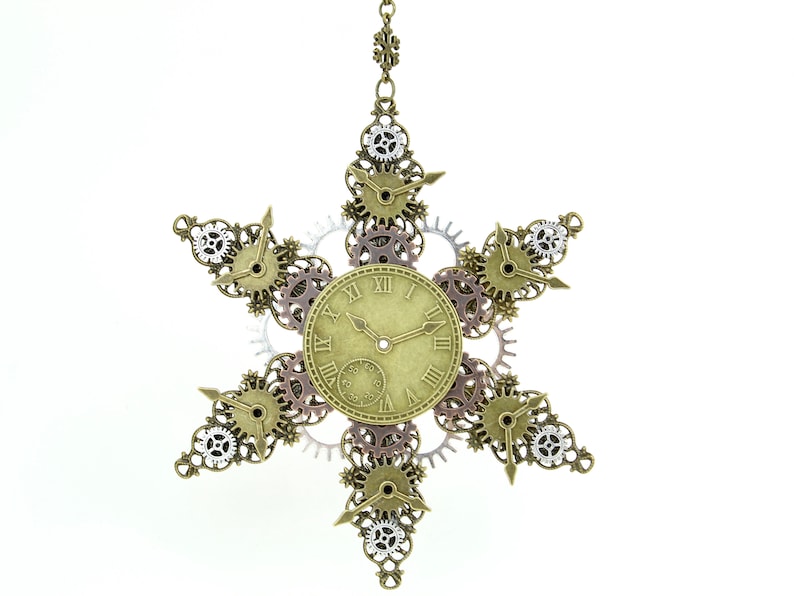 Steampunk Clock and Gears Filigree Christmas Ornament

Nautical Anchor Christmas Ornament
This anchor ornament is a good addition for a steampunk tree especially if you are adding other nautical items such as the octopus at the beginning of this list. You can buy multiples of this item and other related ornaments for a nautical tree.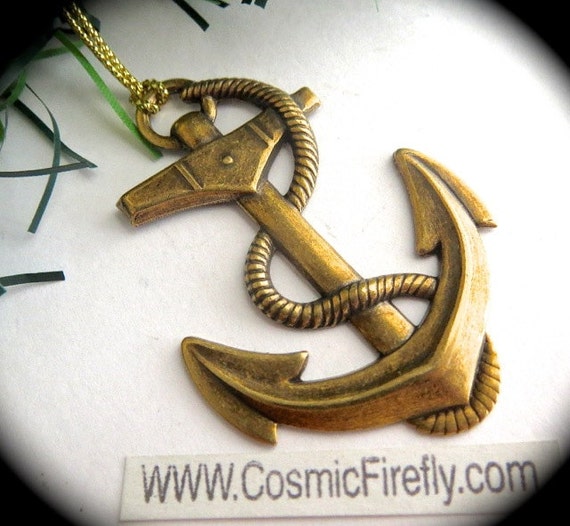 Nautical Anchor Christmas Ornament

Steampunk Clockwork Hands Ornament
This is a handmade gear ornament made with multiple colored gears that are glued together. This piece can be customized or ordered like pictured. Amber Ilys Steamcrafts featured jewelry and accessories creating in Steampunk fashion.
DIY Steampunk Ornaments
DIY Steampunk Ornaments
This item is a cutout from Creative Embellishments that you can use to make your own steampunk Christmas ornaments. We used their products for this Christmas ornament craft. They also have lots of other shapes that you can use.
Laser Cut Plywood Ornament – Steampunk Balloon
Similar to the cutout above, this is a laser-cut ornament that you can embellish using paint and other elements to make your own ornament. You can also find other shapes to decorate.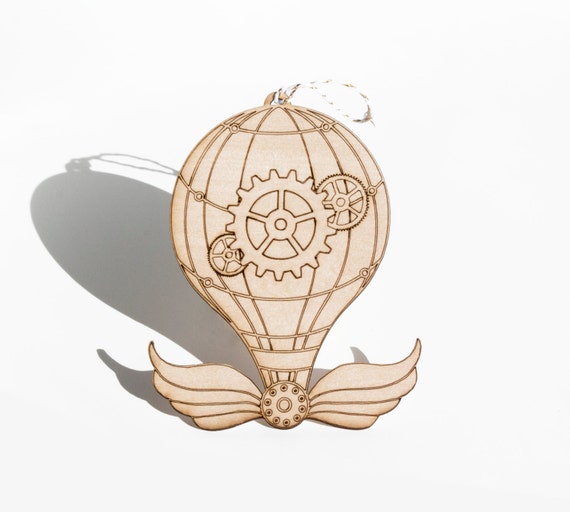 Laser Cut Plywood Ornament – Steampunk Balloon

Steampunk Christmas Garlands
Steampunk Banner
This Steampunk Banner by Kismet Creative can be used for Christmas and at events all year round. Made from collaged materials including book pages, it is lightweight and can be hung from any surface. Comes fully made.
Colorful Gear Garland
This garland made by The Paper Cove is shown in bright colors for a child's event, but could also be ordered in just red and green for Christmas. Made from paper cutouts, you can hang this anywhere in your home for a party or Christmas decoration.
16 Steampunk Christmas Paper Cutouts Garland
This garland is one-of-a-kind, there is only one available. It is made with chipboard cutouts and Steampunk paper on both sides. It is unstrung, but comes with thread for you to string it. Studio Cee specializes in chipboard and paper die-cut cutouts.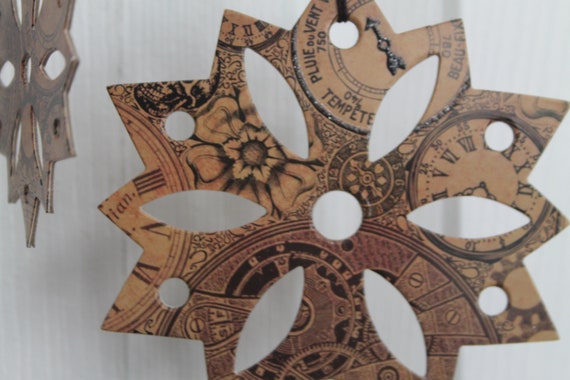 16 Steampunk Christmas Paper Cutouts Garland

Steampunk Christmas Stockings
Felt Christmas Stocking
This artist has several steampunk-themed Christmas stockings made from felt all in different designs. This one has gears in varying colors and a lock. Very nicely made, perfect for a steampunk Christmas.
Gothic Victorian Christmas Stocking Metallic Silver Damask
This stocking will stand out amongst the red and green holiday decorations. One of several stockings from Working Class Punx, you can hang it up on your mantel year after year. Makes a lovely gift too.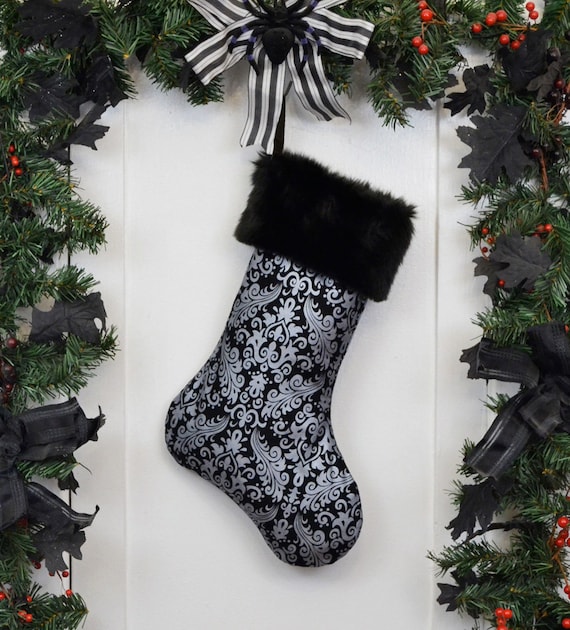 Gothic Victorian Christmas Stocking Metallic Silver Damask

Whimsical Steampunk Christmas Stocking
This handmade Steampunk Christmas stocking made by The Storybook Cottage features gears in several colors. It is a neutral color that will standout from the tradition forest green and red in most homes and makes a lovely gift for a steampunk fan.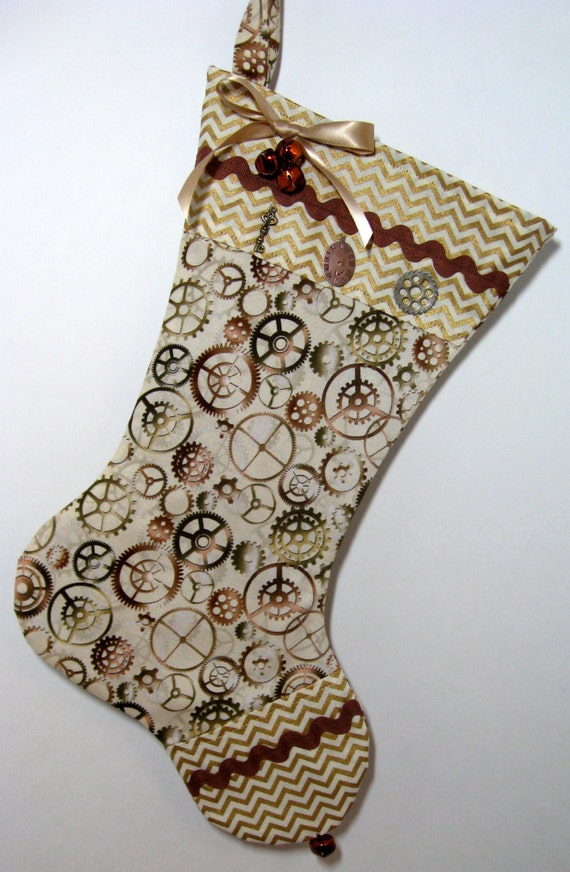 Whimsical Steampunk Christmas Stocking

Victorian Steampunk Sparrow Christmas Stocking
One of the coolest Christmas stockings we've seen, this Victorian Stocking makes quite a statement. Included in the design from Silver Swan Shop are vintage-looking fabric, ribbon laces and bow, pleather strap with ornate button, machine-embroidered fancy 'buttons' and a Steampunk sparrow, olive lamé fabric heel and toe, and velvety brown plush faux fur at the top. Click through to see more images of this Christmas stocking.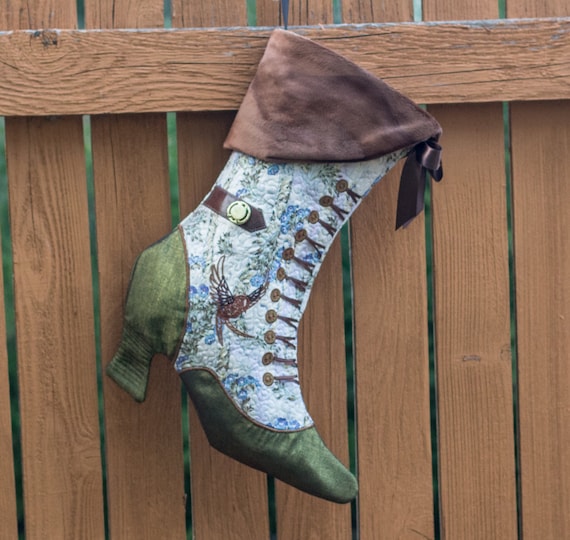 Victorian Steampunk Sparrow Christmas Stocking

Other Decorations
You can find other appropriate ornaments and decorations for a steampunk Christmas on these pages below:
****************************************************
2016 Pinterest Party Winter Blog Hop
This post is part of the Pinterest Party 2016 Winter Blog Hop. The Pinterest Party is a group that helps people grow their Pinterest following. Find other posts in this blog hop below:
1. Steampunkary – Steampunk Christmas Ornaments & Decorations Gift Guide (you are here)
2. Grammie Knows How – Winter Essentials for Safety on the Road
3. Determined to Shine – Inspired by Angels: A Holiday Art Journal Project Using Coloring Book Pages
4. Deal Finding Family – Fun, Family Winter Activities
5. Unique Christmas Decorations – Winter Wonderland Christmas Decorating Ideas
6. Kids Fun Reviewed – Grinch Printable Whoville Cupcakes Topper
7.  Little Blog in the Country – Peppermint Herb Bath Bombs
8. Fit for God – 3 Tips On How To Have A Healthy Holiday
9. Birthstone Magic – Winter Colored Birthstones: Beautiful Blue and White Birthstones for Winter Celebrate the Season
10. Olives-N-Okra – Christmas Granny Square Dish Cloths – Free Crochet Pattern
12. Housewives Hobbies – Christmas Free Knitting Patterns
13. Essential Oils for Guide – 20 Ways to Stay Healthy & Stress-Free During the Holidays
14. Best Gifts for Happy Living – How To Decorate Your Dining Table For Christmas
15. Pennies & Playdough – 25 Christmas Books Your Child Will Love
16. Victorian Christmas Party – Celebrate the Holidays with a Traditional Victorian Christmas Dinner
17. Stephanie Grams – Products and Tips for Protecting Your Skin this Winter

(Visited 4,010 times, 1 visits today)