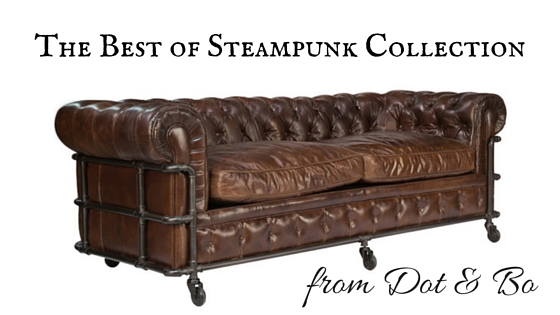 If you are looking to bring a touch of the whimsical Steampunk style into your home decor, look no further than Dot and Bo's The Best of Steampunk collection. Here you will find exciting and whimsical Steampunk decor in everything from light fixtures, to furniture, to throw pillows, wall decor, and more. Bring in the look of vintage meets modern while combining materials such as wood, steel, and iron. These great Steampunk decor items will add a touch of charm and whimsy to your home.
Making Music Gramophone
Everyone loves music, so if you still have your old vinyl records or have invested in some of the new ones being made, this vintage looking gramophone is just the thing to play them on. This gramophone has the authentic vintage look that one would have found in a fancy Victorian era formal parlor. Spin your 78 RPM record albums with this old fashioned looking piece that looks just like the one on the RCA record label. Made from metal and wood, this item measures 27 inches tall by 15 inches wide.
&
Geared To Read Bookends
This is a set of two bookends made from polyresin that measure 5 inches wide by 7 inches high. Each bookend has an industrial looking gear that is highly detailed and features a faux rust texture to give them an aged appearance. Perfect for adding a touch of Steampunk industrial chic to your den or library. Makes a great idea for displaying your collection of Steampunk literature or other books.
&
Speakeasy Cage Light
This great cage light will give your living space an interesting and subtle ambience. Reminiscent of a light found in a speakeasy of days gone by, this cage pendant light hangs from the ceiling and measures 5 inches in diameter and 9.5 inches high. Light fixture has an 8 ft. cord length. Uses one 40 watt bulb (not included) and includes mounting hardware and canopy. Made from metal, brass, and cloth covered cord.
&
Drexel Mantel Clock
Add a touch of Steampunk decor to any tabletop or mantel with this stopwatch style mantel clock. Crafted out of pewter and done with an antique black and heavily distressed finish, this clock is sure to look great in any room. Clock features petite hands and ornate analog numerals marking the hours. Take a step back in time to the turn of the century with this Steampunk accent piece. Made from glass and pewter, clock measures 6.5 inches high and 4.75 inches wide.
&
Villager Art Prints
These lovely Steampunk art prints are a great way to dress up your walls. Prints are a gallery quality giclee print on 100% cotton rag archival paper free from acid and lignin. Print measures 6 inches wide by 10 inches high with a one inch border for framing. Please note that frame is not included. Choose one or more prints from a choice of three, which could be framed or displayed individually or as a grouping. Choose from "Golden Cogs" which features gears and a slogan, "Armour Corset" featuring a corset and slogan, and "Magic Goggles" featuring a pair of Steampunk goggles and slogan.
 Villager Art Print Gears

 Villager Art Print Corset

 Village Art Print Goggles

&
Visions of Flight Throw Pillow/The Songbird Pillow
Both of these great Steampunk throw pillows may be purchased as a pillow cover only, or as a pillow with insert. Add a touch of Victorian charm to any living space or bedroom in your home with these charming pillows. The Visions of Flight pillow design features a Renaissance-era style flying machine and works well with rustic, industrial, or transitional decorating styles. Measures 16 inches wide by 16 inches high and is made from 100% spun polyester poplin fabric.
Visions of Flight Throw Pillow

&
The Songbird pillow features a dapper little bird with a Steampunk hat flying out of a vintage record player. Measures 16 inches wide by 16 inches high and is made from woven polyester.
&
Make sure to specify when ordering whether you want just the pillow cover or the pillow with insert option. Pillows work well together or individually and will really make a terrific accent piece for any Steampunk decor.
Maxwell Industrial Accent Table
This great little accent table looks as if it's been weathered with time when it's really a brand new item. Features a round table top made from wood with a base made from aged iron alloy. Makes the perfect end table or bedside table, perfect for holding your favorite beverage or a few odds and ends. Makes a dramatic accent for any room. Measures 24 inches high and 15 inches in diameter. Each piece is uniquely distressed for a one of a kind look.
Maxwell Industrial Accent Table

&
Timekeeper Console Table
This console table is an incredible find for anyone who loves Steampunk decor. Makes the perfect entryway table and makes a big statement. Table top is made from natural finished fir wood while the base is made from antiqued black wrought iron. Base features a large half of an old fashioned clock face and is sure to let everyone know that you love the Steampunk style. Table measures 54.75 inches wide by 15.5 inches in diameter by 32.75 inches high.
&
Parasol Perch Umbrella Stand
Bring the feel of nineteenth century Europe into your home and enhance your Steampunk decor with this terrific umbrella stand. Perfect for storing your umbrellas in an entryway or mudroom area. Makes a great accent piece. Umbrella stand measures 12 inches in diameter and is 27.5 inches high. Stand is made from metal and actually looks like a parasol upside down. The spaces between the spokes provide room for an umbrella.
&
Grant Leather Sofa
This retro-inspired sofa is made from leather and has a metal frame around it. Comfortable crafted leather, button tufting, curved armrests, and wheeled metal frame make this sofa a unique find. Sofa is 86 inches wide, 38 inches in diameter, and 31 inches high, with a seat height of 23 inches and arm height of 31 inches. Comfortable leather sofa gives a classy look and feel to any room in which it is used. Metal wheeled frame not only adds an industrial feel to the piece, but also makes it easy to move sofa from place to place if needed.
&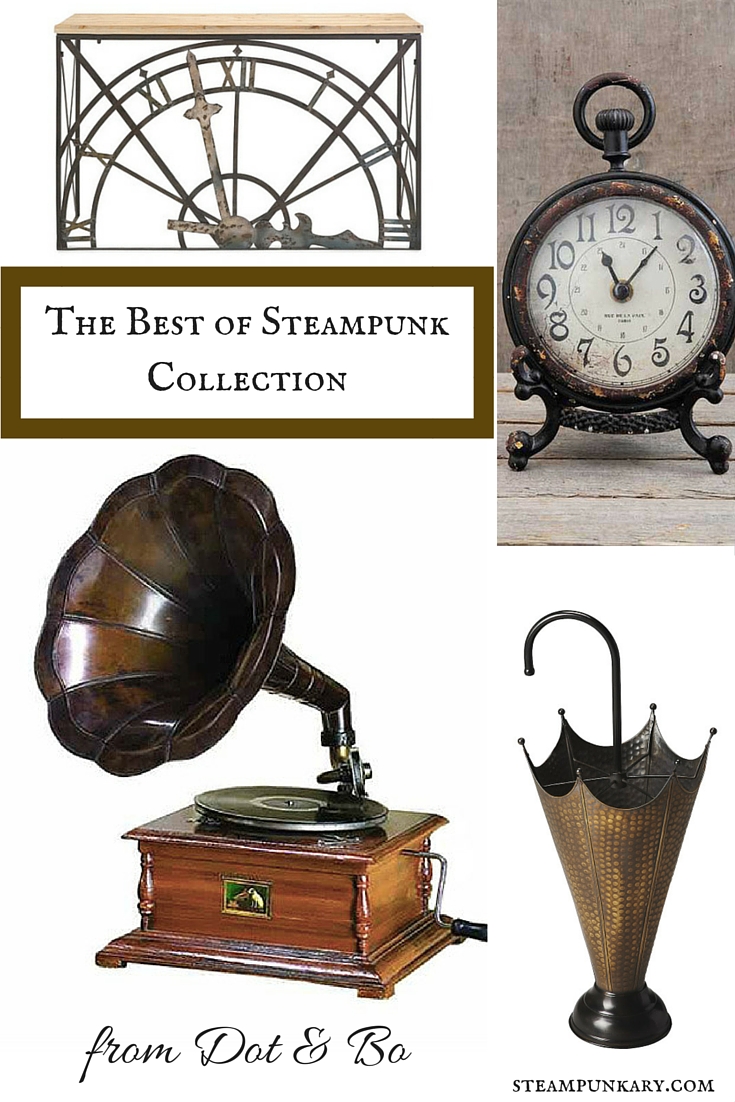 Summary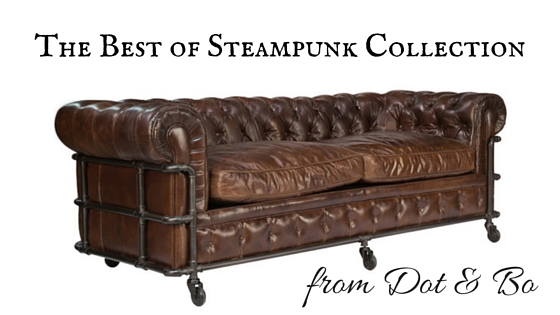 Article Name
The Best of Steampunk Collection from Dot & Bo
Description
If you are looking to bring a touch of the whimsical Steampunk style into your home decor, look no further than Dot and Bo's The Best of Steampunk collection.
(Visited 758 times, 1 visits today)