Like us, many of you are working from home or laid off from work. Or you might be home because your children don't have school. Whatever reason that you are home staying safe from the virus currently sweeping through the U.S. and world, we have some fun Steampunk crafts for you to do. We thought it would be more fun if you could watch videos, so we collected 10 Steampunk crafts videos that we loved. Take a look and let us know which ones you are going to try.
We have listed supplies under each video so you can order them. Just scroll down to the list after watching the video.
Steampunk Art Journal Page
Of all the craft videos, this was our clear favorite. Supplies used to make the art journal page were inexpensive, and anyone can follow along and make the exact same one, or their own design from these products.
Products Used:
Steampunk ATC Coins (Craft Box)
This video is also an excellent tutorial for a small project that you could do at home yourself, with teens, or other adults. Supplies are inexpensive and easy to use. Just watch the tutorial for step-by-step instruction for these Steampunk ATC coins.
Products Used:
The Jacked Up Jack O' Lantern
Fun project that's great for October. This uses aluminum sticky tape for the base and Tim Holtz Idea-ology parts for most of the accessories. You can put this in your window every Halloween.
Steampunk Book Cover Tutorial
This project makes a lovely gift for someone or keep it for yourself. You can take an existing book to decorate or create a journal for someone with the decorative cover. Lovely idea for a birthday or Mother's Day.
Products Used:
Steampunk Fairy House
This project has so many details that it's perfect for a weekend or you have several days at home. It's called a fairy house on the tutorial, but we think it looks more like a Hobbit house. Lots of fun for an adult or teenager to spend hours on. You can make it as a gift or keep it for yourself for your indoor fairy garden.
Products Used:
Orgonite Pyramid Resin Dragon Steampunk Craft Tutorial
This pyramid is really cool looking, with purple and blue tones inside the resin. Resin can be tricky to work with so you might want to try a few small sample pieces before you make this big one. This piece isn't purely Steampunk, more a mix of Steampunk and fantasy. It would make a lovely gift for just about anyone, or keep it for your bookcase or mantel.
Products Used:
Steampunk Style Mixed Media Canvas
This project is complex with a lot of details, but nothing is difficult. If you have several hours or days to work on it, you'll be able to make a wonderful mixed media canvas to hang on your wall or stand on a shelf. Not for beginners.
Products Used:
Steampunk DIY Industrial Pipe Lamp #3
This project is for someone that is already familiar with industrial pipes and parts, because there is no parts or materials list posted. Still it is a cool project for anyone who likes to work with industrial parts. The video is fun to watch, and if you aren't clever enough to make the lamp, you can visit their Etsy shop to look at finished pieces.
How to Draw Steampunk Characters
This video walks you through the steps to draw a Steampunk woman character with a funny/annoying voice-over, but you can watch the detailed process all the way through. If you like this video, you can also take a look at the artist's books on Amazon.
Mixed Media Steampunk Style Keepsake Box
It's difficult to understand how much work goes into one of these designs until you see the process in action. This idea is a lovely gift for someone who loves to collect boxes, or to put in a display shelf in your home. Each box is truly unique since it's pretty tough to duplicate it exactly, but if you's like to try, the list of materials used is below. This would probably take longer for a beginner, but anyone can duplicate the techniques shown in the video. This will take a few days to complete so is a great project for an adult or teenager to do while you are staying at home.
Products Used:
Save This Craft Page for Later
Not ready to do these crafts now, but want to watch the videos later? Just pin this page to Pinterest.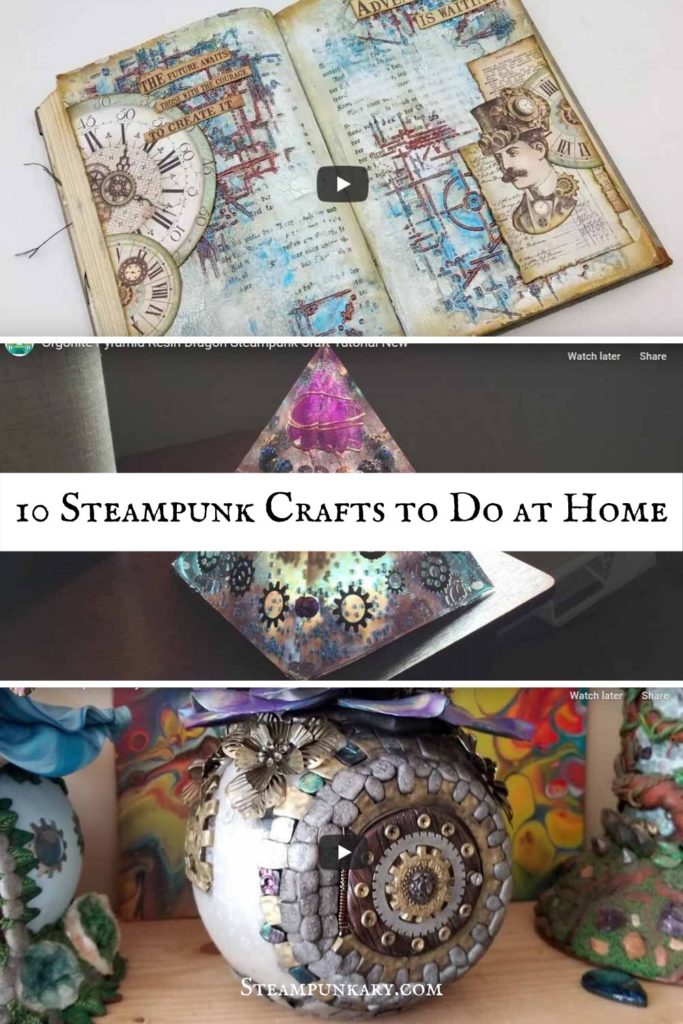 (Visited 5,711 times, 2 visits today)