We've highlighted industrial furniture and accessories in the past because they work well with Steampunk, and many of the items have Steampunk elements. In this post, we are taking a look at a popular rustic home decor trend, Modern Farmhouse style, because it has much in common with Industrial and Steampunk styles. The items on this page are all from Etsy shops, which are run by individual artists and crafters, and can often be customized for the recipients. Several items on this list make wonderful Father's Day gifts for your husband, brother, father or son to enjoy.
Updated 2021
Rustic Coffee Table
This Rustic Farmhouse Coffee Table is made by Archer Home Designs. This shop specializes in rustic furniture from wood which is the epitome of Farmhouse style.  As you can see in the image below, their tables are distressed hefty wood tables using large pieces of wood to build. They can be shipped within the U.S. and shipping can be costly for an item of this size, so check each listing for the shipping price. This  table can handle a lot of wear and tear and will last a long time.
 Rustic Coffee Table

Personalized Recipe Cutting Board
This Personalized Recipe Cutting Board is one of the best ideas for a Father's Day gift that we've seen. Of course, it can also be a bridal shower or wedding gift, or even a housewarming gift. The style fits the Farmhouse theme, although it would fit in almost any kitchen. What makes it so unique is that you can add an entire recipe in your style of writing to the board. Definitely a gift that will be remembered. This is made by Morning Joy Co. along with other personalized gifts.
 Recipe Cutting Board

Reclaimed Wood Coffee Table
This unique Reclaimed Wood Coffee Table is a perfect meshing of the Industrial style and beautiful nature of reclaimed wood. Using old barn wood, Grindstone Design adds one-of-a-kind touches for style such as the industrial metal legs, and the herringbone pattern in the table top. Wood legs are also available for a more rustic look. This table complements many decor styles like rustic, farmhouse, coastal and industrial. This shop does big items like the table shown here and much smaller pieces for accessories. You can find a great Father's Day or birthday gift here. Note: The price of shipping is included in the item price.
Quoted from Grindstone's shop:
"Each item we make at Grindstone Design has a unique story behind it. The wood used in our products is reclaimed from barns in rural Missouri. Each barn has its own story; some were chicken houses while others were milk barns, some were large while others were small tool sheds, and some were even built before the Civil War. Each was built for a purpose and played an important role, not just in a single family's life and well-being, but in the development of the country as a whole. Small family farms were an integral part of the American economy and each barn represents a tiny piece of that."
 Barn wood coffee table

Antique Brass Sconce – Wall Light Fixture
If furniture isn't in your budget right now, accessories can really enhance the Modern Farmhouse look. While this lamp isn't Steampunk in style, it's matte-brushed nickel finish will blend with other Steampunk decor. This vendor, New Wine Old Bottles, specializes in vintage-style lamps, many that are in the Industrial style using Edison light bulbs. They range in price, so you can find a cool lamp in your price range.
 Antique Brass Sconce – Wall Light Fixture

24″ Farmhouse Chandelier Industrial Lighting
For a more showy Farmhouse Chandelier, how about this one? The 24″ chandelier is made with naturally rusted steel and has seven sockets in a Sputnik chandelier style encased in the orb. This seller, Vintage Ironworks, makes a range of lamps that are vintage in style but newly made by them. Besides this style, they have several unique lantern-shaped lamps. Definitely worth a browse.
 24″ Farmhouse Chandelier Industrial Lighting

Fall Bucket List Farmhouse Wood Sign
This chalkboard-style sign is only one of the vintage and Farmhouse signs that this seller, BellaChick Designs, makes. They will make signs with custom designs or you can even make your own with one of their DIY kits. This particular sign measures 20″ x 13″ and you can reuse it year after year. They also have other seasonal decor as well as signs for specific rooms such as kitchen, bathroom, nursery, and wedding decor.
 Fall bucket list farmhouse wood sign

Custom Welcome Coat Rack with 3D Raised Lettering
For a Modern Farmhouse look right in your entrance, this sturdy Coat Rack is perfect. You can hang coats on it and put your keys on the shelf or use the shelf more more decor items. The laser cut raised lettering out of baltic birch wood on this sign gives it depth and adds a gorgeous 3D effect. Pictured is Dark Walnut Stain. This store, Design Beyond Refined, is very highly rated.
 Custom Welcome Coat Rack with 3D Raised Lettering

Live Edge Walnut Console Table
This gorgeous table is custom-made so you can order specific dimensions to fit your home. It's specifically designed to hold displays or your flat-screen TV, but you can use it for other purposes. This stylish black-walnut live-edge slab console table will bring a warm natural feel to any area of your home and last a lifetime. You have a choice of industrial leg styles. Pricing changes depending on the size and is clearly noted when you order. The shop, Artisan Born Creations, makes other tables, benches, and cutting boards.
 Live Edge Walnut Console Table

Trestle Table / Farmhouse Dining Table
This beautiful dining table is available in several sizes and a range of finishes. From the seller, What WE Make :
"Our trestle dining table is made from 100+ year old reclaimed wood planks salvaged from a Midwestern barn. Years have naturally aged the wood to create a beauty and detail that cannot be replicated, truly making each table one of a kind! The table features perpendicular breadboard ends and a modern trestle base. The table has been finished with a voc-free finish so you can be assured no toxins are entering your home!"
You can see numerous images of this table on the sales page including wood colors, but you can also ask for wood samples from the seller. Tables are customized for each order, so there is a lead time to consider when purchasing. The shipping is included in the table price.
 Trestle Table / Farmhouse Dining Table

Art Prints From Sloe Gin Fizz
These prints by one of our favorite artists, Nicole Ray of Sloe Gin Fizz, are inexpensive and perfect for your Farmhouse look. Nicole also has retro 50s and 60s prints that are not Farmhouse but still cute. She also has a whole collection of nursery prints for young children's bedrooms and playrooms. Whether you get one or all four, these will brighten up your decor with color and imagination.
 Sunflower Art Print

 Autumnal Kitchen Scene Print

 Plants on a Sill Print

 Fern Print Illustration

Easy Mount Wood Floating Shelves
If you don't have room for rustic furniture, you can easily add a rustic note to any room with these Wood Floating Shelves made from reclaimed wood. These offer a bold statement to any wall and you can use them for additional Modern Farmhouse decor items.
 Easy Mount Wood Floating Shelves

Distressed Wood White Wall Clock
This is only one of several styles of unique Wall Clocks that this seller, Terra Firma 79, offers. They have lots of cool reclaimed wood wall clocks and some other reclaimed wood wall art that you can browse. Any of these clocks made a good addition to a Modern Farmhouse home.
 Distressed Wood White Wall Clock

Hydrangea Modern Farmhouse Wreath
This wreath is the perfect example of modern farmhouse decor with its blend of wood and plants, and the cute "hi" tucked in. These look great on your front door or on a wall or shelf. Lovely way to brighten up any space. If this isn't the wreath for you, take a look at others from Rose & Vine Wreath Co.
 Hydrangea Modern Farmhouse Wreath

Hand-Forged Cabinet Pulls. Farmhouse, Studio, Modern, and Rustic
Even just a small change to your decor can give it the Industrial, Steampunk, or Modern Farmhouse look you are going for. These Hand-Forged Drawer Pulls are one example of this. Find these and more like them from Desert Wood Designs.
 Hand forged cabinet pulls. Farmhouse, Studio, Modern, and Rustic

Modern Farmhouse Signage and Wall Art
Wall art is often the thing that puts a finishing touch on a room like these lovely examples shown here. Each is made by a unique artist to offer the Modern Farmhouse look. Check each listing for measurements and criteria for each individual product. Give your home a rustic touch with one of these pieces of wall decor.
 Rustic Established Signs Family Name

 Blue Mason Jar White Floral

 Fork Knife Spoon Wall Art Panel Set

 Laundry Sign

Reclaimed Wood Pallet Coffee Table
Although this is a table made from reclaimed pallet wood, it is very sleek in design featuring a more streamlined shape. You still get the rustic wood accent, but the legs and shelf are more finished. This table is made by Red Garage.
 Reclaimed Wood Pallet Coffee Table

Rustic Farmhouse Platform Bed w/ Headboard
Depending on your preference, you may want to carry the Modern Farmhouse decor into your bedroom. These beds from the Midwest Farmhouse Co. can turn your bedroom into a Modern Farmhouse showcase. You have a a choice between finished or unfinished beds that are lower in price and you can stain them any color you wish. They also sell other furniture pieces such as dressers, tables, and cabinets.
 Rustic Farmhouse Platform Bed w Headboard

 Unfinished Farmhouse Platform Bed

Kitchen Tea Towels
Kitch Studios has a lot of Modern Farmhouse style linens including blankets, pillow covers, and these adorable kitchen or tea towels. They come in a variety of styles, some of which can be personalized. They also have other cute accessories like mugs that can be purchased to match these towels.
 Personalized Kitchen Tea Towel

 Hello Spring Tea Towel

 Kitchen Towel

 Tea Towel – Farmers Market

Extra Large Farmhouse Table
This table is so pretty that we had to include it in this post even though we had another dining table above. This one is extra large so you can have your entire family to dinner. Made by The Farmhouse Finds, this table is so beautiful and can be stained any color you like because it's customized per order. This seller has dozens of beautiful tables in the Modern Farmhouse style that you can buy in a range of sizes no matter how many people come to your holiday table.
 Extra Large Farmhouse Table

Save This Page for Later
Like this page with rustic Modern Farmhouse ideas? If so, then pin the image below to Pinterest to save it for later.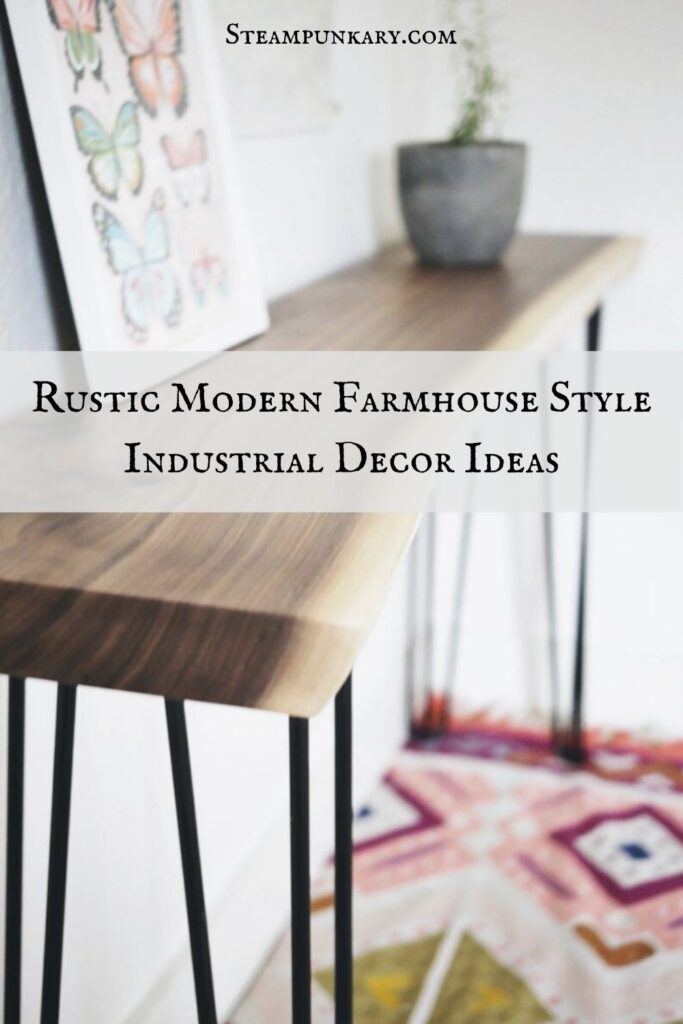 (Visited 839 times, 1 visits today)