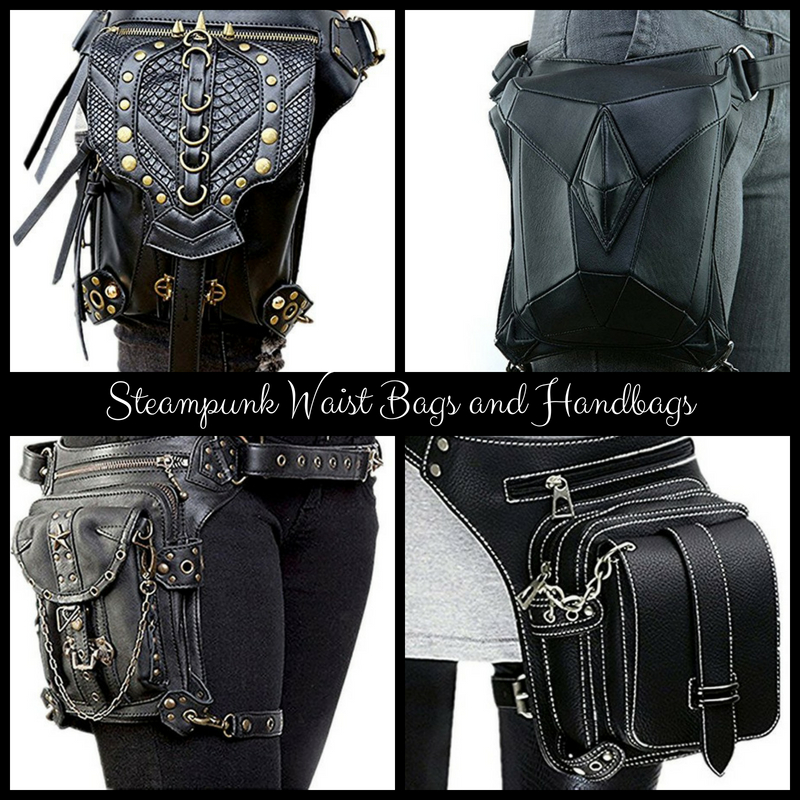 If you are looking for a little bit of Steampunk to wear every day or a great Steampunk accessory to wear for Cosplay, you will love these Steampunk waist bags and handbags. Pricing starts at about $18 for synthetic leather and cloth, but real leather bags are more pricey. We have decided to display these bags by designer collection to give you a better idea of what each designer has to offer. With Cosplay season starting to rev up during the summer and fall, our staff at Steampunkary is sure that you will find these Steampunk Waist Bags practical and decorative for all of your Steampunk costumes this year.
Steampunk Waist Bags from Steelmaster
Steelmaster is a company that provides Gothic and Steampunk clothing and accessories. Apart from their waist bags, most of their products lean more to the Gothic side of design. Their bags, however, are a different story. Each bag is completely unique, and runs in the $35 range. They come with adjustable straps for wearing as waist bags, shoulder bags or cross-body bags. These bags are made with PU leather, a man-made leather that is cheaper than real leather. PU leather means that a very thin layer of split leather is covered by polyurethane for a shiny and easy-to-clean surface. These bags are rated highly on Amazon.
Victorian Shoulder Waist Bag
Punk PU Leather Waist Bag
Gothic Waist Bag Pack
Gothic Shoulder Waist Bag
Retro Leg Holster Bag
Rock Leather Vintage Gothic Steampunk Handbag
Steampunk Bags from HaoLin and Geanbaye
In this section, the first bag is from Geanbaye and the rest of the bags are from Haolin. The Geanbaye bag is normally about $70, but is currently on sale for $20 off. It has the option of being worn in several different ways.
The rest of this section is devoted to waist bags from Haolin that are made from durable cloth and embellishments. They all come with adjustable belts to make them easy to wear with any type of costume or with regular clothing. Great for vendors at a fair or even as travel packs for money or passports.
Steampunk Retro Motorcycle Bag
Steampunk Cosplay Backpack
Steampunk Cosplay Bag
Steampunk Victorian Chest Harness
Steampunk Cosplay Backpack
Steampunk Cosplay Mediterranean Rudder Satchel
Steampunk Cosplay Rudder Satchel
Steampunk Cosplay Backpack
Miruike Steampunk and Gothic Waist Packs
The Miruike collection of waist bags are really stunning for daily or Cosplay wear. Each bag is made with PU leather, comes with an adjustable belt for wearing in numerous ways, and has multiple sections inside for your phone, wallet, and other items you carry. They are designed to sit at the waist, but look great off the shoulder, too. These bags run in the $50 to $75 range and have multiple zipper pockets for more security.
MIRUIKE Steampunk Waist Pack
MIRUIKE Waist Pack Leather
MIRUIKE Steampunk Leather Handbag
MIRUIKE Waist Pack
MIRUIKE Steampunk Handbag
MIRUIKE Waist Pack Steam
MIRUIKE Waist Pack Steampunk
MIRUIKE Vintage Gothic Steampunk Handbag
MIRUIKE Punk Waist Bag
MIRUIKE Waist Pack Steampunk
Steampunk Handbags and Satchels from Suri Store and Mn & Sue
In this grouping, the first bag is from Suri Store and the rest are from Mn & Sue. The Suri Store bag is made from PU leather and comes in two colors, brown and black. It is a perfect bag for travel, teenagers or to wear to a festival for a lightweight purse or wallet.
Mn & Sue have a unique collection of bags which includes waist bags and more traditional satchel bags. Either can be used for Cosplay depending on your costume theme. The satchel bags make great doctor bags for Cosplay. All the bags are made from PU leather and are reasonably priced at about $40. Belts are adjustable on the waist bags for multi-purpose wear.
Steampunk Waist Bag
Gothic Steampunk Waist Bag
Motorcycle Steampunk Women's Bag
Modern Designer Rivet Studded PU Leather
Tactical Military Shoulder Waist Bag
Modern Punk Pu Leather Cross Body
Retro Women Top Handle Satchel
Individual Rivet Studded Doctor Style
Lakhays Fanny Packs and Waist Bags
If you prefer more of a fanny pack waist bag, you will love these bags by Lakhays. They are made from a mixture of materials, many from 100% cotton. The Steampunk bag is made from leather. All of the cotton bags run in the $30 range, completely affordable for travel or everyday wear. All the bags are highly rated on Amazon, and make great gifts for just about anyone year round. These bags are a good way to secure your valuables when out in a crowd at a festival or concert.
Practical Fannypack Cotton Waistbag
Practical Fannypack Cotton Waistbag
Unisex Cotton Traveller's Hip Bag
Practical Fannypack Cotton Waist Bag
Steampunk Leather Hip Duo
Cotton Travel Utility
Classic Leather Travel Fannypack
Studded Leather Hip Belt
Unisex Leather Multiple Pocket Festival Bag
Happy Passport Traveller
Pin It for Later
Don't need one of these Steampunk bags right now, but like they way they look? Then pin this page for later for reference when you are ready to buy.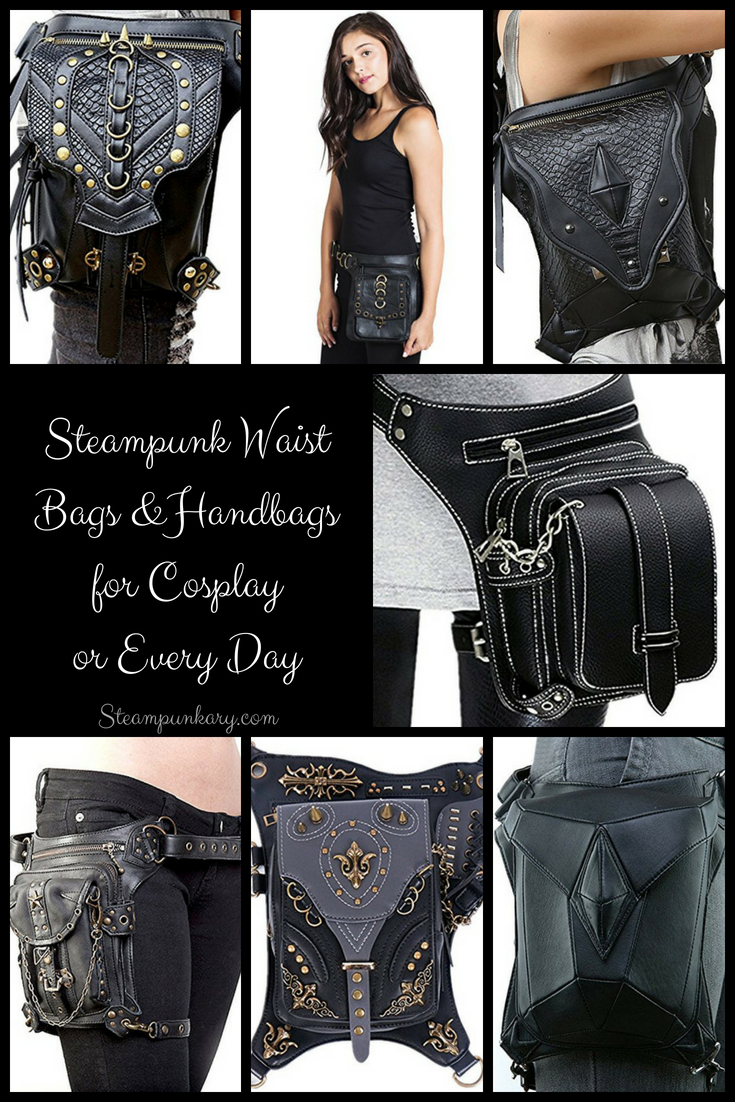 (Visited 688 times, 1 visits today)