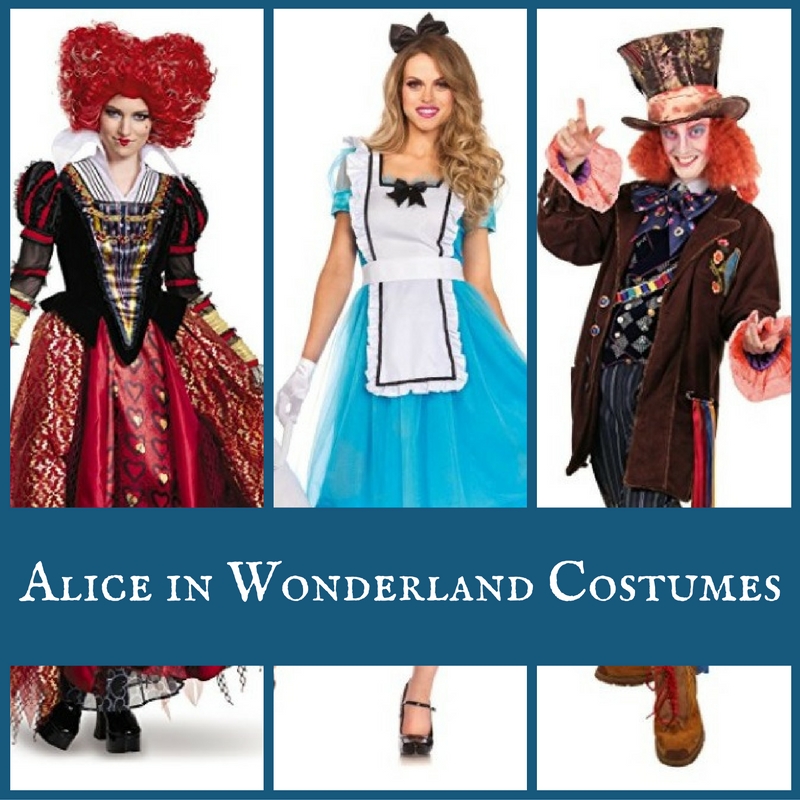 Alice's Adventures in Wonderland by Lewis Carroll is a story that comes right out of the Victorian period. It was originally published by Macmillan in 1865 with the sequel of Through the Looking Glass and What Alice Found There published in 1871. Within the fantastical world of Alice, there are many instances of steampunk lore including the White Rabbit and his pocket watch, the Mad Hatter and the tea party. The story has been retold in many forms including Walt Disney's animated film and the more recent Tim Burton/Walt Disney films (Alice in Wonderland – 2010, Alice Through the Looking Glass – 2016) featuring Johnny Depp, Anne Hathaway, Helena Bonham Carter, Mia Wasikowska as well as several other fine actors in various roles.
Additionally, the television show Gotham's current season (2016) has the Mad Hatter as its main villain as well as many themes and characters from Alice. In this instance, Alice is the Mad Hatter's sister, his henchman are Tweedle Dum and Tweedle Dee and the White Rabbit brought a message to Jim Gordon. The stories are very popular and perfect for steampunk cosplay, Halloween, birthday parties and engagement parties. There are so many ways you can make Alice into a Victorian steampunk extravaganza. This post is a look into Alice in Wonderland character costumes for children and adults in more classical and steampunk versions of some of the characters. Since the story already has the clothing and accessories of the Victorian era, it is just a matter of how much interpretation you want to add for your own costume.
Costumes
There are some really lovely ready-made costumes for Alice in Wonderland. Since there are so many, this post will focus on these costumes. There will be another post to discuss handmade costumes and making your own DIY costume.
Alice
All of these costumes are for children from toddler to tween. You can certainly see how easy of a costume this is because it is really like wearing regular clothes. You can also dress it up with leggings like the tween costume or add a tutu for young girls.
Children's Costumes
Lil Alice In Wonderland Toddler's Costume
Kids Alice in Wonderland Costume
Alice Girl's Costume
Tween Alice Costume
&
Adult Costumes
These are the classic adult costumes and also some with a twist. As you can see there are a lot of choices when it comes to pre-made Alice in Wonderland costumes for adults. For a steampunk Alice costume, you cans tart with one of these and embellish it if you don't want to sew it yourself. At the bottom of this section, you can find wigs and "Drink Me" necklaces. Click through for larger images, pricing and sizes.
 Alice Halloween Party Wonderland
 Women's Alice Costume
 Classic Alice Costume,
 Cosplay Outfit with Apron
 Adult Alice Costume
 Cosplay with Apron
 Charming Alice Costume
 Alice in Wonderland Costume
 Enchanted Alice Costume
 Dreamgirl Women's Alice Costume
 Alice in Wonderland Deluxe Costume
 Alice in Wonderland Cosplay
 Psychedelic Alice Costume
 Alice In Wonderland Movie Sassy
 Classic Alice Costume Bundle
 Blue Maid Dress
 Vixen Alice Costume
 Rebel Alice Costume
 Disney Licensed Sassy Alice
 Alice in Wonderland Movie
 Alice In Wonderland
 Alice Wonderland
 Juniors Clever Alice Costume
 Dark Alice Adult
 Alice Tea Time Adult Costume
 Plus-Size Dark Alice Dress Costume
 Long Curly Blonde Wig
 White Long Blonde Curly Wig
 Drink Me Bottle Choker
 Fairy Glow in the Dark Necklace
 Steampunk Drink Me Vial
 Alice in Wonderland Tea Party Steampunk Necklace
&
Mad Hatter Costumes
There aren't as many costumes for the rest of the characters so children and adult costumes are listed together. Let's start with the Mad Hatter. There are so many ways to increase the steampunk quality of this character beginning with the hat. The character already has a top hat so you just need to add more accessories such as a looking glass, monocle or steampunk gears to the costume.
 Mad Hatter Movie Deluxe Costume
 Alice Through The Looking Glass Movie Costume
 Kids Alice Through Looking Glass Mad Hatter
 Big Boys' Electric Mad Hatter Costume
 Mad Hatter-ess Deluxe Kids Costume
 Mad Hatter Costume
 Mad Hatter Costume
 Tween Mad Hatter Costume
 Girls Mad Hatter Costume
 Juniors Mad Hatter Costume
 Mad Hatter Deluxe Costume
 Dark Mad Hatter Costume
 Mad Hatter Costume
 Gothic Mad Hatter Costume
 Classic Mad Hatter Costume
 Hatter Madness Costume
 Mad Hatter Deluxe Costume
 Johnny Depp Mad Hatter Cosplay Set
 Mad Hatter Costume Bundle Set
 Disney's Alice Through the Looking Glass Mad Hatter Replica Costume
 Mad Hatter Costume
 Deluxe Mad Hatter Costume
 Delightful Hatter Costume
 Mad Hatter Costume
 Manic Mad Hatter Costume
 Mad Hatter Adult Costume
 Mad Haddie Costume
 Mad Hatter Accessory Kit
 Madhatter eyebrows
 The Mad Hatter Hat
 Mad Hatter Hat with Hair, Disney
 Mad Hatter Hat, Disney
 Cocktail Madhatter Hat
 Mad Hatter Adult Hat
 Mad Hatter Bandolier
 Disney Mad Hatter Bandolier
 Harlequin Pantyhose
 Dark Mad Hatter Wig
 Silver Plate Hatter Tea Cup Party Ring
&
March Hare Costumes
The March Hare doesn't have a lot of pre-made costumes, but you can take them and embellish them. Another option is to create your own or find handmade costumes which have a steampunk look. You can also add steampunk accessories to the costumes.
March Hare Costume
MARCH HARE Costume
Rabbit Nose
Brown Bunny Ears Headband
March Hare Hat
March Hare Hat
The March Hare Choker
&
White Rabbit Costumes
The White Rabbit is shown in many different versions, some with a jacket and some without. However, he always has his timepiece which is usually a pocket watch. You can use a costume pocket watch or a real one to give the costume a more steampunk flair.
 Lil Bunny Caped Cutie Costume
 Toddler Plush White Rabbit Costume
 Childrens White Rabbit Costume
 Big Boys' White Rabbit Costume
 Kids White Rabbit Costume
 White Rabbit Costume
 Tick Tock White Rabbit Costume
 Round Wire Rim Glasses
 White Rabbit Clock
 Jumbo Pocket Watch
 Classic White Rabbit Kit
 White Rabbit Topper
 Kid's White Rabbit Topper Hat
 White Rabbit Hat
 Bunny Ears Top Hat Fascinator
 White Rabbit Disney Head Piece
 Bunny Rabbit Nose
 Checkerboard Pre-Tied Bow Tie
 Adult Bunny Shoes
 Bunny Tail
 Rabbit Animal Mask
 Alice Through the Looking Glass Chromosphere Necklace
 Disney Alice In Wonderland Pocket Watch Necklace
 Handmade Pendant Alice in Wonderland Rabbit
&
White and Red Queen Costumes
The Red Queen and White Queen can be steampunked up, however the original versions are more Victorian than steampunk. You can embellish any of these costumes with gears and create your own scepter or alter the one shown below.
 Deluxe Queen Costume
 Red Heart Princess Costume
 Queen Of Hearts Tween Costume
 Tween Queen Of Hearts Costume
 Teen Queen Of Hearts Costume
 Queen Of Hearts Costume
 Queen Prestige Costume
 Sassy Queen Costume
 Deluxe Queen of Hearts Costume
 Red Queen Deluxe Adult Costume
 Plus-Size Red Queen Costume
 Wonderland Queen Costume
 Royal Queen Costume
 Disney Queen Of Hearts Costume
 Plus Size Deluxe Queen of Hearts
 Plus-Size Royally Sexy Queen Costume
 Pretty Playing Card Costume
 Reversible Queen Of Hearts Costume
 Queen of Hearts Halloween Costume
 Royally Sexy Queen Costume
 Wonderland Queen Dress
 Queen of Hearts Costume – Plus Size
 Red Velvet Queen of Hearts
 Feisty Queen Of Hearts Sexy Costume
 Queen Of Hearts Costume
 Costume King Of Hearts
 White Queen Deluxe Costume
 White Queen Cosplay Costume
 White Long Blonde Wig
 Red Queen Deluxe Adult Wig
 Cosplay Costume Wig
 Red Queen Hat, Disney
 Queen of Hearts Crown
 Royal Scepter, 18-Inch
 Thigh-Hi Socks With Card Symbols
&
These costumes are a great place to start. They are terrific for cosplay or having a Victorian tea party of your own. Future posts will look into handmade costumes and DIY costumes and accessories, party supplies and how to host an Alice in Wonderland birthday party.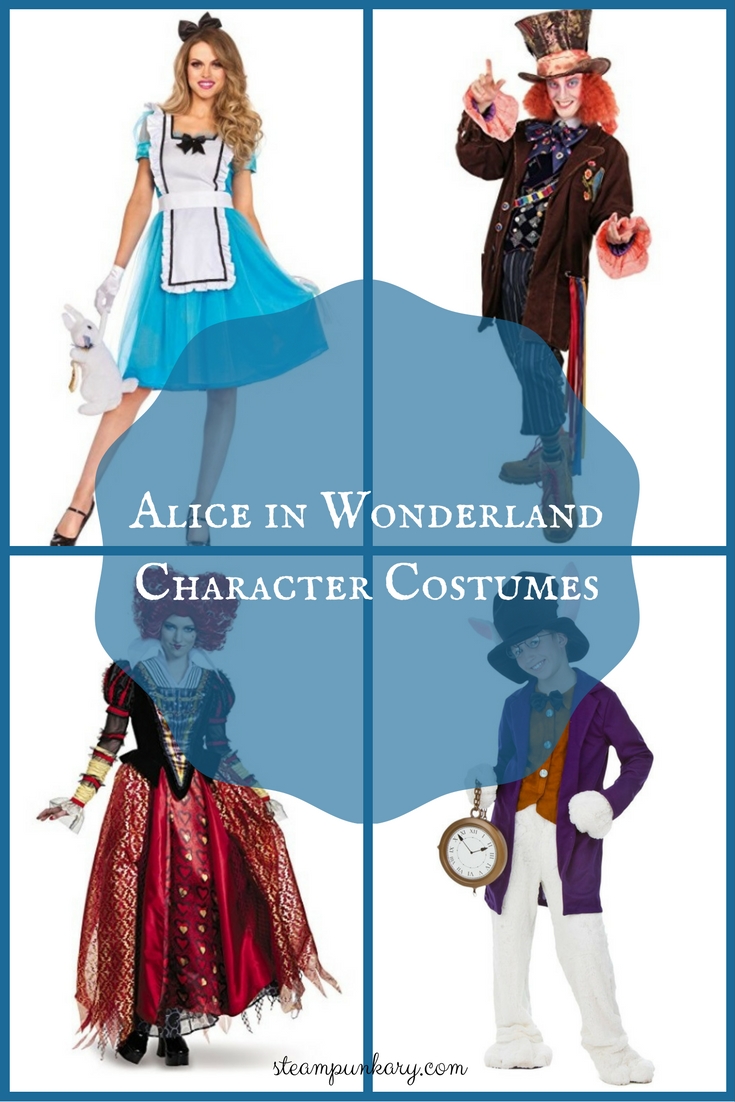 (Visited 4,121 times, 3 visits today)
Check Our Related Pages Before You Go!