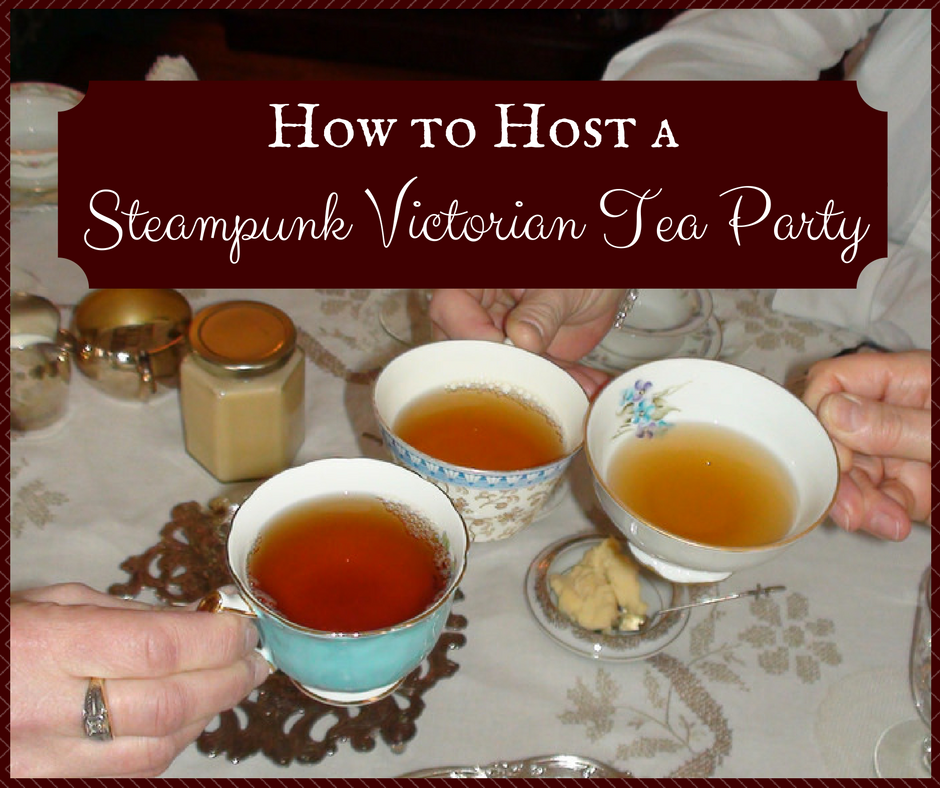 The Steampunk genre brings back a bit of the Victorian era and the charm that we associate with that time period. If you're a fan of Steampunk and want to do something fun with it, consider inviting some friends and family over for your own Steampunk Victorian tea party. Here is everything you need to know about planning your own afternoon tea.
Preparation
Tea time was a time meant for socializing in the Victorian era, as well as for enjoying a beverage and snack between the morning and evening meals.
Have your friends dress in their steampunk best, put away cell phones, truly live in the moment and enjoy each other's company.
Send out formal invitations handwritten on your best Steampunk stationery. This will add a touch of Victorian charm and bring back some of those bygone days before everything was typed on a computer. To save time, you might wish to write on one and then copy the rest on the same Steampunk paper.
Tea Party Invitations
Some of these invitations are printables that you can download on your own computer and print out yourself. The rest need to be custom-ordered so allow a week or so for them to come in. All can be customized for your event. We've added a new package from Vectoria Designs to the top of this list, because we love their printables and their packages. Use all or some of the printables for your tea party.
 Tea Party Cookies Paper Pack

 Birthday Tea Party Invitation

 Victorian Christmas Tea Party Invitation

 Printable Tea Party Invitation

 Bridal Tea Party Invitation – Printable or Printed

 Digital Tea Party Invitation

 Bridal Shower Tea Party Invitation

 Shabby Chic Mothers Day Tea Party Invitation

 Shabby chic vintage tea party invitation

 Birthday Tea Party Invitation

 Bridal tea party invitation

 Floral High Tea Party Invitation

 High Tea Invitation

What to Wear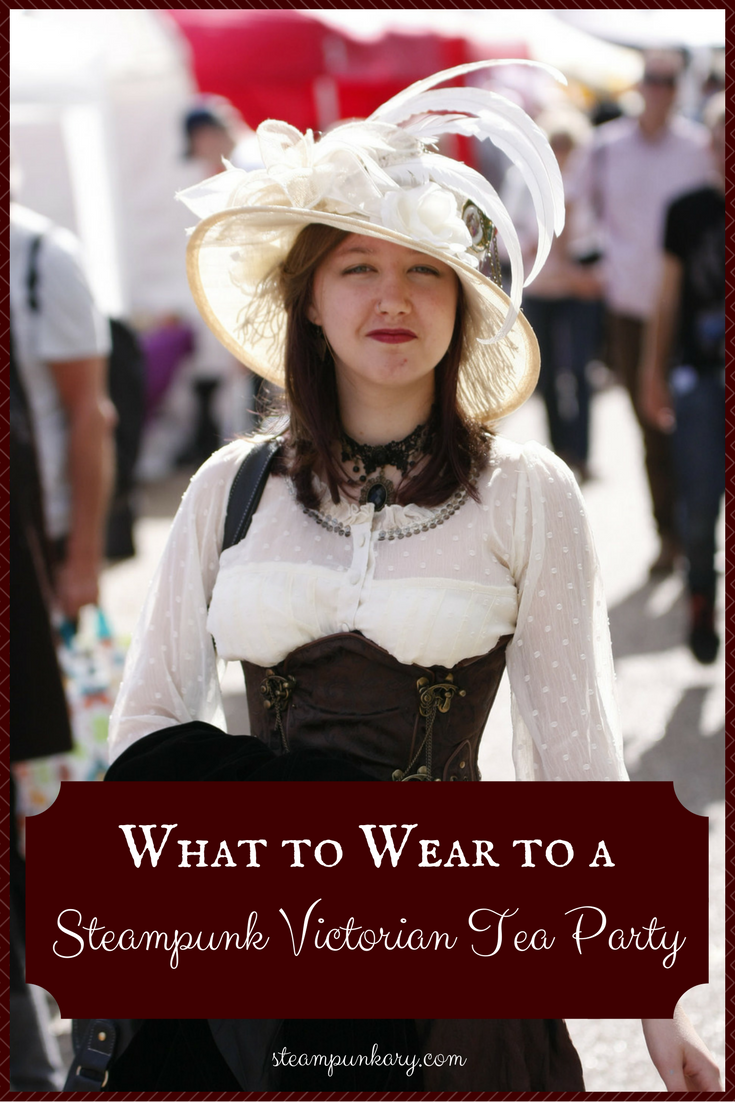 In keeping with your party theme, have guests wear their favorite steampunk attire. Imagine a room full of friends sitting down to afternoon tea all decked out in steampunk fashions. What a fun way to bring a touch of the past into the present! Be sure to take a lot of pictures of everyone throughout the event. These pages will give you ideas of what to wear:
Tea Party Menu Ideas
When planning your afternoon tea, consider what menu items you wish to serve. Suggestions are bite-sized sandwiches as well as a variety of light pastries and sweets. Crustless sandwiches with your choice of cream cheese and vegetable fillings or chicken salad or tuna salad work well.
A popular tea variety to serve in the Victorian era was Earl Grey, but you may also wish to offer green tea or fruit-based teas. Be sure to brew plenty of tea and to prepare plenty of food so that your guests can feel free to sample everything.
If you are looking for menu ideas, the website What's Cooking America, offers suggestions for ideas for tea cakes, tea party menus and tea sandwich recipes. Here are some tea party cookbooks you can consult below.
Victorian Tea Party Cookbooks
 Taking Tea with Alice: Looking-Glass Tea Parties & Fanciful Victorian Teas
 Steampunk Tea Party: Cakes & Toffees to Jams & Teas
 Five-O'-Clock Tea: Victorian Afternoon Tea Recipes
 Old World Cookery, 50 Teatime Treats
 Tea with Emily, Amy & Barbara
 The Perfect Afternoon Tea Recipe Book
 Tea Sandwiches
 Afternoon Tea at Home
 English Teatime Treats
Tea Party Table Settings
To prepare your table for the Victorian tea party, use a linen or lace table cloth or a fabric tablecloth with a floral print. This is also the perfect opportunity to break out your antique china set or finest china cups and saucers. A tea urn, preferably an antique-looking one, makes the perfect container to hold a large quantity of tea. Set your table with your finest silver and fabric napkins for a elegant afternoon tea look.
Another interesting idea is to hand-paint your own china teacup, saucer and dessert plate. This was actually a popular practice among Victorian women and could be a fun idea to try to really make your steampunk Victorian tea party a huge success. Allowing your guests to take home their hand-painted tea set as a remembrance of your special event also makes a nice touch.
Antique China Tea Sets and Tea Cups
 Royal Albert Tea Set

 Mismatched Tea set

 Antique Victorian Chocolate Pot with 4 Cups

 antique tea-set

 Antique Victorian Floral Tea Set

 Moss Rose Tea Set w/ Gold Trim

 Vintage Tea Set with Roses

Urns for Hot Water or Tea
These are listed as coffee urns but you can use them for hot water or tea also. Urns come in more standard versions, but these lovely decorative urns are perfect for your tea party.
 Elegance 25 Cup Coffee Urn-118 oz.
 Elegance Silver 89851 Stainless Steel Coffee Urn, 55 Cup
 Eastern Tabletop 3113 Stainless Steel Park Avenue 3-Gallon Coffee Urn
 Urn with Gold Accents – 5 Gallon
Decorations
The Victorians loved to decorate with flowers, so fresh flowers are a must for your afternoon tea table setting. A lovely bouquet or floral arrangement placed in a Victorian-style vase along with a few small mirrors with candles placed on top of them makes for a beautiful table that will delight your guests.
A glass bowl with any items from nature such as flowers, leaves or pine cones, is also a nice idea for table decor. The Victorians loved anything to do with the garden and nature, so these ideas will make your Victorian tea party have a more authentic feel.
Playing some soft instrumental music in the background also adds a nice touch. Keep the volume low enough so that you can still have a conversation and be able to hear each other easily.
Tea Party Favors, Decorations and Accessories
 Victorian Tea Party Birthday Cake Topper

 Cupcake Wrappers

 Victorian Tea Party Favor Cone

 Tea Party Bingo cards in pink

 Victorian Tea Party Hang/Gift Tags

 Peonies paper flower bouquet

 Tea Cup Stickers

 Printable Tea Cup Toppers

 3 Tier Cake Stand

 Victorian Cone Gift Box

 Teacup Party Favors

 Tea Party Favors and Stickers

 Teapot Rubber Stamp

 Bridal Tea Party Victorian Chocolate Cameo

 Digital Tea Wrapper Victorian Floral Design

 Tea Party Favors

Etiquette for a Tea Party
If you want to make your Victorian tea party seem as authentic as possible, have some fun with your guests and practice proper tea party etiquette just for the fun of it! The Victorians had specific standards for holding a cup of tea, drinking tea, and what to add to the tea.
You may wish to include a list of proper etiquette and send it along with your invitations so that you and your guests can all participate in a Victorian-style gathering and have a lot of fun playing the part of true Victorian ladies and gentlemen.
Here are the proper rules of tea-drinking etiquette:
If holding a tea cup with no handle, to avoid spilling one must hold their cup with thumb in the six o'clock position and the index and middle fingers at the twelve o'clock position. Gently raise the pinkie finger up for balance, keeping it at a slightly tilted angle.
Your teaspoon must not be used to stir the tea in a sweeping, circular motion. Instead, place the spoon at the six o'clock position and fold the liquid two or three times toward the twelve o'clock position. Place the used spoon on the side of another plate.
During an afternoon tea, milk is served instead of cream. It is also proper etiquette to remove the tea bag from the cup and place it on a side saucer. Always avoid squeezing the tea bag or wrapping the string around it.
If serving tea with lemon, slices are preferable over wedges. As the server, either place the lemon into the cup after pouring the tea, or provide a small fork for your guests. Keep in mind that if milk has been added to the tea, lemon should not be placed in it because it will cause the milk to curdle.
In keeping with proper etiquette, tea should never be slurped or used to wash down food. Be sure to sip the tea and swallow before attempting to eat.
Obviously, you don't have to follow all of these etiquette rules in today's modern society, however, it would be a lot of fun to truly feel as if you have stepped back in time into the Victorian era for an afternoon.
More Tea Party References
 Tea and Manners
 Victorian Parlors and Tea Parties
 Event Plan a VICTORIAN TEA PARTY (Plan Like a Chef)
 A-Z Victorian Tea Party Alphabet Book
 Afternoon Tea (Pitkin Pleasures and Treasures)
 Taking Tea with Alice
Online References
(Visited 3,523 times, 1 visits today)