A few weeks ago, we published a resource page for Steampunk jackets and coats for men. This post today is the companion piece for women. We went back to the same sellers on Etsy to see their women's offerings. As you read, you will see what we found. Surprisingly, there are fewer Steampunk shrugs, coats, and jackets on Etsy for women than for men. Of course, you can use a men's jacket as long as you can fit it properly. On this page, we went to Etsy first, which you will see directly below. So here are the Steampunk Shrugs, Coasts, and Jackets for Women.
Steampunk Coats and Jackets on Etsy
Steampunk Coats for Women from GothicFashionUS
We went back to the same 4 vendors we listed on the previous men's coat page. As you will see, we were a bit disappointed. All of the jackets and coats we found are lovely. But they were limited compared to men. GothicFashionUS has only 4 women's coats and jackets listed. We love them all but would like more offerings. To get details on any of these four jackets, just click through any of the links below. Since all 4 are fitted, you will need to measure carefully before ordering.
 Gothic Steampunk Victorian Swallow Tail Long Trench Coat

 Black Handmade long tail coat Gothic Steampunk Military

 Velvet Brocade Victorian Gothic Tailcoat

 Handmade Parade Jacket Steampunk Military

Women's Steampunk Jackets from Designer Dress Store
This next vendor, Designer Dress Store, has some lovely military/parade band type of vintage-style jackets. You can easily adapt them to a costume for Halloween or cosplay. The detailing is very nice and will make the jacket stand out for any use, even for regular wear. Again, the choices are limited, but what they have is terrific.
To see more pictures from other angles for each jacket, just click through to the product page. You can see the backs of the jackets and how they are detailed.
 Military Style Fashion Leather Jacket

 Military hussar drummer officer parade jacket

 Red wool hussar jacket

 Napoleon Military Leather Jacket

 Steampunk Coat Black Genuine Leather

Steampunk Cosplay Coats from Insomniaq
When we got to the Insomniaq shop, we were excited to see both the number of styles and how many were actually listed for women. We have posted a sampling below of all of the choices available, and you will find jackets, coats, and cloaks for women. Some of them would work easily for regular wear. All of them are perfect for cosplaying Steampunk, Victorian, or Gothic costumes. Several of the coats show the front, back, and sides to give you a 360-degree look. It's really impossible to pick a favorite. We decided to add the knit cardigan to this list because you can use it for cosplay, but it would also be fun to wear all the time. To see the details on any of the items listed below, click the link. You should also go to the shop and browse because we didn't list even close to everything they have for women.
 Victorian Velvet Blazer Button Up Coat

 Velvet Coat Cloak Black Cape

 Blazer Peekaboo Front Lace Up Back Jacket

 Steampunk Long Striped Brown Coat

 Knit Cardigan ~ Embroidered Hood ~ Unusual, Unique, Winter Coat

 Formal Jacket Tuxedo Style Winter Coat

 Blazer Steampunk Style Jacket Fitted Puff Sleeves

 Striped Jacket Fitted Blazer Steampunk Tailcoat

 Black Trench Coat

Steampunk Coats for Women on Amazon
Victorian and Steampunk Shrugs
We love Etsy, but Amazon has a wide array of Steampunk costumes and clothing that may be perfect for your Halloween costume this year. We've included Steampunk accessories that go on the arm or shoulder to this list of shrugs. There are several styles of shrugs that you can add to a costume or clothing that you already have to make it look different. Most will look great with a corset or dressy top.  To find out materials and cost for any of these items, just click through below.
 Long Sleeve Steampunk Lace

 Retro Leather Armlet

 Steampunk Costume Shoulder Armor

 Steampunk Vintage Leather Armband

 Steampunk Gothic Accessory

 Steampunk Gothic Shrug

 Steampunk Gothic Costume

 Steampunk Gothic Accessory

 Steampunk Gothic Shoulder Epaulet

 3/4 Sleeve Bolero Lace

 Casual Lace Cardigan

 1920s Bolero Full Sleeve

Women's Steampunk Coats and Jackets
Amazon does have a very nice collection of Steampunk coats and jackets for women. Most are in black or red, but you can find other colors as shown below. These coats include Parade Jackets, Hi-Lo Coats, Tailcoats, and a Ruffle Coat. Decide what price range you are looking for then go through the listed items to find the look and price you want. A lot of the women's coats are fitted, so double-check your measurements and look to see if they follow American measurements or those from another country. Listings will most often have measurements with instructions on how to measure. Enjoy!
 Long Blazers Steam Punk

 Victorian Steampunk Tail Jacket

 Steampunk Military Blazer

 Winter Vintage Gothic Tailcoat

 Steampunk Vintage Tailcoat

 Tuxedo Gothic Tailcoat

 Gothic Punk Jacket Casual

 Steampunk Victorian Gothic Jacket

 Victorian Steampunk Gothic Tailcoat

 Gothic Tailcoat Steampunk

 Gothic Tailcoat Steampunk Jacket

 Gothic Steampunk Jacket Long

 Vintage Steampunk Victorian Coat

 Steampunk Gothic Tailcoat

 Steampunk Swallow Tail Coat

 Steampunk Victorian Gothic Jacket

 Steampunk Gothic Tailcoat Jacket

 Studded Faux Leather Jacket

 Double Notch Lapel Blazer

 Military Steampunk Button Blazer

 Steampunk Military Blazer

 Medieval Steampunk Jacket

 Shiny Silky Gothic Steampunk

 Victorian Steampunk Gothic Tailcoat

Save this Steampunk Coats for Women Page for Later
Not ready to use these fun Steampunk ideas? Just bookmark the page for later or pin it to Pinterest.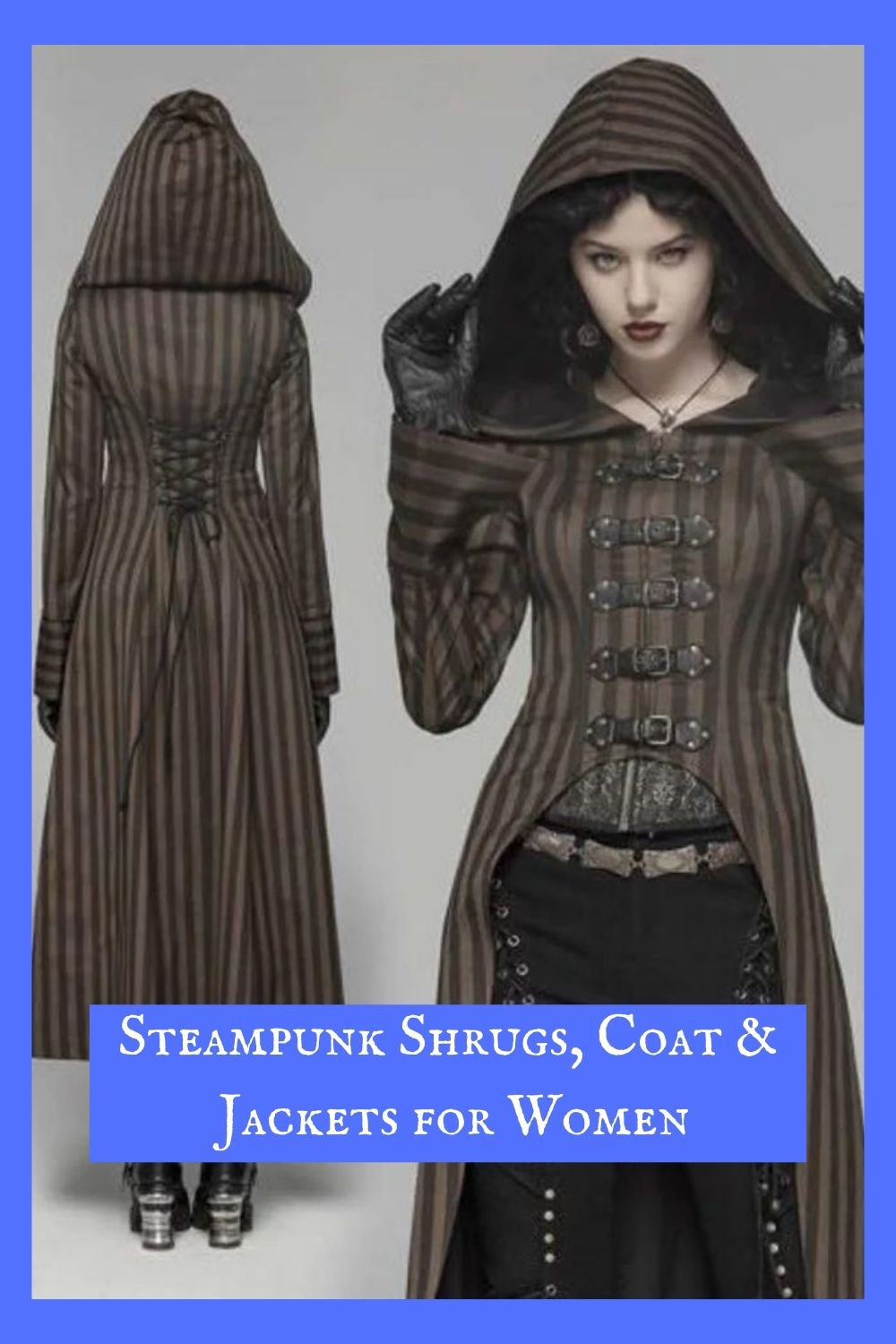 (Visited 473 times, 1 visits today)