If you're looking for a new source for your Steampunk wardrobe or Halloween costume, we have found one called Scarlet Darkness. They have a store on Amazon with lovely Steampunk and Goth clothes for men and women. (They have some children's clothes, but they are definitely not Steampunk.) As the name implies, Scarlet Darkness has a lot of clothes that would be suitable for a vampire costume, but you don't have to be a vampire to wear them. We did some exploring, and found several items that you could use and reuse in various costumes or for your regular wardrobe. Here are the Steampunk clothing pieces that we found. You can visit the Scarlet Darkness store here.
Women's Victorian Steampunk Striped Waistcoat
This Victorian Steampunk Striped Waistcoat can be worn as a waistcoat over a blouse, but also by itself as a top. It comes in two colors which you can see when you click through to the product page, and would mix well with several of the other items on this page. One thing great about Scarlet Darkness is that they have a measurement chart on each product page to help you determine which size is the best for your body type.
 Womens Victorian Steampunk Striped Waistcoat
Women's Victorian Tailcoat Jacket
This jacket (or waistcoat/jacket) comes in three colors white (shown here), black and navy blue. This is definitely a piece that can be worn throughout the year if you wish. It can also be worn to a wedding with the right skirt or pants. Click through to see the measurement and size chart. Pricing on all of these pieces is very reasonable. This one is listed in the $30 range.
 Womens Victorian Tailcoat Jacket
Men's Gothic Vest Waistcoat
This Gothic Vest is designed to be worn by men, and comes in black (shown here) and white. Great for a Halloween costume, but also for a wedding or another Steampunk or Goth affair. Love the jacquard fabric used here.

 Mens Gothic Vest Waistcoat
Men's Steampunk Paisley Jacquard Vest
This Steampunk Paisley Jacquard Vest comes in four colors/styles. This one shown here has a striped collar and pockets and a jacquard brocade fabric. You can also get this vest in black with black/white striped collar and pockets. Two others are black and red/black with the collars matching the rest of the jacket. This piece is designed to fit men with a measurement guide on the product page. Click through to see all of the color and style choices.
 Mens Steampunk Paisley Jacquard Vest
Women's Military Steampunk Jacket Tailcoat
This Military Steampunk Jacket/Tailcoat is very stylish and can be worn as part of a costume or as regular clothes. It comes in black and wine colors. Designed with a military style and cut, it will enhance any Goth or Steampunk wardrobe. It certainly would be fun to wear year round. It's made of a polyester/spandex blend, giving it a bit of stretch to fit comfortably. On the product page, you can see the back and details of the front to give you a better view of the buttons and coat tail.
 Womens Steampunk Jacket Tailcoat
Women's Gothic Victorian Lace Jackets
All three of these Gothic Victorian Lace Jackets are very flattering to the figure. They are designed to fit women, but to be sure you have the right size, take a look at the measurements for each size on the product page. We have to admit that the first one on the far left is our favorite, but we can find some room in our wardrobe for all three. Click through to the product pages to compare the details.
 Gothic Victorian Lace Jacket
 Steampunk Gothic Tuxedo Jacket
 Victorian Coat Gothic Long Sleeve
Women's Vintage Retro Waistcoat
Designed for women, this Vintage Retro Waistcoat will mix and match with any Steampunk or Gothic blouse. You could also wear it alone. The waistcoat is available in black (shown here) and a brown tweed that would be perfect for any female Sherlock Holmes costume. While this waistcoat has a belt detail in the back, it doesn't have any elastic stretch fabrics, so the fit is exact. The pockets are real, small enough to put a clue you pick up while investigating. It comes fully lined. Click through for measurements and sizing.
 Womens Vintage Retro Waistcoat
Men's Steampunk Gothic Blazer
This blazer or jacket is designed for men to wear, and comes in white with black trim or black with white trim. It is billed as a Victorian military-style jacket, but it is multi-functional in several Victorian styles. On the product page, you can see a model wearing the jacket from different angles, giving you a better idea on how it would fit. Click through for more images and sizing.
 Men's Steampunk Gothic Blazer
Women's Gothic Tailcoat Short- or Long-Sleeved
This cool Gothic Tailcoat is designed for women and comes in two colors with long sleeves (black, wine), and six colors in short sleeves (black, red, green, purple, blue, wine). The color shown below for the short-sleeved tailcoat is red. Wine is a more of a muted burgundy. When ordering check carefully, because not all the sizes are available in all the colors. Note that the product page says they are out of stock of the long-sleeved black jacket until after Halloween 2020, expected November 22, 2020. However, you can wear it throughout the year or to other occasions. There is a detailed size chart and closeups of both jackets on the product page. Click through for more details and to see all the colors.
 Women's Gothic Tailcoat LS
 Women's Gothic Tailcoat SS
Women's Gothic Bell Sleeve Shrug
Truly one of our favorite Scarlet Darkness wardrobe pieces, this Gothic Bell-Sleeve Shrug is gorgeous on. On the bottom of this page, you can see a model wearing it with a purple slender skirt. The color is fantastic and it has terrific Steampunk details at the neck and elbows. It only comes in purple or we would buy it in every color. Scroll down to see the model below.
 Women Gothic Bell Sleeve Shrug
Women's Gothic Victorian Costume Dress
This lovely Gothic Victorian Costume Dress comes in black and brown (shown here). It can be worn alone or with a blouse underneath depending on the time of year and weather. The dress has an elastic back for comfortable fit, and the skirt can be worn gathered up as shown here or down. It looks great both ways. Lots of cool details on this dress including the faux leather, buckles, and lace skirt. Click through for more information.
 Women Gothic Victorian Costume Dress
Women's Pirate Costume Pants
Designed for women, these Pirate Costume Pants come in two colors in pinstripes, blue (shown here) and red. They can be worn with your pirate costume or under a hoop skirt. Or just wear them with a sword (pretend) and pirate hat.
 Womens Pirate Costume Pants
Men's Pirate Ankle Banded Trousers
Men should have pirate pants too, so here is a style of Pirate Ankle Banded Trousers designed for men. These trousers come in two colors, coffee (shown here) and black. These costume pants are multi-functional for a wide range of costumes. You don't have to be a pirate to wear them. The waist is elastic for a comfortable fit. Click through for sizing information.
 Mens Pirate Ankle Banded Trousers
Men's Victorian Pants
These Victorian Pants have a front-panel opening and come with suspenders in two colors, navy (shown here) or yellow/tan (they call it yellow, we call it tan). Make sure to check sizing carefully before ordering. There is an image on the product page with measurements to help.
 Mens Victorian Pants
Women's Steampunk Victorian Top
This lovely Steampunk Victorian Top is designed for women, and comes with the brooch shown in the image below. The brooch is bagged separately, so don't be upset when you unpack your top. You can also substitute another brooch if you prefer. This top is available in black (shown here) and white. Both are stunning and would look great with your Steampunk skirt or pants. Very versatile piece that you can add to your Steampunk wardrobe collection to mix and match with other pieces.
 Women Steampunk Victorian Top
Women's Steampunk Gothic Velvet Wrap Skirt
This Steampunk Gothic Velvet A-Line Skirt comes in black (shown below) and brown. A great addition to your wardrobe, this skirt can be gathered up or let down to wear. When let down the front of the skirt is still higher than the back. The white ruffle makes the design really pop. While this skirt is billed as Gothic and Steampunk, we think you could wear it with a country-style top for a Country Girl costume. It certainly would look great with any of the tops or jackets on this page. To see the other color and detailed images, click through the link below.
 Women's Steampunk Gothic Velvet Wrap Skirt
To visit and browse the entire Scarlet Darkness shop on Amazon, go here.
Save This Page for Later
Don't need these items right now but want to save them for later? Just pin this image to Pinterest to remind you of this page.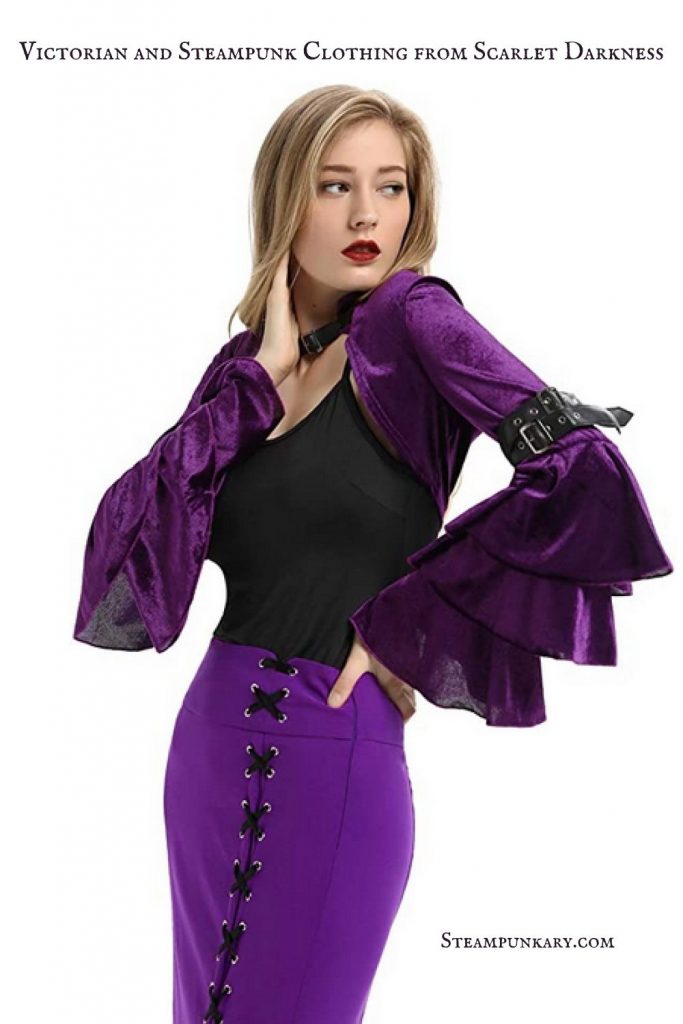 (Visited 683 times, 1 visits today)