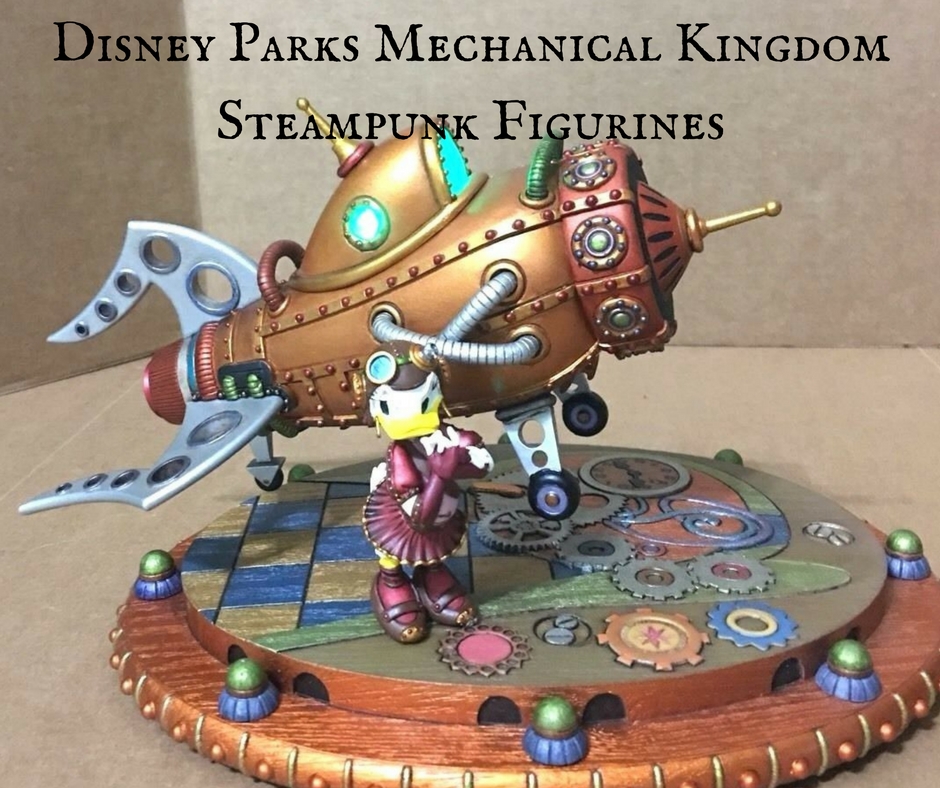 Do you happen to be a Disney fan as well as a fan of the Steampunk genre? If so, you happen to be in luck! Back in 2014, the Disneyland Gallery opened an exhibit called "Mechanical Kingdoms," which combined the beloved Disney characters among steam powered machinery in a futuristic Victorian setting. The good news is that you don't have to visit the Disneyland Gallery to experience this merging of Steampunk and Disney, because you can own your very own Disney Parks Mechanical Kingdom Steampunk figurines and ornaments, featuring your favorite Disney characters.
Decorate your tree with a touch of Steampunk flare with these cool ornaments, or start your own collection of these highly detailed and limited edition hand painted figurines, featuring your favorite classic Disney characters. Most, if not all pieces, are no longer sold in Disney theme parks and can only be found online, making them a real treasure for the collector.
Steampunk Ear Hat Limited Edition Ornament
This ornament measures 4.8 inches by 4 inches by 3.5 inches. Only 2400 pieces sold worldwide and this unique piece is no longer available at the Disney theme parks. A Steampunk spin on the traditional Mickey Mouse ears, the hat portion is green with leather looking brown "straps", complete with two round windows/doors, similar to those of a submarine. The ears are a gold and orange color that look similar to sections of metal pieced together. Several gears decorate each ear and they are joined together with a gold colored tube. Add a touch of Steampunk to the tree this year for a unique festive flare.
Limited Edition Ornament Official Disney Collectible
Disney Parks Steampunk Donald Duck Jungle Cruise Figurine
This is a Disney Parks exclusive item made from resin. Figurine lights up with AAA batteries. Measures 8 inches by 8 inches by 10 inches. Figurine has Donald Duck piloting a cool Steampunk jungle cruiser boat. Boat is shown traveling through the water with a steam powered wheel mechanism. Donald is dressed in Steampunk attire and the boat features a green canvas look cover with a spout that allows water to drain from it. A cool, futuristic looking figurine, great for Disney collectors.
Disney Parks Medium Figure Steampunk Donald Duck Jungle Cruise Figurine
Enesco – Steampunk Donald Duck
This figurine is made from stone resin and can be pre-ordered for release on January 31, 2017. Features Donald Duck with a cool Steampunk hat in black, wearing a blue and white pinstriped shirt and a blue vest with white anchor print. He has a watch chain hanging from his pockets and his legs look they are hinged and made to look like pieces of attached metal. Donald is holding some Steampunk contraption on his back and holding part of it in his hands with a stern look on his face.
Enesco – Steampunk Donald Duck
Disney Parks Steampunk Mickey Mouse Street Car Figurine
This figurine measures 7 1/4 inches high by 10 inches wide by 8 inches in diameter. Made from resin and lights up. Mickey Mouse is driving a cool Steampunk retro car that is fully sculpted and hand painted. Head lamps light up and have an on and off switch. Mickey is wearing a cool Steampunk hat and glasses attached to a chain. Car is pink and wheels look like large gears. Car is decorated with various gears and a steam operated mechanism to make it run. Car is attached to a cool looking base that matches the other figurines in this collection, with blue and wooden look tiles and a collection of gears at the bottom.
Steampunk Mickey Mouse Street Car Figurine
Disney Steampunk Top Hat Ear Hat Ornament Limited Edition
This is another of the Mickey Mouse ears ornaments with a Steampunk flare. Measures 6.7 inches by 3.2 inches by 5.4 inches. This set of ears is designed to look like it is made of leather. It has a top hat and industrial style base. Ornament hangs from included black ribbon.
Disney Steampunk Top Hat Ear Hat Ornament Limited Edition
Disney Steampunk Ear Hat Limited Edition Ornament – Cowboy
This is a Mickey Mouse ears ornament designed to be Steampunk cowboy theme. Made from resin and comes with ribbon for hanging. This is one of the pieces designed by Disney artist Costa Alavezos. This piece measures 2 inches high by 3.5 inches wide from ear to ear by 2.5 inches in diameter. This hat is done is shades of gray made to look like metal. The hat section features two black circular "windows" with gold trim, which look somewhat like eyes within the "face" of the hat. Gold colored accents appear throughout the hat and the finishing touch is the large black Steampunk cowboy hat with a gold band that sits on top of it in between the ears. Hat is decorated with metal looking pipes and gears. One ear has rivet and blue accents and a charm hanging from it, while the other ear looks like a gear with rivets and a gold colored center. (currently not available)
Disney Steampunk Ear Hat Limited Edition Ornament – Cowboy
Disney Parks Steampunk Daisy Duck Rocket Figurine
This is a super cute figurine of Steampunk Daisy Duck and her cool Steampunk airplane/rocket. Decorative base has a collection of gears and blue and tan checkered tiles, matching the other figurines in the series. Piece measures 8 inches by 8 inches by 10 inches. Light up cockpit requires three AAA batteries (not included). This is a fully sculpted figurine designed by Disney artist Costa Alavesos. Plane is a shimmering copper color and features several "metal" riveted sections. Silver erector set looking wings and tail piece. Silver and blue tubes and gizmos and gadgets adorn the plane/rocket as it is perched slightly off the ground, with two tiny wheels in front. Daisy Duck is dressed in her Steampunk pilot outfit, complete with her cool aviator hat and goggles. Plane is highly detailed and perhaps the most intricately carved piece of this collection of Disney Parks Mechanical Kingdom Steampunk figurines.
Disney Parks Steampunk Daisy Ducks Rocket Figurine
More Steampunk Disney Gifts from Amazon
Disney Mickey Mouse Icon
Disney's Cheshire Cat
Mechanical Kingdom – Fantasyland – Minnie Mouse
Disney Vinylmation Mechanical Kingdom Series Pete
Disney Vinylmation Mechanical Kingdom Series Professor Ludwig Von Drake
Disney Vinylmation Mechanical Kingdom Series Mickey Mouse
Disney Vinylmation Mechanical Kingdom Series Daisy Duck 3 Figure
Disney Vinylmation Mechanical Kingdom Series Donald Duck
Disney Vinylmation Mechanical Kingdom Series Goofy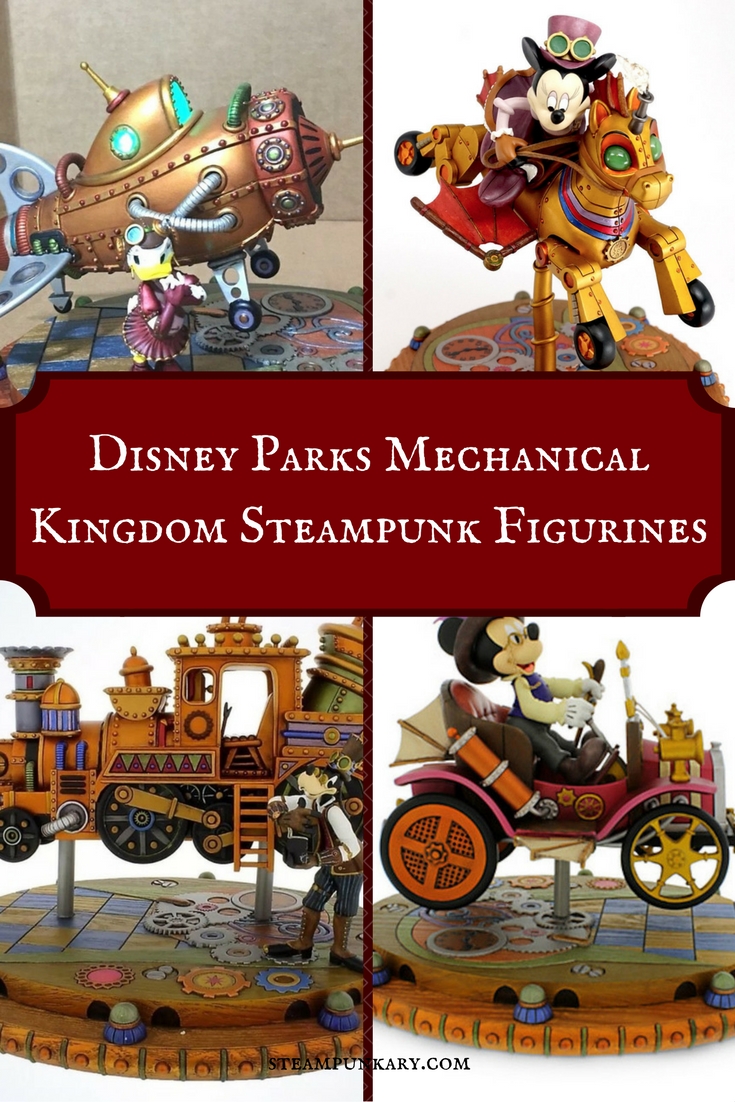 (Visited 1,839 times, 1 visits today)