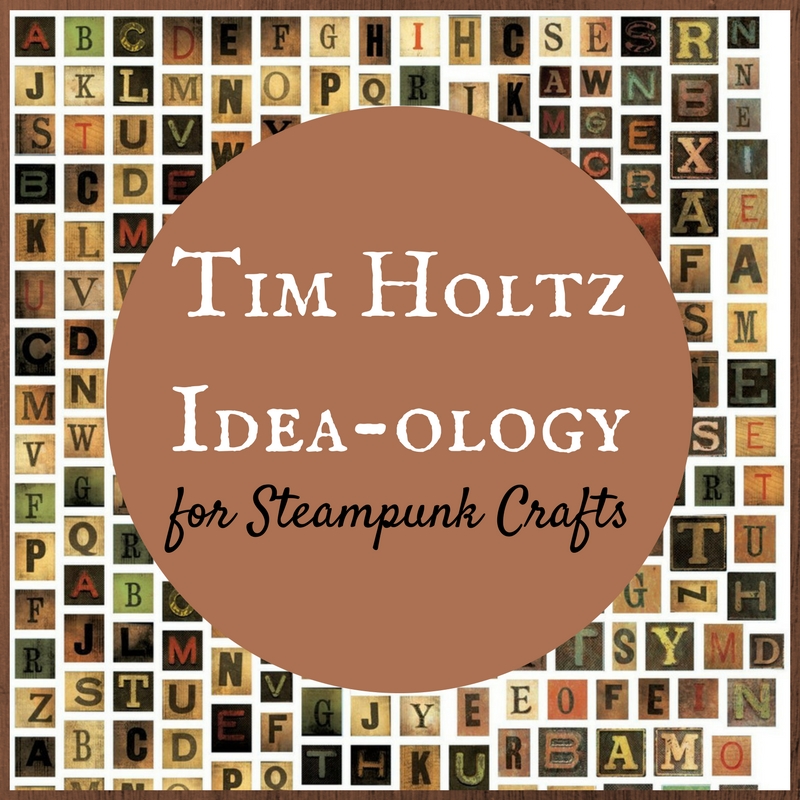 Tim Holtz is a designer who develops creative products. Over the years, he has teamed up with various companies to create unique product lines, one of them being Idea-ology. The Tim Holtz Idea-ology line offers various crafting items that are great for use in steampunk crafts such as unique paper craft embellishments,tool, and papers that have a vintage appeal to them. Here we look at some specific items in the Idea-ology line and discuss how they can be used in creating steampunk crafts. Tim Holtz' website has instructional videos and tutorials for inspiration and creative ideas to get you started.
Thrift Shop Ephemera Pack, 54 Pieces
This is a 54-piece eclectic collection that features a variety of colors and designs. Designs include vintage price tags, clock face, vintage photos, moths, and more. These would work great for scrapbooking or when used in a collage or decoupage craft. Has great vintage and steampunk style.
Thrift Shop Ephemera Pack 54 Pcs
Photobooth Vintage Photos, 6 x 1.75 Inches, 30 Strips
This collection contains an assortment of vintage photo booth strips of various random people. Set contains thirty strips that measure 6 inches by 1.75 inches. These work well in creating mixed media projects, scrapbook crafts, and for other paper crafts.
Crowded Attic Salvage Stickers, 372 Stickers
This is a set of 372 stickers compiled into a handy sticker book format. Made from quality cardstock weight paper. Designs include vintage ads, buttons, letters, numbers, moths, vintage labels, maps, and more. Great for mixed media projects, scrapbooking, or for embellishing handmade cards and envelopes.
Crowded Attic Salvage Stickers
Chitchat Word Stickers, Black and White Matte Cardstock
This collection includes 1,088 stickers packaged in a handy sticker book. Some stickers are white with black lettering, others are black with white lettering. Perfect for creating your own greeting cards, mixed media project, and scrapbook pages. Use your imagination to come up with many more uses for these chitchat stickers.
Hitch Fasteners, 12 Fasteners, Assorted Antique Finishes
This set contains twelve antique finish hitch fasteners. There are three colors, with four fasteners of each color included. Finishes include antique gold, antique nickel, and antique brass. These can be used in jewelry making projects, or perhaps used as book fasteners. Use your own creativity to come up with even more ideas for how to use these.
Elements Remnant Rubs
This is a set of two sheets of pressure sensitive transfers. Applicator stick is included. Transfers can be applied to a variety of surfaces and could be used to decorate mirrors, glass objects, wood or glass furniture, and many other surfaces. Adds vintage flair to all of your steampunk crafts and projects.
Foundations Metal Box Feet
Each package contains four metal feet made from 100% metal. Each of the feet measure 1.5 inches by 2 inches and have an antique nickel finish. Add these feet to the foundation of items such as decorative boxes, furniture pieces, photo frames, canvases, etc., to give them a sturdy platform as well as to add a touch of steampunk style to the piece.
Metal Philosophy Tags, 12 Tags per Pack
This is a set of twelve one inch tags that each features a different philosophical word. Words include: listen, breathe, journey, imagine, believe, and more. Includes four circular tags in each of the three finishes of antique nickel, brass, and copper. These metal tags make great jewelry pieces such as necklaces or bracelets, or could even be used to make keychains, charms, and more. Let your imagine run free and see what you can create.
Alpha Tiles, 255 Tiles
This is a set of 100% chipboard tiles. Contains 255 tiles that measure 11/16 of an inch. Unique vintage style letters can be used for a wide variety of creative purposes and are an assortment of various colors. Use as a fun way to personalize items, or to spell out names of items such as "BREAD" on the breadbox, "salt" on the salt shaker, and more. These would work great in mixed media projects as well.
Metal Timepieces, 5 per Pack, Various Sizes
This package contains five assorted clock faces measuring from 1 and 1/4 inches to 1 and 3/4 inches in size. Three have a nickel finish, one has a brass finish, and one a copper finish. Clock faces are made from 100% metal. These pieces coordinate with the Tim Holtz game spinner. Makes a great crafting item for mixed media, creating an actual time piece, jewelry, or for adding to steampunk crafts.
Metal Corners, 12 per pack
Package contain twelve metal corners that each measure one inch long. Three different finishes :antique silver, antique copper, and antique brass. These make the perfect accents for any Steampunk themed photo album or scrapbook project. Simply attach the metal corners to the corners of the pages to decorate and reinforce them. They also make the pages easier to turn by providing something to grab on to.
Metal Mini Gears, 12 per Pack, Various Sizes
This package contains twelve metal mini gears made from 100% metal. Gears range in sizes from 5/8 of an inch to 3/4 of an inch. Set include four nickel finished, four brass finished, and four copper finished pieces. These are great for creating steampunk craft. Can be used to make jewelry, in mixed media pieces, for metal work art projects, to decorate picture frames, decorate mirrors, to adorn polymer clay craft projects, and much more.
Metal Mini Fasteners, 99 per Pack, 1/4 Inch
Package contains 99 metal fasteners that can be used in a variety of ways. Fasteners measure 1/4 of an inch and have antique finishes. Contains 33 fasteners each in nickel, brass, and copper finish. These tiny brads have embossed hardware marking to make them resemble small screws. Adds that special little detail to really make your projects pop.
More Tim Holtz Idea-ology
If you like the items seen above, here are some more craft supplies from Tim Holtz.
Ephemera Thrift Shop and Ephemera Expedition
Layers-Botanicals
Collage Paper Rolls
Design Ruler
Typed Tokens
Menagerie Mini Stash
Destinations Paper Stash, 36 sheets
French Industrial Paper Stash
Tiny Glass Vials
Paper Dolls
Tiny Attacher
Sketchbook Tissue Tape
Letterpress Print Blocks
Clippings Stickers
Mirrored Sheets, 2 Sheets
Metal Game Spinners with Fasteners
Tissue Tape
Quote Chips
Save this Idea for Later

(Visited 2,473 times, 1 visits today)