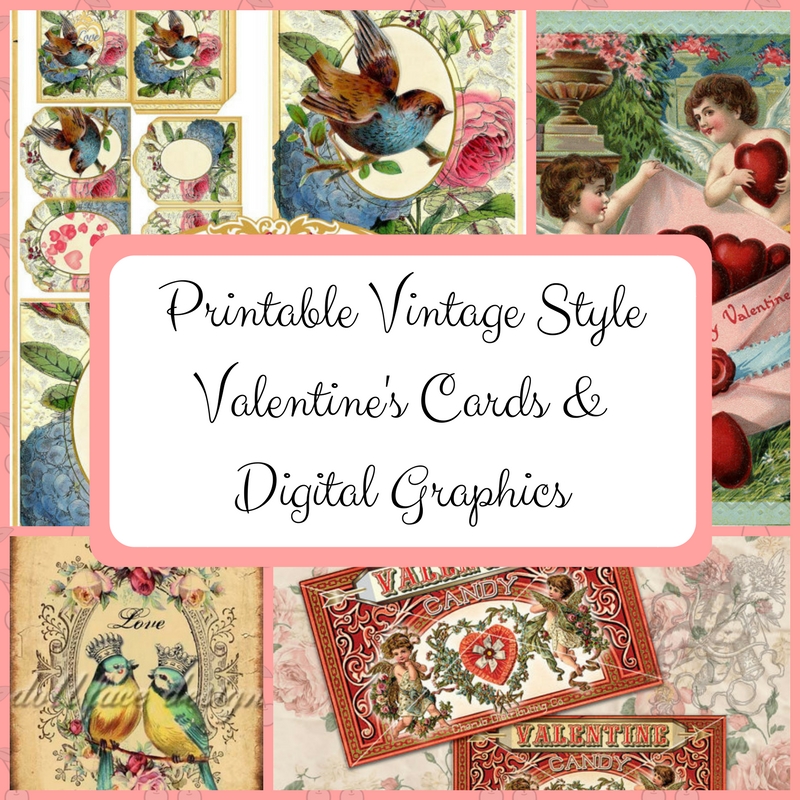 Valentine's Day provides the perfect opportunity to incorporate some vintage and Victorian styles into your celebration. The retro look fits right in with any Valentine theme and looks great. With the variety of printable vintage style Valentine's cards and digital graphics available from various Etsy sellers, you can print your own special Valentines this year. Victorian art is both romantic and whimsical and will be a hit with your Valentine for sure! Here we look at several available printables with vintage Victorian flair.
Victorian Valentine Hearts Collage Sheet Printable
This is a digital download featuring six great heart designs. Images can be reduced or enlarged and printed in any quantity needed. Customers will receive two JPG and one transparent PNG file. Designs features an adorable pair of Victorian children, two angelic cherubs, a lovely Victorian lady with a bonnet, a floral heart design, a cherub sitting on top of a large heart, and an adult Victorian couple holding hands. These image will make great digital cards as well as working great as decorations or for use in scrapbooking projects.
Vintage Victorian Valentine Card
This is available as an instant download of one JPG and features a design of two adorable Victorian winged cherubs filling a large pink envelope with hearts. The envelope reads " To My Valentine." The background features a lovely garden area. Image can be resized to suit your crafting needs.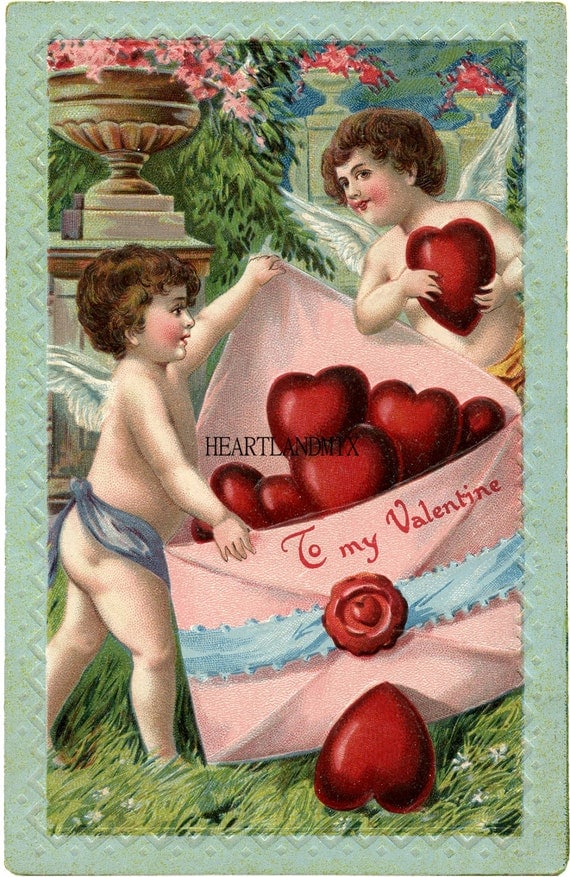 Vintage Victorian Valentine Card

Vintage Valentine Candy Label
This is an instant digital download delivered as two JPGs. Images come on one 8.5 inch by 11 inch sheet featuring two sizes of 6.5 inches by 3.8 inches and 3.5 inches by 2 inches. The image reads "Valentine Candy" and features a design of a red and gold border, red and white detailed background, and two winged cherubs on each side of a large wrapped heart shaped box of candy. A cute idea to dress up any candy and make it special for Valentines Day.
Very Victorian Valentine Handmade Card
These images come as an instant digital download of one JPG and one TXT file. Contains three authentic Victorian style cards, each measuring 5 inches by 3.25 inches. Designs are against an antique white background with a silver colored scrolled border. One reads "To My Love" and features three winged cherub babies with a floral sprig near the bottom of the card. The second card reads "A Gift of Love" and features a lovely pink floral image. The third card features the phrase "With Love and Devotion" and an image of a little Cupid shooting his arrow into a large red heart out of which his little Valentine girl is peeking out of.
Vintage Victorian Valentine Candy Label
This is an instant download of three JPG. Candy label measures 4 inches wide and will print out in 300 dpi. Use label for a decoration, gift tag, to wrap Valentine treats, and more. Design features a little boy and girl cherub etching onto a large red heart. The label reads "Candy Treats" at the top and " Accept this loving heart of mine and be my own true Valentine."
Victorian Valentine Digital Collage Sheet
Customers will receive one JPG instant digital download. Collage sheet features six designs, four with lovely Victorian ladies holding flowers. The other two designs feature large hearts and sweet messages such as " My heart with this I give to thee Sweet Valentine."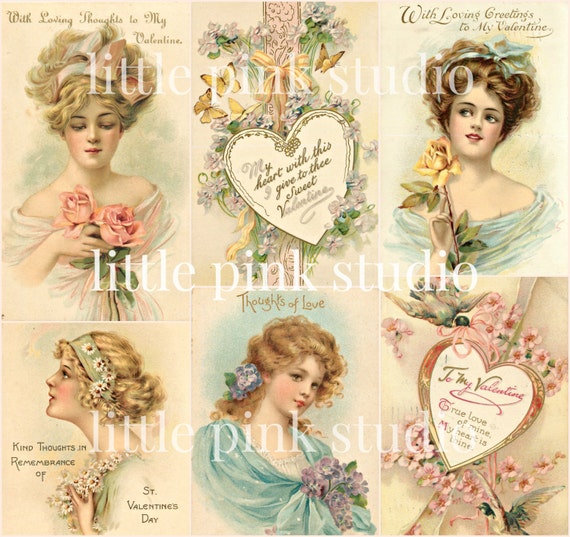 Victorian Valentine Collage Sheet

DIY Printable Victorian Love Birds
This design measures 5 inches by 7 inches and makes a great Valentine or piece of framed art. Delivered as an instant download of a 300 dpi high resolution printable digital file. Design features two lovely little bluebirds sitting together on a perch, both wearing crowns. They are encircled by an oval frame with flowers gracing the top section of the frame. The word "love" is above the birds.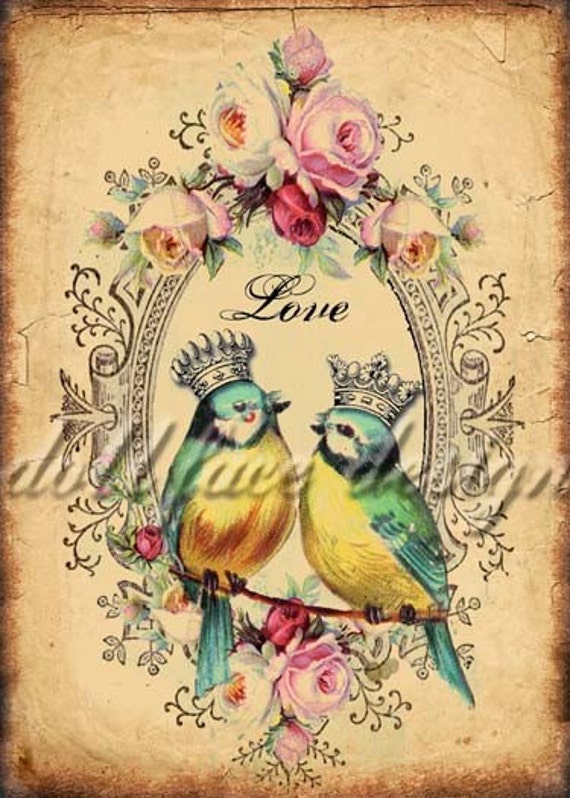 Printable Victorian Love Birds

Vintage Valentines Day Cards Printable
This is an instant digital download of one ZIP file. Layout is for six 3.85 inch wide by 3.25 inch tall sized card per printed letter sized sheet. May be trimmed so that cards have a white border or are borderless. Designs feature a letter carrying bird on a lady's finger, a flower, two white swans, man and woman holding hands, and more.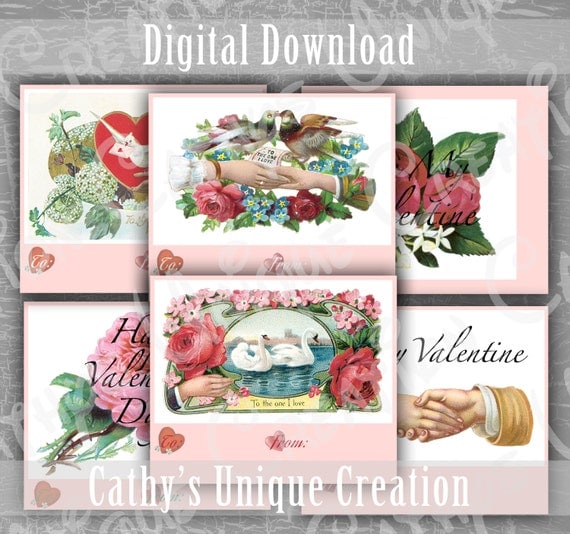 Vintage Valentines Day cards Printable

1 Inch Circles Victorian Romantic Bottle Cap Collage Sheet
These little one inch circles are great for decorating bottle caps or for use in a variety of craft projects including pendant making. Customers will receive an instant digital download of one JPG. Circles measure one inch and feature adorable images of cherubs, roses, and doves. A great way to dress up an ordinary bottle or add a touch of Victorian charm to just about anything.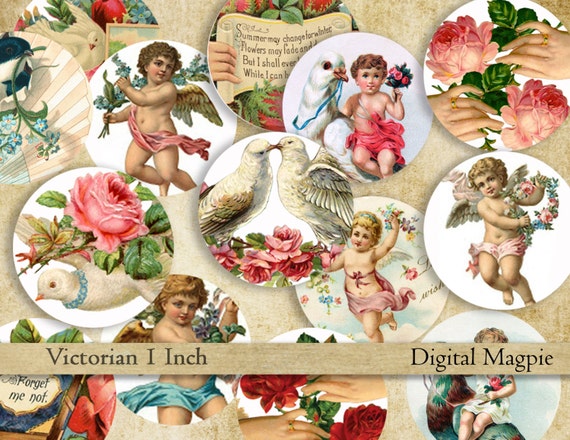 1 inch circles Victorian romantic bottle cap

Vintage Valentine Card Angels Heart Roses Clip Art
This is a vintage image that dates back to around 1910. Available as an instant digital download of one JPG file. The design features colorful vintage roses and two adorable little cherub children, one boy and one girl, with the little boy giving the girl some flowers. Card features the text " Loving Thoughts For My Valentine." A super cute card done in tones of reds, pinks, and greens.
Victorian Valentine Mini Kit for Cards, Scrapbooks, Journals
This item can be purchased as an instant digital download of one ZIP file. Customer received three individual panels that can be used for various crafts, a coin envelope, a coordinating greeting card with inserts, etc. Beautiful design features a lovely blue bird and floral sprigs with blue and pink flowers. Perfect for creating Valentine crafts.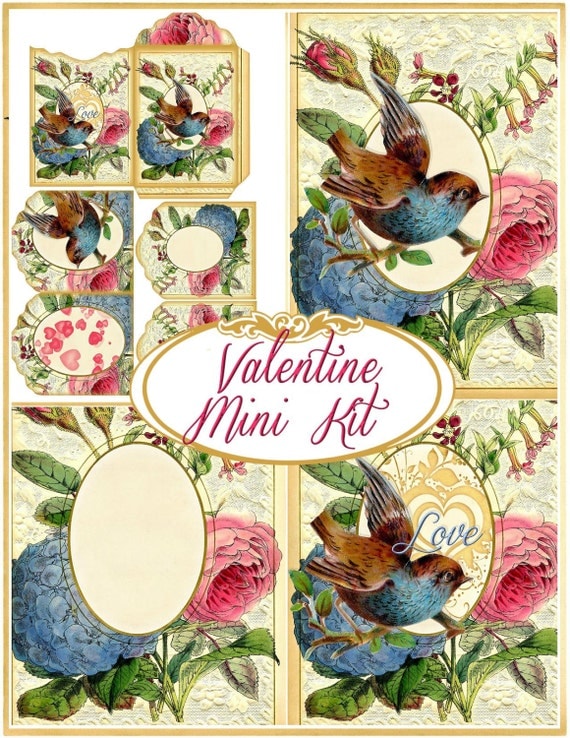 Victorian Valentine Mini Kit for Cards

Victorian Style Valentine Cards
This item comes as an instant digital download of three JPG files and one TXT file. Features three different styles created from antique scrap images. Cards measure approximately 6.5 inches by 4.5 inches, 7 inches by 4.5 inches, and 6.5 inches by 5 inches, depending upon specific design. Designs feature colorful backgrounds, cherubs, Victorian children, hearts, and floral images.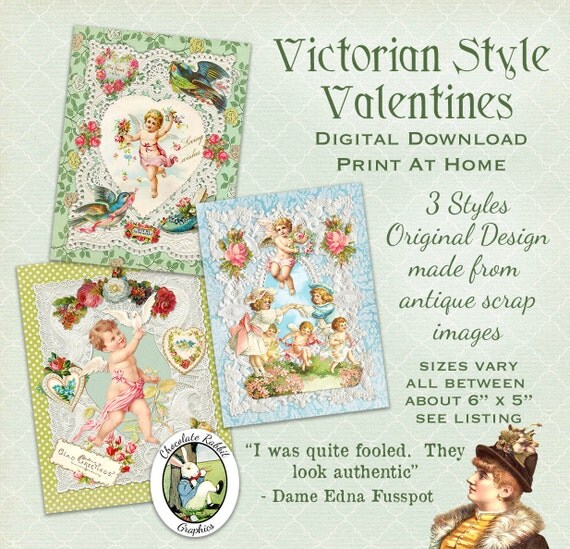 Victorian Style Valentine Cards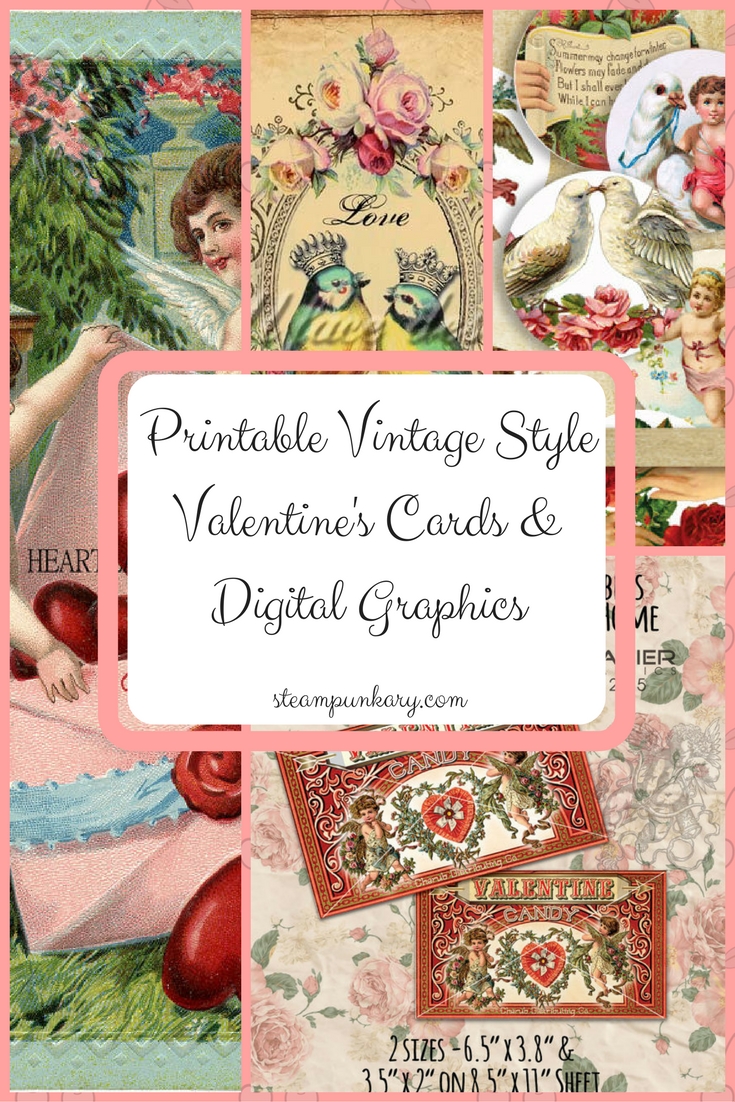 (Visited 740 times, 3 visits today)