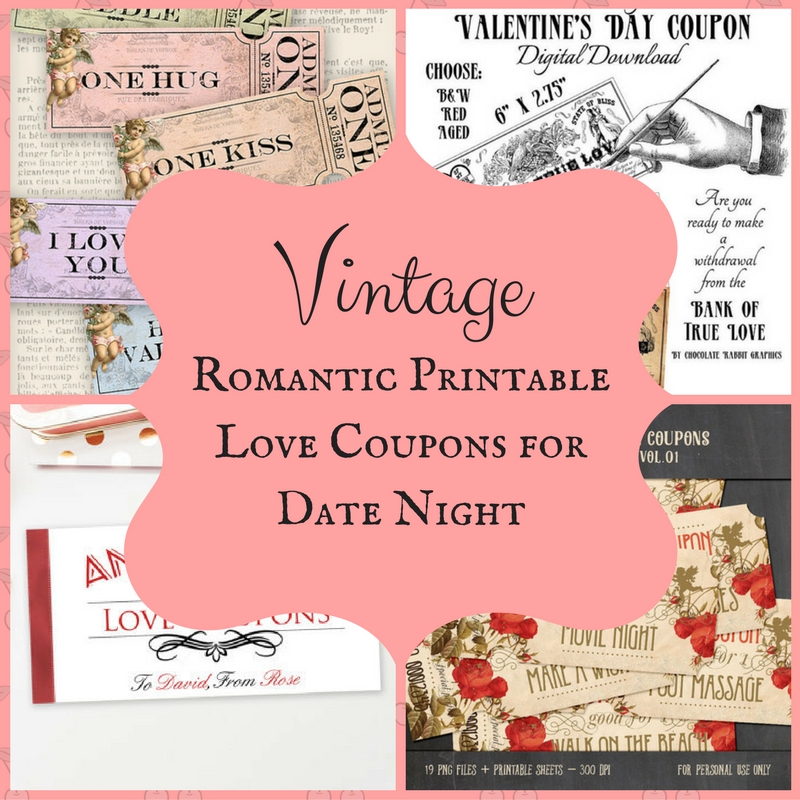 Whether you are in a new relationship or have been married for years and have children, you always need to make room for a special date night. Date nights allow for couples to set aside special time just for themselves, away from the stress and hustle and bustle of everyday life. When thinking of a special gift to give your partner that doesn't cost a lot yet comes straight from the heart, consider printable love coupons for date night.
Several graphic artists on Etsy offer vintage steampunk and Victorian love coupons that you can edit with your own text, or that come blank so that you can hand write your coupon "rewards" yourself. Either way, these printable love coupons are sure to be a big hit with the one you love.
Give coupons for such rewards as:
hugs and kisses
a romantic candlelit dinner for two
a back massage
a night out with the girls or guys
a morning to sleep in
cooking their favorite meal
You can also create some extra special coupons for a romantic evening which we will just let you use your imagination about instead of listing them on here! You can give these gifts to your loved one on a special date night, maybe incorporate them into a date night as the subject of the evening or just part of the date itself.
Here we look at some of the printable love coupons that have vintage and steampunk themes. Available as an instant download, these make great last minute gifts for any occasion, or just when you want to put some spice and romance back into your relationship.
Sweet and Romantic Love Coupons
This set of love coupons by A Whimsical Adventure offers 18 pre-made love coupons along with 6 blank coupons. Download comes as a printable PDF sheet and 4 sheets in JPG. Some of the offered coupons are for romantic gestures such as breakfast in bed, a foot massage, and slightly racier offers such as a private striptease. Sure to be a hit with your sweetie and perfect for either gender to give. This design features red Victorian roses with leaves and stems with Cupids in each of the upper corners. Perfect for Valentine's Day or any romantic occasion.
&
These Victorian style coupons by Chocolate Rabbit are available in your choice of black and white, red or sepia ink for an antiqued look. They are designed similar to that of a bank check allowing you to write in your "gift" that you promise. "Checks" are from the Bank of True Love. A cute design that features a heart with the words " A token of my affection" in the upper left hand corner, two love birds gracing the top of the "check," and a lovely Victorian couple in the upper right hand corner. Use these great printable love coupons with a steampunk flair to make delightful promises or romantic gestures to the one you love. You can use your imagination to come up with creative ideas for your lover to cash in.
&
The Gift that Keeps on Giving for Him
Some of the sets of printable love coupons come as handy reusable vouchers good for a set number of times. Simply check off each time the coupon is redeemed to keep track. This set from PrintTastic features coupons intended to be redeemed by men. Some of the rewards to be given include making him king for a night, no stress, a night out, me time for an entire day, and one hour of peace and quiet. Set includes twenty printable vouchers with multiple uses, which are sure to please your man for a long time to come.
&
Vintage Valentine Love Tickets
Looking for something similar to a carnival style ticket? These love coupons are in a ticket format and are good for one hug, one kiss, one date night and more. Created by Vectoria Designs, these printable downloads feature an adorable Victorian Cupid in the upper left corner and a decorative steampunk style border within the ticket itself. To the left are the words "Admit One," reminiscent to an actual ticket that you might find at a carnival or raffle. These have a great Victorian style and are sure to put a spark in your relationship.
&
Cupid's Gift Love Coupons
You can treat your love to these instant digital downloads featuring 4 JPGs by WA Glacier Graphics that have a business card format. Each love coupon says "Cupid's Gift: Love Coupons, Lovingly given from your sweetheart" on one side and "For my true love, good for (fill in blank)" on the opposite side. Front design has a retro style with flower bouquets and hearts with wings and a Cupid with bow and arrow. The back side features a different Cupid scene and lists the reward offered. Some of the rewards include a free house cleaning, a visit to a local attraction, romantic picnic, free yard work, free wash and fold laundry and breakfast in bed. These make a great idea for date night, or to give as a gift on a birthday or holiday.
&
For an Anniversary or any Special Occasion
Looking for something special for an anniversary or special occasion? Want something that comes from the heart that only you can give? These printable love coupons from Everburg Design Studio are perfect! Set features rewards ranging from funny to naughty and include going one evening with no electronics, planning a romantic date, wearing something your loved one likes among other more personal rewards your spouse is sure to love. If you wish to personalize these coupons with your own rewards to make them naughty or just more meaningful to yourself and your spouse, you can contact the designer to revise them to really make them your own. Coupons can be punched with a hole puncher at the upper right hand corner and strung together with a ribbon to create a cute little gift. Design is simple with a red border on one side and black scroll designs between the lettering on face of coupon. These have somewhat of a Victorian look to them, perfect for lovers of steampunk.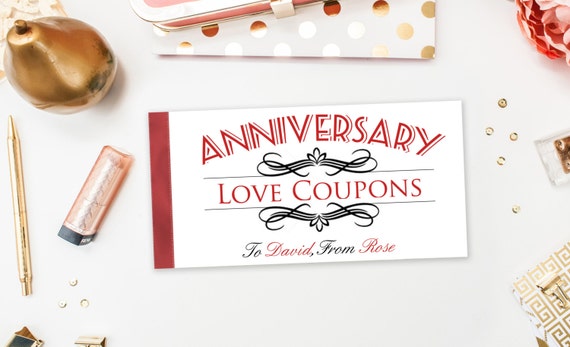 Funny Naughty Anniversary Coupons

&
Romantic and Naughty Love Coupons
Romantic and naughty love coupons can be given for Christmas, anniversary or just because. Below you can find more vintage style love coupons including some erotic and naughty ones. You can pick from these and personalize them or click through for more modern ideas. Use the coupon ideas that come with the set or make up your own. So many possibilities!
 Christmas Coupon Book for Him

 Printable Love Coupon Book

 Printable Naughty Coupons Booklet

 Naughty Coupons & Love Coupons

 Love Coupons

 Love Coupons PRINTABLE

 Vintage Love Coupons

 Paris Love Coupons

 Naughty Love Coupons

&

(Visited 4,008 times, 1 visits today)