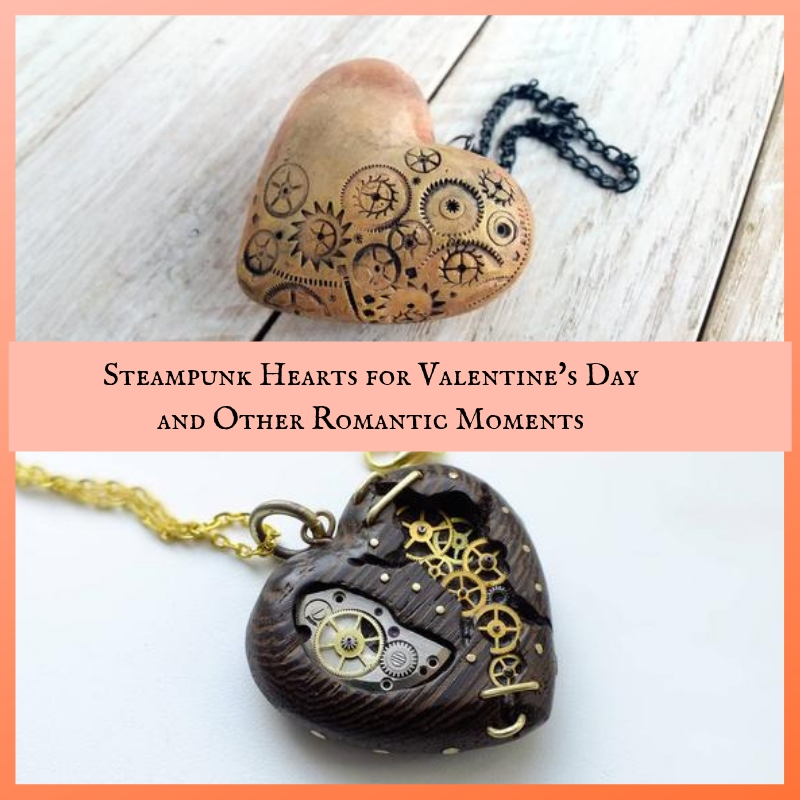 We've been working on other projects the last few weeks, so unfortunately this post didn't make it out until after Valentine's Day. But these hearts are so cool, you can use them for other purposes such as anniversary, bridal shower, wedding and just because gifts, too. These are all handmade or designed by an artist or both. Unique items that aren't the kind of gift that you find in every retail store or website. We love referring people to Etsy whenever possible, because we want to support small businesses and artists as much as possible. Therefore, we hope you enjoy browsing through these Steampunk hearts.
Steampunk Mechanical Heart
This Steampunk Mechanical Heart struck our eyes when we were looking for interesting items to recommend. This can be worn as a pendent or charm on a necklace or bracelet. Or you can add it to a keychain that you carry with you regularly. It is made from a ceramic material, then embossed for the Steampunk look. Made in the Ukraine.
Steampunk Cross Stitch Pattern PDF Instant Download
This is a cross stitch design for you to make yourself. "The Ace of Hearts" counted cross stitch pattern designed by Elena Mityakina. This pattern is an instant download PDF file. The design size is 82w x 114h stitches. Finished size depends on the fabric chosen. Use the online calculator: https://www.yarntree.com/java/xstitchcal.htm
Stitches Used: cross stitch, back stitch, french knots or beads
Number of DMC Floss Used: 18 solids + 2 blends
Nicely drawn and great for a gift along with embroidery floss if you know someone who loves to embroider. (Since we aren't embroidery experts, contact the seller for any technical questions including how much embroidery floss to order.)
Steampunk Cross Stitch Pattern PDF Instant Download

Steampunk Mechanical Heart
This artist offers unique Steampunk Mechanical Hearts that are carved from wood, then embedded with mechanical gears and other items. These are made to order so allow time for a gift. The piece shown here is made from Millettia laurentii wood, a legume tree from Africa. This artist has several of these hearts to choose from plus other Steampunk sculptures. Since they are based in Russia, consider extra time for shipping.
Steampunk Valentine – Kinetic Sculpture Greeting Card for Lovers
This item makes a lovely Valentine, but we think it is even more appropriate for an anniversary or wedding gift. You can personalize the item with your own photograph as shown on the product page. This sculpture offers a glimpse into the Victorian futuristic theme of Steampunk, and is a keepsake that your recipient will cherish for a long time. Made in the U.S.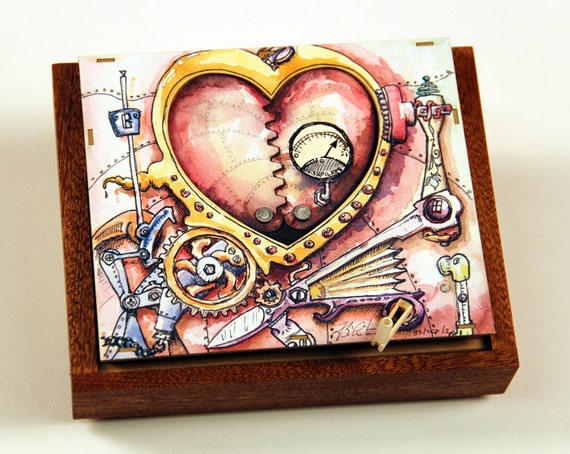 Steampunk Valentine – kinetic sculpture greeting card for lovers

Steampunk Heart-Shaped Jewelry Trinket Box
If your budget is limited but you still want to buy a unique Steampunk gift item for your partner, this Steampunk Keepsake Box is a good choice. One of several boxes made by this artist, this features a Steampunk design made using resin and hand-painted. To see more Steampunk boxes, just click through the link below. These ship from the U.S.
Steampunk Heart-Shaped Jewelry Trinket Box

Handmade Antique Silver Blue Heart
This pendant is handmade from various metals all soldered together to form an Antique Silver Blue Heart. You can also find the same design in other colors in this artist's Etsy shop by clicking on the link below. The pendant comes on a 16-inch chain, and the rhinestones are Swarovski (high quality). You have the option of choosing a longer length chain when you checkout. (We always recommend at least 18 inches for anyone older than high school.) Ships from the U.S.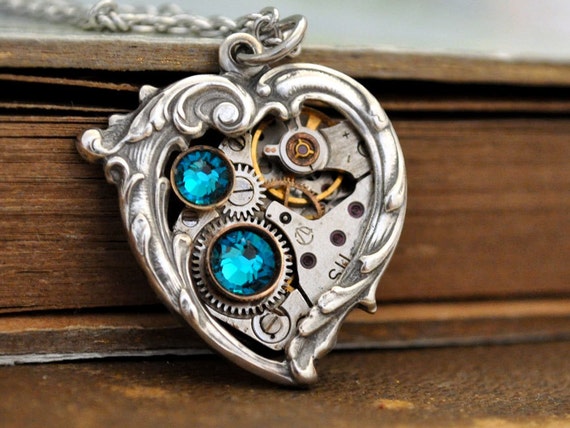 handmade antique silver blue heart

Steampunk Valentine Heart
This Steampunk Valentine Heart is made primarily from polymer clay with copper chain and embellishments. The chain is 18 inches, but the size of the pendant isn't listed. Lovely design, but if you have any questions, check with the artist through the product page. From the image shown, chain looks to be brass, not copper, so you might want to ask about it. Copper can react with some people's skin to discolor it (harmless, but annoying). If you are one of those people, or your recipient is, ask them for brass. Ships from the U.S.
Key to My Heart Valentine Card
This Key to My Heart Valentine Card is a beautiful handmade cutout design. You can use this for many reasons besides Valentine's Day, any day that includes love. The interior is blank, so you get to write your own message. Note that although the card is only $7, it costs $3 to ship within the U.S. You may want to order more items from this seller or a quantity of these cards.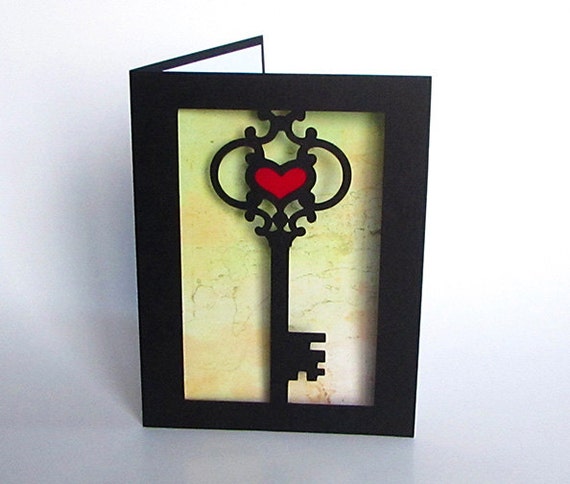 Key to My Heart Valentine Card

Steampunk Greeting Card Valentine
This is another card made by the same artist as the one above. When you click through to their shop, you'll discover an array of cutout cards, wall art and more in beautiful designs. There are lovely Easter cards, Viking art prints and animal vinyl wall art just to name a few.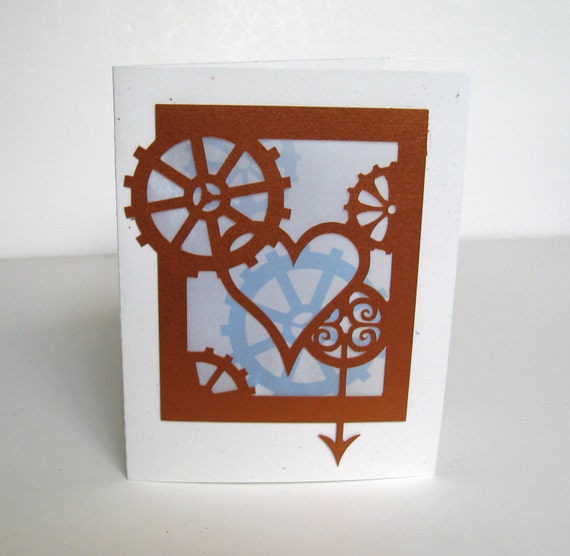 Steampunk Greeting Card Valentine

Steampunk Valentine's Card
This card is handmade and includes many of the elements from the cards above although in a differing style. As this is the only item this artist has on Etsy, you may want to get more confirmation when you order. It is available in custom colors and in quantity as well. Again, it costs over $3 to ship within the U.S., so it makes sense to buy more than one card.
Pin It for Later
Don't have a need for these right now? Pin this image for later as a reminder.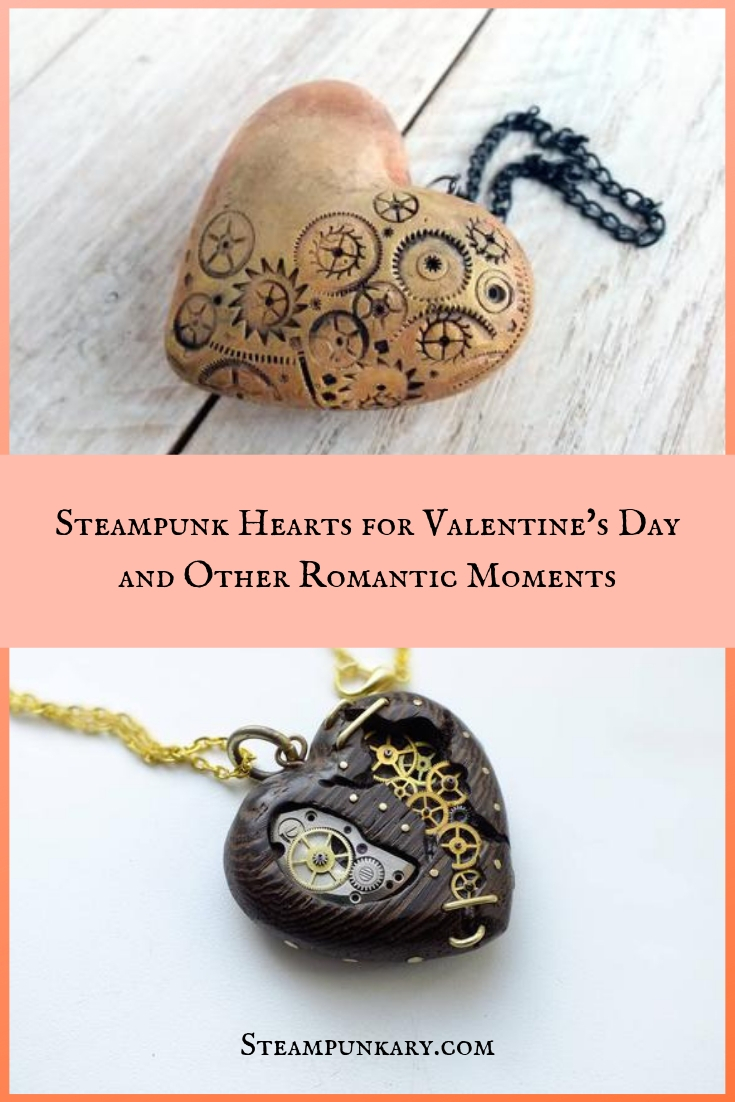 (Visited 619 times, 1 visits today)