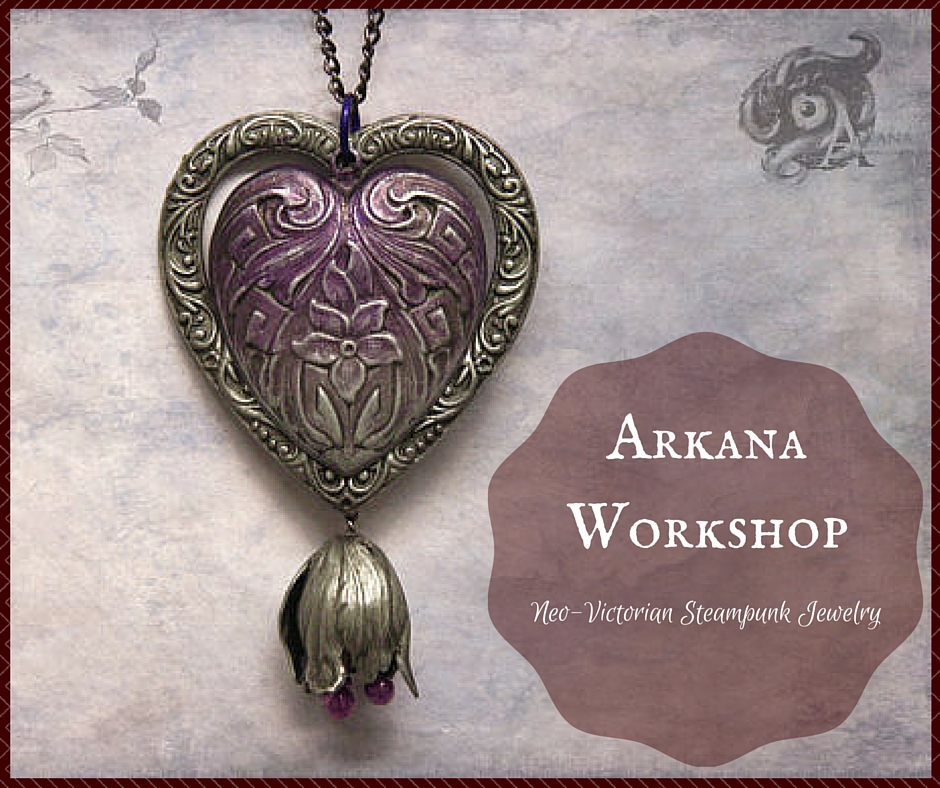 The Arkana Workshop is owned by a mother of two, Alexandria Howard. Based out of Amersham , United Kingdom, Alexandra loves creating unique, handmade steampunk jewelry, as well as Gothic and Neo-Victorian pieces. Using polymer clay as her core medium, the artist also uses other mixed media when designing and creating her original jewelry pieces.
Steampunk Metallic Corset Brooch with Lantern Charm
This is a handmade corset brooch made from polymer clay. The clay cincher has a leather appearance. Features pins, glass beads, chains, and a copper wire lacing with lantern charm. Painted with a darkened brass tone and hand-painted patina and highlights. Piece measures 3cm wide and 4cm high.
&
Charm Bracelet in Red, Brass & Bronze
This is a unique bracelet with a lead and nickel safe chain with antique brass tone metal and a lobster clasp. Bracelet features red glass beads, copper wire, a rose cameo, inked and hand painted stampings, handmade miniature book of polymer clay, old vintage watch face, an antique 1901 British halfpenny, and a Victorian mother of pearl button. All finishes are water resistant.
&
Framed Roses Necklace in Brass, Copper & Verdigris
Necklace features handmade brass and copper polymer clay roses and leaves arranged on wrapped copper wire and mounted on a small brass frame. Chain fastens with a lobster clasp and ring, one on each side of the frame. Measures 6cm wide and 4cm high. Verdigris and metallic paints add both color and highlights to this unique handmade piece of Steampunk jewelry.
&
Scarab Beetle Pocket Watch Case Pendant
Pendant is made from a silver plated antique pocket watch case decorated with a brass scarab beetles and hand painted brass stampings. Beetle is a blue color and serves as the centerpiece of the pendant. Keys are suspended from chains from the bottom of the pendant. Bow has fitted metal rings from which to hang pendant from your own chain. Pocket watch case measures 4cm wide.
&
Miniature Cameo Book Pendant: Black & Silver
This is a miniature cameo book pendant made from polymer clay. Measures 3cm and book is made to look like it has a curved spine and a textured, vintage surface. Hand painted with black and silver patina to resemble an aged book.  A gunmetal chain runs through the spine and has a jump ring joined at the top from which you can hang the pendant from your own chain.
Brass Clock & Watch Gear Charm Bracelet
Handmade Steampunk jewelry bracelet is made from brass clock and pocket watch gears and components measuring 1.5cm to 3cm. Components are attached with wrapped and darkened copper wire and each piece is antique or vintage. Bracelet chain is bronze colored metal with a lobster style clasp and measures 19cm in length.
&
Key Pendant Inked Purple & Violet on Black Key
This is a handmade item created from a metal key, watch parts, ink, a metal ring, and water resistant clear sealer. Steampunk black key pendant measures 7.5cm long and features violet and purple ink colored watch parts within the shape of a circle. Metal ring is attached to allow you to add your own cord or chain and one does not come with the pendant.
&
Heart Pendant in Silver & Violet Purple with Floral Leaf & Beads
This is a handmade Neo-Victorian style hand painted heart shaped pendant in silver and purple tones with a beaded stamen made from wire and purple beads. Brass floral heart metal stamping is suspended within a heart shaped frame made of metal. Heart is hand painted with a silver paint that contains real metal . A floral leaf stamping of similar color suspends from a chain on the back of the heart and the piece is finished with a violet purple dye finish and a darkening patina. Piece is protected with a clear sealer. Measures approximately 9cm in length. Add your own chain, ribbon, or cord for a great Steampunk jewelry piece.
&
Lapel Pin with Clockwork Skull Cameo & Monocle
This is a handmade skull made from polymer clay that is wearing a stylish monocle on eye socket and whose "brain" has cool Steampunk gears inside. The piece is hand painted with acrylic and then mounted on a brass colored metal seaside token. Token is attached to an 8cm brass pin with clutch. Finishes used are water resistant. Skull and coin section measures approximately 3cm in both width and height. This is a super cute and fun, yet edgy jewelry piece that is sure to attract attention!
&
Watch Gear Brass Key Pendant in Red & Copper
This is an alloy key with copper wire wrapping, with watch gear details in red, copper, and brass. One of the circular watch parts is painted a dark, metallic red to add a splash of color. Pendant measures 7.5cm in height and comes with an attached ring for you to add your own chain or cord to wear as a cool Steampunk necklace or choker.
&
Traveler Necklace with Watch Movement, Hot Air Balloons & Brass Watch Parts
This cool necklace consists of a complete watch movement with original rubies fitted into a brass mount within a brass pocket watch plate. This is a dual strand necklace with large watch pieces suspended between chains with hand painted hot air balloon charms and stampings to create a fun Neo-Victorian traveler theme.  Chains and metal rings used on the design are of various tones, sizes, and style but are all lead and nickel safe.  Necklace closes with a ring fastener and lobster clasp. Original patina exists on the watch parts, which were sealed with a museum quality restoration wax and clear sealers were applied to the balloons and brass mount where paint was used on the piece.
&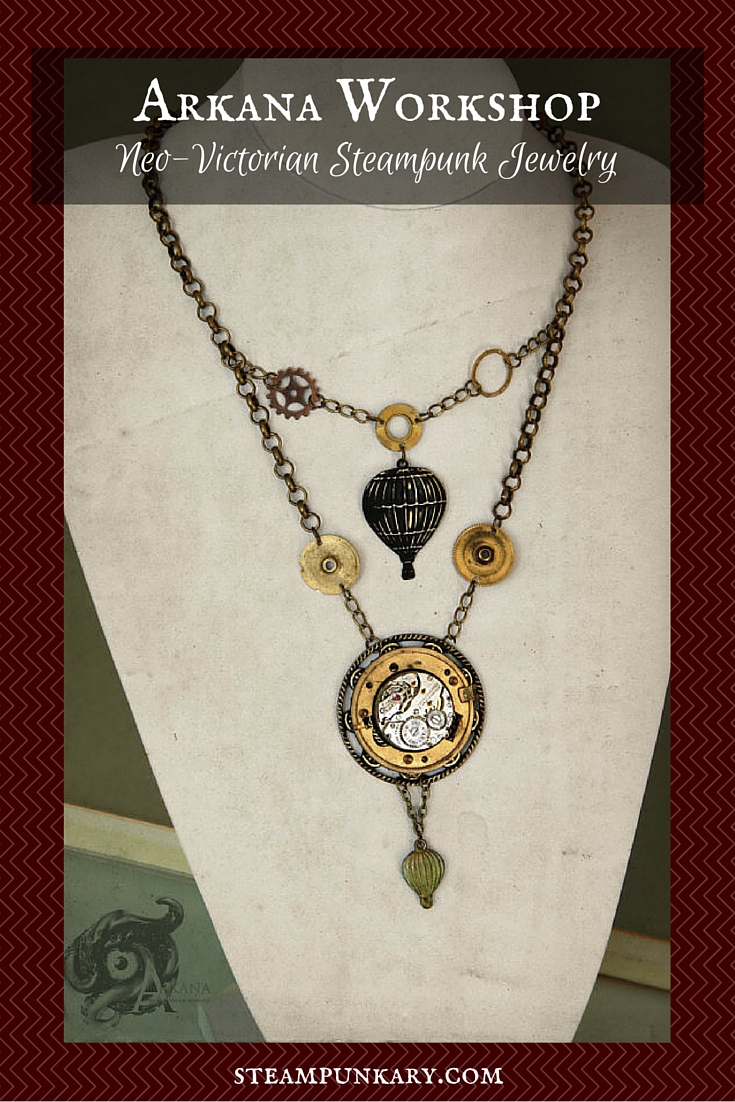 (Visited 690 times, 1 visits today)