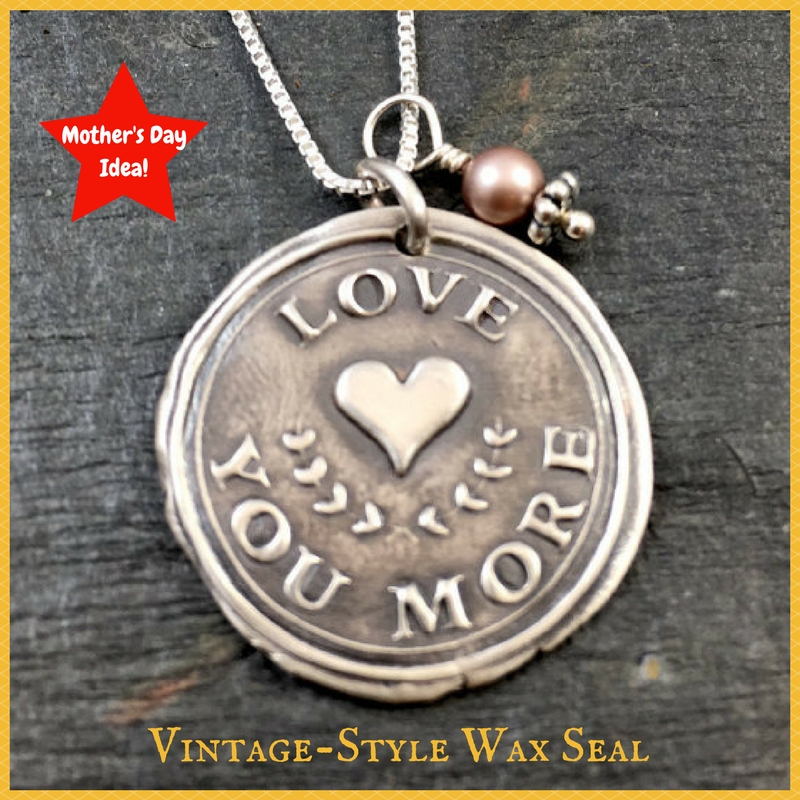 Updated 2021.
Springtime is a time of renewal and celebration and one of the most beloved celebrations is Mother's Day. It is difficult to show your appreciation for all that your mother has done for you over the years, from tucking you into bed at night to being a backup babysitter when your regular sitter is home with the flu. If you want to show your appreciation with a handmade gift, you may want to consider these unique wax seal necklaces. Wax seals were the common way of protecting and identifying personal and business documents during the Victorian period as well as other historical eras. These necklaces look just like the wax seals used for documents, but instead are made of metal into charms that hang from chains. Each artist uses different metals for their pieces and you can click through these links to learn more about options. Some can also be personalized.
Price points vary depending on the size and metal used in each piece, but you can definitely find one in your budget. They don't have to be Mother's Day gifts. Many can be worn by men or women and they have a wide range of motifs. You can see here a representation of designs, although each artist makes several different wax seal charms shown in their store. Enjoy the browse through these delightful wax seal necklace designs for future gift ideas.
St. Christopher Wax Seal Medal Pendant – Patron of Travelers
This is a handmade item of a St. Christopher pendant cast in sterling silver. It was created from a wax seal that was made from an antique religious medal. Comes with matching holy card and organza gift bag. Medal may be ordered alone or with your choice of three sterling silver chain options. Makes a great choice for everyday wear.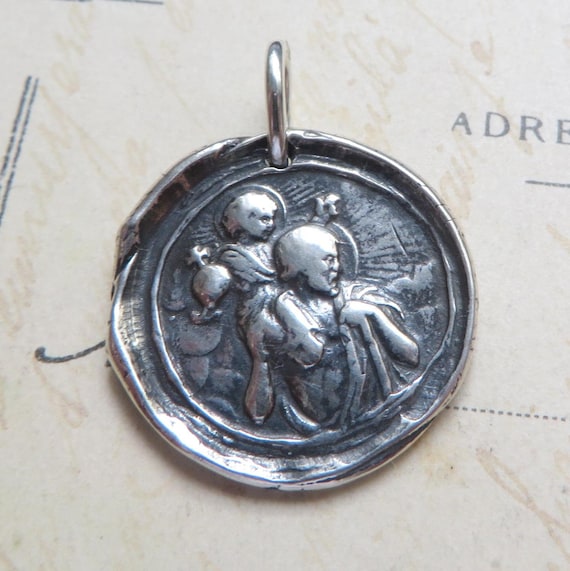 St Christopher Wax Seal Medal / Pendant – Patron of Travelers

Love You More Wax Seal Necklace
This pendant is made from pure silver clay which is fired then placed in a tumbler to strengthen and polish it, then oxidized to bring out the details in the design. Design features the words Love You More, with a heart in the center. Pendant measures approximately 3/4 inch long. Chain options are available and pendant comes with a blush almond colored Swarovksi pearl. Makes a great gift idea for Mother's Day.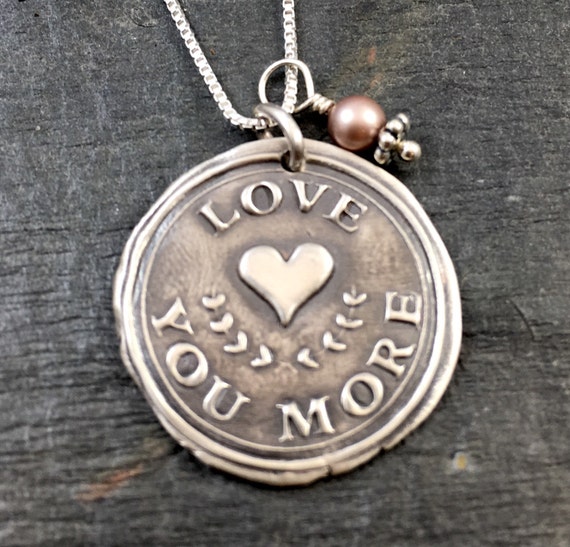 Love You More Wax Seal Necklace

North Star Wax Seal Necklace
This is a sterling silver pendant handcrafted from the impression of a French wax seal from the 1830's. Seller offers a fine line of wax seal necklaces, with this one featuring the design of the North Star, also known as Polaris.Each pendant comes with a card explaining the meaning of the design and an elegant gift bag.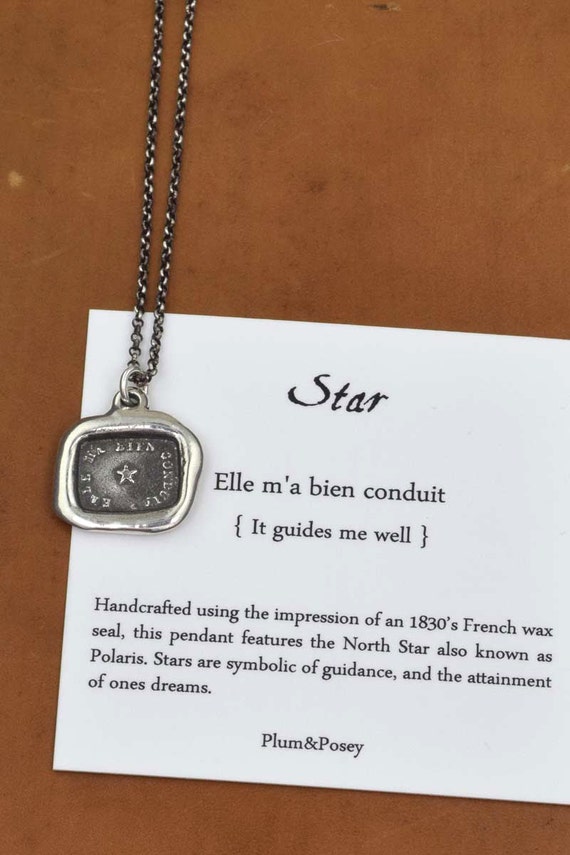 North Star Guiding Star Wax Seal Necklace

Heart Padlock Wax Seal Necklace – You Have The Key
A great find in the style of vintage wax seal necklaces, this design is made from sterling silver. The wax seal used in creating this charm dates back to 1827, an authentic antique wax seal from France. Charm measures approximately 13 x 12 mm and you have the option of adding an 18″ delicate sterling silver chain, just like in the pictures. Oxidation process gives charm an antique, vintage style patina. Makes a wonderful gift idea for Mother's Day.
 Heart Padlock Wax Seal Necklace – You Have The Key

Forget-Me-Not Necklace
This is a handmade item made from sterling silver. Pendant comes with an Italian made solid sterling silver box chain and features the words Forget Me Not with a floral design. Item is made to look antique by using an oxidation process and polishing it to bring out the details of the design. Pendant measures approximately 20 mm wide and 2 mm in thickness.
Antiqued Wax Seal Necklace With Two Initials
This piece is handmade and features fine silver, a Swarovski pearl, and a sterling silver chain. Features two pendants made from a wax seal , each pendant featuring an initial of your choice. Includes a beautiful embellishment of a Swarovski pearl in your color choice of silver, night blue, white, or light pink.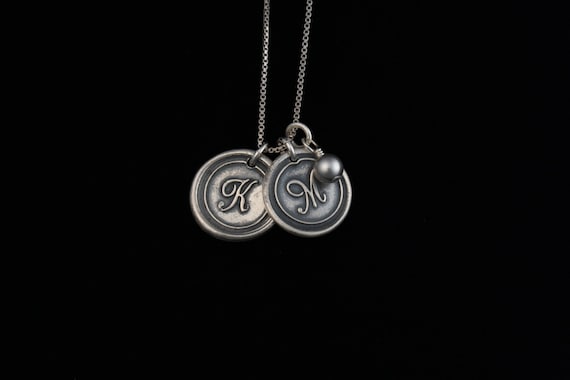 Antiqued Wax Seal Necklace with two initials

Radiant Sun Wax Seal Necklace
This is a hand cast pendant made from a Victorian (1840) wax seal that's part of a romantic handcrafted turned ivory stacking tower of glass intaglio seals. Pendant measures approximately 12mm by 13mm. The design depicts the sun setting over the ocean with the French sentiment JE REVIENDRAI which translates I WILL RETURN. Can be ordered as the charm only or with a 16 inch to 24 inch sterling silver necklace.
 sunset over the ocean wax seal pendant

Irish Clover Necklace Wax Seal Necklace
This little Irish Four Leaf Clover, shamrock, necklace in Sterling Silver was created using a traditional wax seal from the late 1800's. The edges are organic and rustic looking, adding to the overall ancient feel of these little charms. This is a chunky little charm with some weight to it. Size is 1/2″ in diameter, Sterling Silver.
Necklace Option: Order JUST the pendant or chose from a variety of sterling chains available in shiny silver or antiqued silver finishes from the drop down menus to the right.
Charm Only Option: If you chose to order the charm only it will come on a 5mm sterling jump ring that you may thread onto your own necklace.
 Four Leaf Clover Wax Seal Necklace

Compass Rose Wax Seal Necklace
Always find your way ~ a compass rose to help point you in the right direction and remind you of the path you are on….symbolic of guidance & direction, this necklace is the perfect inspirational gift full of and meaning and charm! Made of recycled fine silver and charm measures 3/4″ across.
Owl Wax Seal Necklace Pendant
In heraldry, the owl is symbolic of wisdom, vigilance and protection. Hand-crafted from a lovely highly-detailed antique Victorian era (1890) bone-handled desk wax seal. Measures just over 5/8" tall by 5/8″ width (17mm x 15mm). Wax-seal charm metal is sterling silver (.925 silver), Chain is a sterling silver cable chain with a spring ring clasp. You can select the necklace chain length or just the charm at checkout.
 owl wax seal necklace

Chinese Character Necklace
Tao Chinese symbol wax seal charm (aka Dao) is a Chinese concept that signifies the "way" or "path" of existence. It is a symbol of the state of enlightenment or spiritual perfection that is attained by practicing the "right" or "proper" way of existence.
This charm measures approximately 5/8″. Because the charms are each hand crafted, their size may vary ever-so-slightly.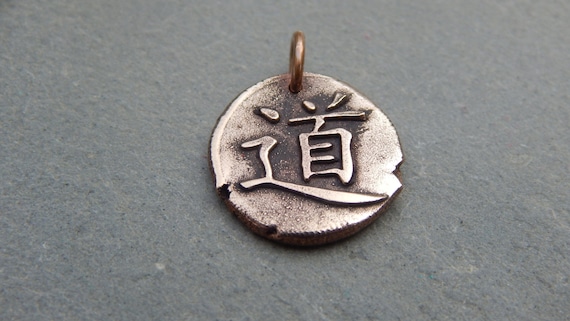 Tao Chinese Symbol Wax Seal Charm

Honey Bee Wax Seal Necklace
This is a made to order item stamped into a lump of sterling silver. Design features a small honey bee that measures approximately 23 mm in diameter. Piece is oxidized and polished for high contrast. Can be ordered with or without sterling silver 1.2mm bead ball chain necklace. Chain measures 18 inches long.
Anchor Wax Seal Necklace
Wax seal pendant features the design of an anchor surrounded by the Italian phrase "Spero in te", which means "I have hope in you". The anchor represents hope and something firm, steady, and stable. Made from sterling silver charm measures 5/8 inch by 3/4 inch. Made from an original wax seal dating back to the 1800's. Charm is finished with an antique patina to bring out the details. Let mom know she is your anchor by presenting her with this great necklace for Mother's Day.
Skull Wax Seal Necklace
A lovely skull wax seal necklace with the Latin sentiment ES FVI SVM ERIS which translates AS YOU ARE NOW SO ONCE WAS I, AS I AM NOW SO MUST YOU BE. Handcast from a beautiful gemstone wheel wax seal, that dates back to the Georgian era (1714 – 1830) and shown in the photo but not available for purchase. In heraldry, the skull is a symbol of mortality and a reminder that death comes to all living things and life is short so make now matter.
The approximate measurement – 5/8" x 1/2″ (15mm x 17mm). A wax seal charm metal is sterling silver (.925 silver) is photographed with an old US dime for scale. Chain is a sterling silver cable chain with a spring ring clasp. You can select the necklace chain length or just the charm at checkout.
 Skull wax seal necklace

Save This Page for Later. Pin This image on Pinterest.
Love the idea of a wax seal necklace, but not ready to buy one yet? That's fine. Just pin this image on Pinterest to save it for later.