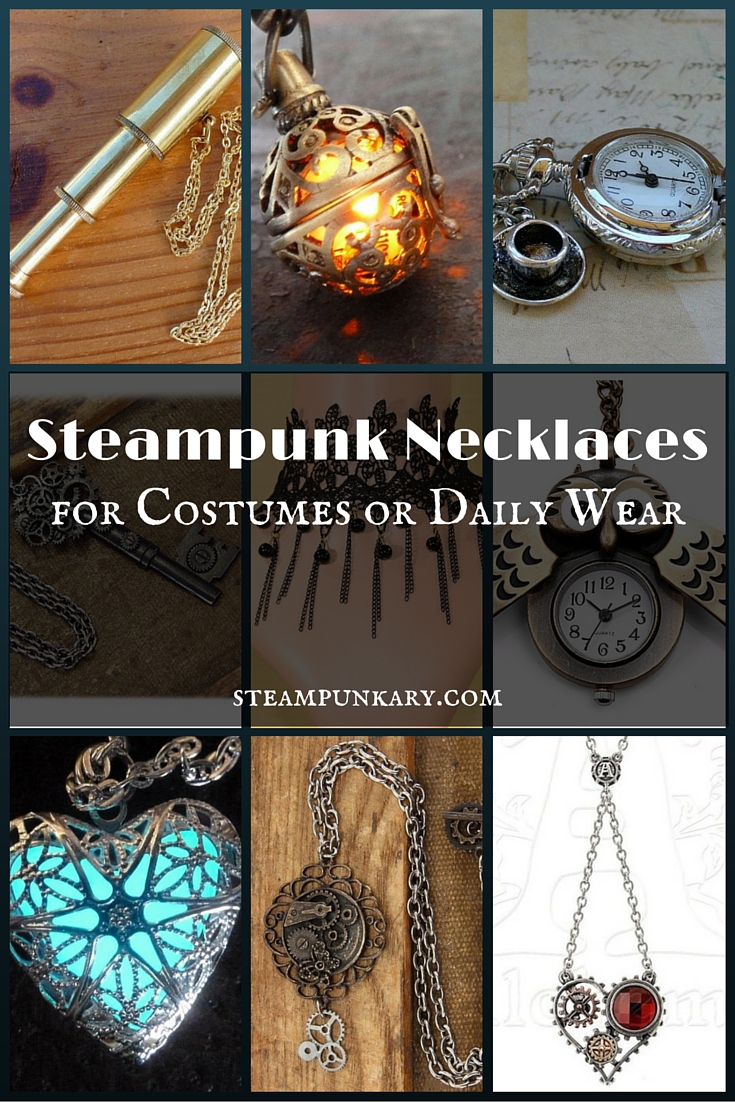 The term Steampunk refers to a subgenre of fantasy literature and science fiction and typically involves something related to steam powered machinery. Many Steampunk themes take place in an historical time period while still maintaining a futuristic theme.The Steampunk style has carried over into the world of art, design, fashion and even jewelry. Steampunk jewelry combines elements of the Victorian era mixed with the industrial revolution , which just a splash of futuristic reality. Here we take a look at some Steampunk necklaces and pendants to add to your jewelry collection.
Steampunk Fire Necklace (Pendant Charm Locket)
This Steampunk Fire Necklace is a rare, handmade necklace that features a locket that creates the simulation of fire glow. Glow goes slowly on and off, somewhat like that of a firefly. Pendant uses two watch batteries to illuminate the LED bulb. Design of pendant features a round metal ball, antique looking with ornate designs all around. Pendant is slightly smaller than a quarter. Latch opens to reveal inside of locket and for battery replacement. Comes with an 18 inch long chain that is bronze in color.
&
&
Steampunk Large Key Necklace
This Steampunk key necklace features an oversized key that has a cluster of multiple gears at the top. The clasp also features a gear as a closure for an authentic Steampunk look. Back of the key is flat so it is intended to be worn on only one side. Product description does not list length of chain or if you can choose between the two colors of bronze or antiqued silver. Makes a great accessory for any Steampunk costume.
&
&
Steampunk Magical Glow-in-the-Dark Necklace
This is a rare handmade Steampunk necklace with a heart shaped pendant that glows in the dark. Pendant measures slightly less than one inch in diameter. Contains a pretty blue powder that glows in the dark. Powder can be recharged over and over using any source of light, with black lights, high wattage bulbs, or direct sunlight providing the best glow. Pendant comes with an 18 inch long chain. Heart pendant is silver in color and intricately carved with large six pointed star shape and leaf shaped designs between the points.
&
Steampunk Fairy Magical Glow in the Dark Necklace

&
Antique Butterfly Gear Steampunk Necklace
This Butterfly Gear steampunk necklace has a pendant that is circular with several gears, including small gears placed together to resemble the shape of a butterfly. Around the circular portion there is an ornate decorative border. Dangling from the bottom of the pedant is a cluster of three more gears in a silver color, lighter than the antiqued silver shade of the actual pendant. The chain is a heavy duty material that is silver in color, with antique silver colored clasp that resembles two gears. Unfortunately, no measurements where listed for this item in regards to the diameter of the pendant or length of chain, but customers who have purchased it say the pendant portion is rather large and goes well with Cosplay costumes and Steampunk fashions.
&
Steampunk Antique Butterfly Gear Necklace

&
Alice in Wonderland Tea Party Steampunk Pocket Watch Necklace
Keep track of time while looking Steampunk fashionable with this great Alice in Wonderland Tea Party pocket watch necklace. Pocket watch is silver in color and opens to fully view the clock face. Design on front of pocket watch resembles a flower with open center and open spaces where the petals would be, so the clock face is partially exposed. Area encircling clock face has small raised designs around the border. Back of watch pendant has a pretty pattern of scrolls and flowers. A small antique silver looking charm of a cup and saucer remind us of tea time in Alice in Wonderland. Pendant watch measures around one inch in diameter and necklace chain measures 30 inches long. This is a must have for any Steampunk necklace collection! Watch is battery operated and comes with extra battery as well as a gift box.
&
Alice in Wonderland Tea Party Steampunk Pocket Watch Necklace

&
Steampunk Antique Nautical Telescope Necklace
This Steampunk Telescope necklace makes the perfect accessory for any time traveling adventurer! Polished mini brass telescope pendant measures approximately 1.5 inches when collapsed and 3 inches when extended. Gold plated necklace is a fully functional tiny telescope and makes a terrific gift idea for anyone who loves nautical or Steampunk themes.
&
Steampunk Antique Nautical Telescope Necklace

&
Steampunk Scythe Compass Clockwork Pendant
This Steampunk Clockwork Pendant is flat (no actual clock or compass) and features a circular shape with several gears inside. Pendant measures one inch in diameter and is made of lead free alloy. Chain measures approximately 26 inches long. A unique and interesting Steampunk necklace than compliments any Steampunk outfit. Colors in pendant are an antique silver color and antique gold color.
&
Steampunk Scythe Compass Clockwork Pendant

&
Steampunk Bronze Owl Locket Pocket Watch Pendant
This great Steampunk necklace features a cute little owl in a vintage bronze color. Owl's wings spread open to reveal pocket watch clock face. Perfect for wearing with a sweater, this necklace features an extra long chain of 31.5 inches long. Owl pendant measures 1.65 inches high and 0.98 inch wide and has very large eyes and beak. Wings have feathered design carved into them. Made from alloy material with Quartz watch design. Serves as both a great accessory for Steampunk or otherwise, and as a handy time piece. Item comes with a gift bag and a 30 day money back guarantee.
&
Steampunk Bronze Owl Locket Pocket Watch Pendant

&
More Steampunk Necklaces
&
Steampunk Gear Chain Necklace

Rotating Trio Locket Necklace

Coeur Du Morteur Pendant

Astrolabe Pendant Necklace

Victorian Tassel Collar Necklace

Victorian Frog Prince Bracelet

Vintage Skeleton Key Bangle

Black Velvet Gear Choker

&
(Visited 1,238 times, 1 visits today)