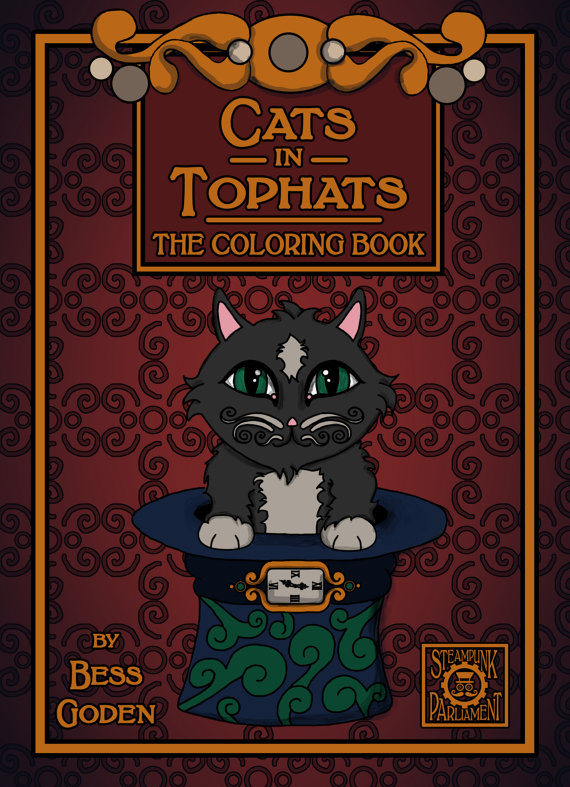 Steampunk Parliament is a shop that offers a variety of cheeky and imaginative Steampunk items including tee shirts, jewelry, home decor, costume accessories and more. You can even find printable craft projects and coloring pages that fit the theme. Choose your favorite design and have it made into a tee shirt, bag, stickers, mug, poster, magnet, and more. Let your love of Steampunk shine through by sporting one of these great original designs. Here we look at a few of the categories offered by Steampunk Parliament, which operates an Etsy shop as well as selling merchandise on CafePress.
T-Shirts
Have these cool tee shirt designs made into a comfortable shirt, or even a pillow to enhance your home's decor. Some of the creative designs to choose from include Sir Steampunk Parliament, with his dapper top hat, goggles and Steampunk mustache.
Sir Steampunk Parliament – Women's Fitted T-Shirt
The Steampunk Raygun is a futuristic piece of weaponry featuring gears, bolts, and rivets. Makes a cute design for a tee shirt, bag, poster, or other Steampunk themed accessories.
Steampunk Raygun – Men's T-Shirt
Dastardly Mustachioed is a design featuring a black mustache curled up on each end, with a white gloved hand touching up one side. Features the phrase "Dastardly Mustachioed". Wear when thinking up those dastardly deeds, or when just chilling out for the day in Steampunk style.
Dastardly Mustachioed – Long Sleeve T-Shirt
Steampunk Parliament also offers other t-shirt designs, including a time traveler crest and a crazy cupcake design. These shirts are fun and make a great gift idea.
Gloves
Handmade Lace Steampunk/Goth/Victorian Fingerless Gloves
This pair of handmade crochet lace fingerless gloves are available in nine different colors. Choose from pink, red, black, brown, white, cream, gray, purple, or teal. Gloves feature a ribbon lace closure that can be adjusted so that one size fits all. Makes the perfect finishing touch to accessorize any Steampunk or Victorian costume or dress. Cute metal skeleton key charms dangle from ends of ribbon. Made from mercerized cotton, ribbon, and metal charms.
Earrings
Brown Star Gearrings – Steampunk/Victorian Crochet Lace
These adorable earrings, affectionately called "gearrings", are made from a base metal gear, findings, cotton thread, and a glass cabochon. Features a hand crocheted base and measures approximately 3 inches in diameter. Seller accepts requests for specific colors through Etsy messenger. Crocheted pieces are treated with a crochet stiffener process for durable wear. Cute crocheted base is adorned with a Steampunk gear and decorative cabochon piece. Very unique and makes a terrific accessory for a Steampunk costume. Earrings dangle from a French hook.
Bright Red Upside Down Teardrop Crochet Lace Earrings
These handmade earrings are made from cotton crochet thread and gunmetal fish hook earring wire. The red teardrop shape measures approximately one inch. Crocheted parts are treated with a crochet stiffening process for durability. Other colors not offered in the Etsy shop may be requested from the seller.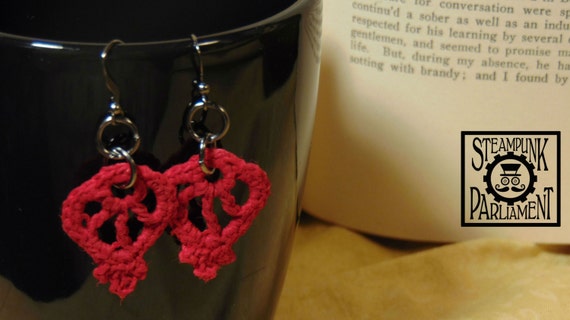 Teardrop Crochet Lace Earrings

Pins
Steampunk Pin Duo – 'Time Traveler's Crest' and 'Steampunk Raygun' – Set of 2
This is a set of two Steampunk pins made from a glass cabochon, and a 28mm silver plate base metal bezel and pin back. Customer receives both designs, one of a Time Traveler's Crest featuring a pair of wings with a pocket watch in the center, and one with a Steampunk raygun featuring gears and rivets. Pins make a nice touch to a favorite jacket, purse, or bag.
Skull in a Blue Top Hat Pin – Steampunk Grateful Dead Psychedelic Skull
This pin design features a skull wearing a crazy blue top hat. Design in under the glass of a silver toned metal pin that measures approximately 30mm in diameter. Makes a cute and decorative accent for a purse, book bag, scarf, etc.
Ornaments
Steampunk Lace Gear Christmas Tree Snowflake Ornament – Crimson Red
This is a lovely crocheted snowflake that makes a great holiday ornament. Red crochet snowflake also resembles a poinsettia flower and would look great on any tree. Center of the snowflake is embellished with copper toned watch gears for a terrific Steampunk look. Ornament measures around 3 inches in diameter. Ornament may also be purchased in a set of three.
Lace Steampunk Gear Snowflake Christmas Tree Ornaments – Set of 3
This is a set of three hand crocheted snowflake ornaments that each feature a base metal gear charm in the center and had from a base metal chain. Each set contains one dark blue, one light blue, and one white snowflake ornament, each measuring approximately three inches in diameter. Ornaments may also be purchased individually. Specific color requests can be made to the seller by contacting her through Etsy messenger.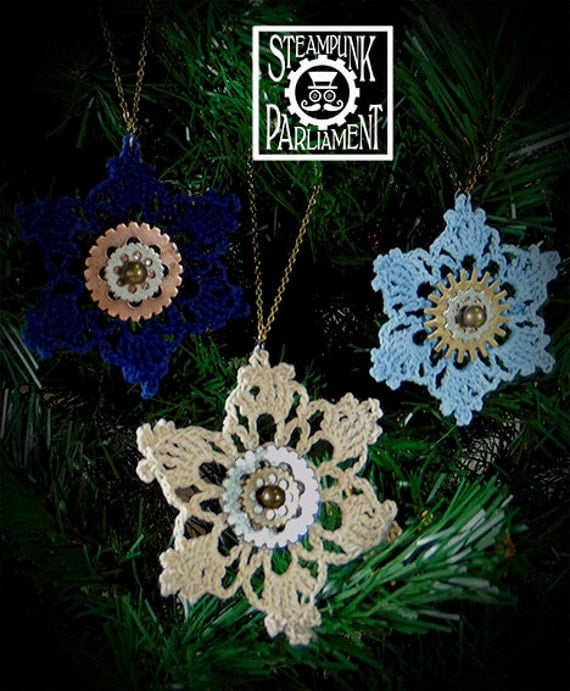 Christmas Tree Ornaments – Set of 3

Coloring Pages/Books/Posters
Jet Pack Jane – Steampunk 8.5×11″ Coloring Poster
This is an 8.5 inch by 11 inch coloring poster featuring Jet Pack Jane flying into the clouds with her Steampunk rocket and costume. Fun design is perfect for either children or adults. Poster is printed on matte heavyweight photo paper and comes packaged in a plastic slipcover and has a cardboard backing. This could also be used to display and protect the poster after coloring. Customers may also choose to print the downloadable version of the design and print it as many times as the would like. Makes a fun piece of art that is suitable for framing or displaying. Other poster sizes are available.
Kitty Time – Fluffy Hattington – Steampunk Cat in a Top Hat
This design features a cute kitten sitting inside a Steampunk top hat. Customers will receive a ready to print PDF file that can be downloaded immediately after purchase. Kitty themed coloring pages may be downloaded individually, or as part of the Cats In Tophats downloadable coloring book.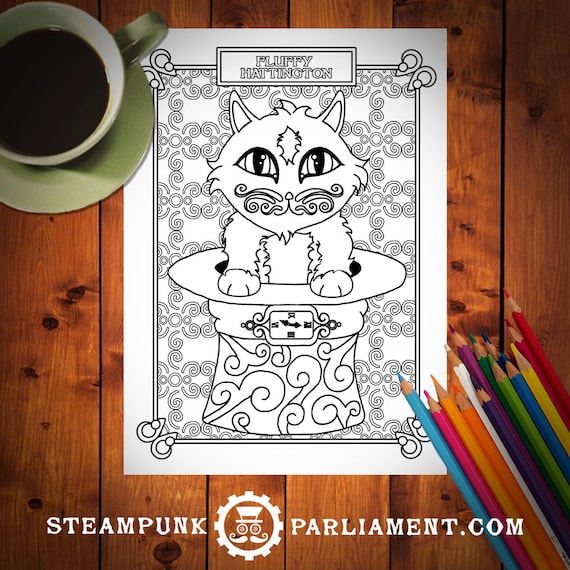 Kitty Time – Fluffy Hattington Coloring Page

Cats in Tophats – The Steampunk Coloring Book: Downloadable Edition
This adorable coloring book features kitties with a Steampunk flair. Each of the ten pages features intricate patterns and whimsical designs that children and adults will love. Coloring book is available as a downloadable PDF file that you will have access to immediately after purchase. An example of the designs includes a cat piloting an airplane. A fun and creative way to combine your love of cats with your love of Steampunk.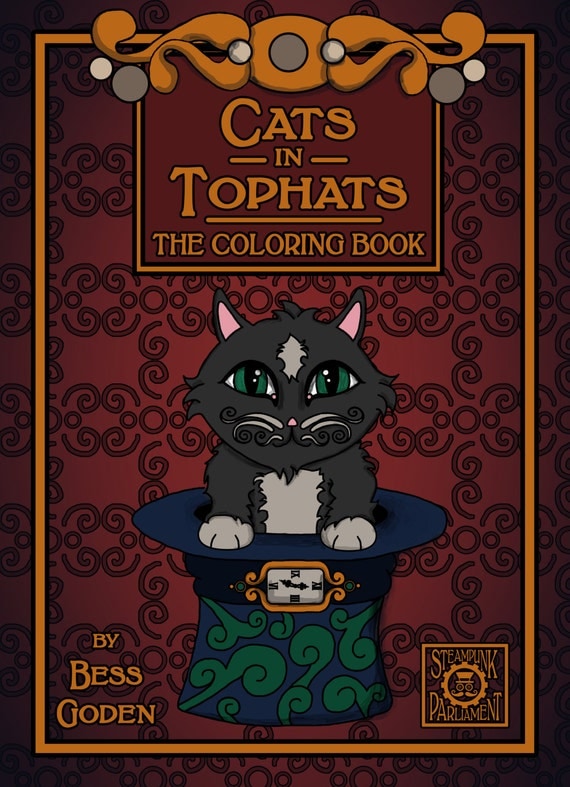 Steampunk Coloring Book: Downloadable Edition

(Visited 346 times, 1 visits today)