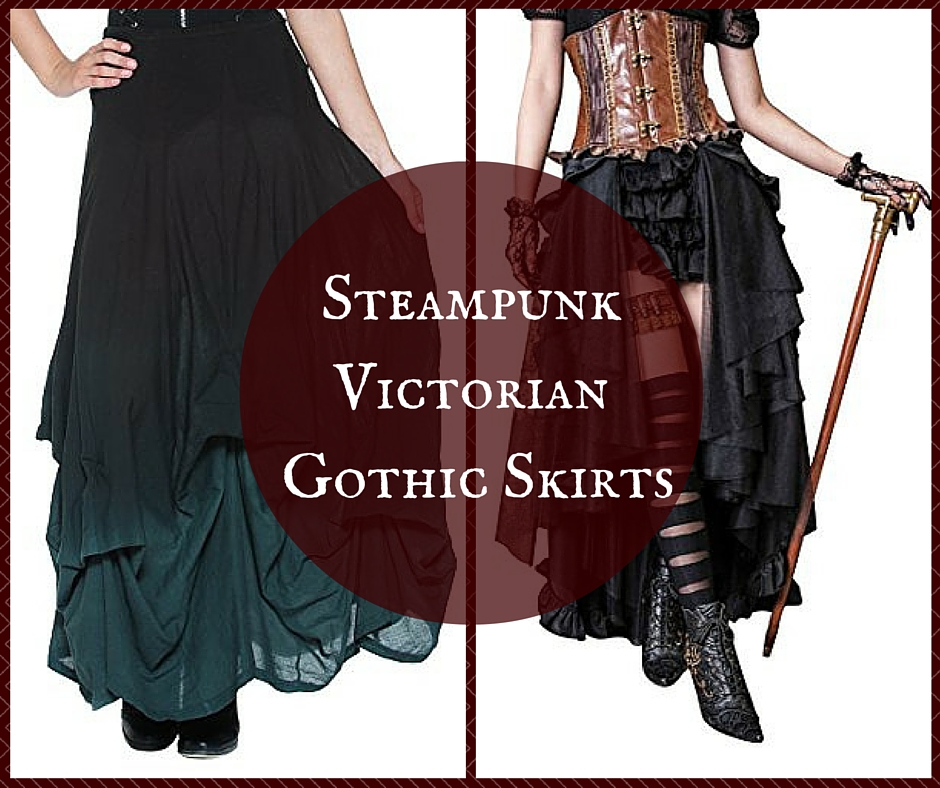 Updated for 2019
The steampunk style of clothing is popular among those who like a look a bit out of the ordinary, and a bit out of the pages of history. A particularly popular garment among women are steampunk skirts. These may also be called Victorian skirts or Victorian gothic skirts, as they have the style of fashions from the Victorian era, yet also fit in well with the modern gothic style. Here we look at some great steampunk Victorian gothic skirts to wear for everyday, Halloween, or for historical period dress.
Steampunk Retro Victorian Cincher Ruffle Skirt
This is a black skirt like the Victorian skirts worn in the Dickens era. Skirt is one size and ties around the waist and does not cover all of the front. This skirt needs to be work with a mini skirt underneath and looks great when paired with a corset, black lace up style boots, and black stocking. Skirt is longer in back and shorter in front and has ruffles in the back.
Steampunk Victorian Cincher Skirt
Steampunk Gothic Lace Skirt
Victorian gothic skirts never looked so good! This a black skirt with black lace under panel. Length measures around 61cm. Comes in sizes M, L, XL, and XXL, and tends to run small. Features an overlapping waist with lace and ruffles, buckles, and snaps. Would look great paired with a vintage style shirt and black granny style boots.
Victorian Gothic Ruffle Skirt
This is classic looking Victorian style skirt made from 63% polyester, 33% rayon, and 4% Spandex, with 100% polyester lining. Comes in sizes ranging from extra small to 28 Plus. Available in either black or gray. Features a fishtail ruffle, high waist, side zipper closure, corset style lace down design, an asymmetrical double layer hemline. Fully lined and measures 47 to 48 inches in length. Perfect for a formal London lady look.
Gothic Steampunk Victorian Skirt
Black Gray Ombre Victorian Long Skirt
Made from 95% cotton and 5% Spandex, this skirt comes in sizes ranging from small to 3X Plus. Available in size ranges small to 3X Plus. Features a black to gray ombre dip dye effect, elastic waist, and ties underneath for gathering. Wear untied to create a full silhouette. Great Steampunk or gothic look.
Black Gray Ombre Victorian Long Skirt
Burgundy Black Victorian Sateen Corset Skirt
Be the belle of the Steampunk ball with this beautiful skirt in a burgundy-black color. Made from 97% polyester and 3% Spandex. Available in sizes extra small to XX large. Shimmering sateen skirt has lace corset style that allows skirt to be worn three different ways. Wear it down with no gathering, gathered on one side , or gathered on both sides. Perfect for use in a costume or as Steampunk apparel.
Burgundy Victorian Sateen Skirt
Steampunk Victorian Gothic Layered Skirt
This is a one size garment that measures from 72cm to 94cm in the waist , with a front length of 48cm and back length of 100cm. Features layers of cream colored lace and tan and brown colored fabrics, A great look for Steampunk or gothic style and works great with a corset and brown lace up boots.
Steampunk Victorian Gothic Skirt
Lace Steampunk Skirt
Available in brown lace, cream lace, black lace, or black chiffon, this skirt features a high low hem line, a wide elastic waist, satin short skirt lining, and layers of ruffled lace (or chiffon). Can be paired with a shirt or corset for either an elegant or edgy look. The various colors offered allow the wearer to choose the best color and fabric for the look they are trying to achieve.
Steampunk Schoolgirl Miniskirt
This is a mini skirt in a classic gothic style that has brown fabric, and lace. Made from high quality cotton blend fabric. This is a one size garment that fits waist sizes Waist 74-92 cm and is a length of 39 inches. This skirt is the perfect combination of gothic meets Lolita style and is perfect for dressing up in costume or everyday Steampunk wear.
Steampunk Victorian Mini Skirt
More Steampunk Victorian Gothic Skirts
Steampunk Victorian Cosplay Costume Skirt
Black Gothic Victorian Stitched Jacquard Skirt
Steampunk Victorian Cosplay Costume Skirt
Steampunk Victorian Cosplay Costume Skirt
Steampunk Victorian Cosplay Costume Skirt
Steampunk Ball – Black Victorian Bustle Skirt
Victorian Boho Gypsy Long Skirt
Red Gothic Steampunk Stitched Jacquard Skirt
Steampunk Victorian Cincher Mini Skirt
Steampunk Victorian Cosplay Costume Skirt
Steampunk Retro Victorian Mini Skirt
Steampunk Ophelie Skirt
Steampunk Victorian Cosplay Costume Skirt
Steampunk Victorian Inspired Petticoat Skirt
Three Tiered Tail Skirt Grey Pinstripe
Steampunk Victorian Layered Skiirt
Pinstripes Gathered Steampunk Gothic Skirt
Ombre Victorian Skirt
Lolita Steampunk High Waist Walking Skirt
Plus Size Burgundy Gothic Steampunk Burlesque Skirt
Steampunk Victorian Desdemona Dual Skirt
Pin It for Later
Don't need one of these cool Steampunk skirts right now? Pin this image on Pinterest to remind you to come back later.


(Visited 11,285 times, 1 visits today)