While Steampunk was first used to refer to a subgenre of science fiction literary works , it has also caught on as an interesting style of fashion and jewelry. Steampunk combines elements of the past and the future, usually incorporating an historical period along with some type of steam powered futuristic technology. Steampunk fashions for women might include corsets, skirts, boots, boleros, and shirts that have a style reminiscent of the Victorian era. Here we take a look at some of the latest in Steampunk clothing for women.
Retro Goth Brocade Steampunk Overbust Corset
This garment is a brown color and comes in sizes ranging from small to 6X large (various sizes fit from a size 2 to a size 20). Corset is steel boned, made from polyester fabric and brocade faux leather. Front of the corset has large D rings, and the matching shrug is detachable. Design on the front features decorative buckles, while back features cord lacing. Includes belt with hip pouch. Non faux leather parts of garment have a beautiful floral pattern woven into the fabric. This corset/shrug combination would be great paired with a Steampunk skirt and boots.
Retro Brocade Steampunk Overbust Corset with Jacket

Women's 420-Quinley Motorcycle Boot
These boots are made from Polyurethane and are available in brown and green colors and sizes ranging from 6 through 12. Shaft measures 15 inches from arch. Boots have a solid body color accented by a darker shade on the toe, straps, and lace area. Boots lace up and have straps that fasten around the calf area. Decorative accents include one copper colored gear on side of boot near laces and two copper colored gear accents, one on each strap.
Women's 420-Quinley Motorcycle Boot

Black Brocade Steampunk Coat
This beautiful jacket is offered in sizes extra small, small, medium, large, X large, 2X large, and 3X large. Made from 60% cotton, 37% polyester, and 3% elastane fabric in an ornate floral damask print.Coat offers a tailored fit and flattering cut that slims the waist and flares out. Features a high-low hem, military style studs on cuffs, ornate buttons in front, two side pockets, and corset lacing in the back which allows for an adjustable fit. This collared jacket is perfect for any Victorian, Gothic, or Steampunk wardrobe.
Gothic Long Sateen Corset Skirt
This is a gorgeous Steampunk style skirt available in either black or burgundy and in sizes ranging from 6 to 26. Made from thick, smooth, sateen fabric containing 97% polyester and 3% Spandex materials. Skirt has a smooth satin interior and front features adjustable corset ribbon lacings. Skirt has three way ruching and front can be pulled up to be worn in a show girl style. Garment may be hand washed. Great attention to detail in this piece which will become a Steampunk wardrobe essential.
Black Frieda Long Sateen Corset Skirt

Victorian Gothic Women's Corset Top
This beautiful Bolero top comes in sizes small, medium, large, 3X large, and 5X large. Unique looking shirt looks like a combination corset with bolero jacket, all in one piece. Perfect for any Steampunk wardrobe. Features a curvy corset silhouette, black lace outlines, flirty skirt flounce,and super wide cascading sleeves. Made from 92% polyester and 8% Spandex. Garment can be machine washed in cold water, and line dried. Spaghetti ties in the back and two side corset lace ups all for adjusting to create a custom fit. This beautiful shirt is also offered four pretty colors: burgundy, midnight blue, plum, and all black.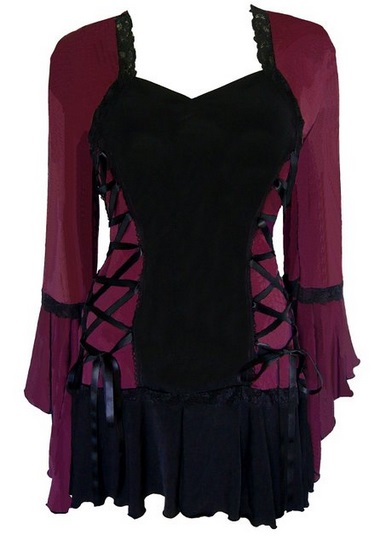 Victorian Gothic Women's Corset Top

Luscious Velvet Tailored Steampunk Dress
Offered in sizes 6 through 28, this great dress is also available in both black and a deep wine red color. Made from a thick velveteen fabric made from polyester and Spandex. Reminiscent of an early Victorian style, this dress features a rounded hemline, long rounded back, sculpting at front, five big pin button on front, fixed bottom waistcoat tab at back of waist, and flares at the waist. V-collared neckline and satin lined bodice. Great attention to detail and perfect for hourglass silhouettes. Looks great when worn as a dress with long boots and corset underneath, or can be worn as a frock coat or waistcoat paired with other clothing items.
Steampunk Striped Skinny Jeans
Jeans are super tight skinny style detailed with cute zippers on back pockets. Made from 50% cotton, 45% polyester, and 5% elastine to create a super stretchy lightweight poly-cotton blend fabric. Pants are offered in black/white or red/white colors. White and black stripes. or red and black stripes run vertically down the pants. Great for pairing with a Steampunk corset, shirt, or jacket. Offered in sizes extra small through large (fits waist range from 26 inches through 32 inches).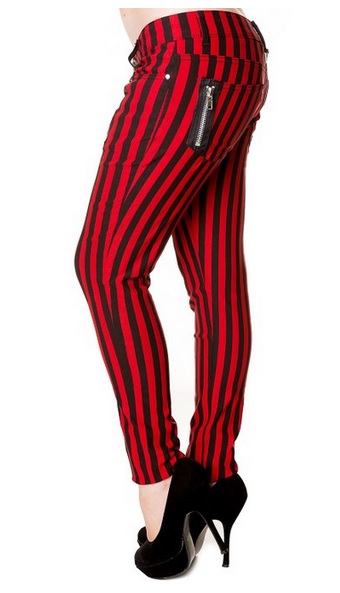 Steampunk Striped Skinny Jeans

Steampunk Brass Buckle Strap Bolero
Made from 80% PVC and 20% polyester, this leather look bolero is black and offered in sizes 8, 12, and 14. Garment can be wiped cleaned or dry cleaned. Brass eyelets and buckle strap fastening around the neck area. Great to wear over a corset or other Steampunk shirt.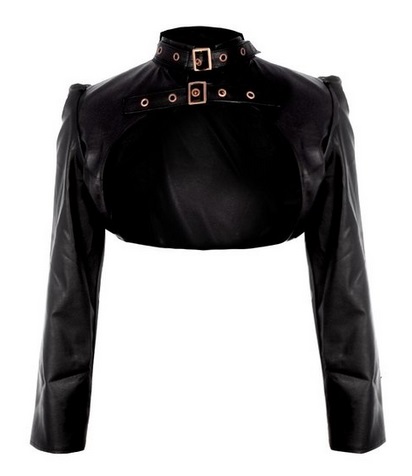 Steampunk Brass Buckle Strap Bolero

Augustine Gothic Steampunk Dress
Net outer mesh material is made from 100% polyester, with lining made from 98% cotton, and 2% Spandex, this is a full length gothic dress available in all sizes. Features a V-neck at both front and back with net trim, Swiss dotted mesh yoke on bodice, concealed zipper in back of dress, black velvet trim on yoke edge, and black faceted buttons fasten collar and yoke. Skirt area has two layers of Swiss dot mesh for a full, layered look.
Augustine Gothic Steampunk Dress

Womens Steampunk Elizium Skirt
Skirt comes in sizes small, medium, large, extra large, and XX large. Offered in colors Cream Chiffon, Black Lace, Brown Lace, Black Chiffon, and Brown Chiffon. Please note that chiffon styles are a smooth, solid color with all chiffon layers and have no lace. Lace styles have satin with lace overlay. Skirt features an elastic waist and high-low hemline. Skirt looks great when paired with a gypsy top or corset for an authentic Steampunk look.
Women's Steampunk Elizium Skirt

More Steampunk Fashion
&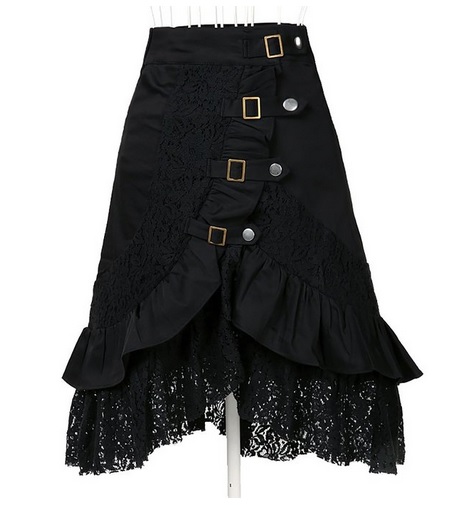 Women's Steampunk Gothic Skirt
Steampunk Waist Cincher
Steampunk Gothic Corset
Steampunk Underbust Corset
Steampunk Bustier
Gothic Steampunk Skirt
Steampunk Green Leather
Victorian Steampunk Pencil Skirt
Steampunk Rivet Bra
Above the Knee Boot
Steampunk Victorian Skirt
Victorian Gothic Lingerie
&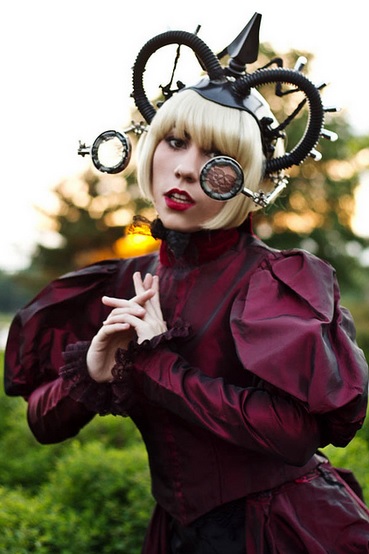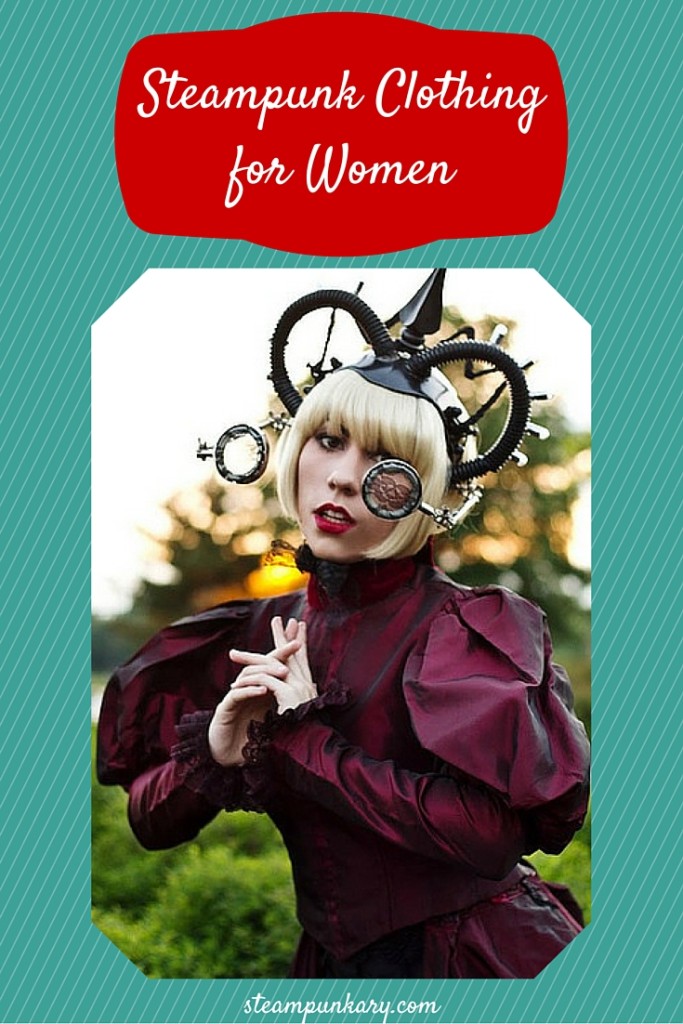 (Visited 2,626 times, 1 visits today)
Check Our Related Pages Before You Go!