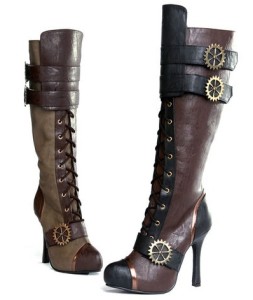 Updated for 2020
Steampunk fashion combines the elements of the Victorian time period with aspects of science fiction or fantasy. The Steampunk way of dress is becoming increasingly popular, with both men and women alike sporting edgy garments such as corsets, period costumes, and accessories. Another great way to accessorize any Steampunk costume is to add a great pair of Steampunk boots for men and women.
Steampunk Boots for Women
Steampunk boots for women are typically black or brown in color. Most, but not all, styles have high heels and laces. Steampunk boots may also have buckles in addition to the laces, or other decorative embellishments. Boots are usually made of leather, suede, or vinyl materials, and tend to come up rather high on the calf of the leg. Some of the steampunk boots for women resemble something from the Victorian era, with a somewhat Gothic edge to them.
 420 Quinley Boot

 Knee High Boots

 Alabama-12 Knee High

 Tesla 108 Boots

 420 Quinley 4″ Knee High

 Splendor-130

 Victorian-120 Boot

 426-Aubrey Boot

 Crypto-302 Knee-High

 Cthulhu Convertible Pump

 Knee High Boots

 Gothika-100 Boot

 Rebecca Slouch Boot

 181-Silas Combat Boot

 414-Jules Combat Boot

 253-SARAH Mid Calf Boot

 Georgia Brown

 Knee High Lace Up Buckle

 Leona Boot

 Timberly-65 Military

 301-TABBY Mid Calf Boot

 Belgard Ankle Bootie

Steampunk Boots for Men
Steampunk boots for men offer the same great style, but with a few differences. Most men's boots are the characteristic black or brown color, and are made from leather or leather-like materials. The men's Steampunk footwear tends to have more of a vintage military style, resembling combat boots. Men's boots tend to have less lacing than women's boots and focus more on buckles or other accents such as chains. Many Steampunk boots for men have a folded-down portion of the boot, making them look like pirate boots or what may be referred to as a "Captain Jack" style. Some boots feature an antique finish to make them look more authentically vintage.
 Gotham Engineer Boot

 Steampunk Suede Spats

 Gotham-110 Engineer Boot

 Steam20-B/LE

 Pirate Boot Covers

 Carribean Combat Boot

 Gotham-109 Engineer Boot

 Darth Boots

 Reaper-30 Buckle Boot

 Philly-3 Black Military

 Punk Steampunk Boots

 Engle-05 Black Motorcycle

 High Boots

 Ren Black Boots

 16″ Motorcycle Boot

 Mid Calf Buckle Strap

 Moto Boots
The Steampunk genre is catching on in a big way, and Steampunk fashion is not far behind. This style is becoming increasingly easy to find due to growing popularity. Steampunk boots are perfect for any dress-up occasion, to compliment any Steampunk costume, or for establishing a cool sense of style that looks great anytime.
Save This Page for Later
Not ready to browse these great Steampunk boots right now? That's fine. Just pin this image to Pinterest to save it for later.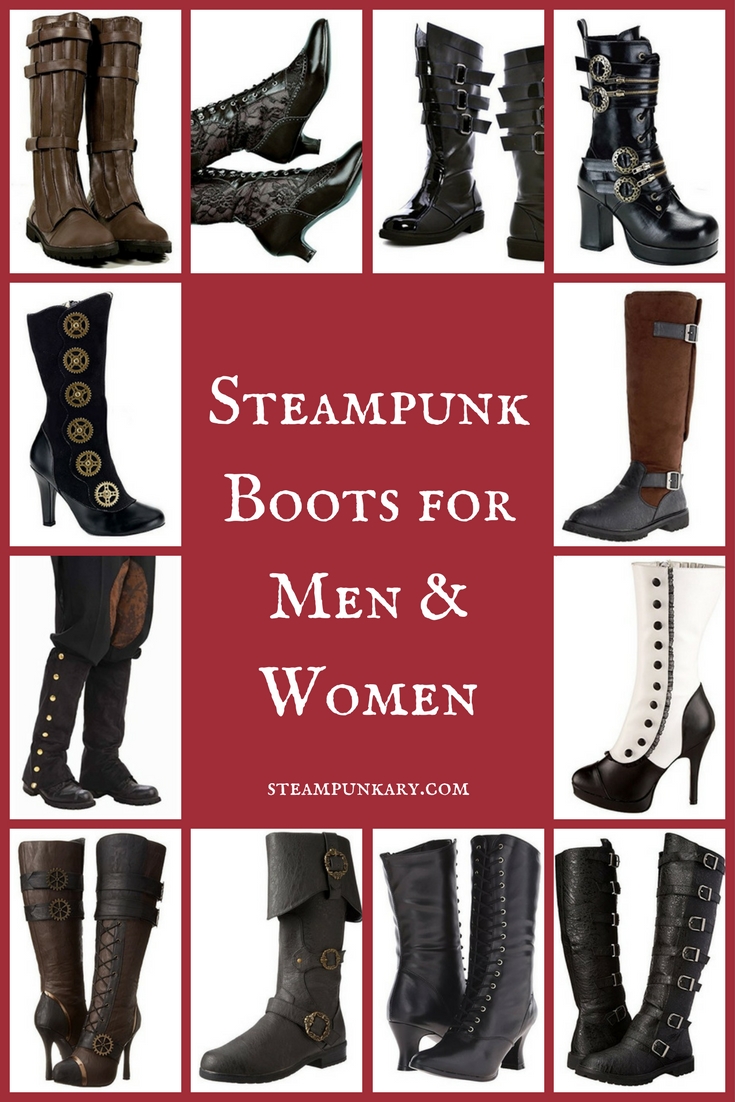 (Visited 4,612 times, 1 visits today)