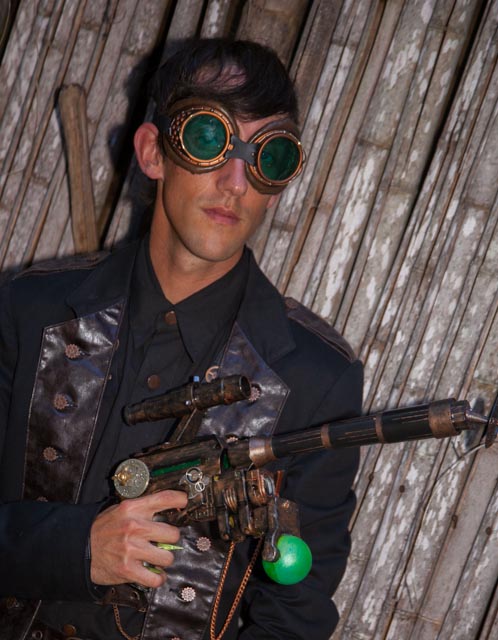 Updated 2019
The Steampunk genre combines the elements of science fiction and fantasy, and has been the theme for several books and movies. This genre has even crossed over into its own style of jewelry and clothing. Steampunk combines the past and the future by typically dealing with the historical time period of the Victorian era, while at the same time incorporating technologically advanced machines and inventions that did not exist during that era. The unique style of dress associated with the Steampunk costume for men can make a great Halloween costume, or an interesting and eclectic fashion statement. Many people also like to attend Steampunk conventions and dress the part. When it comes to a description of the style, it might be referred to as Victorian era styling meets science fiction.
Men's Steampunk Costumes
Steampunk Jack Costume
Steampunk Gentlemen Costume
Steampunk Adventurer Costume
Steampunk Duster Costume
Plague Doctor Kit
Steampunk General Costume
Gun Holster Set
Steampunk Victorian Pirate Costume
Steampunk Victorian Pirate Gothic Cosplay
The Gambler Hat
Steam Punk Pirate Costume
Steampunk Pants Men's
Pirate Costume Halloween
White Steampunk Aviator Scarf
Steampunk Victorian Gothic Waistcoat
Red Gothic Steampunk Victorian Vest
Steampunk Airship Pants
Steampunk Victorian Pirate Jacket
Steampunk Victorian Cosplay Trousers
Steampunk Victorian Gentleman's Coat
Spiked Steampunk Goggles
Mad Scientist Lab Coat
Steampunk Cosplay Costume Trousers
Steampunk Victorian Gothic Waistcoat
Steampunk Victorian Cosplay Men's Shirt
Steampunk Victorian Pirate Costume Jacket
Steampunk Victorian Costume Men's Trouser
Steampunk Costume Airship Pants
Steampunk Tailcoat Jacket
Black Tailcoat Jacket
When looking for a Steampunk costume for men, there are several styles to choose from. You will find that men's Steampunk clothing features a lot of buckles, straps, and buttons, reminiscent of the Victorian era. Some examples might be a military style parade drummer jacket, faux suede spats, Medieval pirate thigh boots, Victorian jackets, tuxedo top hats, Derby style hats, and Victorian Cosplay riding pants. Steampunk costumes for men might also include ruffled jabots, cravat neckties, and highly detailed vests and jackets. To complete the Steampunk look, a monocle or aviator style, futuristic looking goggles may be worn. Some men also choose to add a fake mustache for an authentic Steampunk look, as well as a pocket watch on a chain attached to their pants.
Men's Steampunk Boots
Steampunk Suede Spats
Men's Carribean
Gotham Engineer Boot
Brown Steampunk Spats
Black Boot
Gotham-110 Engineer Boot
Halloween Walker
Deluxe Pirate Boot Covers
Men's Steam20
Renaissance Inspired Boot
Boots for Men
Jack Mens Boots
Reaper-30 Buckle Boot
Leather Lined Oxfords
Men's Disorder-302
Men's Def402/b/pu Boot
Steampunk Boot Spats
158-punk Combat Boot
Whether you're going for the crazy scientist or time traveler look, a Steampunk costume for men combined with a few key accessories, can help you achieve your desired look. Although the Steampunk look is still relatively new to the world of fashion, it is beginning to catch on in a big way.
Men's Steampunk Hats and Accessories
Deluxe Steampunk Top Hat
Sleek Top Hat
Permalux Top Hat
Steampunk Top Hat
Steampunk/Twisted Circus Top Hat
Steampunk/Twisted Circus Top Hat
Permalux Tall Top Hat
The Gambler Hat
Top Hat for Adults
Steampunk Faux Leather Derby
Deluxe Felt Derby
Black Satin Derby Hat
Steampunk Top Hat with Removable Goggles
Steampunk Top Hat
Black Vinyl Aviator Hat
Steampunk Derby Hat
Coachman Hat
Brown Derby Costume
Steampunk Victorian Aviator Goggles
Brown Top Hat
Belfry Bowler Derby 100% Pure Wool
Steampunk Costume Goggles
Steampunk Gold Gear Wings
Steampunk Victorian Bag Of Gears
Steampunk Pouch Belt
Steampunk Victorian Style Goggles
Steampunk Revolver
Steampunk Victorian Style Goggles
13pcs Steampunk Antique Jewelry Findings
Retro Steampunk Metal Flip-Up Sunglasses
Gold Steampunk Costume Goggle
Steampunk Bullet Belt
Deluxe Leather Cup
Steampunk Antique Nautical Telescope Necklace
Steampunk Sunglasses Silver
Retro Steampunk Fashion Sunglasses
Classic Herringbone Newsboy Hat
Wool Victorian Western Steampunk Hat
Halloween Steampunk Goggles Top Hat
Pin This Image to Save This Page for Later

(Visited 4,324 times, 1 visits today)