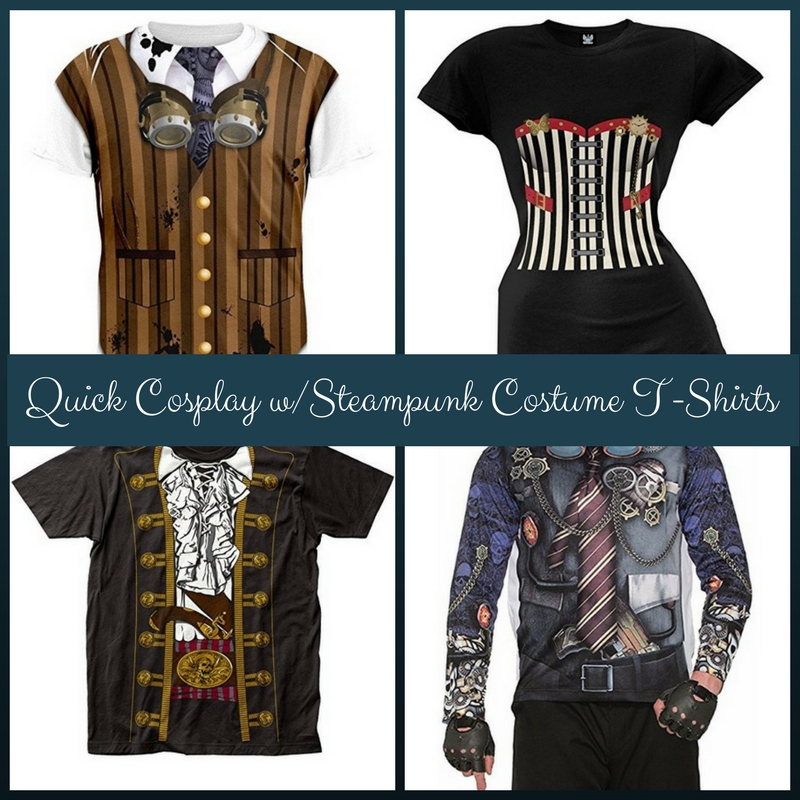 Updated for 2019
While going gung ho on a completely handmade DIY designer costume is a lot of fun, sometimes you just want a cheap, ready-to-go costume for a day of fun or an occasion. For those times you need a quick cosplay idea, using steampunk costume t-shirts as a base of your outfit is a great solution. These t-shirts have a 3D appearance with realistic details that make it look like you have donned a whole costume, when in fact you have just added a cute tee to your jeans and a few basic accessories. Sometimes the accessories are printed right on the t-shirt. Here is a selection of steampunk-themed costume shirts that you can start with, although you can find costume t-shirts in other themes such as superheroes also.
Steampunk Engineer Costume T-Shirt
For the truly steampunk-themed tees, this engineer costume t-shirt is one of the favorites. I love that it includes the goggles and looks like this engineer has been busy using his (or her) fountain pen drawing out his designs. You can easily finish this costume with a bowler hat and trousers. Click through to get sizing and pricing.
Steam Punk Engineer Costume T-Shirt
Pirate Buccaneer Unisex T-Shirt
Pirates are always fun to emulate for steampunk era costumes or even Peter Pan dress-up. These three pirate costume t-shirts are all great choices for steampunk pirate cosplay. With either a skirt or pants, you can display your hearty-har-har pirate self for your night out. Just add some goggles and a pirate hat to complete the look for your costume party. To make it more steampunk, you can add some gears and a pocket watch to your apparel.
Pirate Buccaneer Unisex T-Shirt
Pirate Prince Mens Costume Tee
Longsleeve T-Shirt Black
Steampunk Striped Corset Costume T-Shirt
Don't feel like wearing a real corset? Then, just don this corset t-shirt with a skirt to give your clothing a steampunk look. With steampunk clockwork jewelry and the right shoes, you have the entire cosplay look ready-to-go. This shirt is a lot more comfortable than a regular corset and less expensive to buy for a one-time costume event.
Steampunk Striped Corset Costume T-Shirt
3D Steampunk Tee Shirts for Men and Women
These 3D steampunk t-shirts for men and women are adorable and have lots of terrific steampunk details included in the design. No need for extras unless you want to add them. Just put on a hat, skirt or pants and boots and you are good to go. Click the links below for sizing and price.
 Tee Shirt Steampunk Gal
 Tee Shirt Steampunk Man
Western Cowboy Costume Tee
You can also adapt other themed shirts to your steampunk cosplay and go as a western steampunk cowboy or girl, for instance, with this sheriff costume t-shirt below. Similar to the steampunk-theme in the The Wild, Wild West TV show, you can be James West or just a generic western steampunk gunslinger.
Cowboy Costume Tee
Cowboy Costume T-Shirt
Harry Potter Hogwarts House Gryffindor Costume T-shirt
The same idea goes for creating a steampunk Harry Potter cosplay using this Hogwarts House Gryffindor costume t-shirt below and adding goggles and other steampunk elements to give it a steampunk theme. The time-turner is a good addition as well as any clockwork-type paraphernalia. Look for other Harry Potter costume shirts by clicking the link below.
Harry Potter Hogwarts House Gryffindor Costume T-shirt
Medieval and Gothic Costume T-Shirts
Another easy cosplay is to take these medieval and gothic-style shirts below to create a conglomeration of steampunk and fantasy costume. While not strictly t-shirts, the tunic top and pirate shirt below are easy to make into steampunk costumes with a few accessories such as goggles, boots and a vest. Add a steampunk hat and pants and you are ready to have a blast at your next costume party or Halloween bash.
 Medieval Tunic – Costume Shirt
 Renaissance Summer Pirate Shirt
Pin This Image to Save This Idea for Later
No budget to buy these fun costume t-shirts right now. Don't worry, just pin this image to Pinterest to save this page for later.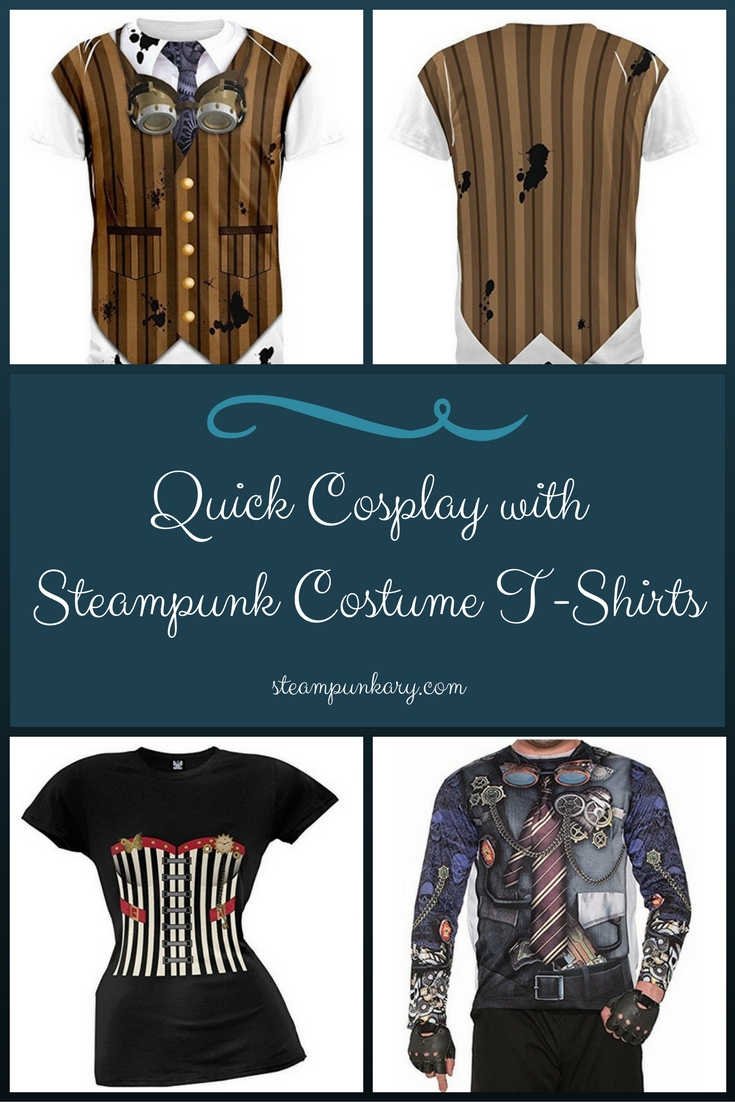 (Visited 1,069 times, 1 visits today)