One of the most popular Steampunk costumes is the Steampunk Plague Doctor costume for Halloween or cosplay featuring a long cloak and bird-shaped mask. We have listed it on a few of our pages that have collections of costumes, but until this post, we hadn't given it a separate page. However, since so many of our readers are interested in the Plague Doctor costume, we decided to devote an entire post to it and discovered that there are a lot of resources to get started.
Updated for 2021
Plague doctor costumes are simple to create because they essentially just require a mask and a robe. That's because when these costumes were worn by real doctors (or what passed for a doctor during Medieval times), these outfits were designed to keep someone from contracting the Bubonic Plague when treating Plague sufferers. If you'd like more information on the Bubonic Plague which took place during the years of 1331 to 1770, there is a great page, The Black Death: The Plague, 1331-1770, on the University of Iowa's website.
Full Steampunk Doctor Costumes for Men, Women, Kids
If you like to buy the entire costume in one place, you can select any of these ensembles below, then add the lantern. HalloweenCostumes.com offers a very nice selection including any of the accessories not shown here like black gloves. Several of these costumes are exclusive to HalloweenCostumes.com, and they offer plus-size costumes. You can browse them here or through any of the links below.
 Plague Doctor Costume

 Plus Size Plague Doctor Costume

 Eerie Plague Doctor Costume

 Plague Doctor Costume

 Classic Plague Doctor Costume for Adults

 Classic Plague Doctor Kids Costume

 Kid's Plague Doctor Costume

 Black Plague Doctor Costume

 Light up Old Lantern

 Plague Doctor Halloween Sweater

 Plague Doctor Skull Crow Cane

 Skull Light Up Lantern

 Plague Doctor Black Mask

 Plague Doctor Kit

 Plague Doctor Mask

Steampunk Plague Doctor Cape, Clothing, and Accessories
If you already have most of what you need to make a Plague Doctor costume, and just need one or two pieces to complete it, it's easy to find what you need on Amazon. If you can't find what you're looking for on this page, check our other Halloween costumes here. Below you can find any and all the clothing and accessories a would-be Steampunk Plague Doctor needs to check on patients. Note: these masks will not keep you safe from COVID-19.
Take a look and scroll through for your favorites, then click the link for availability, price, and size.
 Steampunk Vintage Tailcoat

 Kangaroo Black Top Hat

 Gothic Tailcoat

 Antique Silver Walking Cane

 Steampunk Stand Collar Coat

 Steampunk Gothic Top Hat

 Black Felt Top Hat

 Steampunk Vintage Jacket

 Victorian Costume Pants

 Men's Gotham-110

 Polar Fox Wyatt MPX608005

 Men's Gotham-105

 Beistle Satin Top Hat

 Balaclava Face Mask

 Steampunk Pouch Belt

 Cork Potion Bottle

 Victorian Steampunk Hat

 Unlined Gauntlet Gloves

 Hooded Cape

 Hooded Cape 3/4 Length

 Hooded Cloak

 Hooded Cloak

 Kids Cape Velvet

 Kids HalloweenCloak

 Halloween Cosplay Robe

 Men Tunic Hooded

 Jedi Robe Hooded

Plague Doctor Masks
The Plague Doctor Bird-Shaped Mask is the most important piece of your Plague Doctor costume.  We've searched Amazon to find all of the masks that will work. As you can see, there is a wide variety to choose from. They range in style, size, and price. To find out the details on each one, click the link below the image.
 Steampunk Gothic Plague Mask

 Bird Beak Mask

 Plague Doctor Bird Mask

 Plague Doctor Mask

 Plague Doctor Mask

 Plague Doctor Mask

 Plague Doctor Mask

 Medieval Doctor Mask

 Plague Doctor Mask

 Plague Doctor Bird

 Plague Doctor Mask

 Plague Doctor Mask

 Steampunk Mask

 Plague Bird Beak

 Bubonic Plague Doctor

 Steampunk Gothic Mask

 Plague Dr. Mask

 Plague Bird Doctor

 Steampunk Plague Doctor

 Plague Bird Mask

 Steampunk Plague Beak

 The Plague Doctor

 Plague Doctor Bird Mask

 Plague Doctor Mask Goggles

Steampunk Plague Doctor Artwork and Illustrations
For those who like artwork or want to create a fuller atmosphere for their Steampunk Plague Doctor persona, there are several unique art pieces you can buy. We like the cool Plague Doctor Trinket Boxes, medieval art prints, and the Plague Doctor Figurine near the bottom of this list. Click through for more information on any of these.
 Plague Doctor Art Print

 Poster Print Plague Doctor

 Doctor Raven Crow Patch

 Plague Doctor (1910)

 Plague Doctor Vinyl Decal

 Embroidered Iron on Patch

 Plague Doctor Patch

 Steampunk Plague Doctor Bust

 Doctor of Death

Save These Plague Doctor Ideas for Later
Not ready to buy one of these costumes yet, but love the idea. Just bookmark this page or pin it to your Pinterest board.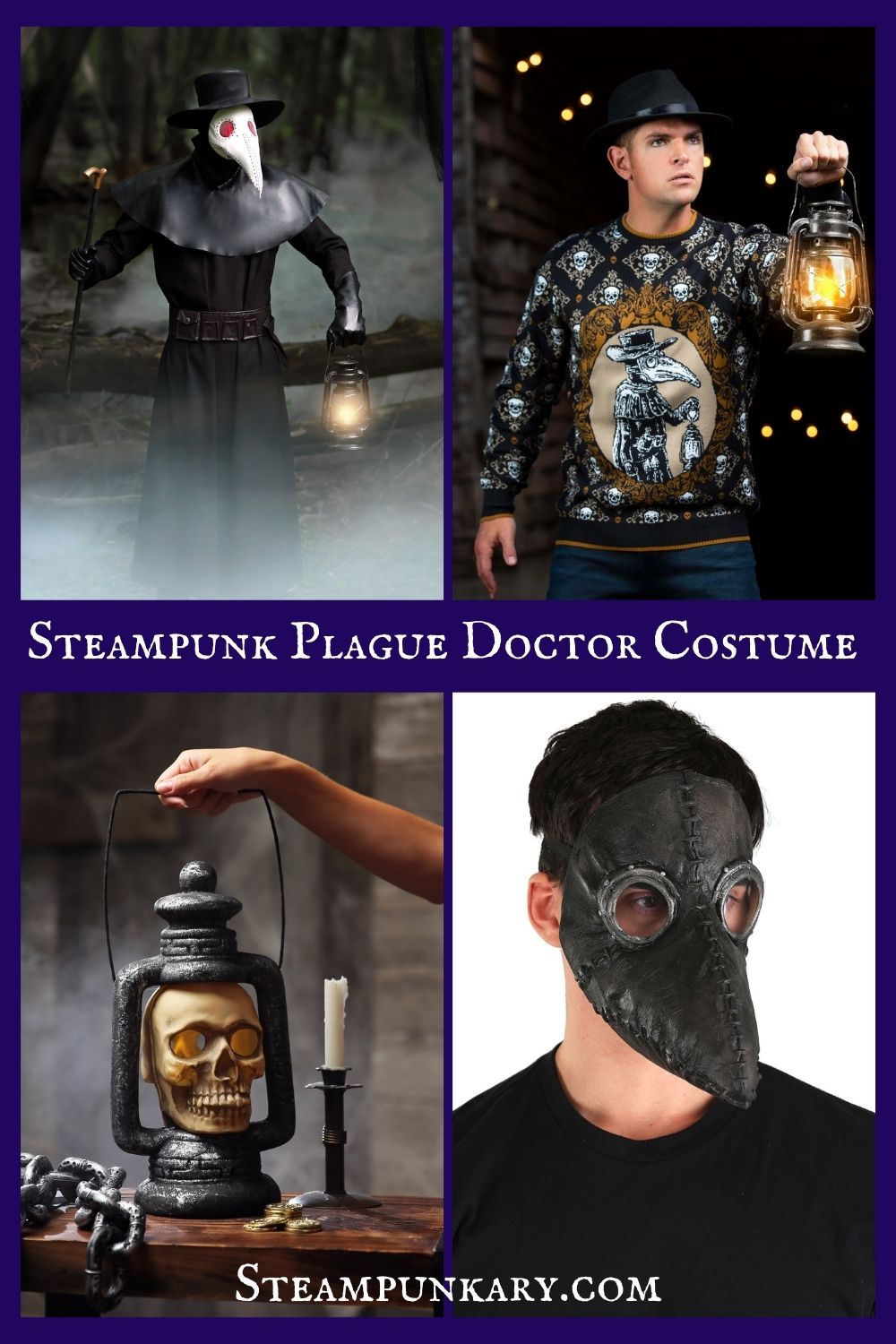 (Visited 1,310 times, 1 visits today)