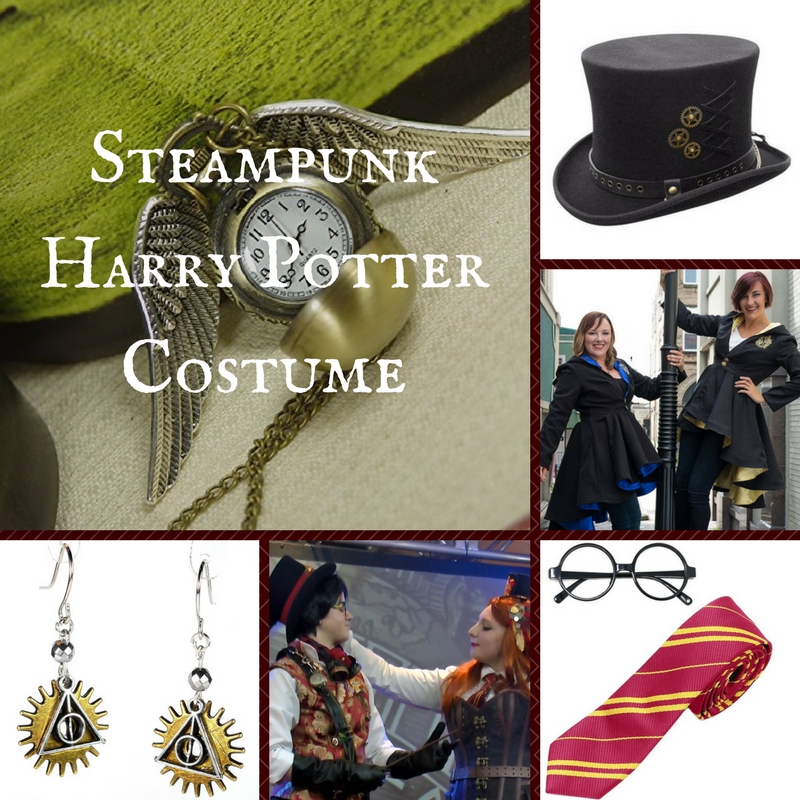 If you are a Harry Potter fan who also happens to appreciate all things steampunk, you can incorporate these two things into making a great Halloween or cosplay costume this year. Here here are some ideas that can help you assemble a steampunk Harry Potter costume that will be the hit of the party.
Adult Harry Potter Costume
This costume is a long black fleece robe with maroon lining that comes in a standard size. Made from 100% polyester. Features an attached hood, Gryffindor emblem, and black clasp at the chest. This will be the base piece for assembling your own Steampunk Harry Potter costume. The same robe may also be used to create a Hermione or Ron costume as well.
Deluxe Harry Potter Robe Costume
Striped Tie with Novelty Glasses Frame
This is a maroon tie with yellow stripes made from high quality polyester. Glasses are made from black plastic and have no lenses. These pieces are essential for building your Harry Potter costume.
Striped Tie with Novelty Glasses
*** Now that you have the essential pieces that will let everyone know you are portraying a Harry Potter character, it's time to add the special touches to create a steampunk look.***
Australian Wool Steampunk Top Hat
This great top hat is made from 100% Australian wool and has a satin band. Mad Hatter style hat is black and has a band of brass clock wheels with a chain and bronze colored steampunk gears. ranging from small to XX large. Add this to your costume for a great steampunk look. Combine with other steampunk accessories for a complete look.
Australian Wool Steam-Punk Top Hat
Velvet 4.25-Inch Steampunk Top Hat with Removable Goggles
This is a black velvet top hat in an adult size. Features removable goggles, black feather, black lace, black tulle, and steampunk gear accents. This would make a great hat for a Hermione character to wear as an accessory to the classic black robe.
Velvet 4.25 Inch Steampunk Top Hat with Removable Goggles
Men's Steampunk Boots
These boots are made from polyurethane and are black with brown accents. Accents include brown toes with a shiny gold accent trim, two sets of buckles around the foot area, three side pouches with snaps, heel accent with rivets, and another buck;e around the top of the boot. Highly detailed and very steampunk, pair this with the Harry Potter robe and a top hat for a great costume.
Custom Steampunk Winter or Spring Jacket
This is a handmade steampunk flare-bottom jacket with a hood. It comes in two weights, winter and spring. You can have it customized for your character or Hogwarts house. (Can also be customized with other embroidery). To see all of the color choices, just click through to the product page. This jacket is made to order so allow time for it to be made.
Both versions come with pockets and an inner "wand" pocket. If you want any other customizations, you need to let the artist know.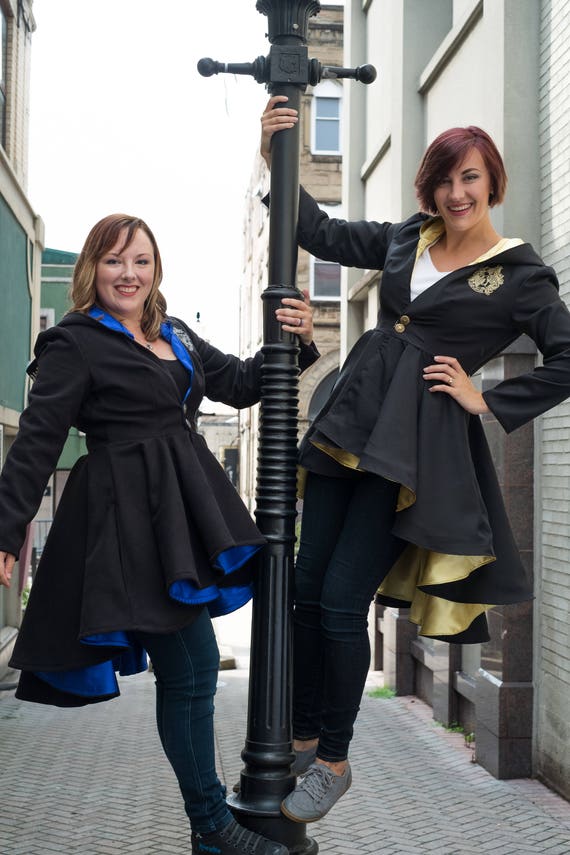 Custom Steampunk Winter or Spring Jacket

Steampunk Harry Potter Golden Snitch Bracelet
This is a great looking bracelet, perfect for adding a touch of steampunk to any of the female Harry Potter character's costumes. The bracelet has an adjustable length and lobster claw clasp. It features a gold pearl golden snitch and lovely antiqued silver wings. Makes the perfect costume accent and also great for everyday wear.
Steampunk Harry Potter Bracelet
Flying Snitch Necklace Pocket Watch
This is the perfect pocket watch for a steampunk Harry Potter to carry. Made from alloy material, this pocket watch features a golden colored ball (snitch) that opens to reveal a working clock inside. A set of golden wings completes the look. Pendant hangs from a 31.5 inch long golden colored chain. Comes with a gift box.
Women's Steampunk Heart Harry Potter Pocket Watch
This is a lovely pocket watch for the Harry Potter female characters. The heart-shaped locket has an ornate stainless steel design and the clock has precise quartz movements within an analog display. Makes an elegant timepiece as a costume accessory or for everyday use. Comes in a lovely black gift box.
Steampunk Heart Harry Potter Locket Pendant
Steampunk Owl Flying Magical Watch Necklace
This great looking pocket watch measures one inch in diameter and hangs from a necklace chain that is 32 inches long. Watch has an ornate owl design in an antiqued bronze finish, along with two golden bronze wings. Adds the perfect steampunk touch to any Harry Potter costume. Watch runs on batteries.
sTEampunk oWL flying magical watch necklace
Antique Bronze Harry Potter Deathly Hallows Pocket Watch Necklace
This pocket watch is round in shape and features the Deathly Hallows emblem on the watch face. Has moving watch hands with Roman numerals. Watch pendant hangs from a 70 cm chain. Chain and pendant are a lovely antique gold color. Makes a great costume accent with a steampunk flair.
Harry Potter Deathly Hallows Pocket Watch
Steampunk Harry Potter Time Turner Necklace
This is a whimsical must-have for Harry Potter fans. The center of the watch spins around and is done in a skeleton style with a clear back that allows for viewing of the inner workings of the watch. Pendant measures around 35 mm and is suspended from a brass chain. Makes a great addition to any Harry Potter-themed costume and provides a steampunk touch.
Steampunk Harry Potter Time Turner Necklace
Steampunk Handmade Harry Potter Golden Snitch Pendant Pocket Watch Necklace
Pendant measures 2.5 cm and hangs from a 78 cm chain. This is a lovely locket style pocket watch, where the time piece lies within the Golden Snitch. Bronze colored wings hang down on each side. Great for wearing as a necklace or hanging down worn like a traditional pocket watch.
Steampunk Handmade Harry Potter Golden Snitch Watch
Deathly Hallows Gear w/ Glass Bead Earrings
These great earrings are perfect for any female Harry Potter character to wear. Earrings feature a silver Deathly Hallows design charm that lays over antique brass steampunk gears. Accented with silver iris faceted glass beads. Earrings hand from stainless steel shepherd's hook ear wires. Earrings come in a box, ready for gift giving or to use as storage when not in use.
Deathly Hallows Over Gear Earrings
How to Make a Harry Potter Steampunk Wand
This is video that explains how the crafter created a Steampunk style Harry Potter wand using watch gears, washers, eyelets, crystals, Tim Holtz gears, and pearls. She used Golden's liquid acrylic Quinacridone Nickel Azo gold and Mars black paints for her project. Watch and learn how to create your own steampunk wand for a great accessory to any Harry Potter costume.
Steampunk Harry Potter and Ginny Weasley Cosplay
This video shows an example of steampunk Harry Potter and Ginny Weasley costumes that you can use for inspiration.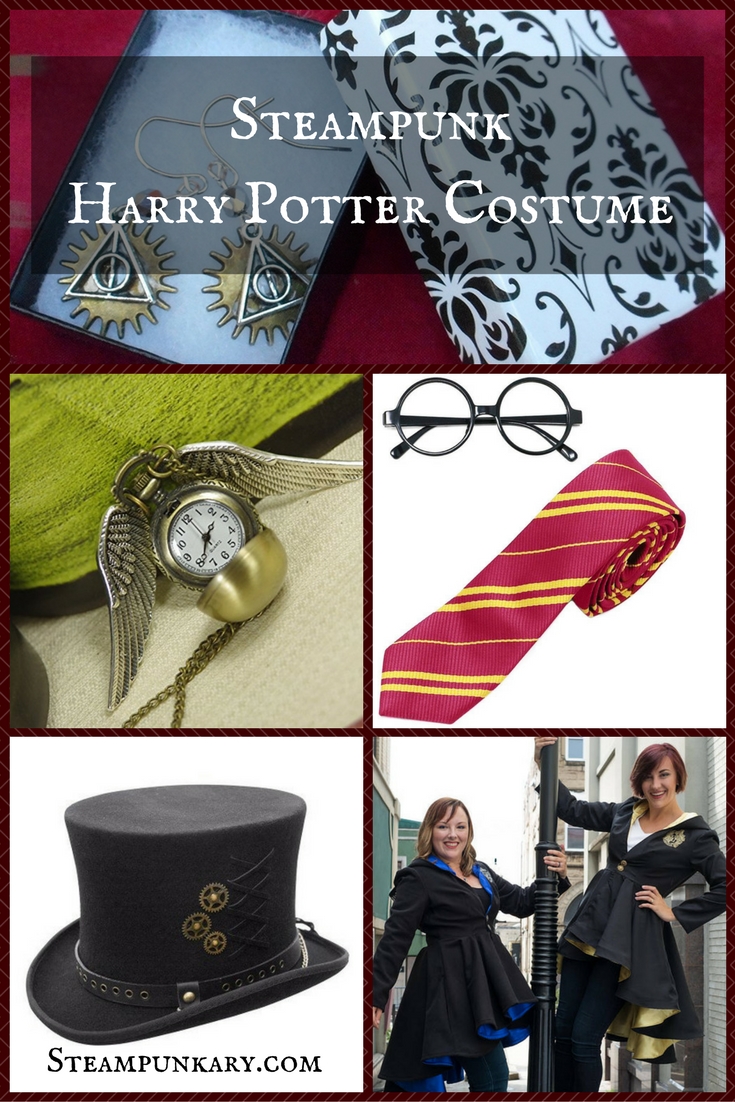 (Visited 1,195 times, 1 visits today)