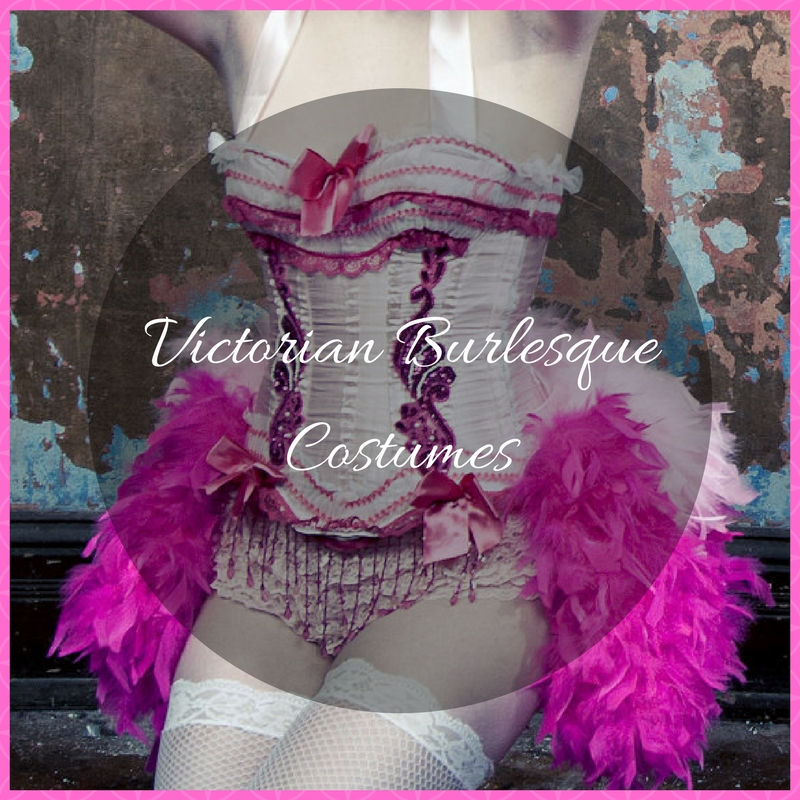 Victorian burlesque was popular during the 1830s through the 1890s in London theaters. Also referred to as a "travesty" or "extravaganza," burlesque took the form of a musical theatrical parody in which a well known theatrical piece such a play or an opera was adapted and turned into a comedic production and parody of the original work. During its peak, Victorian burlesque became the specialty attraction at certain London theaters. Burlesque productions were known for being a bit risque for their time and for having costumes that showed off the legs of the attractive young women who played in the productions. Here we look at some Victorian burlesque costumes available from Etsy sellers that fit right in with the history of this era. These pieces make a great Halloween costume idea for those who have a appreciation for the Victorian era and Steampunk fashion.
Princess Pink Steampunk Burlesque Costume
Available in sizes M, L, and XL, this is a handmade item that is made to order. Features a corset with satin, ribbon, feathers, appliques, feather fascinator, and fringe. Back is adorned with fluffy pink and black feathers, while corset is decorated with pink satin ribbons and shiny pink sequins. Larger, circular sequined embellishments across bust line, with a black satin ribbon in the front center. Cute essential piece for steampunk costumes.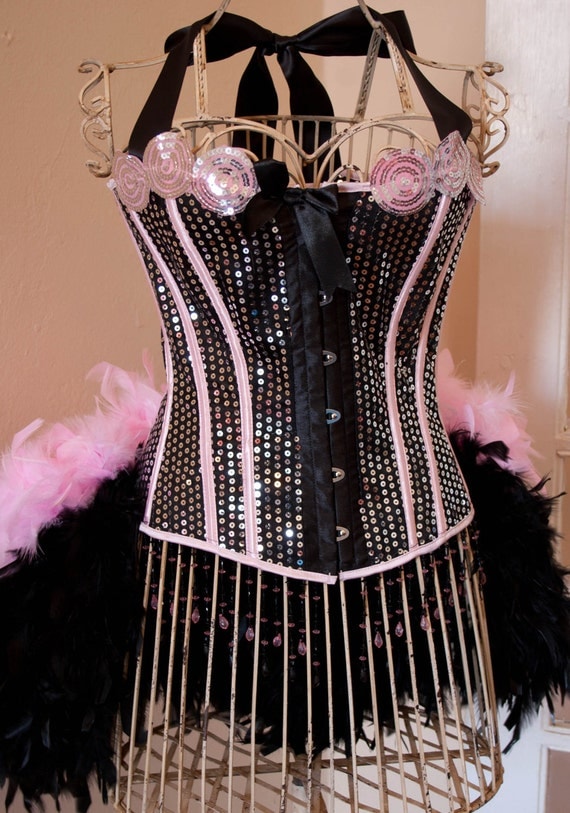 Princess Pink Burlesque Costume

Pink Lady Burlesque Costume
This handmade item is available in sizes L and XL. Costumes includes corset with feathers, beaded fringe, appliques, boning, and stain. Pink feather fascinator may be purchased separately for an additional $25. Corset is a light pink shade adorned with layers of darker pink lace and embellishments around the bust area. Each side has a large shimmering pink applique down the front. Hemline features rows of pink rick rack. Pink satin bows on either side of bottom hemline and in front center bust area.
Olympian Gold Victorian Burlesque Costume
This costume includes a feathered corset made from ribbon, boning, appliques, satin, beaded fringe, sequins, and feathers. Offered in sizes small, medium, large, and extra large. Cream colored corset has a back of cream colored feathers, with the front adorned with gold colored embellishments. Corset ties at the shoulders with a wide satin ribbon. Bust line and hemline feature a wide ruffled satin ribbon with a strip of gold satin down the middle. Bust line and midsection features a gold colored shimmering fabric and a gold applique with gold fringe hanging down. Each side of midsection is embellished with a large gold applique. Great piece to use to create a steampunk costume for Halloween and other events.
Rainbow Brite Burlesque Costume
Only one available of this handmade item. Corset is made from ribbons, lace, boning, and satin. Corset is constructed from top quality materials and is steel boned. Panels are yellow and apple green and the top front is embellished with a red and white bow with pink rose floral pin. Pink ruffles with red satin ribbon down the middle on bust line, hemline, and each side.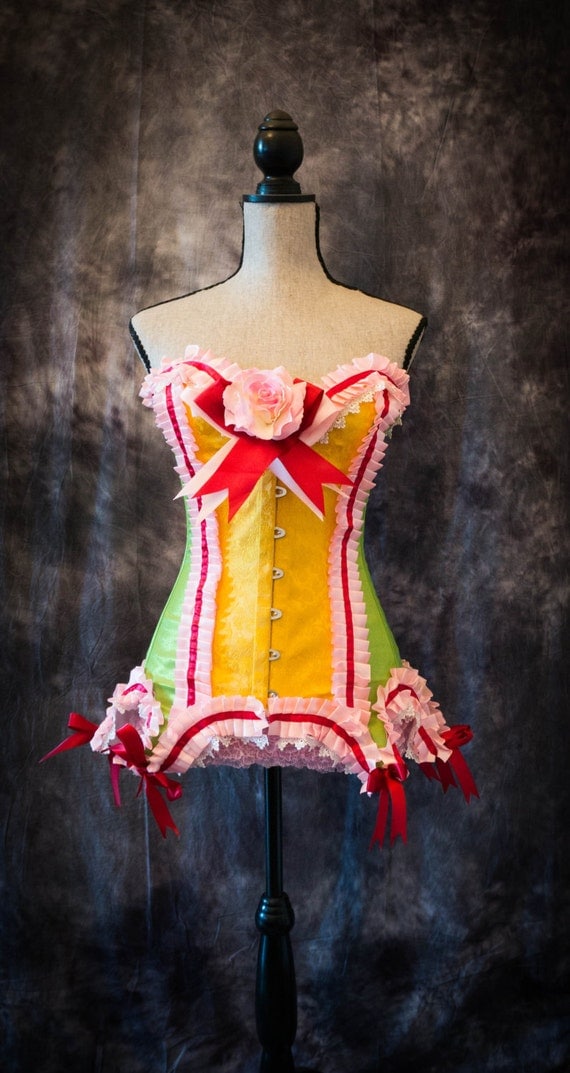 Rainbow Brite Burlesque Costume

Pavlin Peacock Blue Burlesque Costume
Made to order in sizes small, medium, large, and extra large. Features feathers, satin, boning, lace, ribbon, and fringe. Middle panel of bright blue fabric with peacock feather designs. The rest of corset is black satin fabric with a large black satin bow. Black feathers are attached to bust line, waistline, and back. Beaded details dangle from waistline.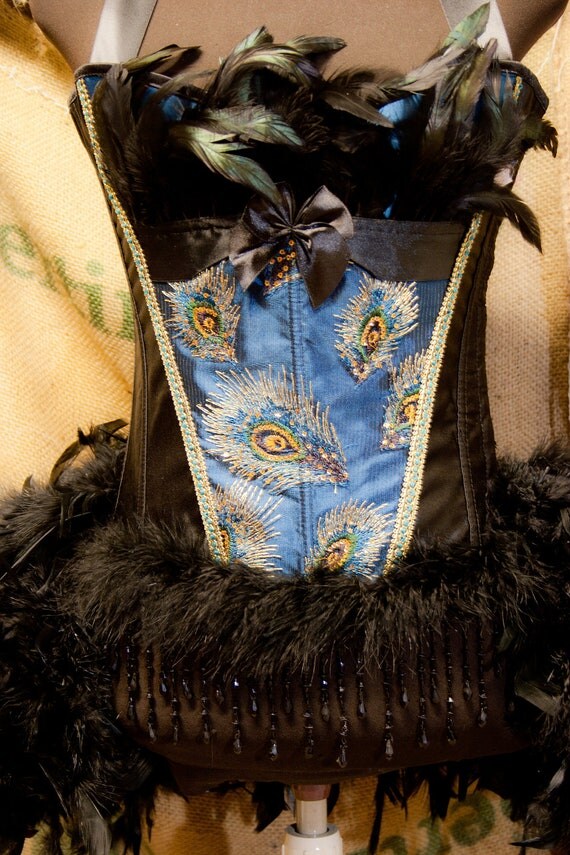 Peacock Blue Burlesque Costume

Black and White Feather Bustle and Corset
This handmade item is available in sizes ranging from extra small to extra large. Black corset and bustle is inspired by Plumette and features white feathers around the bust line and black and white feathers around the waist, with a bustle made of black and white tulle adorned with flowing white feathers.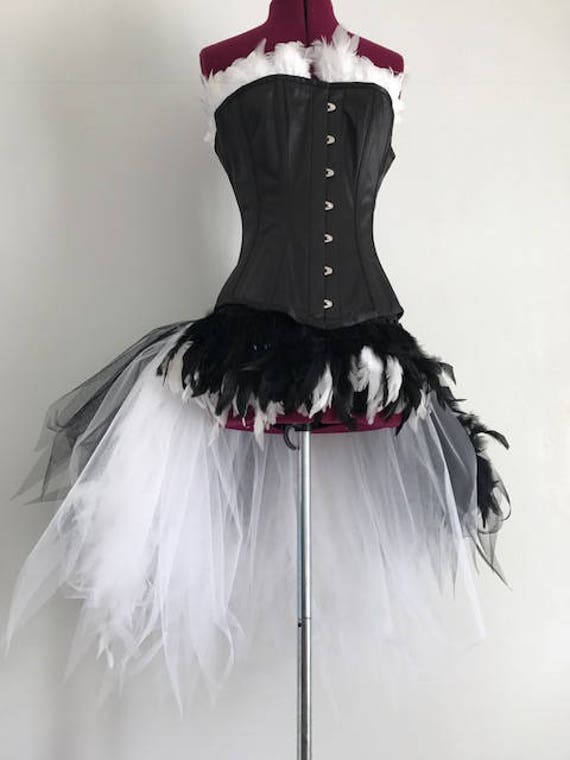 Black and White Feather Costume

Poison Ivy Katy Perry Inspired Burlesque Tutu Skirt and Corset
Made to order in sizes ranging from extra small to extra large. Made from tulle, silk, ivy leaves, and ribbon. Green corset is trimmed in black lace and tutu skirt is made up of multiple colors of green tulle. Features a shorter tutu length layer, with a longer layer underneath. Bodice front is embellished with green ivy leaves for a cute look inspired by singer Katy Perry.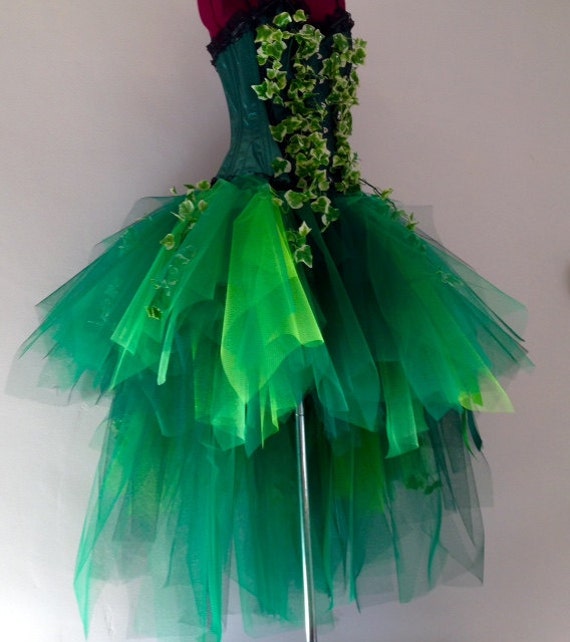 Poison Ivy Katy Perry inspired Burlesque Tutu Skirt and Corset

Black Red White Tulle Burlesque Skirt
Made to order in sizes extra small through extra large. Corset is black with white vertical stripes and laces with white laces in the back. Large red satin ribbon in front. Bustle is made from black and red tulle and white feathers. Multiple layers of tulle and feathers, with skirt coming to knee length in front and longer in back.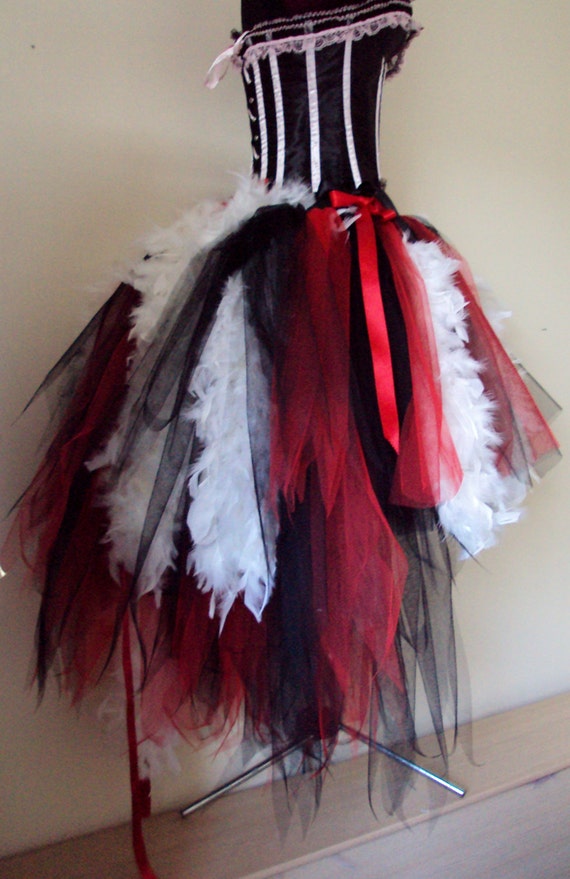 Goth Steampunk Burlesque Costume

Blue Purple Peacock Feathers Burlesque Skirt
Can be made in sizes extra small through extra large. Black corset features purple vertical stripes and edging accents, with laces up the back. Tutu skirt and bustle has multiple layers and is shorter at the knees and longer in the back. Tulle colors include aqua, green, dark blue, purple, and even a hint of yellow. Bustle is embellished with peacock feathers.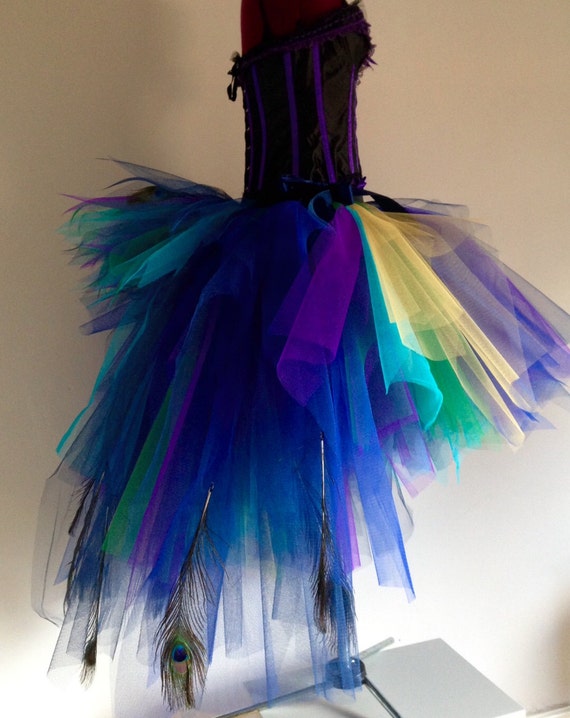 French Navy Blue Purple Bustle Skirt

Purple Black Burlesque Tutu Skirt
Made from dress net, ribbon, feathers, and tulle, this item can be made to order in sizes extra small through extra large. Skirt is shorter in front and comes down slightly lower in the back. Made from layers of black and purple tulle, with long streams of black and purple feathers dangling in the back. Combine with any black of purple corset for a great steampunk look.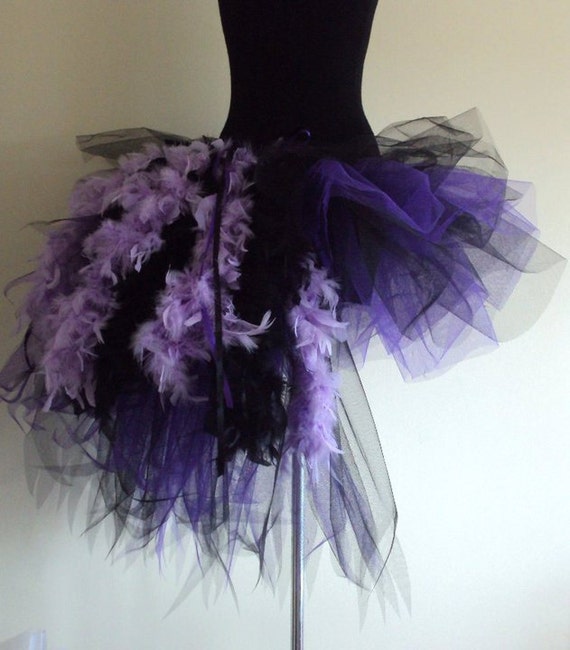 Purple Black Burlesque tutu skirt size

Burlesque Tutu Skirt Inspired by Kevin from UP
Colorful skirt is made from layers of tulle in shades of yellow, peach, orange, teal, and blue. Can be ordered in sizes extra small through extra large. Embellished with brightly colored feathers and long ostrich feather plumes in colors that match the tulle. Super cute and can be combined with a variety of colors of corsets to create a great steampunk/burlesque look for Halloween and more.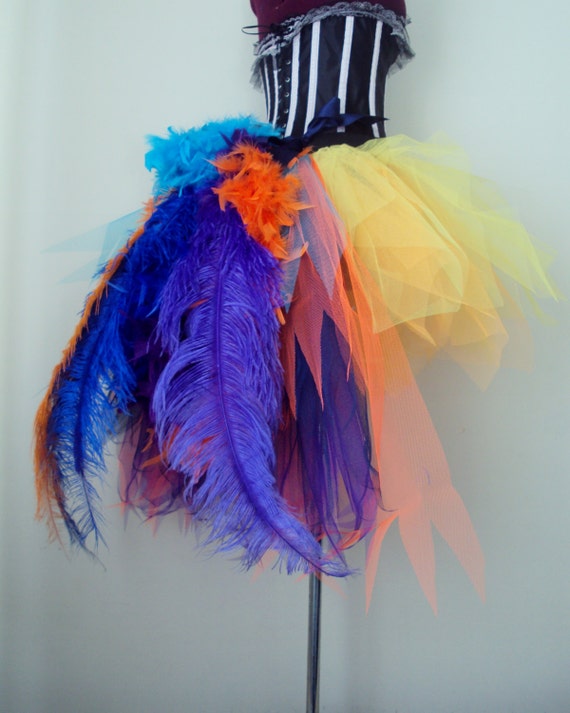 Burlesque Tutu Skirt Inspired by Kevin from UP

Don't Forget to Pin this for Later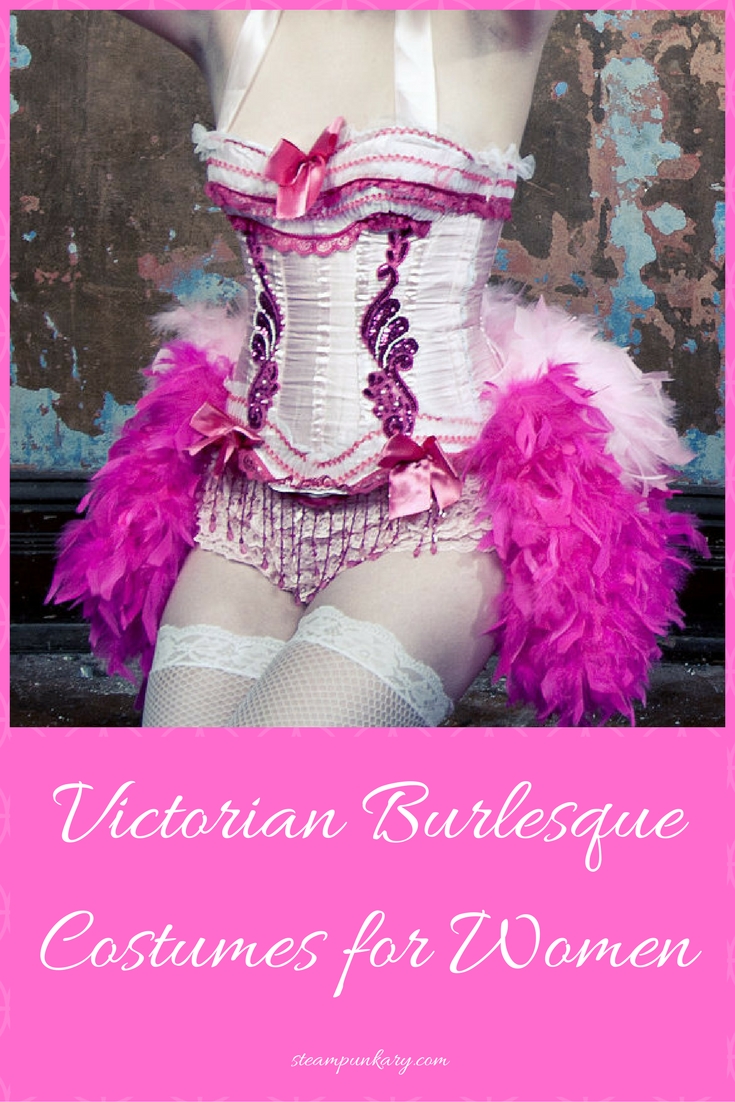 (Visited 1,996 times, 1 visits today)