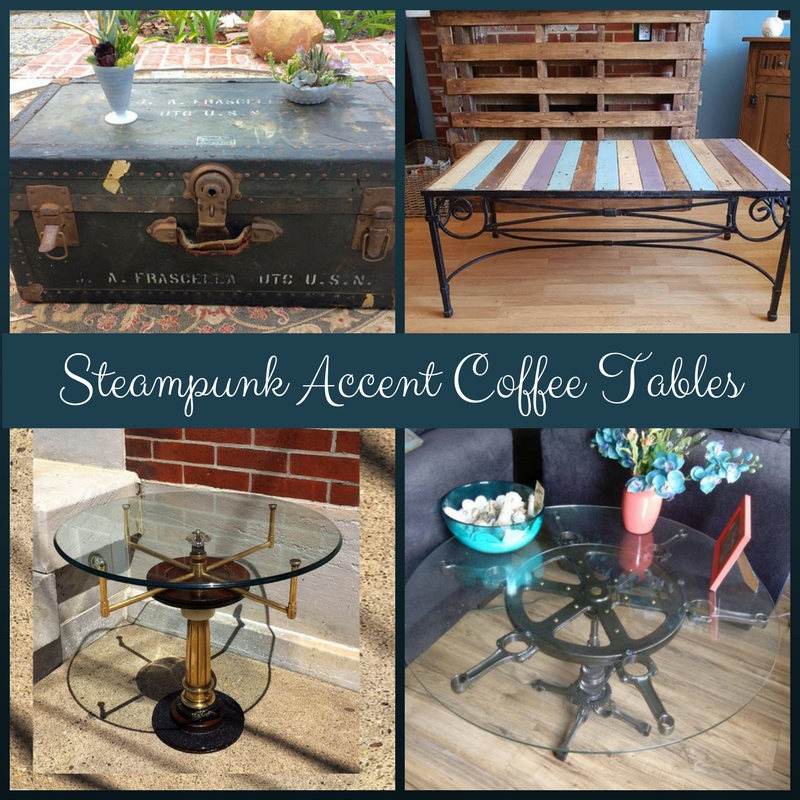 Coffee tables are pieces of furniture that almost everyone has in their living room or den. If you are working on creating a steampunk style room, then you can easily use your coffee table to create interest and add steampunk flair to your room. Since the table is in the center of a room it is visible to anyone who enters. Treat it like an accent piece to create ambience and offset your background walls, sofa or you may just want to add cool steampunk accent coffee tables to your main gathering spaces. Here is a collection of some of the most interesting steampunk coffee tables on Etsy ranging in price. Depending on what you are looking for, you should find inspiration from these pieces.
Vintage Trunk Coffee Table
I love the look of this old steamer trunk which can be left as is or further decorated with images from vintage postcards or travel magazines. My mom still has two old steamer trunks in her basement, but of course they are not from the Victorian era. Still this type of trunk was used during that time period and might even have been on a steamer ship. Click the link for measurements and pricing.
Green Feature Coffee Table
This beautiful table is a much more modern construction than the steamer trunk above. It also is extremely cool looking and can be a single accent in a room or just one of several unique pieces. Very eclectic and artsy-looking, this table is perfect for entertaining or just having in your own library or den. Learn more details by clicking the link below.
FILCA Pulley Coffee Table
A much more industrial-looking coffee table made from recycled and repurposed parts. Very interesting and a conversation piece for your home or office. You can offset the heavy construction with colorful accent candles or books on top. Or just leave it as is for a very interesting feature in your room.
Ouija Board Coffee Table
What can be more steampunk than a Ouija Board table? The Victorian period had a lot of seances and other spiritual activities going on. Adding a Ouija table is the perfect compliment to a steampunk theme and another great conversation piece. Choose from a wide selection of stain colors. Click through the link below to see the list of colors.
Recycled Metal Coffee Table
Although listed as a coffee table, I would consider this more of a side table or lamp table. Nevertheless, it is awesome with steampunk gears under the glass. So great for a steampunk room at home or your office. Definitely a unique piece that will stir conversations. Click below for more information.
Nautical Engine Table
For beach house decor or for anyone who loves being on the water, this nautical table is ideal. Made from ship pieces, this sturdy table will be a lovely accent piece in your home. Read the connected page for shipping information. Does need to ship via freight.
Industrial Steampunk Table
Another very nice example of an industrial style table with a bit more of a polished look. Made with repurposed brake rotors into a very unique furniture piece. Would look great in a lawyer's office.
Industrial Coffee Table
This table almost looks like it is about to walk away. Easy to see construction under glass and a terrific accent piece in a den or living room. This is the same artist who made the green table above and you can click through to see several other standout pieces on their Etsy site.
Welded Steel Industrial Steampunk Table
Although this isn't really a coffee table, I had to include it because it is a prime example of steampunk decor. This is better used as a front entryway table to highlight a piece of art as shown below. Stunning piece. Click the link below for more information.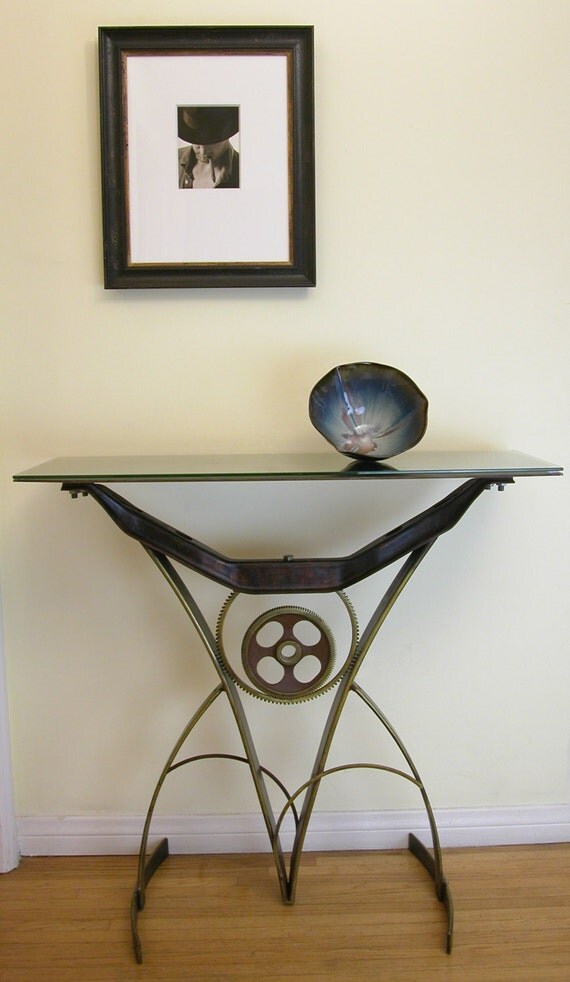 Welded Steel Industrial Steampunk Table

Upcycled Diesel Engine Coffee Table
This is another repurposed-engine-parts table. Really a standout design. Perfect for a man cave, or single man's home or apartment. Or anyone who is interested in engineering or automotive designs. Click through for measurements and pricing.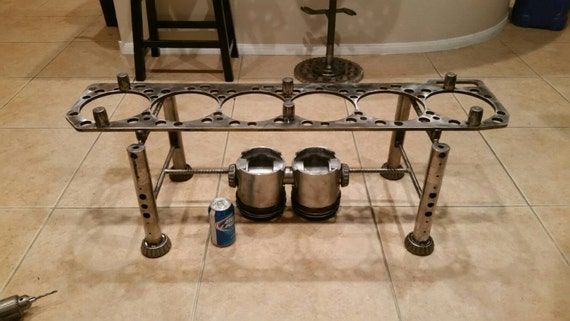 Upcycled Diesel Engine Coffee Table

Industrial Coffee Table with Drawers
This is more industrial in style than steampunk, but it is a great example of a table that can have more than one use. Drawers can hold mail, TV remotes or bills, keeping the surface clean for entertaining or daily work. It is also on rollers meaning it can be moved around for use as a writing surface or a place to put your dinner. Click through for more information.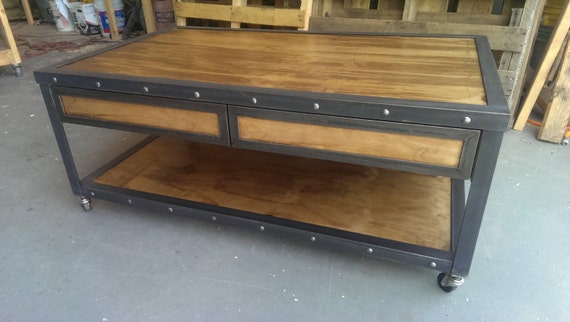 Industrial Coffee Table with Drawers

The Blackbeard Coffee Table
Feeling like a pirate? Then you probably need this coffee table in your home. This is a tough, industrial style table with rollers that can be used for many purposes. Really nice, great for a man or couple.
Steampunk End Table
A true steampunk table. You can see it from one side in this image, but by clicking through you will see many more images from various angles. Made with upcycled industrial parts with a top that looks like a giant gear. A terrific conversation starter for any party.
End of Woods Table Set
This is a set of tables made from the end of logs. You can see each circle that is from the end of a piece of wood. Very stylish and appealing to just about anyone. The combination of metal and wood makes this a good choice for steampunk decor.
Trunk Lid Coffee Table
A great accent piece made from the top or lid of a steamer trunk. Steamer trunks really represent the steampunk era as they were taken on trains and boats during this time. As it is shown here, the table is more for show then use, but you can easily put it next to your sofa for refreshments while you watch your favorite movies.
Industrial Sofa Table
This table is made to fit around a sofa to hold a computer or a tray of food. Great for an apartment since it is smaller, the table has a simple design that would appeal to many people.
Industrial Coffee Table Chest
A table with a more modern look, this coffee table also makes a lovely accent piece for a living room or office. To get the best idea of how it looks, click through to view several images. Although it looks square in this image, it is rectangular.
Wrought Iron and Reclaimed Wood Coffee Table
This coffee table is made using reclaimed wood likely from packing crates. Depending on your home, it works with steampunk and shabby chic styles. The base is wrought iron and very sturdy. Click through for more images.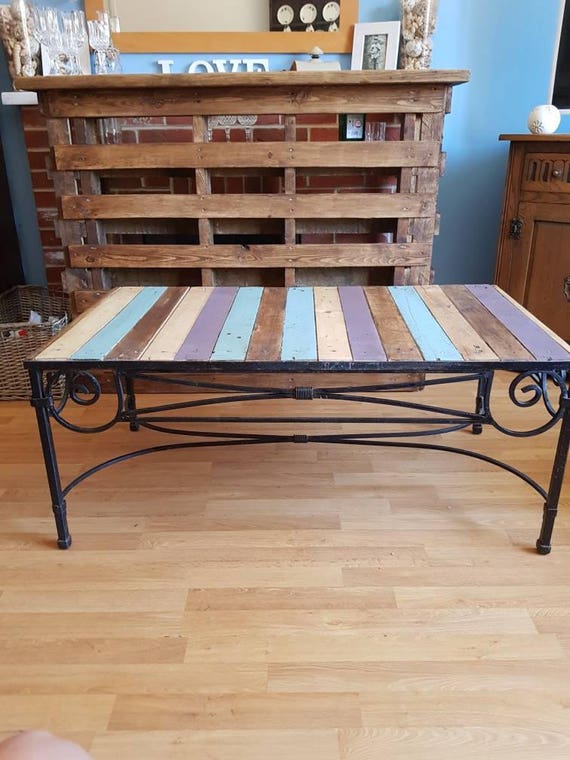 Wrought Iron and Reclaimed Wood Coffee Table

Handmade Coffee Table
Made to order only, this table is constructed from metal pieces. You can custom order any size table you need for your home decor by contacting the artist from the item page. The glass top is included in the price and you can also see several other table examples in the artist's Etsy shop.
Propeller End Table
A great accent piece, this table is made using a propeller as the base. Very stylish and interesting. Great for a boater or beach house. Made by a young artist just starting out. You can really plan an entire room around just this one piece.
14″ Steampunk Coffee Table
Made from automotive steel, this coffee table is ideal for a modern steampunk room especially if there are other bronze accents. Very sturdy, the table also has a polyurethane coating to protect the finish and a felted foot to protect your floor. Click through to learn more about this unique piece.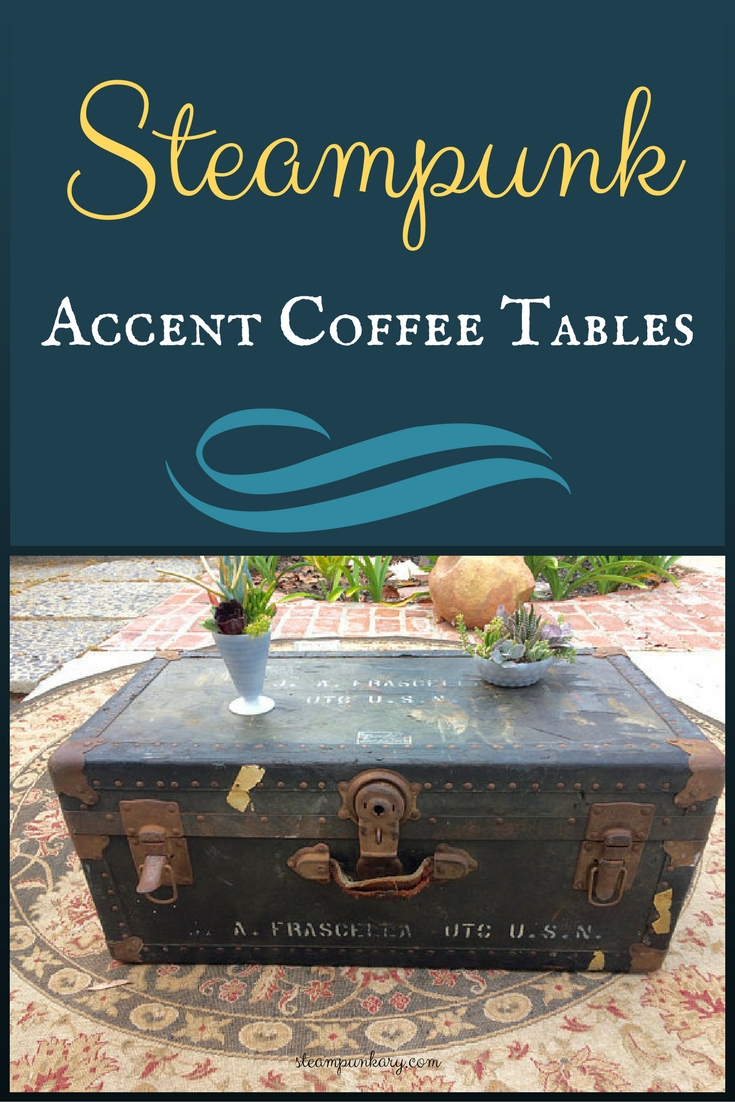 (Visited 6,050 times, 1 visits today)