Wreaths are a great way to decorate your home for any season or special occasion. They provide a great way to express your interests, while at the same time welcoming guests to your home. Steampunk Halloween wreaths add a spooky, festive flair to any door, wall, or mantel, bringing a little something extra special to the holiday. Perfect for those who love a gothic accent to the their Halloween. Here we look at some lovely Steampunk Halloween wreaths offered from various sellers on Etsy.
Halloween Front Door Gothic Rose Wreath
This is an 18 inch grapevine wreath that has been painted black and sealed. Wreath features a dapper looking skull gentleman donning a festive maroon Steampunk top hat adorned with black feathers, a black satin rose, black ribbon, and white trim. Wreath is decorated on the entire left hand side, with black floral leaves and berries and maroon and black silk roses. Makes the perfect Halloween decorative accent and fits especially well with a Victorian themed decor.
Beware All Who Enter Grapevine Wreath
This festive wreath measures approximately 20 to 22 inches and is made of grapevine. Wreath is painted black and has decorative touches that include rustic looking hand painted skulls, pumpkin, and black vintage foliage and ribbon. Everything has a very cool looking white/gray and black color. At the bottom is a distressed hand painted sign with black stenciled lettering that reads "BEWARE All Who Enter", with a black spider and small black key as accents. Perfect for creating a spooky Gothic or Steampunk look.
28″ Steampunk Skeleton Halloween Wreath
This wreath is made from a 24 inch grapevine wreath but measures around 28 inches with all decorations in tact. This design features the delightfully frightening "Mr. Bones", a full skeleton fellow who is wearing a black Steampunk top hat with details such as a tiny skull, teeny feather, and a linen/lace spiderweb ribbon embellishment. Mr. Bones also wears a hand made bow tie, and hand made black vest with small watch face buttons. Wreath is further embellished with white ribbon with black dancing skeletons, black floral accents, and black and white hand painted pumpkin and gourds. Small, hand painted white sign reads "Enter If You Dare"in black lettering. Makes a fabulous decorative Halloween accent!
OOAK Steampunk Collage Top Hat Wreath w/Vintage Noisemaker
This creation consists of a 10 inch wire wreath form and a full sized costume top hat, surrounded by both natural and black raffia. Accents include a hand made star covered in paper from an old hymnal, a black and white vintage button, and black and white polka dot covered ribbon. The top hat is decorated with decoupage graphics and miscellaneous items. A skeleton and gauze ghost are sprinkled in amongst the raffia.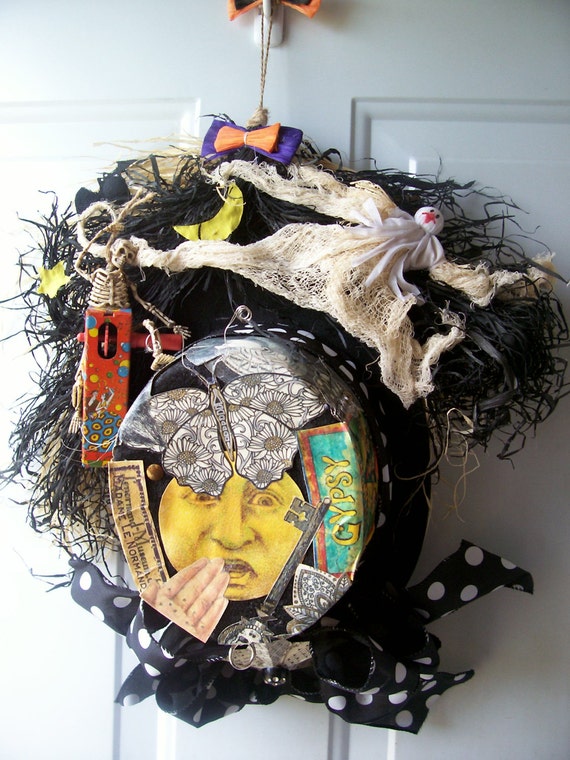 OOAK Steampunk Collage Top Hat Wreath

28″ We're All Mad Here Wreath
This is a 24 inch grapevine wreath that measure around 28 inches with decorations. Mr. Bones make another appearance in his Steampunk Derby hat embellished with gears. He wears a tiny handmade black vest complete with metal watch face buttons and has some keys on a chain tucked into his pocket. Decorated with black and copper colored ribbons and a variety of metal gears. Handmade sign in wreath center reads "We're All Mad Here." Special feature of wreath is a battery operated pressure valve, complete with lights and sounds when activated.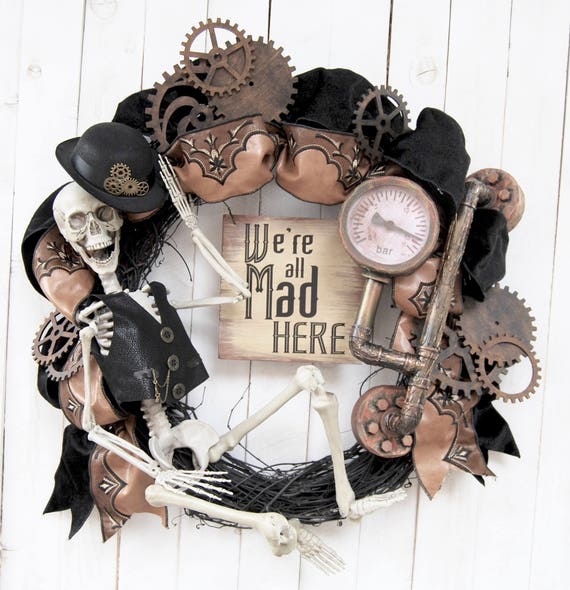 28″ Steampunk Halloween Wreath

28″ Skeleton Halloween Welcome Wreath
This adorable wreath features Mr. Bone's lovely bride, Mrs. Bones, Mistress of the Night. She is decked out in her finest top hat with black ribbon and flower, and wears a black shawl cape. She is surrounded on the upper half of the wreath, by red mums, black roes, spooky leaves and floral sprigs, gray and black pumpkins, and a random skull. A small black spider dangles from bottom of wreath. Handmade sign reads "Welcome: We've Been Dying To Meet You."
Mrs. Bones Welcome Foolish Mortals Skeleton Wreath
This is another wreath featuring Mrs. Bones, and this time she is wearing a velvet handmade drape, choker, and gothic necklace. She also dons a Victorian top hat with tiny ribbons and a black bow with orange embellishment in the center. Decorated with black and black and orange hand painted pumpkins, black floral accents, and orange ribbon with black skulls. Orange sign reads "Welcome Foolish Mortals"in black lettering.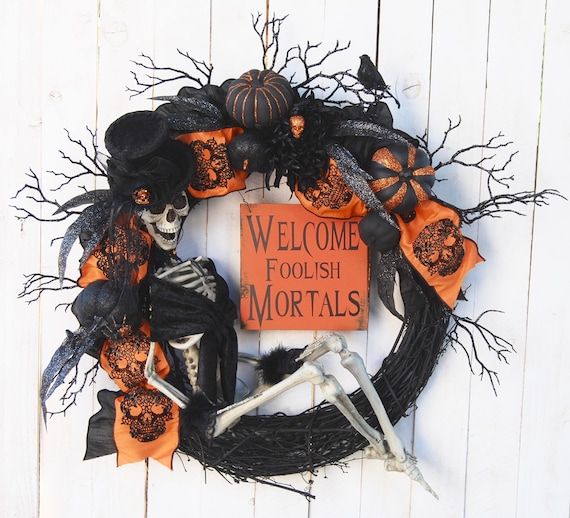 Mrs. Bones Skeleton Halloween Wreath

Skull Deco Mesh Halloween Wreath
This is a 24 inch deco mesh wreath done in orange, gold, silver, black, and white. Features a skull that is sparkly gold and wearing a top hat embellished with black and gold checkered patterns and silver sequins. Skeletal hand and springy gold coils are mixed in with various wide ribbons and bows in various patterns and color combinations. Ribbon patterns include stripes, checkered prints, and skeleton and skull prints.This wreath has a very Steampunk look to it.
28″ We're Dying to Meet You Skeleton Wreath
Mr. Bones is back on this 24 inch grapevine wreath that measure around 28 inches fully decorated. This gentleman skeleton wears a handmade black tie and a snazzy black top hat with a spider on it. A raven rests on his knee. This wreath is adorned with draping black florals, feathered picks, black ribbon and white ribbon with black jack-o-lanterns, and hand painted pumpkins. Sigh reads "Welcome: We've been dying to meet you" in black letters against white background. Makes a great home decoration, especially for a Haunted House party or event.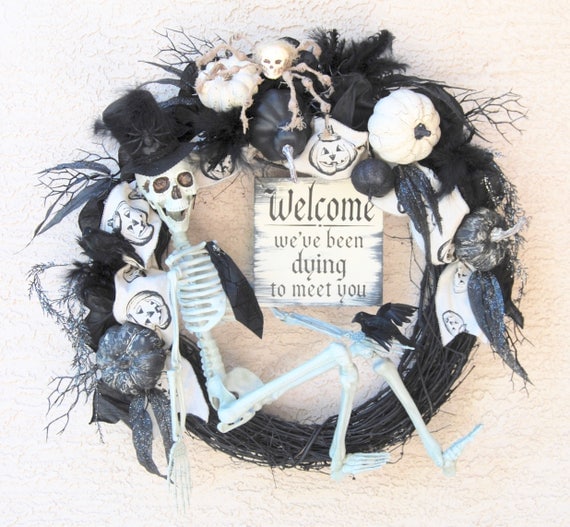 We're Dying to Meet You Wreath

Fall Front Door Wreath
This gorgeous Autumn wreath is constructed on a 24″ wire wreath form. Layered with premium poly jute burlap poufs and 10″ deco mesh ruffles for lots of added fullness. Quality wired ribbon streamers and two large bows in warm, rich colors of a fall day. Includes a wooden sign that reads "Welcome To Our Home."
Halloween Decoration Steampunk Wall Art
Wreath measures approximately 22 to 24 inches and is made from a black colored material resembling pine tree sprigs. Embellished with white feathers, wreath also has several ornaments in colors black/white/orange, a spiderweb with black spider, and various patterned ribbons and bows in black and white. In the center of the wreath is a silver-gray skull, wearing a large copper colored Steampunk top hat with goggles around the brim and a chain hanging across it sideways.
28″ Pirate Skeleton Wreath
Design features a 24 inch grapevine wreath painted black, with a 36 inch Mr. Bones as a spooky pirate. Skeleton wear black and brown striped pants and a brown pirate hat with skull and crossbones on it. A spider is crawling on him, and a bottle of rum hangs from one hand as he leans back on a pile of skulls. Decorated with black floral sprigs, black mesh type ribbon, brown burlap ribbon and a small black crow. Brown sign reads "Pirate's Life for Me" with small skull and two swords as crossbones.
Tomb Sweet Tomb Goth Punk Vampire sign
While not a wreath, this sign is still great for Halloween decor.This small sign says "Tomb Sweet Tomb" and hangs form blue, high quality, grosgrain ribbon. Grain of the wood shows through the text.
Pin to Save this Page for Later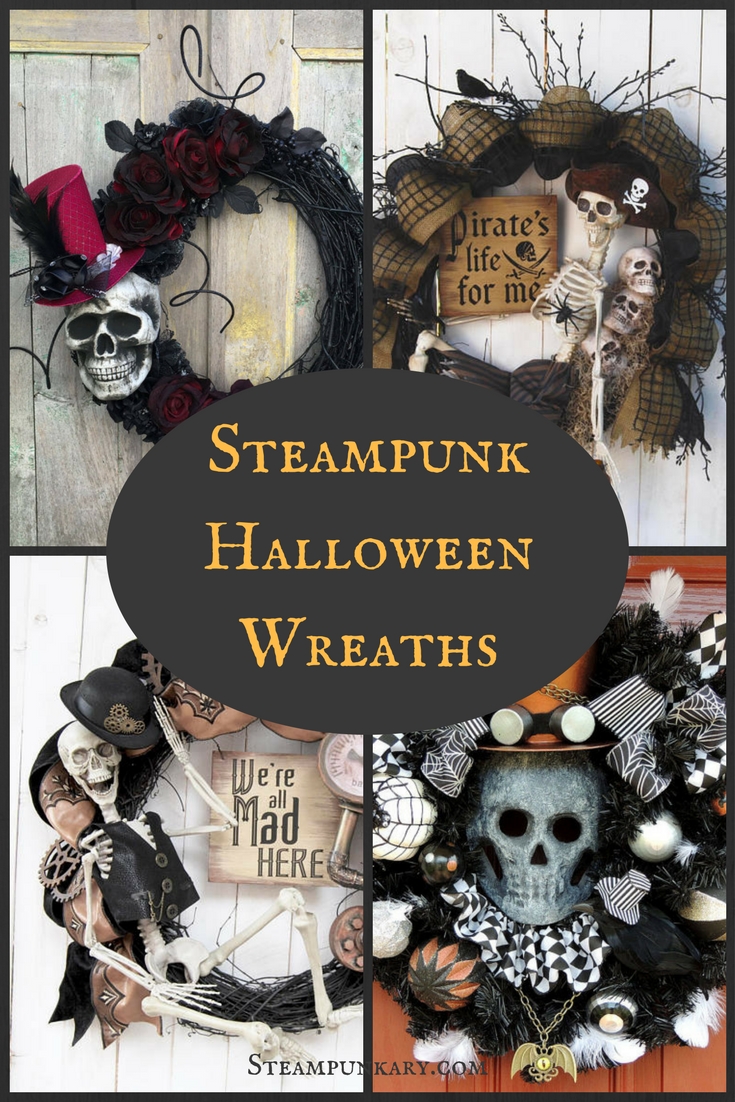 (Visited 949 times, 1 visits today)