Wreaths are a great way to decorate your home for any season or special occasion. They provide a fun way to express your interests, while at the same time welcoming guests to your home. Steampunk Halloween wreaths add a spooky, festive flair to any door, wall, or mantel, bringing a little something extra special to the holiday. Perfect for those who love a gothic accent to their Halloween. Here we look at some lovely Steampunk Halloween wreaths offered from various sellers on Etsy.
Updated 2021
Steampunk Halloween Wreath with Skull & Goggles
This fun Steampunk Halloween Wreath features a central skull with a top hat and goggles. The rest of the decorations surround the skull in colors including black, white, red, and purple, just right for a Gothic Halloween. This wreath is sure to please anyone who loves Steampunk.
 Steampunk Halloween Wreath with Skull

Steampunk Skeleton Wreath
This terrific Steampunk Skeleton Wreath is made on an oval-shaped evergreen base. It is 33 x 26 x 14 inches in size. Decorated in colors of orange, black, and white, the wreath is a real eye-catching treat for your trick-or-treaters or holiday guests. All around the central skull wearing a top hat and goggles, you can find ribbons, gears, and fall symbols. Click to find out more about this Halloween wreath.
 Steampunk Skeleton Wreath

Halloween Front Door Gothic Rose Wreath
This is an 18-inch grapevine wreath that has been painted black and sealed. The wreath features a dapper-looking skull gentleman donning a festive maroon Steampunk top hat adorned with black feathers, a black satin rose, black ribbon, and white trim. The wreath is decorated on the entire left-hand side, with black floral leaves and berries and maroon and black silk roses. Makes the perfect Halloween decorative accent and fits especially well with a Victorian-themed decor.
Halloween Skeleton Wreath
This festive wreath is sure to be noticed when you hang it on your front door. Featuring an entire skeleton gentleman in top hat in the center, the wreath is decorated in black, white, and red throughout.  Look for mini skulls, black pumpkin and spiders, a skeleton rat, and a trick or treat sign.
 Halloween Skeleton Wreath

Victorian Steampunk Halloween Wreath
This wreath measures 36 x 20 inches. It features a skull and handmade vintage top hat with embellishments in a Victorian Steampunk theme. Other decorations include a cameo broach, gears and cogs, skeleton key, blush pink, teal, and navy blue florals accented around the top hat. A dainty skeleton hand and wrist is embellished with a black lace wristlet, cogs, gears, and a skull ring and chain sit atop her hat. Definitely different!
 Victorian Steampunk Halloween Wreath

Steampunk Halloween Whimsical Wreath
This 32 x 32-inch Steampunk Halloween Wreath is made to order, so allow extra time for it to be made when ordering. It is truly a stand-out accent for your front door to help celebrate Halloween. Featuring a central skeleton in top hat, the wreath has oodles of ribbons, florals, and spooky Halloween decorations in red, black and gold. Even a raven is sitting on this wreath (maybe to call "Nevermore.") Click through to get details and pricing.
 Steampunk Halloween Whimsical wreath

Steampunk Halloween Wreath
This big Halloween Wreath is centered around Mr. Skeleton. He is decked out in a velvet dress jacket with some extra bling on his jacket and hat. This wreath also features a black raven sitting on one of Mr. Skeleton's hands, while the other hand holds black roses for his bride. Get ready for spooky fun with this big Mr. Skeleton Halloween wreath. The wreath measures 36 x 17 x 9 inches. Lovely Halloween colors in black, white, and orange.
 Steampunk Halloween Wreath

Happy Halloween Wreath for Front Door
This 24 x 24 x 12-inch wreath is made on an evergreen base, with black and white mesh to fill the base. A large skeleton is all decked out in his top hat, bow tie, and a beautiful lace pumpkin! Beautiful ribbons are throughout the design in black orange and purple colors. A vintage tin sign with a skeleton scene is nestled on the left side. Other decorations include lovely flowers, glittery black roses, and black plastic tree branches which are strategically placed. Sure to get everyone excited for Halloween night. throughout. Super full & ready to hang in your home! Make sure to allow room for the skeleton's body to dangle below the wreath when measuring.
 Happy Halloween Wreath For Front Door

Halloween Wreath Steampunk Decor
Meet the prestigious Sir Steamford of Punkshire! This large wreath is anchored on a sturdy faux pine base and filled with tons of beautiful deco and jute mesh, designer ribbons, large distressed gold gears, coffee and black colored flowers accents, hanging glitter branches with jewels for a little bling, and a huge handmade rag bow. All these decorations are centered around a giant oversized skull embellished with gears, a top hat, and goggles.
Remember that this is handmade which means each wreath is slightly different from the picture. It measures approximately 38″ from top of the wreath to bottom of bow tails, 22″ wide, and 10 – 12″ deep.
This creation is made to order. Please see listing details for current creation and shipping time estimate.
 Halloween Wreath Steampunk Decor

Steampunk Woman Mannequin Wreath
This unique Steampunk Woman Wreath is designed using an oval evergreen base. Added on top of the wreath base are gold, burlap, black, and rose gold deco mesh fillers for fullness. The central mannequin face is hand-painted styrofoam with a handmade top hat embellished with feathers and gears.
This incredible rag bow is so awesome it will wow your Halloween visitors. The bow is made with metallic golds, black, white, and bronze colors. You'll find lace, beads, and huge Halloween ornaments and pumpkins throughout. Click through below for product pricing and detaisl.
 Steampunk Wreath

Elegant Gothic Black Halloween Wreath
This Elegant Gothic Halloween Wreath is a sophisticated decoration for Halloween, and can also be used throughout the year for a Gothic home decor look. This stunning wreath features black and dark red roses, midnight purple berries, and wine red feathers with an elegant handmade lace ribbon. All of these elements are used to decorate a 14-inch natural grapevine wreath base. To see more pictures, click below.
 Elegant Gothic Black Halloween Wreath

Mr. Bones Skeleton Door Wreath Decoration
This Skeleton Door Wreath features an off-center oversized Steampunk Skeleton holding a velvet pumpkin and wearing a top hat. Mr. Bones is surrounded by lime green, black and purple decorations to make a creepy door or mantle decoration for your Halloween party. Mr. Skeleton is just hanging around waiting to greet you when you come home on a black grapevine wreath base. Complete and ready to ship to your crypt today.
 Mr. Bones Skeleton Door Wreath Decoration

Halloween Decoration Steampunk Wall Art
Wreath measures approximately 22 to 24 inches and is made from a black colored material resembling pine tree sprigs. Embellished with white feathers, wreath also has several ornaments in colors black/white/orange, a spiderweb with black spider, and various patterned ribbons and bows in black and white. In the center of the wreath is a silver-gray skull, wearing a large copper colored Steampunk top hat with goggles around the brim and a chain hanging across it sideways.
Steampunk Halloween Wreath
This large Steampunk Halloween Wreath is sure to be a standout statement when you put it on your front door. The wreath measures approximately 36 x 35 x 18 inches in size. The featured colors for this design are black, gray, and orange centered around a large skull with a top hat and Steampunk goggles. Additional decorations include a small skull, spider, and ace of spades on the left of his hat. There is also a black lace pumpkin and an orange rose to the left of his jaw, and a large gray jeweled velvet designer bow under his right jaw, along with a striped orange and black ribbon to finish off the bow. There are striped orange and black glittery ribbons and diamond striped ribbon to round out the sides.
 Steampunk Halloween Wreath

Tomb Sweet Tomb Goth Punk Vampire sign
While not a wreath, this sign is still great for Halloween decor.This small sign says "Tomb Sweet Tomb" and hangs form blue, high quality, grosgrain ribbon. Grain of the wood shows through the text.
Pin this Image to Pinterest to Save this Page for Later
Love these ideas but don't have any time right now? Just bookmark this page or pin it to Pinterest to save it for later.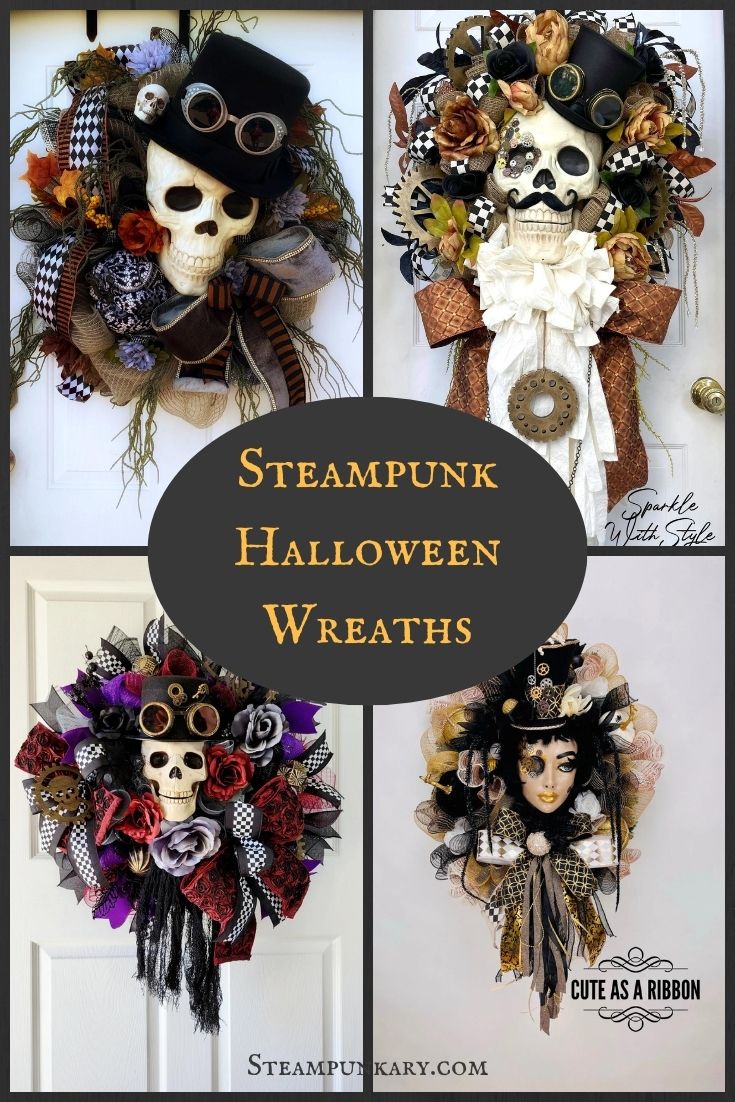 (Visited 1,776 times, 1 visits today)