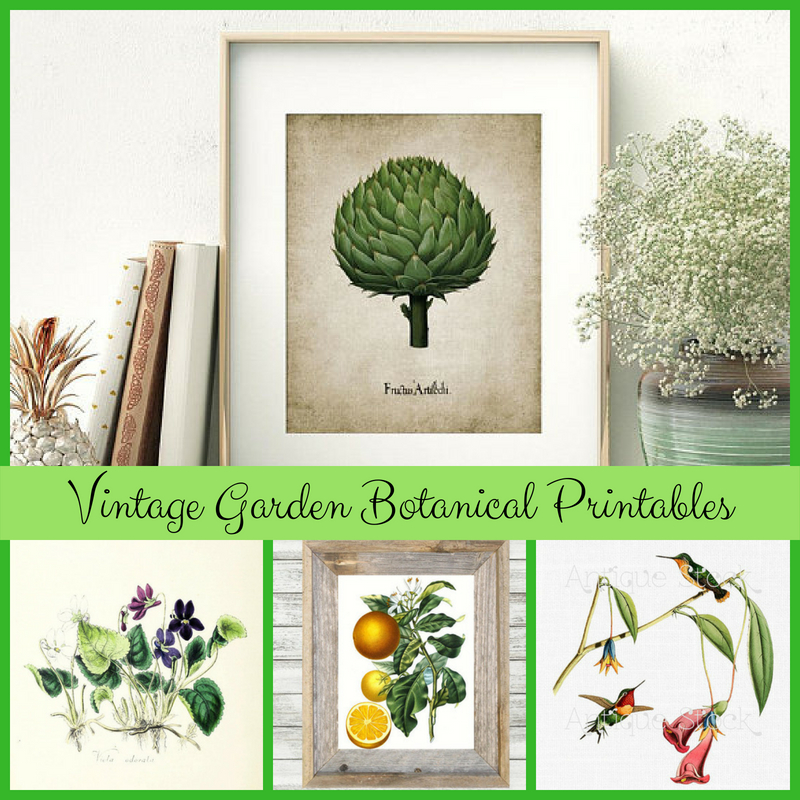 One of the best things about the internet for home decorators is the ability to find cheap artwork prints online. Printables are the hottest thing in home decor and party planning. If you don't have much of a decorating budget or you like to change out your decor accents seasonally, then printables are the perfect way to stay in style. Steampunkary loves printables and since we are at the start of summertime, our decor team has sought out some cool Vintage Garden Botantical Printables for seasonal decor and gifts. Print these out in the size you want, pop them into a frame and hang them in your kitchen, garden room or closed in patio. Or put them in a waterproof frame to hang outdoors. If you live in a dry climate, you can skip the last step and hang them outdoors where you gather.
Art Deco
This page is arranged by the store so that you can find all of the prints listed just by going to the first one. As you can imagine, these prints are only a selection of what is available. However, we think we picked the best ones from each shop (at least that we liked the best). To download any of these, click through the link and follow the instructions. These prints from Art Deco feature single images or images of one type of flower or fruit.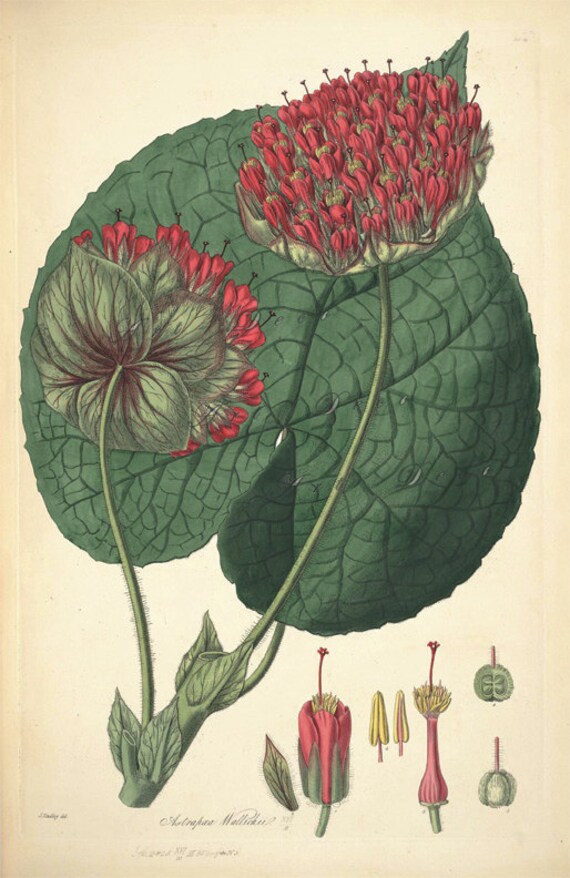 antique botanical print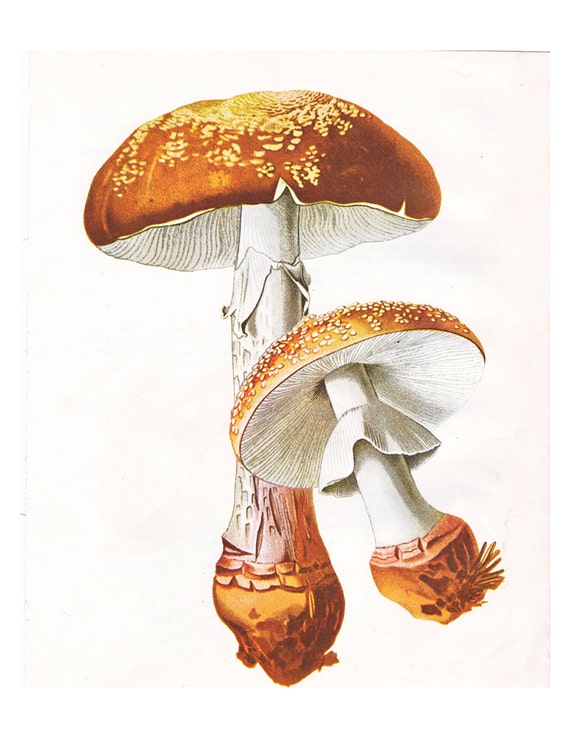 vintage mushroom print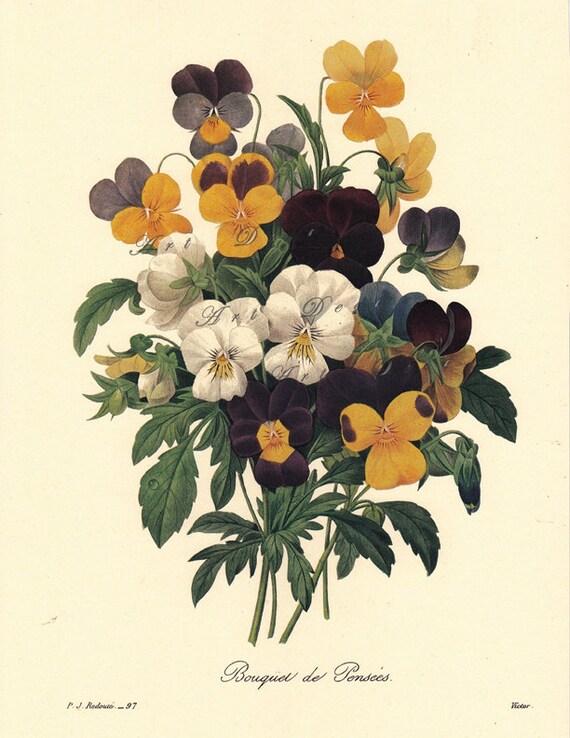 A Bouquet of Pansies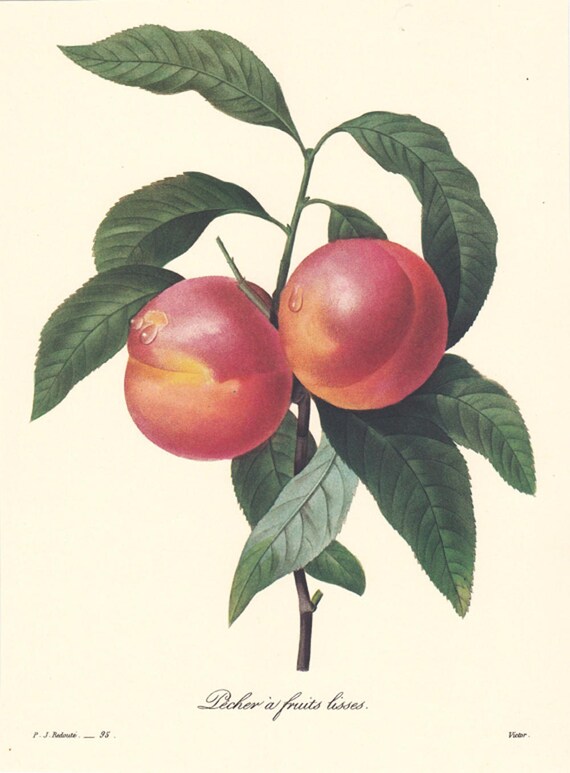 Pecher a Fruits Lisse, peaches

Instant Graphics
Instant Graphics has a lot of different Botanicals featuring both individual and group images as shown here. For a hallway or wall display, you can buy them in groupings like the Green Plant Print Set of 3 below. Remember that the frames would have to be purchased locally or at another shop online. For a higher-quality print, use a better printer and paper quality. Printers that print photographs well will also print these out very well.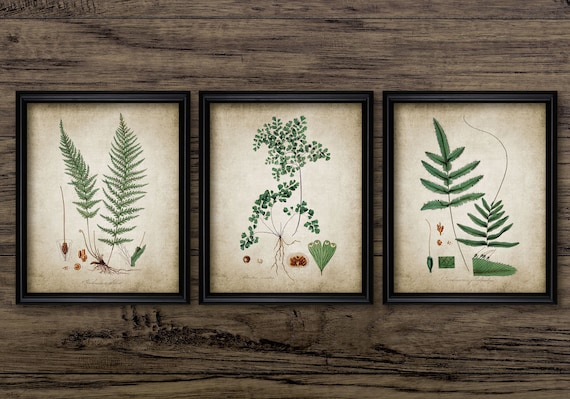 Green Plant Print Set of 3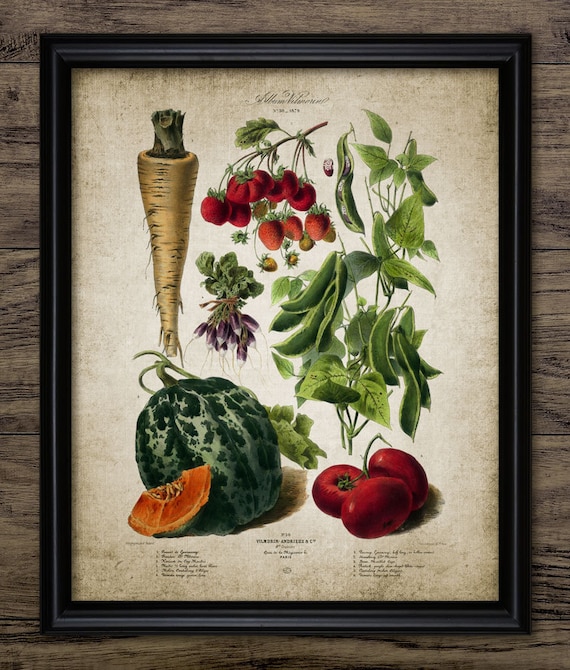 Kitchen Vegetable Plants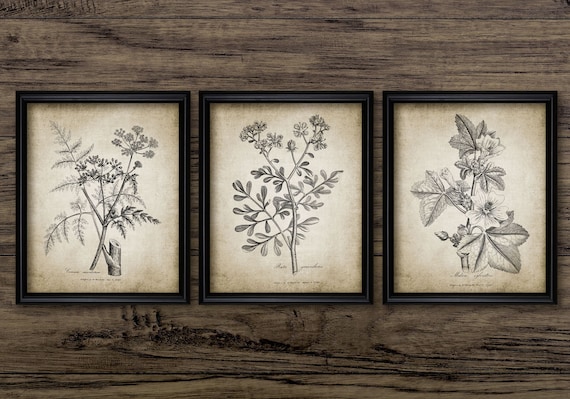 Antique Botanical Print Set of 3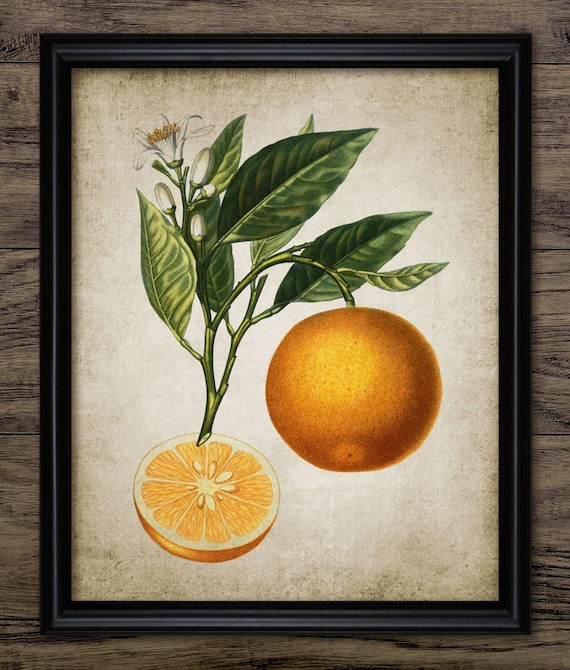 Orange Print

Knet Fine Art
These two prints below from Knet Fine Art are great as posters for a kitchen or vegetable garden setting. These can be printed out in several sizes for your usage. To learn more about these particular Botanical prints, just follow the links below.
Coups De Coeur
For teachers, these posters can be really valuable, especially in areas that mushrooms and other plants grow wild. These prints from Coups de Coeur feature poisonous plants that children and adults should stay away from. You can hang them framed or unframed but they will look better and last longer if you frame them.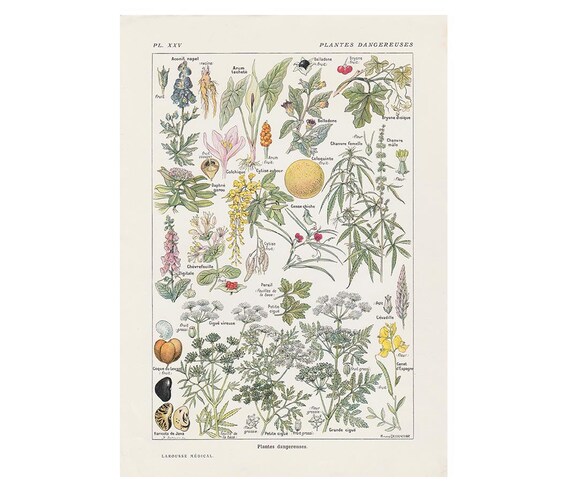 Dangerous Plants Printable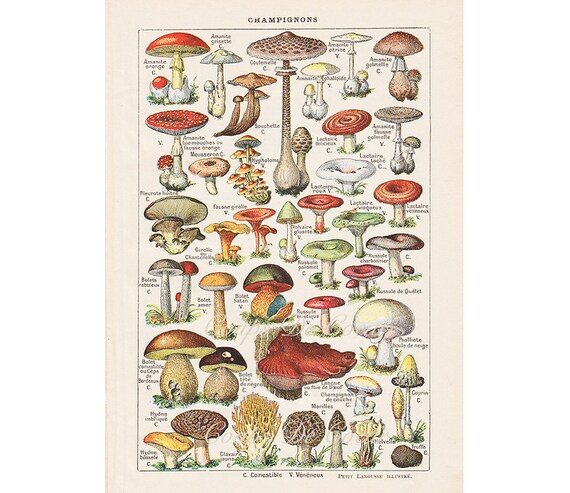 Colorful Poisonous Champignons

Animo Art Shop
Shown framed, these printable from Animo Art Shop display how lovely these can look decorating a hallway or room in your home or office. They are ideal for a garden room, kitchen or library, although you can hang them anywhere. You can select from several instant downloads including the individual ones such as the Palm Tree or group photos such as the Garden Flower printable. Click the links below for more information.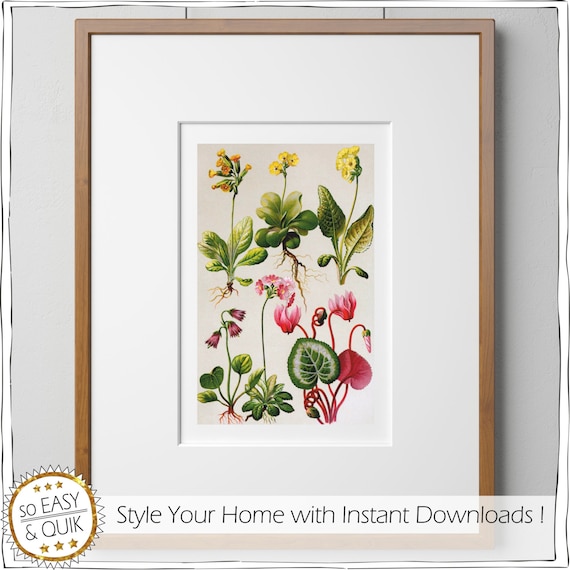 Garden Flower, Vintage, Printable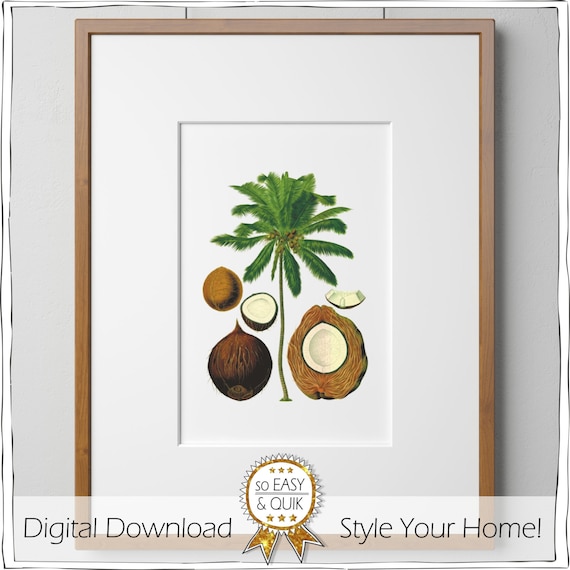 Art Posters, Vintage Palmtree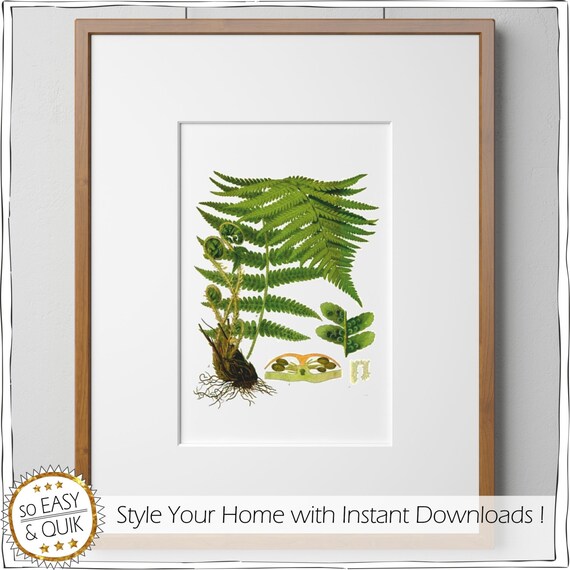 botanical prints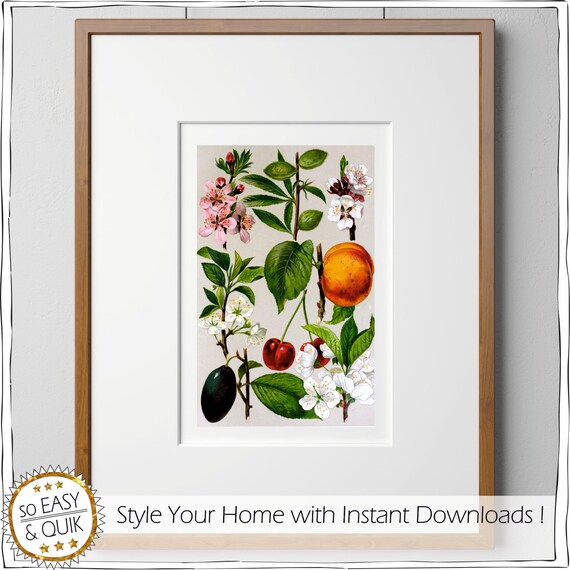 Vintage Fruits, Printable

Northern Printables
These stunning prints from Northern Printables feature lovely flowers and fruits that are ideal for a kitchen, office, garden center, restaurant or bedroom. You can easily match the style of frame to your room decor as shown with the rustic wood frames below. Remember that these printables are for you to print out at home, so if you want a frame, you need to order it separately. One cool idea is to put several same sized prints in a single frame and switch them out seasonally. However, these prints are very versatile. Click through the links below to see everything Northern Printables has to offer.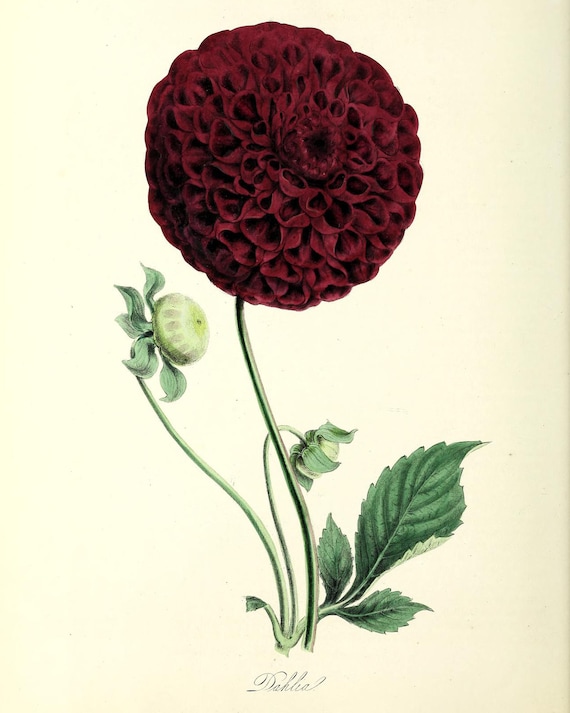 Vintage Botanical Illustrations Dahlia Printables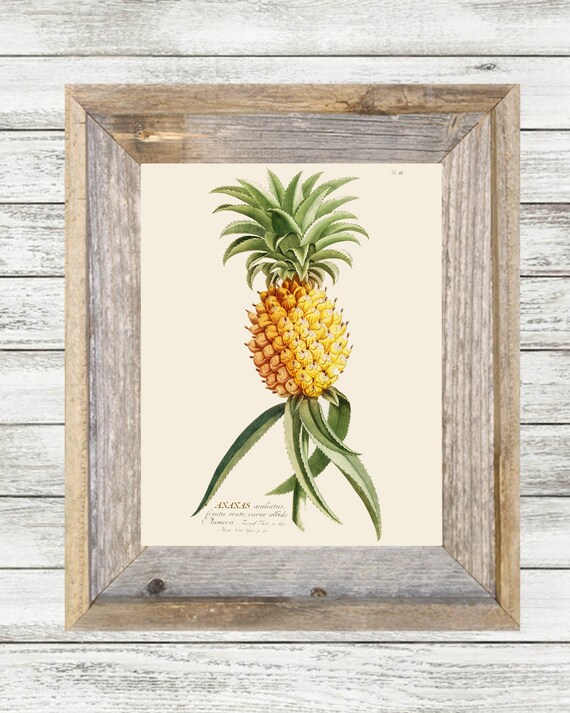 Vintage Botanical Pineapple Printable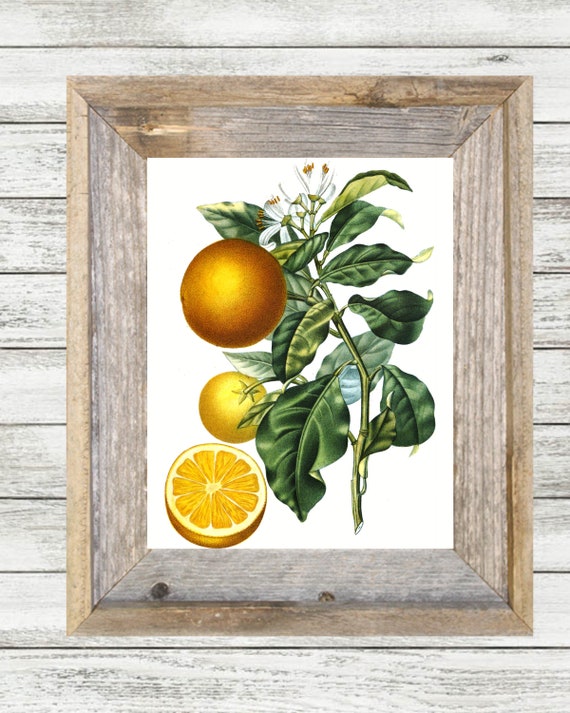 Vintage Orange Botanical Printable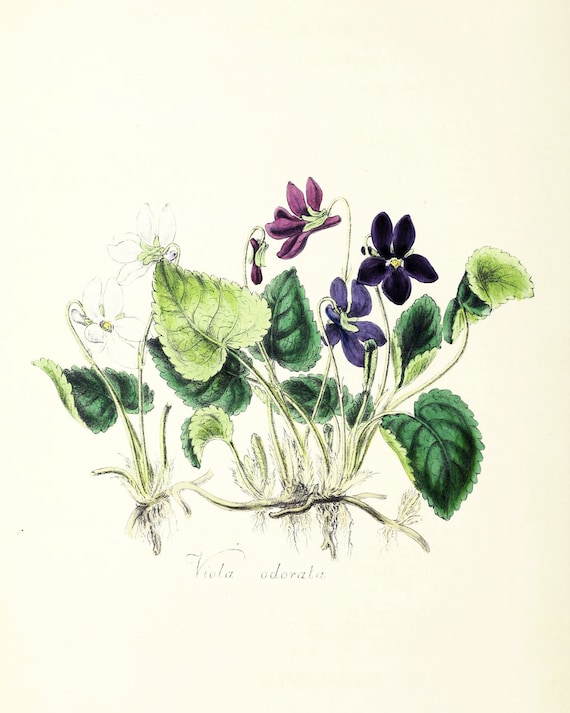 Vintage Violet Botanical Illustration Printables

Instant Graphics
Instant Graphics features many sets of prints that you can buy and display together as shown here. Whether you have room for one, two or four prints in a grouping, you will find lovely examples to use in your home. These printables are quite professional and look terrific in an office or restaurant setting. The Coffee and Tea Plant prints would be great in a coffee house or breakfast restaurant.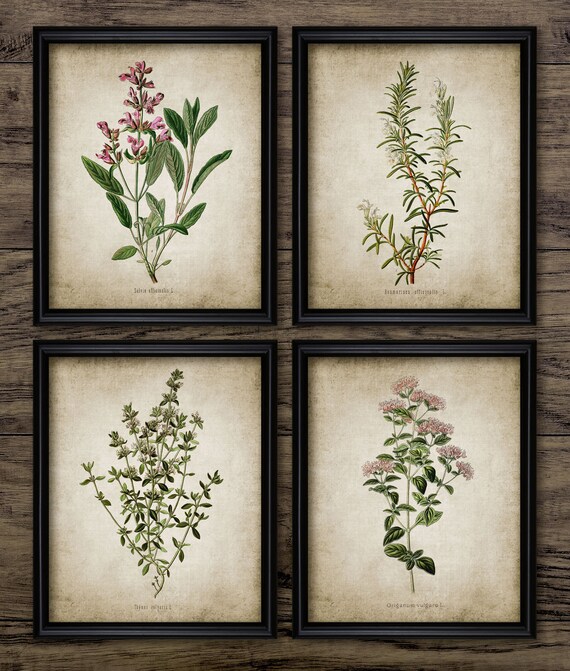 Herb Print Set of 4 – Oregano – Rosemary – Sage – Thyme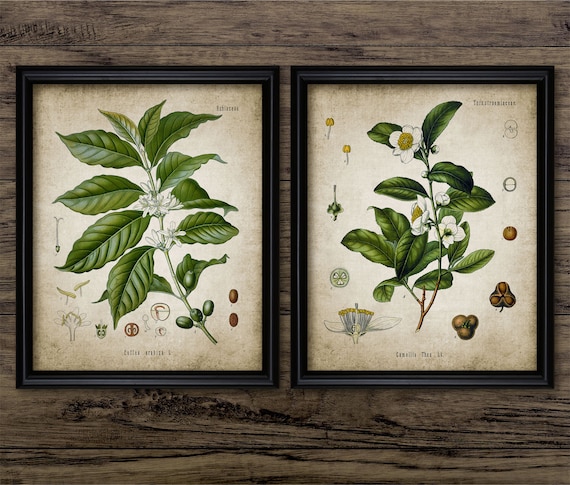 Tea & Coffee Plant Print Set Of 2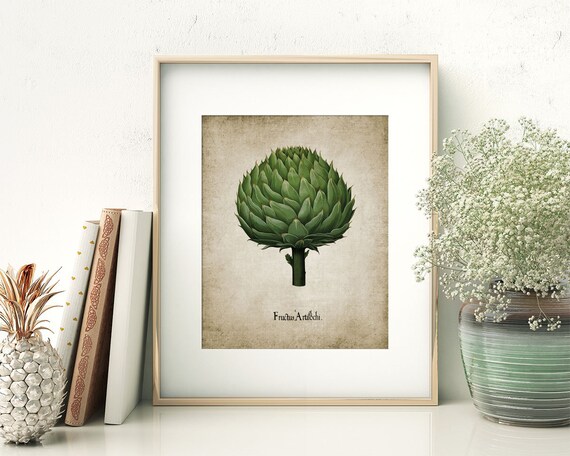 Artichoke Wall Art Print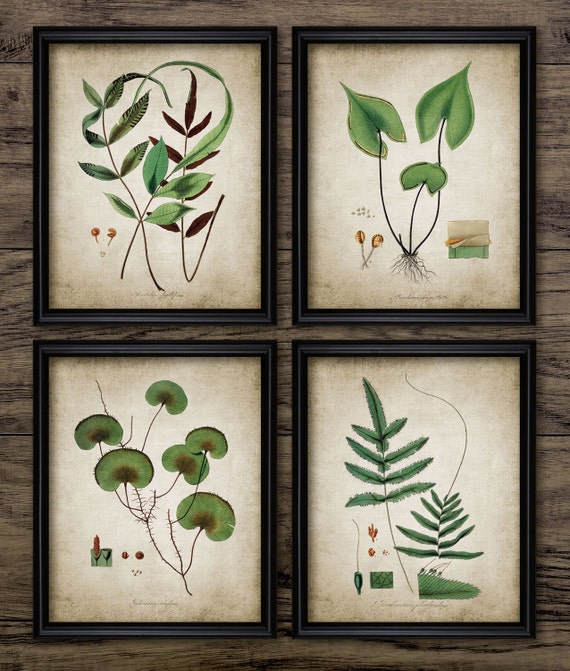 Green Plant Print Set of 4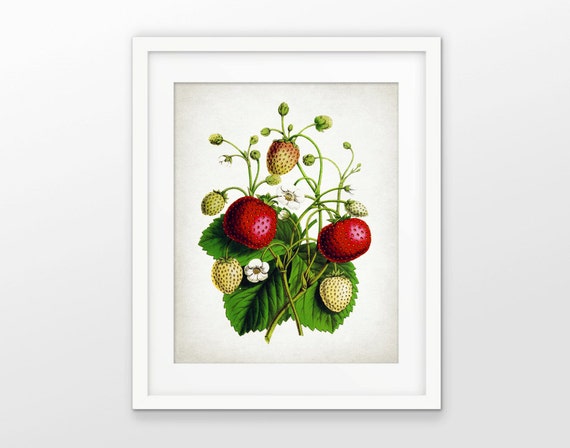 Strawberry Art Print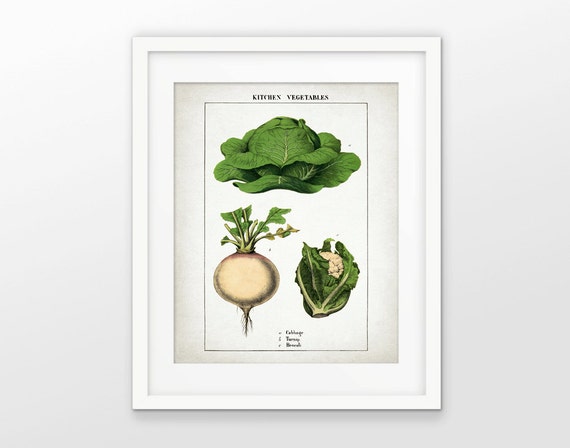 Vegetables Art Print

Antique Stock
These four prints from Antique Stock show hummingbirds sitting and flying among the flowers. If you love to watch birds in your garden or in the woods, these prints are perfect for your home. You can buy them all or just your favorite to frame and hang in your home office. Or put them in your potting shed to look at while you putter around planning your garden design. The watermarks shown in these images won't be on the printables you order for download.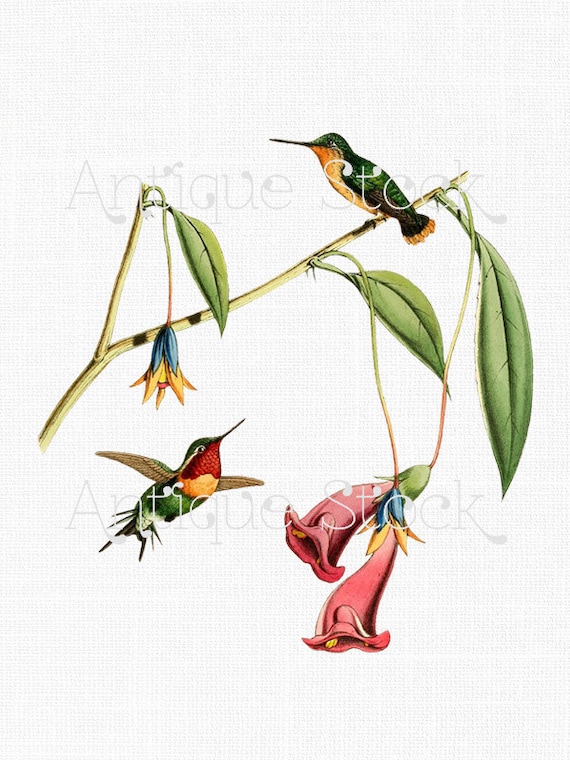 Hummingbird Digital Download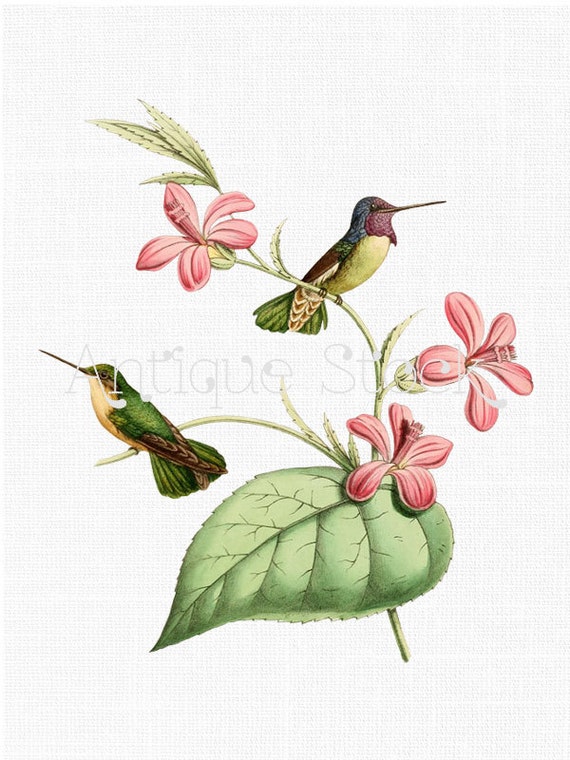 Birds Clip Art 'Costa's Hummingbird'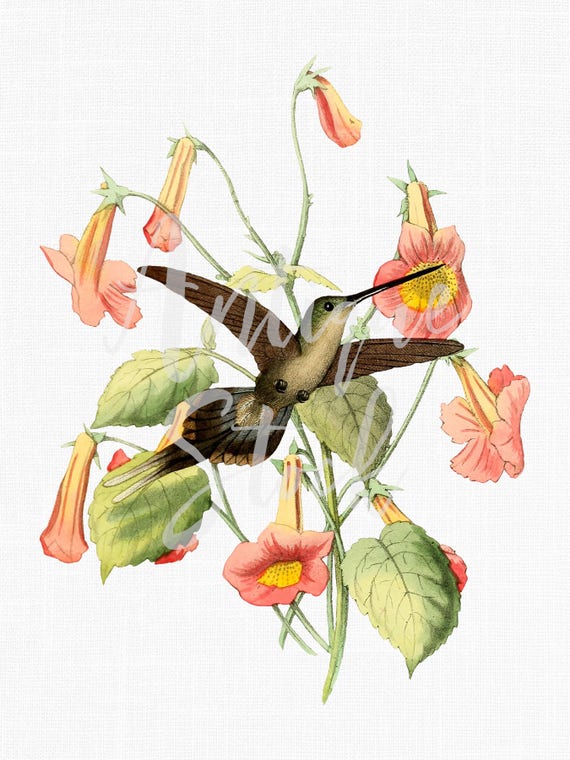 Bird Clipart 'Straight-billed Hermit' Digital Download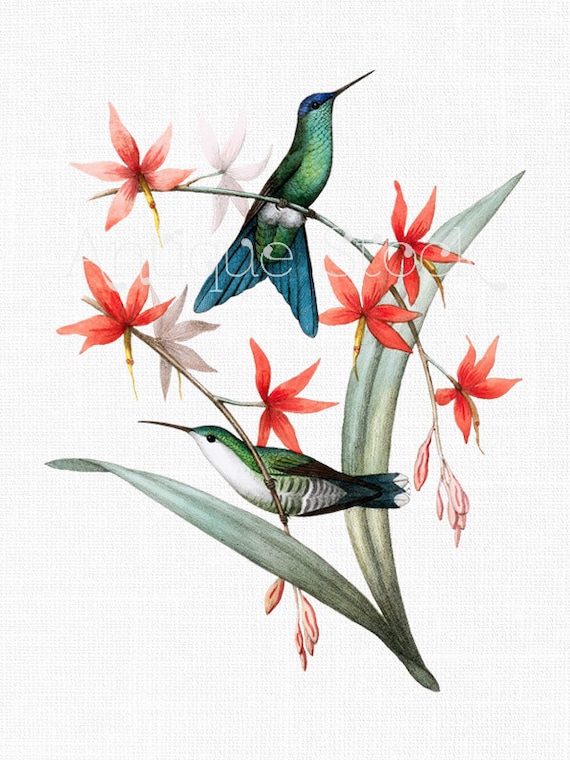 Hummingbirds Clipart Image 'Violet-capped Woodnymph'

Retro Magnifico
Retro Magnifico sells more than just printables but these images were so colorful, they had to be included on this page.  Each image evokes a vintage mood and can easily be the accent piece you need in your library, entryway or office. These aren't really the typical vintage botanical yet they still show us the period designs. Click through for more information.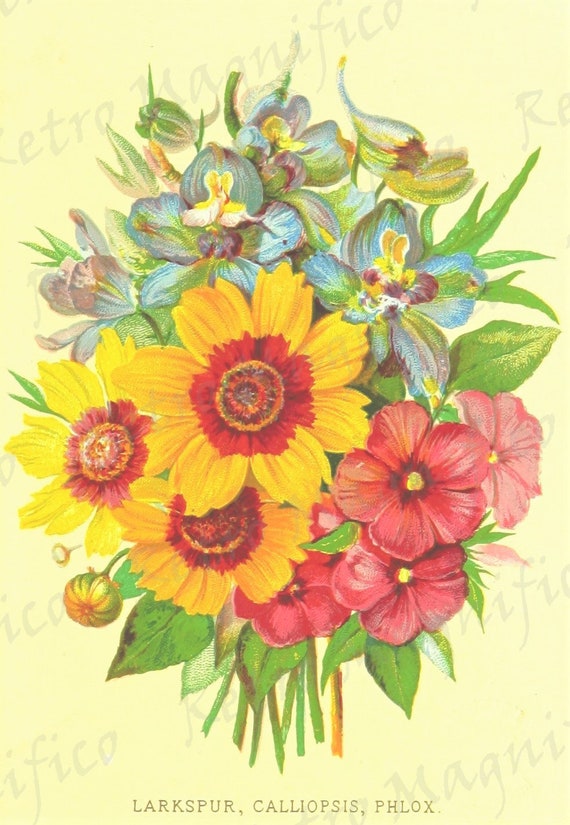 Antique Flowers, Botantical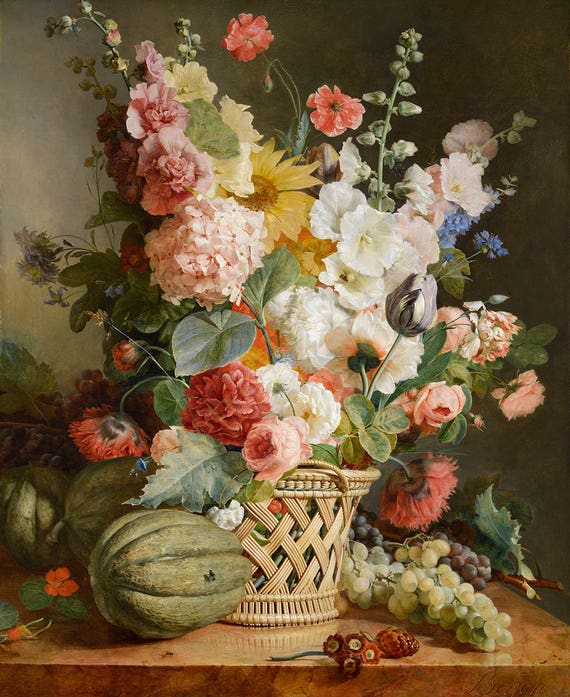 Floral flower still life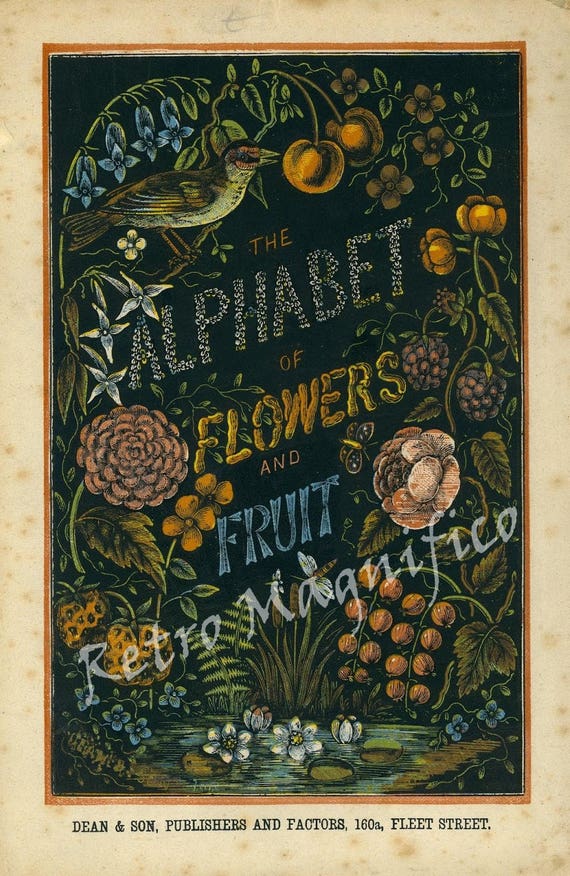 Alphabet of Flowers and Fruit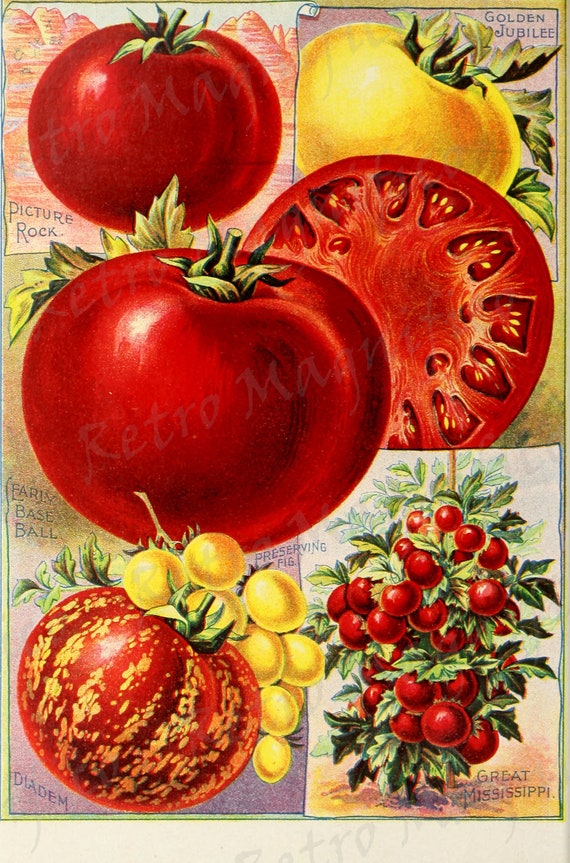 Tomatoes

Pin It for Later
Not ready to decorate a garden room right now? That's okay. Save this page by pinning the image below on your idea board on Pinterest.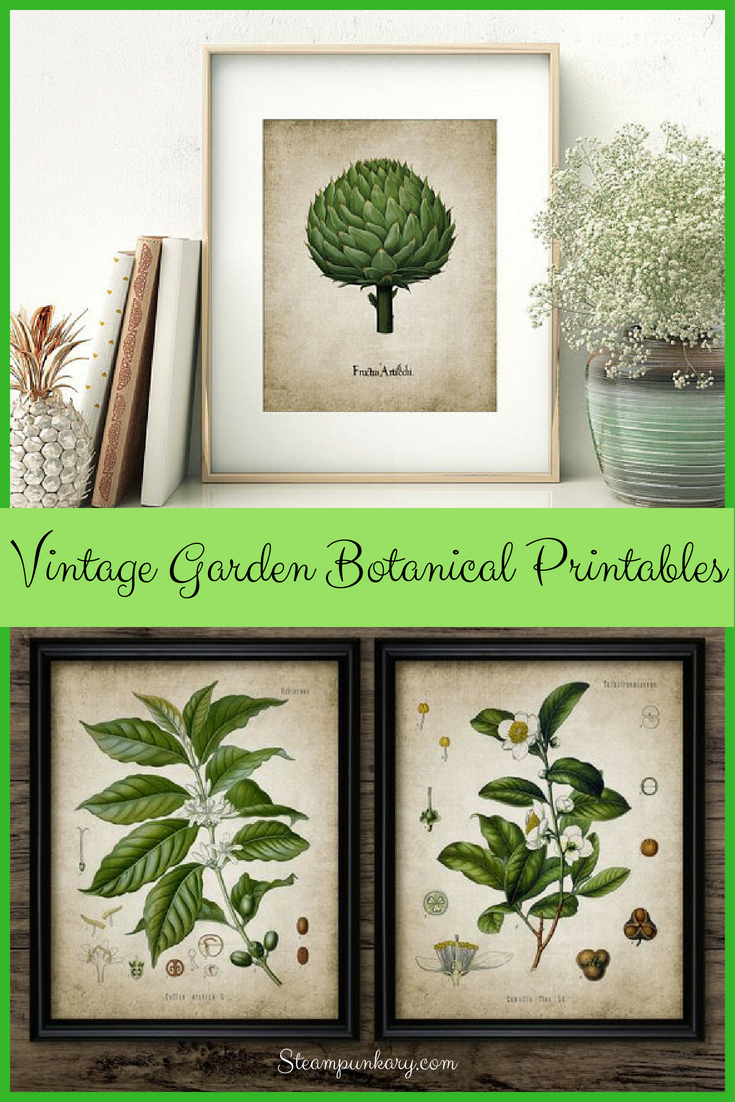 (Visited 791 times, 1 visits today)