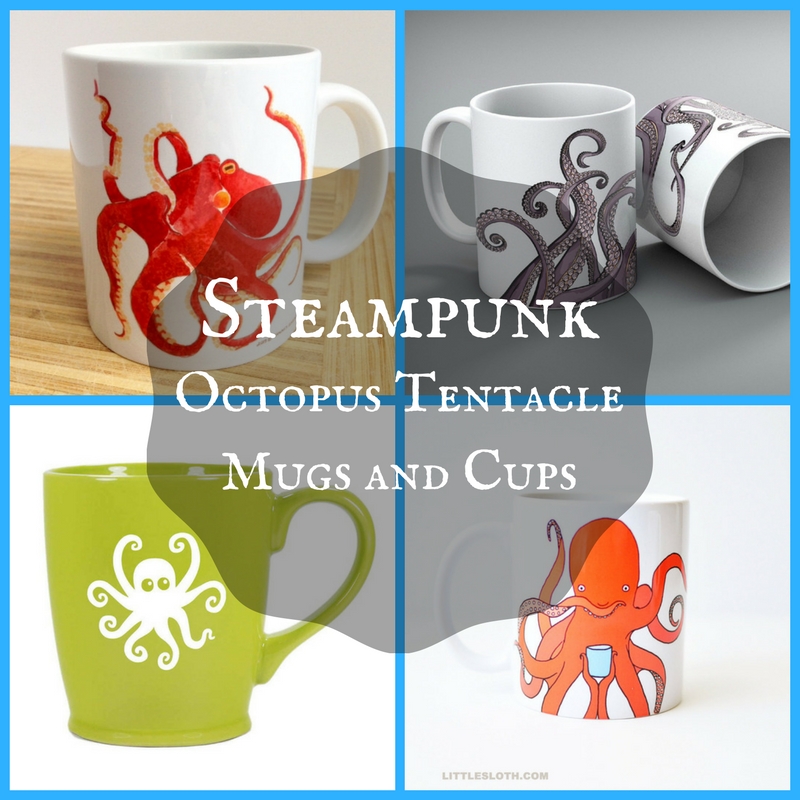 If you are looking for a small Valentine's gift for a steampunk fan, you may want to consider a steampunk coffee mug. We thought that we would offer an array of steampunk coffee mugs (or tea mugs) featuring one of steampunk's favorite motifs, the octopus. We went to two of our favorite vendors, Amazon and Etsy, to find funny, interesting and beautiful steampunk octopus tentacle mugs and cups that make lovely steampunk gifts for Valentine's Day, birthdays, housewarming or just because gifts for friends and loved ones. These mugs come in a range of prices, so there is an octopus mug for every budget starting at approximately $12 that will be appreciated by your gift recipient. Styles of mugs also range widely from cartoon portrayals to stunning artistic representations. Many of the mugs have matching dishes and serving pieces which you can browse on the product page or vendor shop. I think you will enjoy browsing this list just for fun even if the octopus is not your favorite steampunk theme.
Ceramic Octopus Coffee Mug
This hand-painted mug is cheerful, great for children and adults who love a colorful, friendly octopus. The tentacle forms the handle and your recipient can enjoy their coffee in this fantastic mug.
Pink Octopus Ceramic Coffee Mug
If you watch the television show "Criminal Minds," you may recognize this mug as the one used by Penelope Garcia. She has made this mug famous although it was pretty cool even before. Very affordable, this pink octopus mug will keep an eye on your work and be easy to find on your desk.
Pink Octopus Ceramic Coffee Mug
Boho Black and White Mug, Octopus
Dishwasher and microwave safe, this black and white octopus mug is decorated in a bohemian style and is one of a collection of mugs featuring different animals and themes.
Boho Black & White Mug, Octopus
Realistic Octopus Coffee Mug
For a more realistic octopus mug, this is a great choice. Tentacles out and ready, this octopus will guard your coffee easily. Great gift idea for anyone on your list.
Lisa Parker Cartoon Octopus Ceramic Mug
These darling cartoon octopus mugs are great for children and adults and make a fun addition to your mug collection. They can be put in the microwave safely but need to be washed by hand. Well worth it for these cute collectibles.
Lisa Parker Cartoon Octopus Ceramic Mug
Disney Parks Finding Dory Hank the Octopus Mug
If you love the Nemo and Dory movies from Disney, then this mug featuring Hank the Octopus is a great addition. Perfect for a child's cup, Hank is great at holding hot cocoa or milk instead of coffee.
Disney Parks Finding Dory Hank the Octopus Mug
Octopus Mug, Hand Painted Glass
This mug comes from Amazon's new handmade department. It is painted by an artist with special glass adhering paints, so needs to be washed by hand and kept from the microwave. Use for guests and special occasions or to give as a special gift to a loved one. Really lovely work.
Octopus Mug, Hand Painted Glass
Octopus Tentacles 16 oz. Mug
For those that like a larger mug for coffee or tea, this tentacles mug is a 16 oz. ceramic mug sure to keep your drink warm. Snatch these up for gifts for any occasion for the tentacle lovers you know.
OCTOPUS TENTACLES – Large 16 oz.
Set of Two Screen Printed Pint Glasses
These are pint glasses that are screen printed by the artist which also come from the new Amazon handmade department. Very affordable and a great gift for a beer drinker, instead of the standard coffee mug. They are dishwasher safe and certified safe for food.
Pint Glasses – Octopus Tentacles – Set of Two Screen Printed Pint Glasses
Surprise Octopus Coffee Mug
Similar to the hidden octopus mug shown earlier on the page, this mug has an octopus hidden inside. This one is a bit less creepy since you see the head of the octopus first, then the rest.
Nautical Octopus Tentacles Coffee Mug
This standard mug is printed in shades of ocean blues and depicts octopus tentacles reaching down. Great for someone with a love of octopi and tentacles who loves the ocean and the color blue.
Hand-Painted Octopus Mug
The rest of the octopus mugs on this page are from Etsy, which is one of the best places to find unique items. They are all handmade to some extent, although some are printed on a standard mug from an original design while others are completely handmade. You may also find matching dishware to some of these unique cups and mugs. This particular mug is adorable, kid-friendly and fun. This artist also makes greeting cards.
Octopus Hand Built Ceramic Pottery Mug
This is a hand-built ceramic mug with the octopus design incorporated into the mug design and glaze. You can buy one mug at a time or buy more than one. Love the colors on this mug. Completely handmade.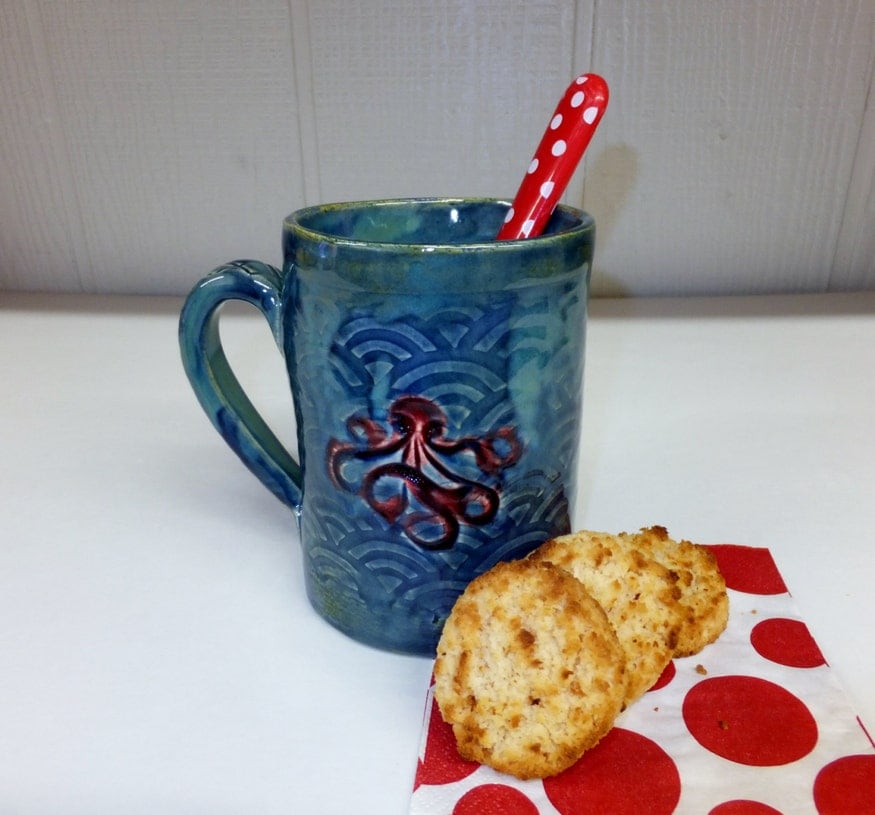 Octopus Hand Built Ceramic Pottery Mug

Octopus Mug
There is something cool about the tentacles of an octopus, and this mug features tentacles in fine detail. Mugs come in a variety of colors and you can peruse the tentacles to your heart's delight.
Octopus Mug Watercolor Design
This octopus mug is so beautiful with a watercolor design on a ceramic mug. Dishwasher safe and microwave safe, this is a great addition to your nautical mug collection. To see the matching tea towel, follow this link.
Octopus Tentacles Mug
Brightly colored tentacle mugs can be mixed and matched. Pink and mint green are great choices for outdoors in spring and summer. Terrific for Mother's Day or any occasion.
Set of 2 Navy Blue Octopus Mugs
These incredible navy blue octopus mugs have matching dishes, platters, cups and plates among an array of nautical patterns to match. You can get these lovely items by looking through the artist's store. A great way to create a dishware list for a bridal registry or for a seaside cottage. Buy pieces one at a time or in groups. So cool.
Octopus Handmade Ceramic Mug
Lovely handmade octopus mug that features hand-glazed ocean colors. Beautiful relief shows octopus and all its tentacles.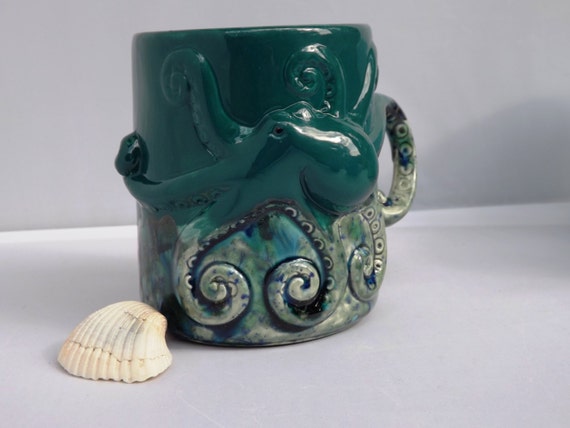 Octopus Mug Handmade Ceramic Mug

Kraken Tentacle Mug
This cast resin mug has a real steampunk appeal. Has a stainless steel cup insert and is food-safe. Great for a steampunk fan.
Octopus Mug – Choose Your Nautical Cup Color
This adorable mug is sandblasted leaving a design that will never come off. Available in several colors, you can fill your cupboard with these cheerful mugs for yourself or guests.
Order one or more porcelain octopus mugs to give as a gift or fill your own cupboard. Handmade and foodsafe for any occasion. Suckers are highlighted along the cup's handle.
Stoneware Octopus Mug
These handmade mugs come with octopus attached as part of the decoration. You do have to be careful to keep your octopus from drinking your coffee or tea. Each mug is slightly different since they are all handmade. They are stoneware making them dishwasher and microwave safe.
Octopus Mug – Sea Creature
Part of this artist's critter series, this mug depicts the octopus in the undersea garden in an array of bright and cheerful colors. Available in 11 oz or 15 oz sizes, microwave and dishwasher safe.
Octopus Tentacles Mug 12 oz.
Colorful mugs made to order in hand-thrown clay on a pottery wheel. Tentacles creeps across mug including inside. Allow 6 to 8 weeks for shipping. For more information click through to the product page.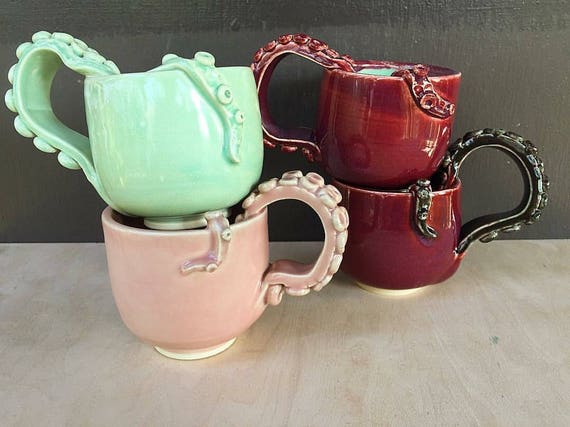 Made to Order Octopus Tentacle Handle Mug

Pin It for Later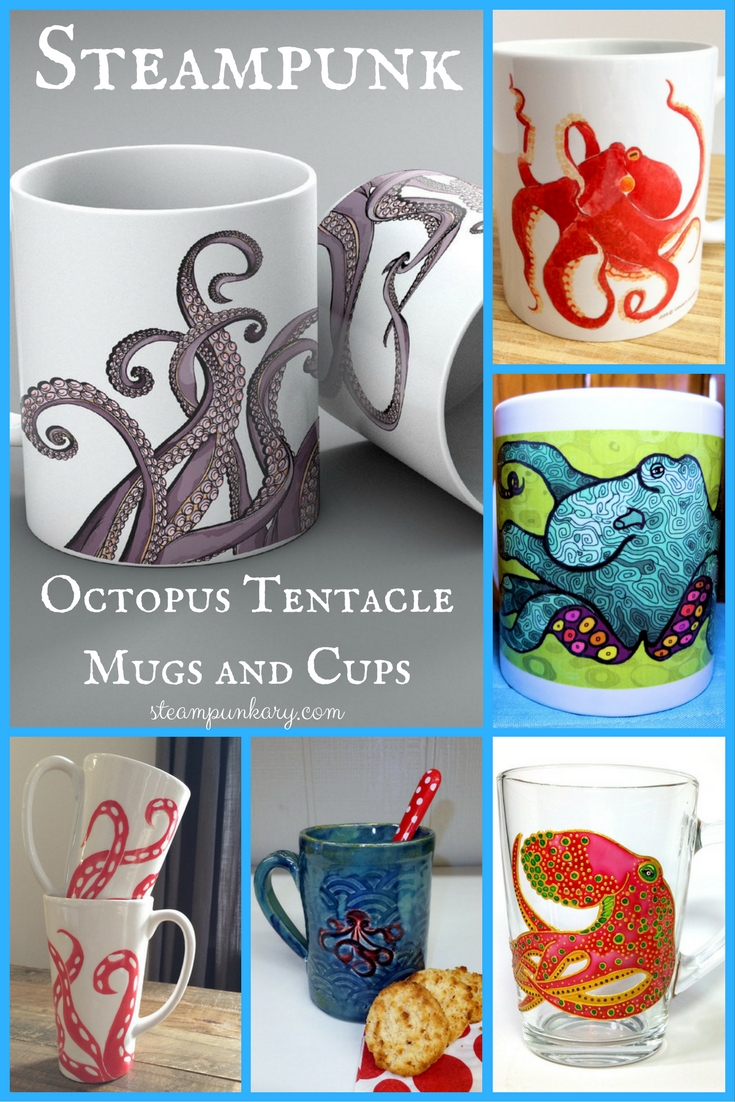 (Visited 1,506 times, 1 visits today)