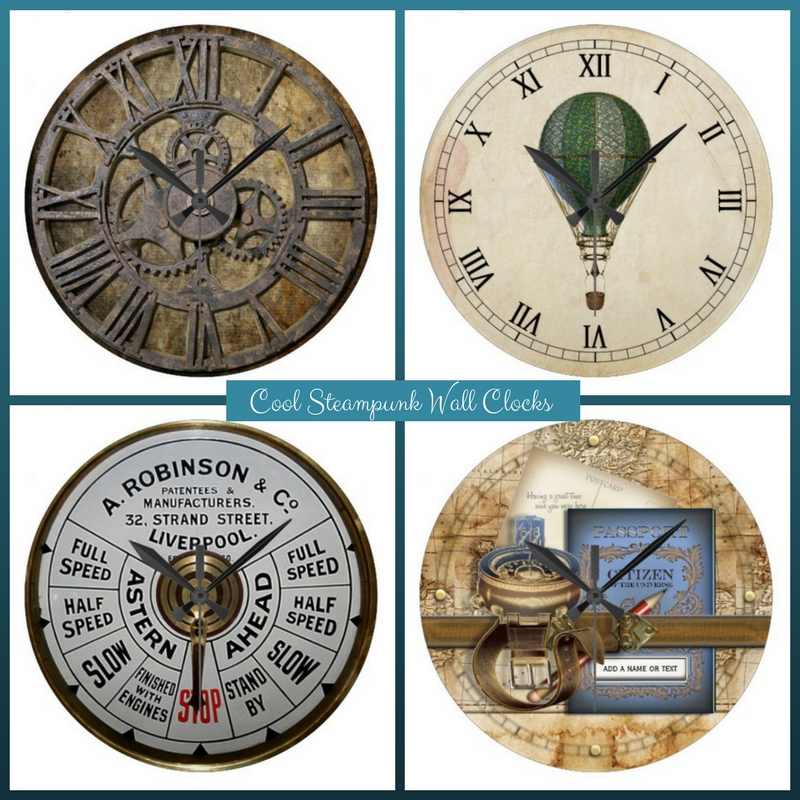 Sometimes the smallest details can really make a room pop. And you don't have to spend an arm and a leg. Take a look at these clocks. You can put these cool steampunk clocks anywhere in a room and they serve two functions, as art and time piece, adding to your steampunk vibe.
These clocks are from Zazzle, and you can customize them for your home or contact the artist to see if they can add any details for you. However, they are very cool just as they are and they are quite affordable for you to add to your room. To see more steampunk clocks besides those featured here, you can click through any of these links to the product page. You can also order these in more than one size, and some of them in more than one shape. Follow the link for measurements, sizes and pricing.
Steampunk Clock
This steampunk clock would look great in an office or kitchen. It has the antiqued style and clockwork gears in the center. Perfect gift for a housewarming.
Steampunk Clock

Hot Air Balloon Wall Clock
A big part of the steampunk culture is hot air balloon riding. This is a fun clock for your steampunk decor.
Steampunk Hot Air Balloon Wall Clock

Rustic Anchor Wall Clock
You will feel as if you were on a cargo ship with this rustic wall clock. Very realistic looking and perfect for an office space.
Nautical wall clock | boat anchor and wood panels

Steampunk Old Typewriter Keys Wall Clock
These old typewriter keys definitely are reminiscent of past days. Perfect for a steampunk or vintage-style room.
Old Typewriter Keys Square Wall Clock

More Steampunk Wall Clocks
These are just a few of the many steampunk themed clocks available on Zazzle. Most of these designs can be ordered on round or square clocks and in a variety of sizes and styles. Click through for pricing and measurements.
Math Geek's Vintage Multiplication Tables Square Wall Clock

Vintage Travel Personalized Clocks

All Geard Up Wallclocks

Steampunk Gears Square Wallclocks

3D Silver Cog Wall Clocks

Rusty Checkered SteamPunk Clocks

SteamPunk Clocks & Cogs

Steampunk – RR – The train dispatcher Wall Clocks

SteamPunk Gears Wallclocks

Creepy Paris Hotel Personalized Wall Clocks

sepia Victorian handsome guy Wallclock

Roman Spiral Wall Clock

Clockwork Fleur De Lis Large Clock

Steampunk style astronimical prague square wall clock

Steampunk 1 large clock

Pin It for Later
Like these clocks but not ready to buy? Pin this image for later on Pinterest so you remember it.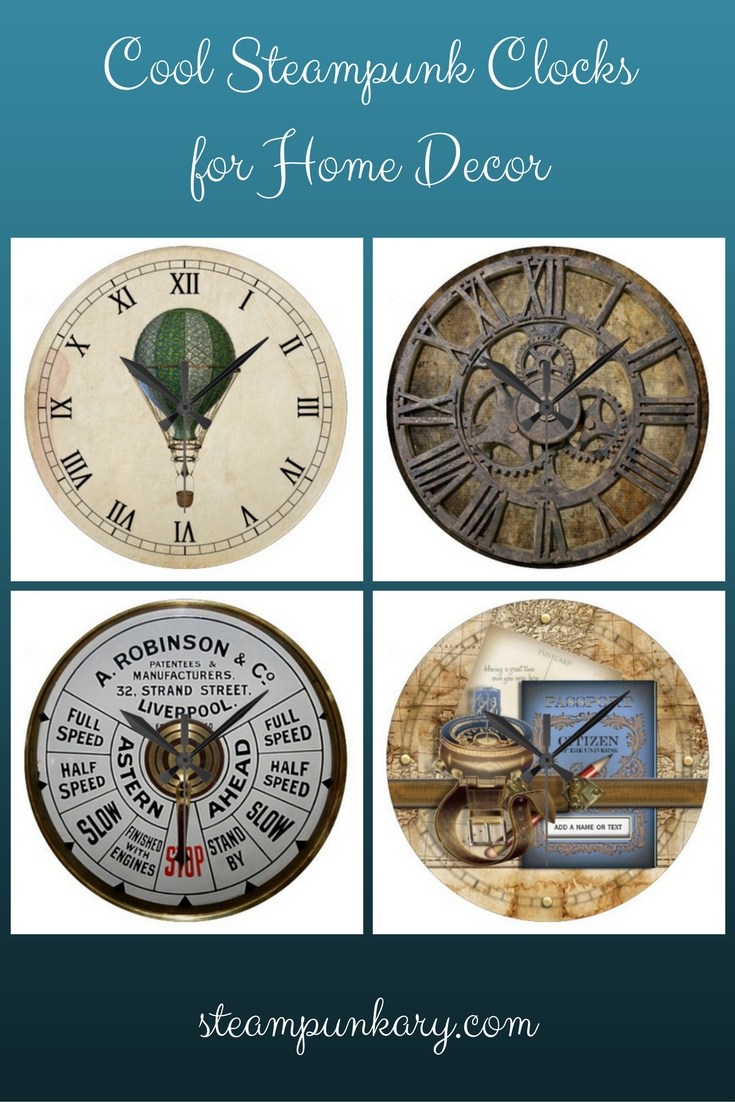 (Visited 4,641 times, 1 visits today)