If you're looking for the ultimate in Steampunk Halloween Crafting Printables, then we offer you this wonderful Mega Halloween Crafting Bundle from Vectoria Designs. This package is different from the one shown below, the Mega Halloween Party Bundle. Both of these bundles are 50% off retail price as we write this post, which makes them both a great deal for Halloween creativity. While Vectoria Designs has some printables in these packages that aren't Steampunk, you can use those for your friends, kids or community Halloween celebrations. We love this Mega Halloween Crafting Bundle so much that we are unpacking it on this page. We can't add all 300 sheets of printables here so to see the rest, click through the links below. One note regarding this package-it comes in ZIP file format, so you need to be able to download a ZIP and then use your own unzipping software to open it.
MEGA Halloween Crafting Bundle
When fall weather begins, many people start thinking about Halloween. Halloween can be trick-or-treating, private party with friends or big party with your community. With budgets tight, printable crafting supplies are one good way to save money on decorations, invitations, labels, and accessories for your Halloween event. That's why we are highlighting this Mega Halloween Crafting Bundle.
This bundle contains paper packs, cards, a digital scrapbooking kit, stationery, labels, tags and more. Perfect for making Halloween albums and journals, junk journals, cards, envelopes, signs and more. The bundle includes:
300+ high quality (300 dpi) 8.5″ x 11″ sheets for easy printing
print great on A4
JPG (and PNG for the digital scrapbooking kit elements)
about 1 GB in total in 6 zip folders – you need unzipping software
Since this bundle is too big for the standard Etsy download, you will receive a pdf with the download links instead. Just click and download.
For a Steampunk Halloween (and some things to use all year), this bundle will set you up with a lot of fun crafting supplies. This bundle is meant to complement the Mega Halloween Party Bundle below. To give you an idea of what is in this bundle, we are unpacking it on this page.
 MEGA Halloween Crafting Bundle

MEGA Halloween Party Bundle Printable
The MEGA Halloween Party Bundle is made to prepare your epic Halloween party and decorate your house. This bundle complements the bundle shown above. This includes:
300+ high quality (300 dpi) 8.5″ x 11″ sheets for easy printing
print great on A4
JPG files
about 700MB in total in 4 zip folders – you need unzipping software
Like the previous large bundle, this one is collected into ZIP files which you need to open using unzipping software. To see which files are in this second bundle, just click the link below. They are listed on the right hand side or the bottom of the product page (for desktop or mobile).
 MEGA Halloween Party Bundle Printable

7 Distressed Halloween Paper Packs
You can see below 2 of the 7 paper packs included in the MEGA Halloween Party Bundle. Most of them are Steampunk style, but there are some that are unique Halloween paper packs for a standard (un-Steampunk) Halloween. Obviously, you can mix and match them in any way that makes sense for your usage.
 Halloween Paper Pack, Skull Wallpapers

 Halloween Paper Pack, Scrapbook Paper

Over 50 Halloween Tags and Labels
There are so many Halloween Tags and Label packages that we lost count at 50. A new feature we are seeing on Vectoria Designs files are ink saver images. These print out in black and white without the background textures and colors. You can also have your peeps fill in the tags with your own design. We love the apothecary labels below because of their Victorian-style shapes.
 Halloween Labels, Apothecary Labels,

 Magic Party Printables, Scapbooking Ephemera

Halloween Junk Journal and Other Starter Kits
You don't need to have a party or even virtual party to use these printables. Although, it would be fun to compare your crafting to other people's. That you could certainly do virtually. This Mega Halloween Crafting Bundle several files for creating your own kits and/or junk journal. Here are two of the kits shown below.
 Halloween Junk Journal, Halloween Printables, Journal Kit

 Wicca Starter Kit, Witch Pack, Witch Box, Halloween Printable

Printable Halloween Stationary and Envelopes
These printable Halloween stationary files include envelopes too. You can send them in the mail or hand them out to people as invitations or thank you notes. You can use the stationary for your journal or letter writing. Mix and match the various styles for your use.
 Halloween Envelopes, Halloween Decorations, Digital Download,

 Edgar Allan Poe Papers, Writing Paper, Printable Paper

Printable Halloween Recipe Cards and Postcards
The bundle has a collection of various card styles for a range of uses. These two files below contain recipe cards and postcards. You can print them on cardstock to use for those purposes or print on paper for your junk journal. These look very Steampunk Halloweeny!
 Halloween Recipe Cards, Witch Recipe, Halloween Printable

 Edgar Allan Poe Postcards

Halloween Scrapbooking and Junk Journal Packs
Besides the categories listed on this page, there are a slew of scrapbooking and junk journal packs that can be used for other purposes. Signage, letter writing, crafting including decoupage are just some of the uses for these files. Below you can see printable elements or ephemera and 8.5 x 11 inch papers to print out.
 Halloween Junk Journal, Digital Paper Craft, Scrapbook Paper

 Haunted House Papers, Digital Paper, Scrapbook Paper, Junk Journal Printable

Save this Page of Printables for Later
Not ready to use these printables right now? That's great! Just pin this image to Pinterest to save it for later.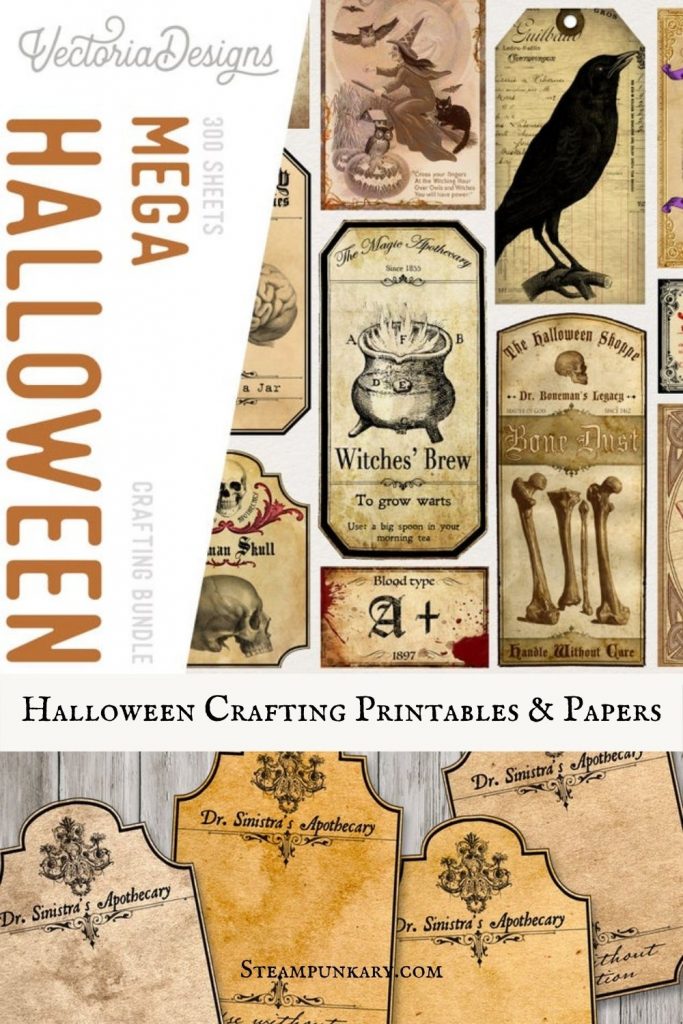 (Visited 770 times, 1 visits today)