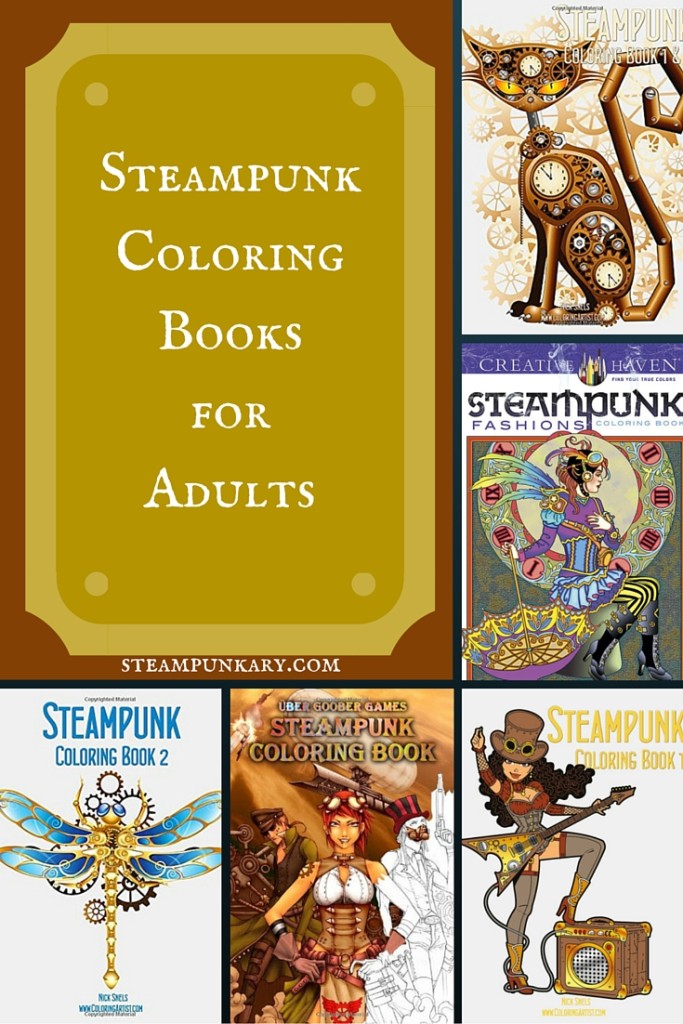 Coloring books aren't just for kids anymore. In fact, adult coloring books are becoming more and more popular as a way for adults to relax and unwind. Coloring can serve as a great way to alleviate the stress of the day, as well as provide creative inspiration. If you like the steampunk genre of books and fashion, there are also steampunk coloring books for adults that can serve a dual purpose, providing inspiration for great steampunk costumes and DIY projects. Steampunk coloring books also make great gift ideas for both teens and adults. Here are some suggestions for a few great steampunk coloring books for adults to enjoy.
Updated 2020
Steampunk Houses Coloring Book
We have updated this page to include new Steampunk coloring books that have been published recently. One of them is this cool Steampunk Houses Coloring Book which has 25 frameable Steampunk buildings including a bird house, powerhouse, lighthouse, mobile home, Mrs. Hobson walks the dog, pirate house, bears and bees, cloud temple, government installation, Jack's house, suburban fracking house, safe house, toxic house, treehouse, water house, Victorian steam house, jungle house, dragon hatchery, pool house and barber's house. Great for any fan of Steampunk.
 Steampunk Houses Coloring Book
Clockwork Dragon and Other Clockwork Coloring Books by Jessica Feinberg
This artist has created cool clockwork coloring books and also a book to demonstrate how you can create clockwork creatures. The designs are so exciting, and if you wish, you can do more than color them. Why not create clockwork creatures yourself? A great way to keep busy this winter.
 Fantastical Clockwork Coloring Book: Single Sided Edition
 Clockwork Pocket Coloring Book
 Metal Dragons & Other Rare Clockwork Creatures: A Field Guide
 How to Draw & Paint Fantastical Clockwork
Steampunk Ocean: A Nautical Adult Coloring Book Device
Enjoy 33 designs from artist Bonnita Moaby combining steampunk and the ocean. Spend time exploring the ocean and its creatures in the steampunk way, creating a bit of Zen by coloring in these unique images. Featuring maritime adventure, fantastic metal machines, deep sea romance and more fun images for you to color.
 Steampunk Ocean: A Nautical Adult Coloring Book Device
Here are other themed Adult Coloring Books by the same company. They have a slew of really great ones:
 Adult Coloring Book: Ocean Animal Patterns
 Mom & Daughter Coloring Book
 Adult Coloring Book: Stress Relieving Flower Patterns
 Color the Cosmos: A Stress Relieving Adult Coloring Book
 Adult Coloring Book: Stress Relieving Paisley Patterns
 Adult Coloring Book: Stress Relieving Animal Designs
 Dia De Los Muertos: Day of the Dead and Sugar Skull Coloring Book
 Coloring Book for Adults: Stress Relieving Stained Glass
 Coloring Book for Grown Ups: Creative Patterns for Adults
Steampunk Fashions Coloring Book
If you love steampunk fashion, you will enjoy coloring in these 40 pages of women wearing steampunk fashions. Each page gives you the opportunity to imagine yourself in these fashions at your next steampunk convention. Using vivid colors, you can give yourself some peace of mind and plan your next day out at the same time.
Steampunk Fashions Coloring Book: Adult Coloring Book

Creative Haven Steampunk Designs Coloring Book
This coloring book is designed for experienced colorists and features over thirty detailed drawings. Drawings include men and women wearing Victorian Steampunk fashions and the pictures are complete with Steampunk gadgets such as gears, antique clocks, and goggles. Interesting backgrounds include other elements associated with the Steampunk era such as hot-air balloons, Victrolas, machinery, and locomotives. One of the highly detailed Steampunk coloring books for adults, with perforated pages that are printed only on one side to allow easy removal so that you can display your masterpiece.
 Creative Haven Steampunk Designs Coloring Book
Creative Haven Steampunk Fashions Coloring Book
The 31 designs featured in this book take their inspiration from fashions in Steampunk literature. Enjoy relaxing with pictures of people wearing Victorian-era clothing complete with technological accessories, goggles, and clocks. Perforated pages feature one printed side, allowing the colorist to easily remove and display their artwork. This coloring book allows the colorist to escape into a world of post apocalyptic fashion and create the costumes in the color schemes of their choice.
 Steampunk Fashions Coloring Book

Creative Haven Steampunk Devices Coloring Book
This Steampunk coloring book for adults allows colorists to enjoy over thirty original designs featuring locomotives, flying machines, submarines, watches, spectacles, and other curious Steampunk contraptions. Pages are filled with a combination of the mechanical and organic world, giving artists highly detailed coloring pages that abound with Steampunk energy. Each page is perforated and printed only on one side. This allows for easy removal and display of the completed project pages.
 Steampunk Devices Coloring Book

Dover Steampunk Stained Glass Coloring Book
This book contains sixteen pages of people dressed in eccentric takes on Victorian fashions and contain themes that will take colorists away to a world of alternative reality, similar to that out of a futuristic fiction novel written by H.G. Wells. Enjoy page after page of these Steampunk characters building robots, conducting experiments, and operating submarines and flying machines. Be creative while getting lost in a Steampunk fantasy. A great way to pass your spare time and escape into a world of fantasy for awhile.
 Steampunk Stained Glass Coloring Book

UBER RPG Steampunk Coloring Book
Adults will enjoy this collection of ready to color pages featuring the works of Mizael Oliveira and Bill Bricker. Features artwork from the full line of Uber Goober Steampunk games and source books, and includes the Uncharted Steampunk, Universal Airship Combat System, the original Uber RPG Steampunk, Urban Steampunk, and the Umbrage of Automation. Highly detailed pages leave plenty of room for imagination and creativity as you color the stress away. We've also added Uber RPG game books below.
 Steampunk Coloring Book: by Uber Goober Games
 Uncharted Steampunk
 Umbrage of the Automaton and Professor Hawkstein's Steampunk Scavenger Hunt
 Über RPG: Steampunk
Adult Coloring Book – Steampunk Style
Use your colored pens and pencils to create beautiful pages full of fun Steampunk designs such as Victorian lace patterns, cogs, and gears. A great choice of adult coloring book when you're looking for something slightly out of the ordinary. Contains fifty pages of designs for your coloring enjoyment.
 Adult Coloring Book – Steampunk Style

More Coloring Books
We've updated and added to this group of coloring books to help you choose the perfect gift for someone else or even yourself. There are lots of great ideas depending on where your interest lies. Click through the links below to get more information on each book.
 Steampunk Animals – A Mechanical Coloring Adventure

 ColorIt Colorful World of Steampunk

 Steampunk Animals Coloring Book Ed 2

 Steampunk Coloring Book Ed. 1

 Coloring With Your Octopus

 The Steampunk Coloring and Activity Book

 Steampunk Animals Coloring Book

 Steampunk Darlings Coloring Book

 Good the Goblin Queen

 Ladies in Waiting

 The Floating Mansion

 Lady Mechanika Steampunk Coloring Book

 Lady Mechanika Steampunk Coloring Book Vol 2

 Sherri Baldy My-Besties Steampunk Coloring Book

 The Time Chamber: A Magical Story and Coloring Book (Time Adult Coloring Books)

(Visited 3,435 times, 1 visits today)