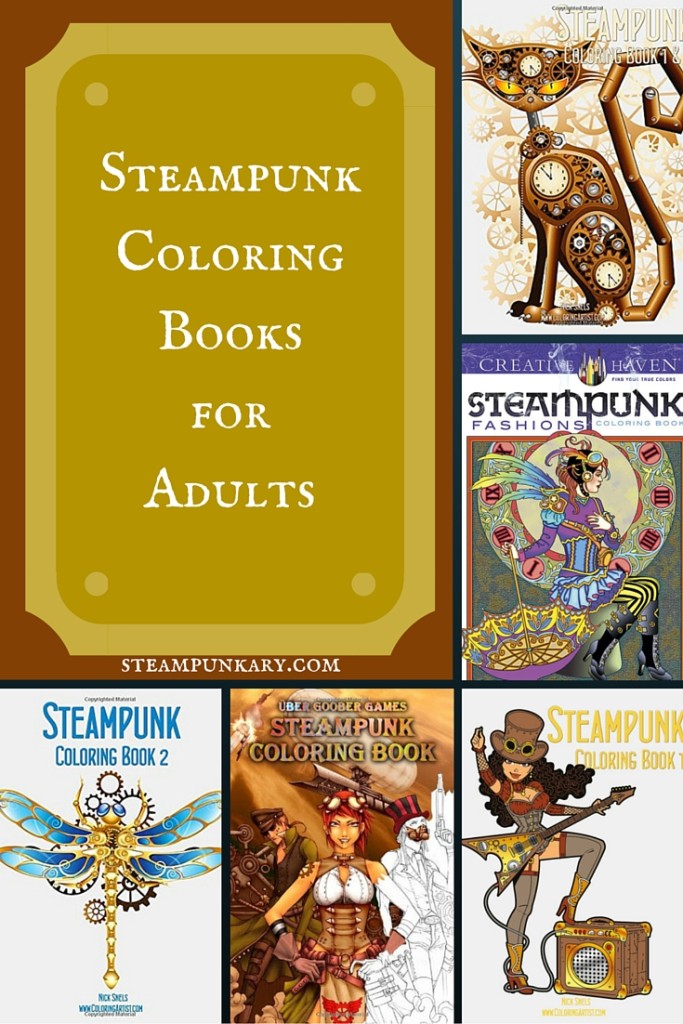 Coloring books aren't just for the kids anymore. In fact, adult coloring books are becoming more and more popular as a way for adults to relax and unwind. Coloring can serve as a great way to alleviate the stress of the day, as well as provide creative inspiration. If you like the steampunk genre of books and fashion, there are also steampunk coloring books for adults that can serve a dual purpose, providing inspiration for great steampunk costumes and DIY projects. Steampunk coloring books also make great gift ideas for both teens and adults. Here are some suggestions for a few great steampunk coloring books for adults to enjoy.
Steampunk Ocean: A Nautical Adult Coloring Book Device
Enjoy 33 designs from artist Bonnita Moaby combining steampunk and the ocean. Spend time exploring the ocean and its creatures in the steampunk way, creating a bit of Zen by coloring in these unique images. Featuring maritime adventure, fantastic metal machines, deep sea romance and more fun images for you to color.
Steampunk Ocean: A Nautical Adult Coloring Book Device

Steampunk Fashions Coloring Book
If you love steampunk fashion, you will enjoy coloring in these 40 pages of women wearing steampunk fashions. Each page gives you the opportunity to imagine yourself in these fashions at your next steampunk convention. Using vivid colors, you can give yourself some peace of mind and plan your next day out at the same time.
Steampunk Fashions Coloring Book: Adult Coloring Book

Steampunk Designs Coloring Book
This coloring book is designed for experienced colorists and features over thirty detailed drawings. Drawings include men and women wearing Victorian Steampunk fashions and the pictures are complete with Steampunk gadgets such as gears, antique clocks, and goggles. Interesting backgrounds include other elements associated with the Steampunk era such as hot-air balloons, Victrolas, machinery, and locomotives. One of the highly detailed Steampunk coloring books for adults, with perforated pages that are printed only on one side to allow easy removal so that you can display your masterpiece.
Steampunk Designs Coloring Book

Steampunk Fashions Coloring Book
The 31 designs featured in this book take their inspiration from fashions in Steampunk literature. Enjoy relaxing with pictures of people wearing Victorian-era clothing complete with technological accessories, goggles, and clocks. Perforated pages feature one printed side, allowing the colorist to easily remove and display their artwork. This coloring book allows the colorist to escape into a world of post apocalyptic fashion and create the costumes in the color schemes of their choice.
Steampunk Fashions Coloring Book

Steampunk Devices
This Steampunk coloring book for adults allows colorists to enjoy over thirty original designs featuring locomotives, flying machines, submarines, watches, spectacles, and other curious Steampunk contraptions. Pages are filled with a combination of the mechanical and organic world, giving artists highly detailed coloring pages that abound with Steampunk energy. Each page is perforated and printed only on one side. This allows for easy removal and display of the completed project pages.
 Steampunk Devices Coloring Book

Steampunk Stained Glass Coloring Book
This book contains sixteen pages of people dressed in eccentric takes on Victorian fashions and contain themes that will take colorists away to a world of alternative reality, similar to that out of a futuristic fiction novel written by H.G. Wells. Enjoy page after page of these Steampunk characters building robots, conducting experiments, and operating submarines and flying machines. Be creative while getting lost in a Steampunk fantasy. A great way to pass your spare time and escape into a world of fantasy for awhile.
 Steampunk Stained Glass Coloring Book

Steampunk Coloring Book
Adults will enjoy this collection of ready to color pages featuring the works of Mizael Oliveira and Bill Bricker. Features artwork from the full line of Uber Goober Steampunk games and source books, and includes the Uncharted Steampunk, Universal Airship Combat System, the original Uber RPG Steampunk, Urban Steampunk, and the Umbrage of Automation. Highly detailed pages leave plenty of room for imagination and creativity as you color the stress away.
 Steampunk Coloring Book

Adult Coloring Book – Steampunk Style
Use your colored pens and pencils to create beautiful pages full of fun Steampunk designs such as Victorian lace patterns, cogs, and gears. A great choice of adult coloring book when you're looking for something slightly out of the ordinary. Contains fifty pages of designs for your coloring enjoyment.
 Adult Coloring Book – Steampunk Style

For Colorists Book: Steampunk
This book features fourteen pages with seven different designs (include two of each design) on 5 inch by 6 inch paper. Each page is heavy weight card stock and has one side of print so that you can display your creations. Pages can be colored with chalk, inks, watercolor pencils, Spectrum NoirTM pens, and more. Package also includes eighteen labels and tags. Printed with acid-free and lignin-free paper and inks.
 Hot Off the Press For Colorist Book – Steampunk

More Coloring Books
 Steampunk Coloring Book 1 & 2

 Steampunk Coloring Book 2 (Volume 2)

 Entangled Coloring Book

 Coloring With Your Octopus

 Steampunk Coloring Book 1

 The Machine With No Purpose

 The Steampunk Coloring and Activity Book

 Good the Goblin Queen

 Ladies in Waiting

 The Floating Mansion

 The World of Coal City Stories Coloring and Activity Book

 Steampunk Animals Coloring Book

(Visited 2,619 times, 1 visits today)