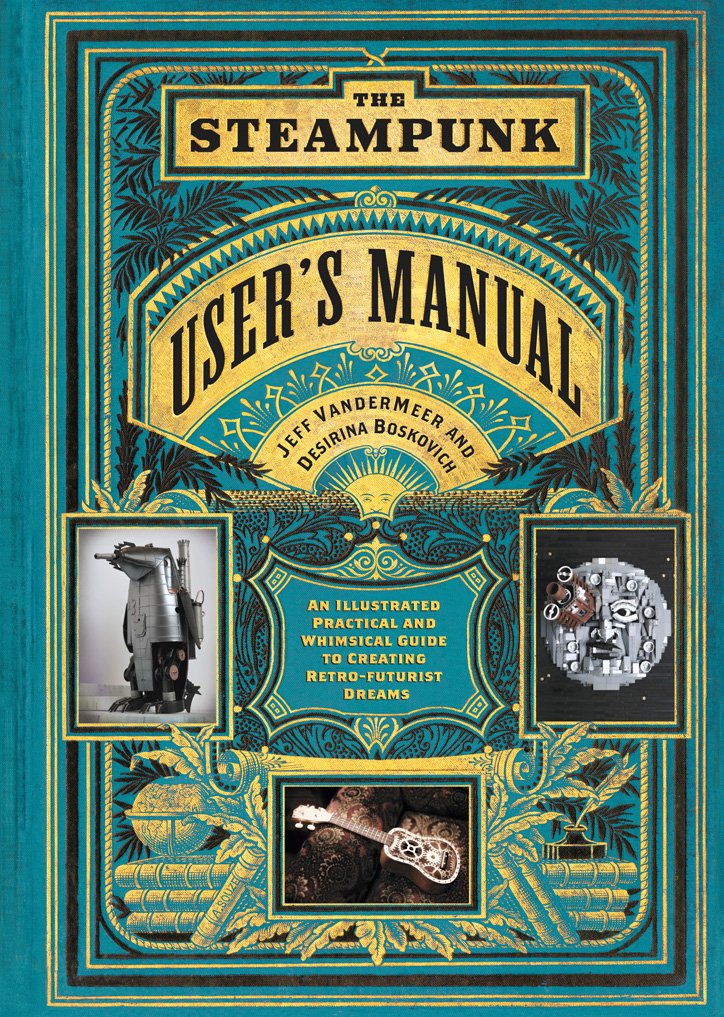 Whether you know someone who loves to read the Steampunk genre of literature, or who is eager to know more about the whole Steampunk cultural movement, including tips on fashion, Steampunk books make great gifts for the holidays. Steampunk science fiction novels make a great leisurely read, while other Steampunk books might focus more on how to dress or decorate your home in cool Steampunk style. You may even want to interest yourself or someone else in a cool Steampunk recipe book! Either way, there are many cool Steampunk books for holiday gifts available to choose from. Here we look at some that are available from Amazon.
The Steampunk Bible by Jeff VanderMeer
The must have book for Steampunk enthusiasts. This book traces the roots of the Steampunk movement from its start with the early works of H.G. Wells and Jules Verne up to more modern films such as Sherlock Holmes. Read about the various aspects of the Steampunk movement and how it has influenced literature, music, fashion, art, films, and more. This books walks the reader through the corridors of the history of Steampunk and is sure to be entertaining for those who already love this cultural movement as well as those who just want to learn more about it. A must have for any collection of Steampunk books.
The Steampunk Bible: An Illustrated Guide to the World of Imaginary Airships, Corsets and Goggles, Mad Scientists, and Strange Literature
Steampunk Fairy Tales by Daniel Lind, David T. Allen, and various authors
Available in both paperback and Kindle editions, this is a March 17, 2006 release. Read about a toy shop owner who builds mystical clockwork dolls, a three inch tall samurai, and a scientist who tried to find the antidote for one of his experiments that has gone wrong. Any fan of Steampunk literature is sure to enjoy this book, which contains stories written by authors from three different continents. This is the perfect collection of stories for introducing someone to Steampunk literary works, or for those who have already discovered and love the genre.
The Steampunk User's Manual: An Illustrated Practical and Whimsical Guide to Creating Retro-futurist Dreams by Jeff VanderMeer and Desirina Boskovich
Another must have in Steampunk books This book offers a practical and inspirational guide for readers who want to understand more about the Steampunk movement. This is a book that encourages readers to participate and use their imagination . Learn more about Steampunk with sections on fashion, art, performance, storytelling, crafts, music, and architecture. A great read to familiarize yourself with this retro-futuristic cultural movement. Available in both Kindle and hardcover editions.
The Steampunk User's Manual: An Illustrated Practical and Whimsical Guide to Creating Retro-futurist Dreams
Atomic Underworld: Volume Two: A Book Of Steampunk and Lovecraftian Horror by Jack Conner
This is the conclusion to the two-part story called Atomic Underworld. This is a Kindle edition released in July of 2016. (The first part of the two part story is also available.) Follow the main character, Tavlin Metzler, through the sewers underneath Hissig which are filled with mutants. This book takes place in the same area as the book The Atomic Sea. The retired Matzler feels his days working with the shady criminal elements that lurk beneath the streets of the city are over, yet he is drawn back into it when some mysterious murders take place in the bedroom of his old boss from the mob.
Atomic Underworld: Volume Two: A Book of Steampunk and Lovecraftian Horror
Steampunk Fashion by Spurgeon Vaughn Ratcliffe
Explore the collections of some of the most Innovative designers of Steampunk fashion in this paperback book release from November 2012.
Anatomy of Steampunk: The Fashion of Victorian Futurism by Katherine Gleason
Learn all about Steampunk fashion, from formal outfits to costumes created for stage presentations, from outrageous ensembles to casual street styles in this hardcover release from October of 2013.
Anatomy of Steampunk: The Fashion of Victorian Futurism
Steampunk Tea Party: Cakes and Toffees to Jam and Jellies by Jema 'Emilly Ladybird' Hewitt
Available in Kindle form or paperback, this book provides over thirty stunning recipes and lovely embellishments in the Steampunk style that are sure to impress your guests.
Steampunk Tea Party: Cakes & Toffees to Jams & Teas – 30 Neo-Victorian Steampunk Recipes from Far-Flung Galaxies, Underwater Worlds & Airborne Excursions
Fuel For The Boiler: A Steampunk Cookbook by Elizabeth Stockton
This paperback book is the result of what originally started out as an idea on an online forum and has since become a full blown literary project of a group of people coming together to create their own recipe book.
Fuel For The Boiler: A Steampunk Cookbook
Lady of Devices: A Steampunk Adventure Novel (Magnificent Devices) by Shelley Adina
This paperback novel is the first in the best selling Magnificent Devices series and focuses on a rich young woman named Claire Trevelyan who has an unusual talent for creating things in the chemistry lab, which leads her to discover her own adventures in life.
Lady of Devices: A steampunk adventure novel (Magnificent Devices)
New Sky: Eyes of the Watcher by Jason Kent
Available in both Kindle and paperback editions, this is a great science fiction/action and adventure story that also has a taste of Steampunk flare mixed in with it.
The Tinkerer's Daughter by Jamie Sedgwick
A book offered in in both Kindle and paperback editions and is about a half-breed orphan girl who goes to live with a reclusive tinker who invents frightening and dangerous machines which give her an idea about how to change things when war comes to her own home.
The Keyhole Heart by Clayton Smith
Available on Kindle, this book is a humorous Steampunk story set in the Old West about a doctor, who might not really be a doctor, who creates a mechanical keyhole heart.
Steampunk Alphabet by Nat Iwata
This is a hardcover alphabet book with a new spin of taking familiar words and reimaging them as Steampunk, with a description of the object as well as a colorful Steampunk illustration for every word.
Steampunk Books on Kindle
These are in edition to any of the books above that are on Kindle.
Keep an Eye Out for Her: A Steampunk Pirate Adventure
Kiss of Steel (London Steampunk Book 1)
The Complete Adventures of Victoria Neaves & Romney
Reeves & Worcester Steampunk Mysteries (4 Book Series)
Lumière (The Illumination Paradox Book 1)
The Emperor's Edge
The Watchmaker's Daughter (Glass and Steele Book 1)
Driftmetal
The Last Necromancer (The Ministry Of Curiosities Book 1)
Free-Wrench
Silver Linings (Ministry of Peculiar Occurrences)
Fires of Alexandria (Alexandrian Saga Book 1)
Evangeline and the Alchemist: A Novella: Mystery and Mayhem in steampunk Melbourne (The Antics of Evangeline Book 1)
Beauty and the Clockwork Beast (Steampunk Proper Romance)
STRANDS (steampunk mystery gay romance Book 4)
The Girl in the Steel Corset (The Steampunk Chronicles Book 1)
Steampunk Battlestar Galactica 1880
Nefertiti's Heart (The Artifact Hunters Book 1)
Nightmare City: Part One: A Steampunk-ish Lovecraftan Tale of Action and Horror
The Clockwork God (Aboard the Great Iron Horse Book 1)
The Bands of Mourning: A Mistborn Novel
A Matter of Circumstance and Celludrones (Dark Matters Book 1)
Gears of a Mad God: A Steampunk Lovecraft Adventure
Steampunk Gear, Gadgets, and Gizmos: A Maker's Guide to Creating Modern Artifacts
Nyssa Glass and the Cutpurse Kid
The Sea Is Ours: Tales from Steampunk Southeast Asia
Nimbus: A Steampunk Novel (Part One)
GrimNoir: Tales of Horror, Steampunk Detective and Dark Fantasy
The Mighty Airship Kaede. (The Mighty Airships of Earth. Book 1)
Wolves of the Northern Rift (A Magic & Machinery Novel Book 1)
Aetherium, Book 1: Assassins of the Steam Age
Killing at the Carnival (Cassie Pengear Mysteries Book 1)
Burned by Magic: a New Adult Fantasy Novel (The Baine Chronicles Book 1)
The Bloodless Assassin: A Novel of Steampunk Adventure (The Viper and the Urchin Book 1)
The Steampunk Adventurer's Guide: Contraptions, Creations, and Curiosities Anyone Can Make
Keys (City of Keys Book 1)
The Amber Spyglass: His Dark Materials
Captain Max and the Armored Steam Balloon (Steampunk for Kids Book 1)
Steampunk: H.G. Wells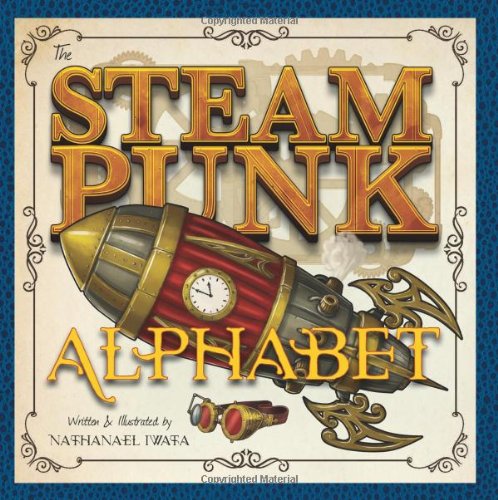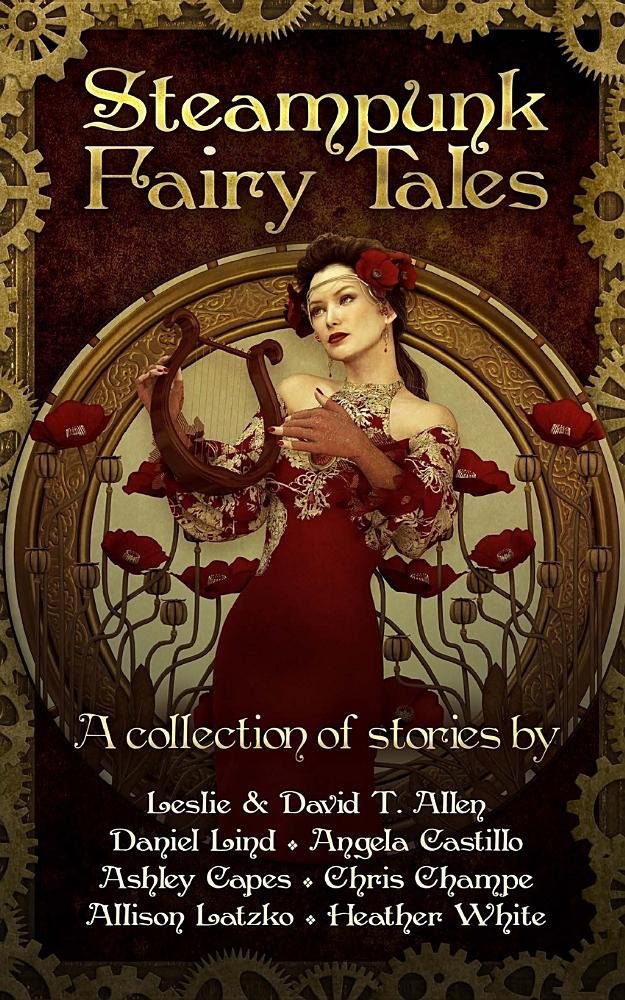 (Visited 648 times, 1 visits today)