One of our favorite Etsy shops has loads of cool Victorian Steampunk Christmas Printables for you to download for the holidays this year. That shop, Vectoria Designs, has been growing their unique collection of printables for several years and we at Steampunkary are huge fans. As you know, we recently touted their Halloween printables, but now it is time to plan for Christmas. We've put their Christmas MEGA Crafting Pack first, so you can get everything if you want to. Below that are individual printables including apothecary labels, banners, tickets, gift tags and candy bag toppers.
As an added plus, Vectoria Designs is offering a 10% discount to our readers! Just add the coupon code STEAMPUNKARY when you order from their store. To add the coupon, click "Add to cart" instead of "Buy now" when you order. Then you can add a coupon code for your order in your cart.
Christmas MEGA Crafting Pack
This is the total package.  Everything you need to decorate for Christmas is here in multiple styles so you can pick your favorites, use them for clients, or keep some for next year. Lovely work from Vectoria Designs. The product page lists all the items in this package with URLs for each design.
Printable Candy Cane Tags
Candy canes are a traditional holiday theme, and make a great printable display. These candy cane gift tags have matching items for invitations, candy bag toppers and more. Click through for more pictures of this printable.
Reindeer Delivery Tags
So very cute, these Reindeer Delivery Tags are perfect for gifts that you are giving young children. These work for any type of gift. Just download and print them out on cardstock for as many gift tags as you need.
Vintage Christmas Santa Tags
These Victorian Santa Claus gift tags are great for a Victorian Christmas party. You can fill them out with names of gift recipients and print them on cardstock for each gift. Click through for more information on these tags.
Christmas Tags Green Naughty Nice
These tags have space to determine who was naughty or nice as a gag gift or for young children who want to know what Santa Claus decided for them. These tags have green and white stripes, but you can also buy them in red and white candy cane stripes.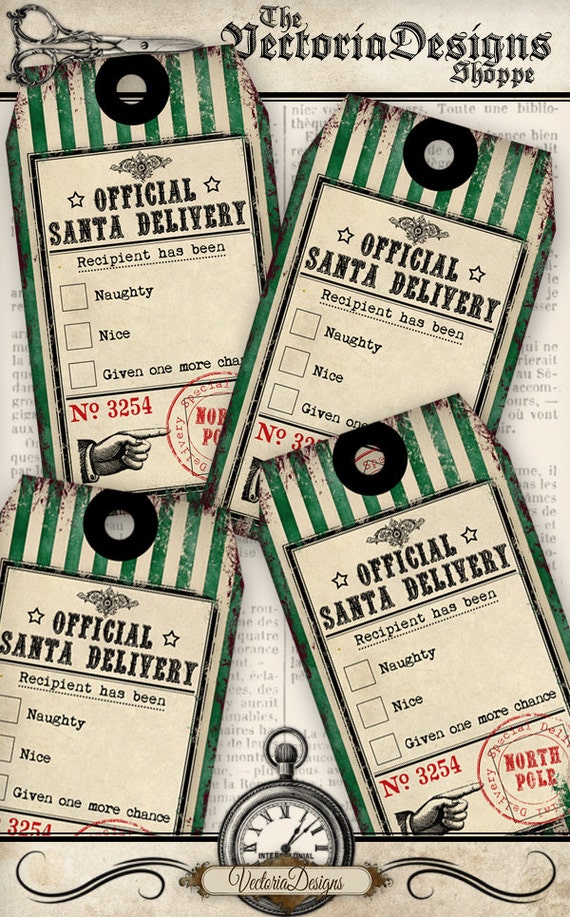 Christmas Tags Green Naughty Nice

Printable Christmas Tickets
If you need some Victorian-style tickets for your Christmas event or party, these printable tickets are a perfect fit. There are five distinct designs for you to use. Vectoria Designs also has a commercial license available to use for commercial purposes. Click through for instructions and links to other tickets that you can use.
Christmas Tickets
Here is another collection of smaller tickets that you can use for a Christmas event. Or use them for a drawing during your personal Christmas party. These Victorian images work well with a Steampunk- or Victorian-themed event.
Christmas Naughty Nice Labels
These labels will tell everyone who was naughty and nice at your family Christmas party. Fill each one out for your invitees for gag gifts, or to create a Santa's workshop activity.
Adult Naughty Christmas Tags
Having an adult Christmas get-together this holiday season? Or possibly a Christmas just for two? These "Official Santa Delivery" tags are for a naughty Christmas party. If you like these, click through to find out how to order these and other naughty Christmas printables.
Christmas Popcorn Box Santa's Sweet Shoppe
Another candy cane-themed item, this Christmas Popcorn Box is perfect for a Santa's Sweet Shoppe event or just to pass out popcorn for watching holiday movies over Christmas vacation. You can print these out at home and assemble them for your favorite popcorn eaters.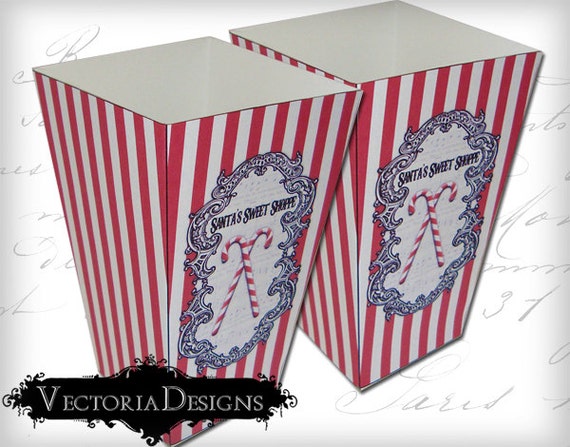 Christmas Popcorn Box Santa's Sweet Shoppe

Santa Order Form
Not sure what to buy for your family or friends this year? Have them fill out these Santa Order Forms with their Christmas wish list. These have a vintage look and you can print as many as forms as you like when you download them at home.
Christmas Recipe Cards
Everyone has their favorite Christmas recipes to savor and share. These recipe cards can be printed out to share your best Christmas recipe for all of your friends and family (unless you want to keep it to yourself, that is). Keep your own holiday recipes together on these Victorian recipe cards to help remember them each year.
Christmas Apothecary Labels
Apothecary labels are an easy way to create holiday or seasonal decorations using the same apothecary jars again and again. These and some other apothecary labels below can help you assemble a funny or serious Christmas display on your table, mantel or shelf. Click the link below for specific instructions.
Shabby Christmas Candy Labels
These Shabby Christmas Candy Labels match the candy cane-striped tags above as well as other candy cane-themed printables designed by Vectoria Designs. Use these to make packages of candy to give as gifts to friends and acquaintances for Christmas gifts or stocking stuffers.
Twelve Days Of Christmas Labels Mini Apothecary
If you have smaller apothecary jars, this group of miniature apothecary labels works perfectly. You can create a 12 Days of Christmas display or spread them out among the house for smaller displays.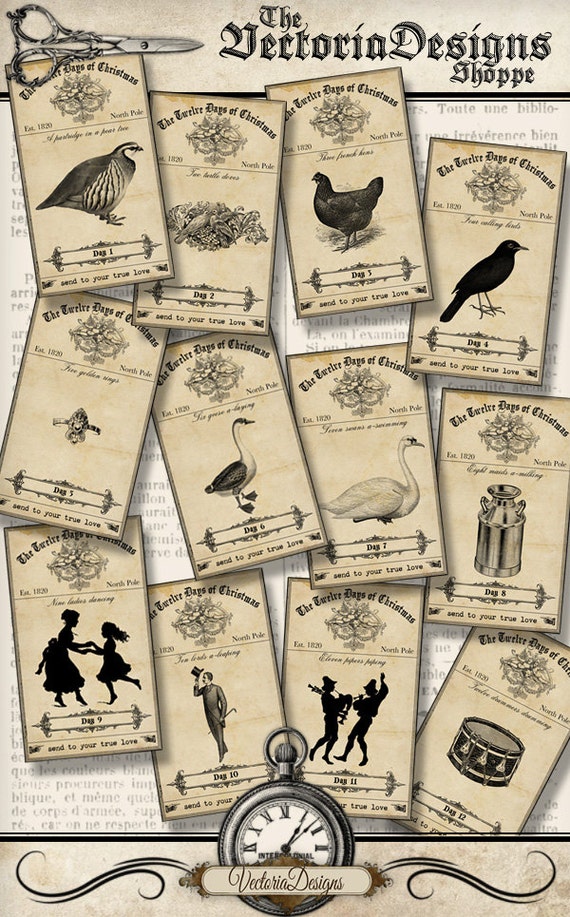 Twelve Days Of Christmas Labels Mini Apothecary

15 Christmas Apothecary Bottle Labels
Here's a collection of 15 Christmas Apothecary Bottle Labels that you can use for gifts in apothecary jars or to create a unique display in your home for a party or family gathering for Christmas. Print them out on your own paper and use them creatively. Click the link below to find out how to order. These are also available in a smaller size.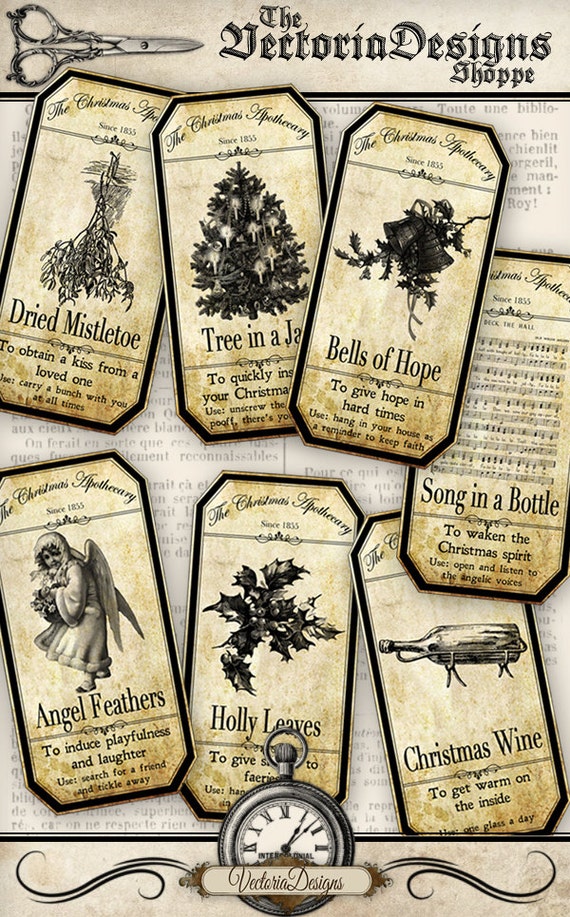 15 Christmas Apothecary Bottle Labels

Christmas Jar Labels
Create unique gifts for family and friends using these lovely Victorian Christmas Jar Labels. Print them out at home on your favorite paper, attach to a decorative jar, and fill with homemade cookies or other Christmas treats. Click through the link below to order these apothecary labels.
Santa Claus Letter Stationery
Does Santa Claus write letters to your children every year? Here is vintage Santa Claus stationary that Santa can use to write his letters. Print this stationary out for your children's letters.
Official Santa Claus Envelopes
These stationary envelopes match the stationary listed right above them. Put Santa Claus' letters in these matching envelopes to make them look real for your children. You can print them out on matching paper for a complete presentation. Click below to order the Official Santa Claus Envelopes. Young children will love these.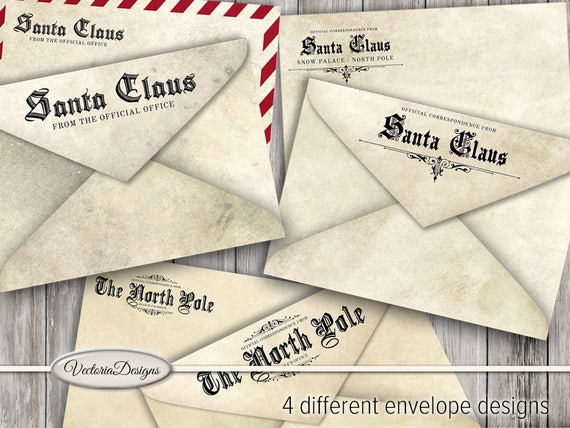 Official Santa Claus Envelopes

Christmas Bottle Labels
These Steampunk Christmas Bottle Labels are perfect printables for a Steampunk Christmas party. Apothecary labels are very popular with our readers so we decided to offer several options for you to choose from. This set is more Steampunk in style than Victorian and makes a great addition to your Steampunk Christmas display. Click the link below for more information.
Christmas Tags "Santa's Toy Shop"
If you want to create a Santa's Toy Shop(pe)" display in your home, shop or at a charity event, these Christmas Tags are a good place to start. Designed in vintage style, these tags are sure to delight your young audience. Click the link below to see more images and ordering instructions.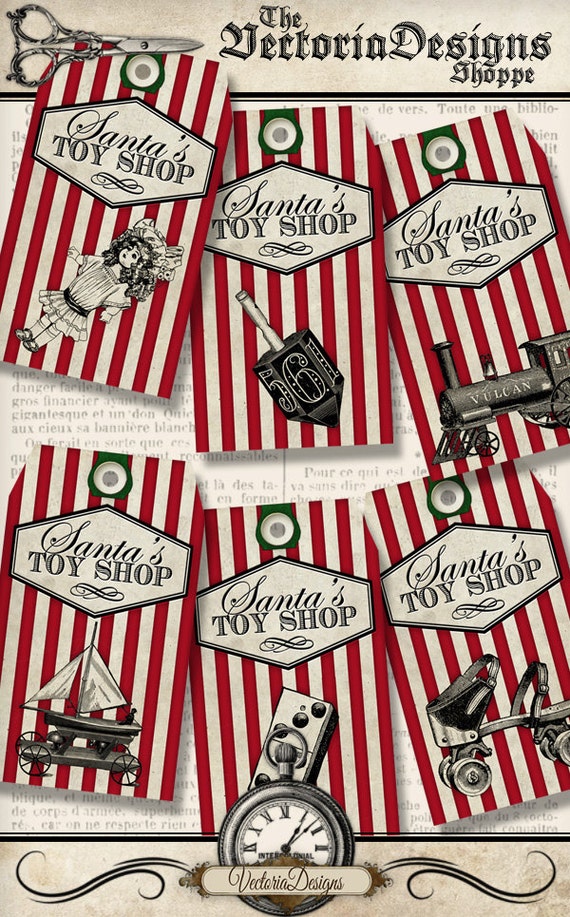 Christmas Tags "Santa's Toy Shop"

Mini Christmas Delivery Box
These Christmas Delivery Boxes are a great addition to a theme event. You can print out as many of these miniature boxes as you need to create giveaways or gifts for a charity event or your own family. Assembly instructions are available on the printed pages.
Steampunk Christmas Banner
This Steampunk Christmas Banner is a match to the candy cane-themed printables listed earlier on this page, or you can use it separately to liven up your space for a Steampunk Christmas. There are 10 banner images in this set and instructions on how to order when you click through the link below.
Survive Christmas Apothecary Labels Tags
We put these funny apothecary labels last on the page because they are "Survive Christmas Apothecary Labels." They are perfect for a laugh, and Vectoria Designs has only one other set so far in this theme. (We hope they add more for next year). Click through to the product page to see the entire set.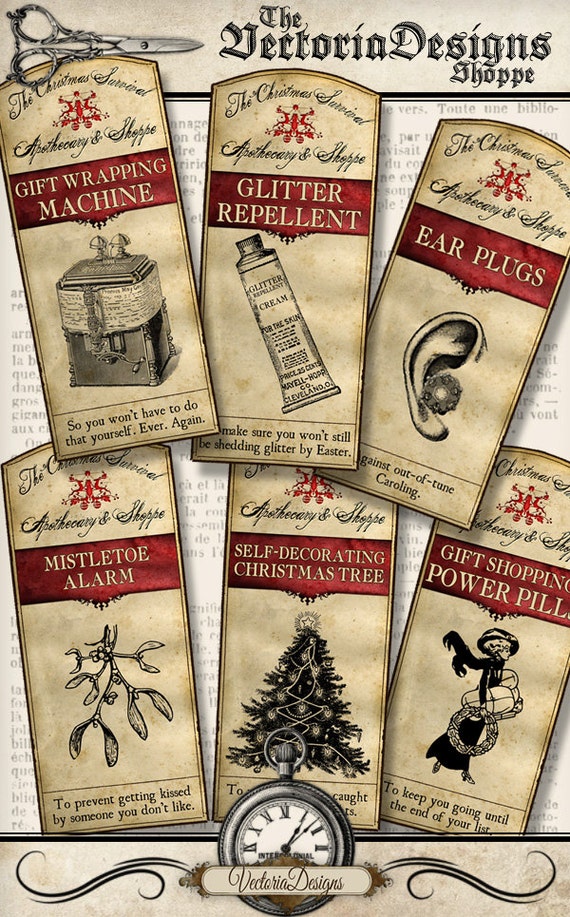 Survive Christmas Apothecary Labels Tags

Christmas Paper Pack
There are 3 sets of Christmas papers that we are showing on this page, but more selections in the Vectoria Designs Shop. This is a bright green, red and white collection of Christmas papers for your own designs. Papers are 12″ x 12″ in size.
Shabby Christmas Papers
These Shabby Christmas papers are standard letter size, 8.5″ x 11″ in size. These vintage-style papers make lovely backgrounds for signs, letters and other decorations for Christmas holiday gatherings.
Shabby Chic Christmas Papers
If you want more colorful, but vintage looking Christmas papers, this collection of Shabby Chic Christmas Papers is the right choice. You get a mix of Christmas colors with a vintage look for a shabby chic Christmas display. Click through for more Christmas paper collections and other Steampunk Victorian Christmas printables from Vectoria Designs.
Pin It for Later
Not ready to order printables for your Steampunk Christmas? Pin this image for later so you can come back to this page.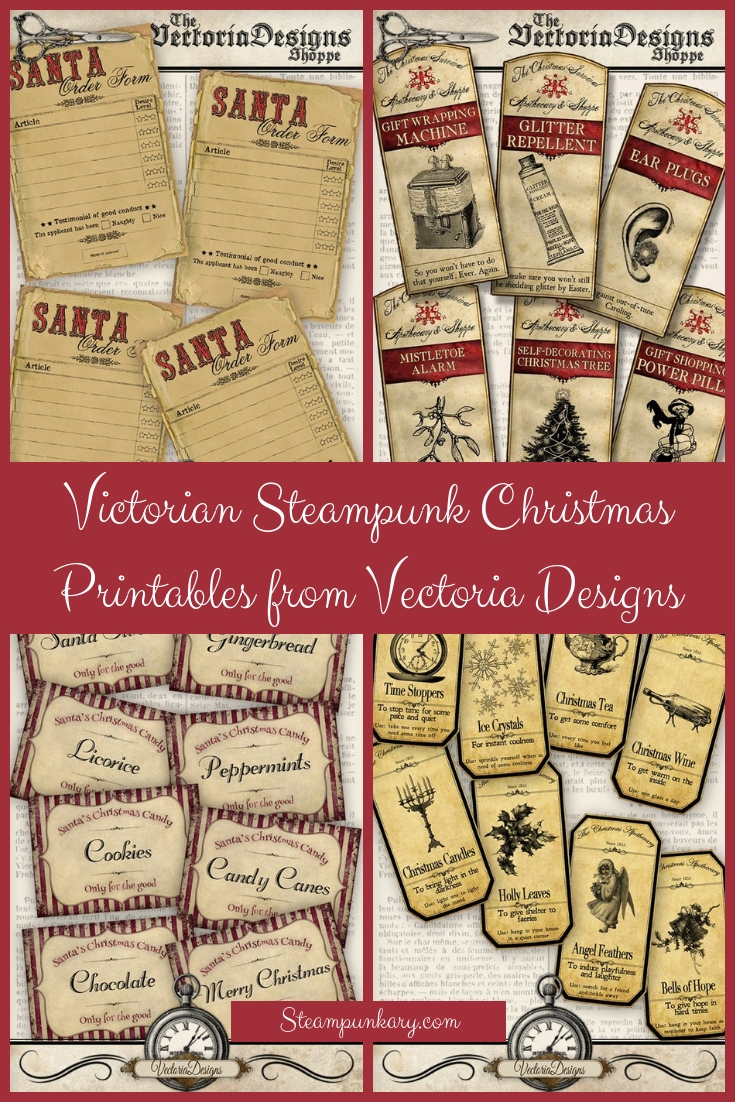 (Visited 661 times, 1 visits today)