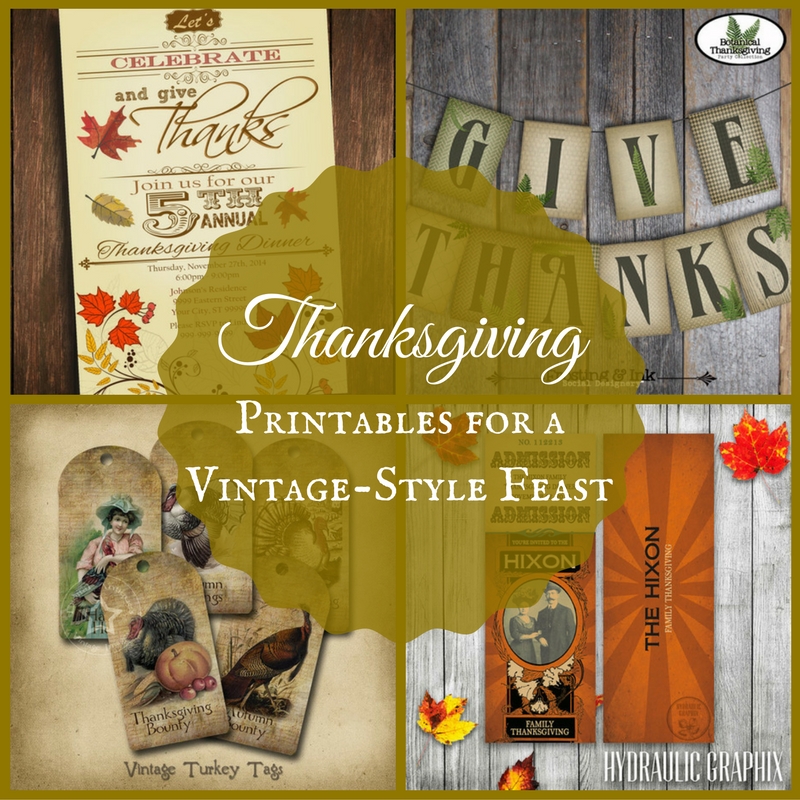 Thanksgiving is a traditional holiday that helps remind us of what we love. Many families continue traditions because it is fun to look forward to them each year. However, that doesn't mean you can't create new Thanksgiving traditions for your gathering or even add to the ones you already have. Why not include some steampunk touches to this warm and welcoming holiday?
One of the easiest ways to add steampunk to Thanksgiving is by using Thanksgiving printables for decorations, invitations, signs and gift tags. You can ask guests to dress up in steampunk attire or just allow them to enjoy the unique Thanksgiving ambience that you can bring with steampunk decor. These printables will make your holiday more special that it already is and you can print them out at home on your own computer.
Printable Thanksgiving Invitations
All of the Thanksgiving invitations shown here are sold as digital files that can be customized and printed out at home or you can also email them to your friends and family. Click through to the product page for details of how to order.
Vintage Kraft Paper Thanksgiving Invitation
This invitation is one of my favorites because it is designed to look like a Victorian poster for an event. It looks great and only takes black ink to print. Use this to set the mood for your upcoming Thanksgiving feast.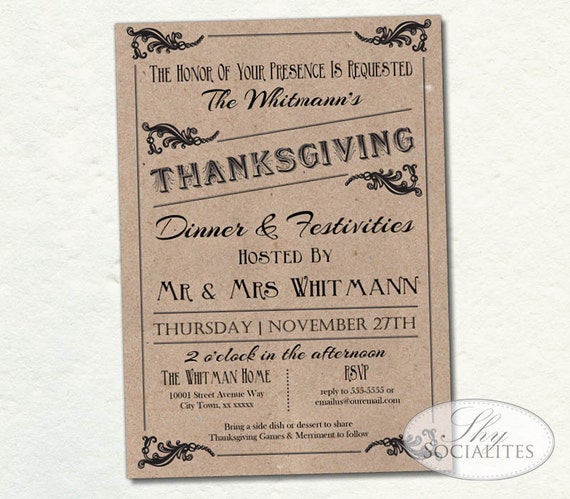 Vintage Brown Paper Thanksgiving Invitation

Thanksgiving Dinner Invitation
This Thanksgiving dinner invite has a bit more humor to it due the comic-style drawing on the bottom. Although the design is not Victorian or steampunk particularly, it is definitely a vintage-1950s look and is adorable.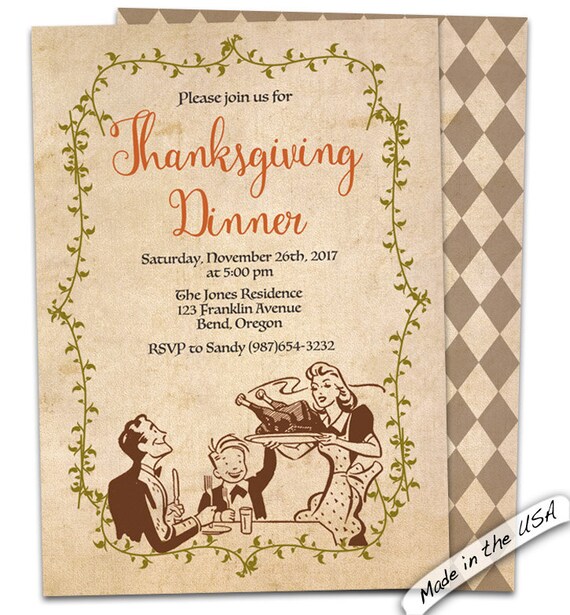 Thanksgiving Dinner Invitation

Old-Fashioned Thanksgiving Invitation
A simple old-fashioned Thanksgiving Invitation that you can print out at home. This invite has images of Pilgrims carrying a feast in a monotone color scheme and old-style fonts. Great for an event, private party or charity function.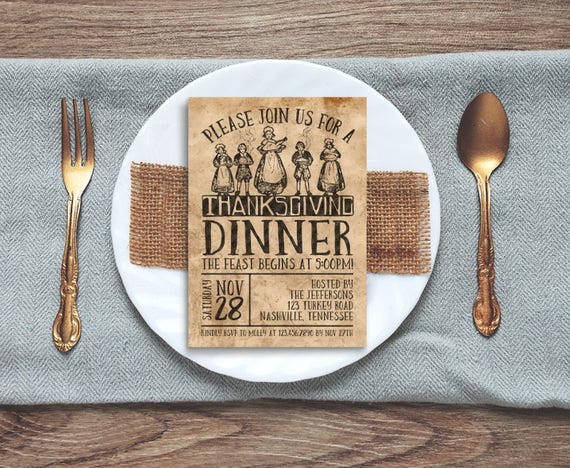 Old-Fashioned Thanksgiving Invitation

Vintage Thanksgiving Invite Printable with Photo
You can add your own photo to this delightful "admission ticket" to your steampunk Victorian-themed Thanksgiving gathering. Very much in the steampunk style, this invite will surely thrill recipients and get them in the mood for your party. You can dress up in costume for the photo to make it as realistic as possible.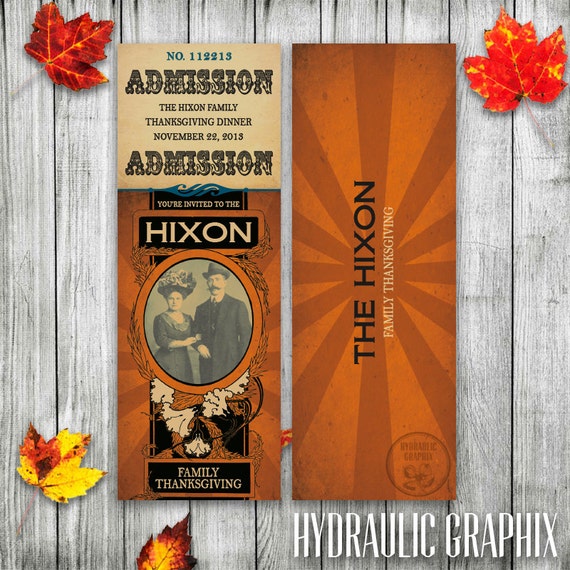 Vintage Thanksgiving Invite Printable with Photo

Printable Thanksgiving Invitation
This chalkboard-style invitation comes in two background designs and font color choices. Chalkboard makes it trendy yet vintage in feel, so you can be vintage and new at the same time. Lovely colors and print styles.
Thanksgiving Invitation Printable
Very vintage looking, this Thanksgiving invitation has the tradition turkey on a platter in the lower center with a vintage-style banner across the top. The added color gives the invitation a punch and makes it interesting.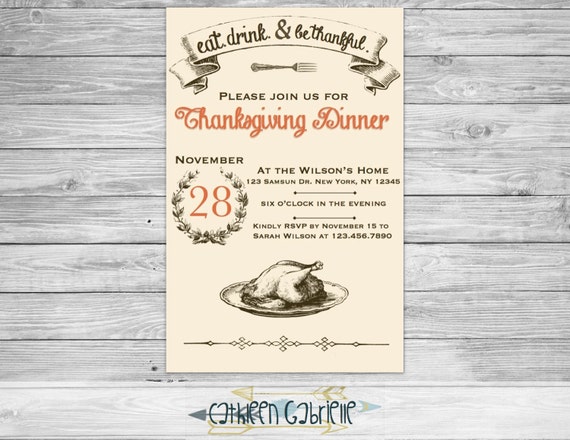 Thanksgiving Invitation Printable

Chalkboard Thanksgiving Invitation
This invitation is printed in a horizontal fashion similar to a postcard. The font makes it look vintage and it comes in two colors. Great to hand out personally to friends and family or send as a postcard in the mail.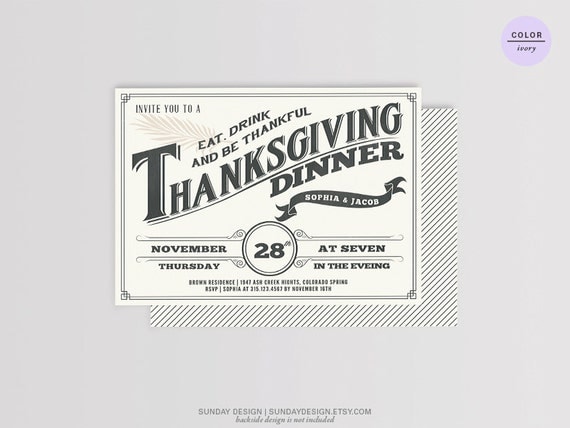 Chalkboard Thanksgiving Invitation

Typography Thanksgiving Invitation
The lovely scrollwork in the corners makes this invitation stand out. Primarily in white on a chalkboard background, the simple brushes of color in the turkey give it a pop of color to grab the attention. Lovely choice for this family holiday.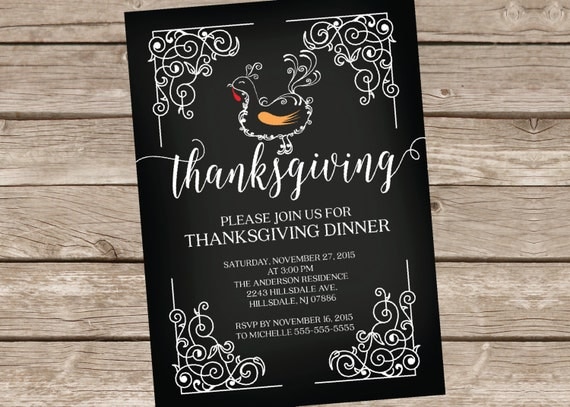 Typography Thanksgiving Invitation

Vintage Floral Thanksgiving Dinner Invitation
This printable invitation is not really Victorian or vintage in the way it looks, but it has the feel of a Victorian invitation. The floral motif makes the invitation stand out and sets off the tone for the announcement in the center. A lovely choice your recipients will love.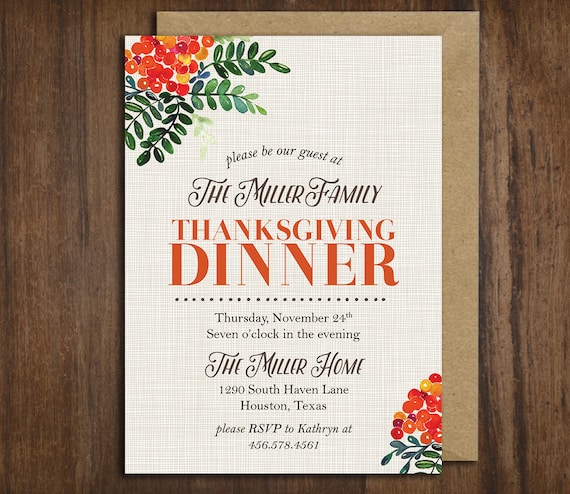 Vintage Floral Thanksgiving Dinner Invitation

Thanksgiving Gift Tags
Sometimes the little things we do when preparing for a holiday or event have the biggest impact. These gift tags are an easy way to add decor to your festivities. Use them to label your food in a buffet or hang them from a mobile or tree. They can be gift tags or name tags for a large group or directional signs. There are so many uses for tags including creating games with them. Or give them out as favors at the end of the night.
Printable Thanksgiving Hang Tags

Vintage Turkey Tags

DIY Printable

THANKSGIVING Printable Gift Tags

Thanksgiving Thank You Tags

Thanksgiving Vintage Printable Digital Download

Thanksgiving Banners
Festive Thanksgiving banners are one way to spruce up your holiday meal easily. By printing out one banner, you can add color and Thanksgiving spirit to any room in your home. Each of the designs below has its own Victorian feel and will help set the mood at your party.
 Thanksgiving Banner – Give Thanks

 Vintage Harvest Thanksgiving Bunting Printable

 Thanksgiving banner printable

Printable Thanksgiving Wall Art
If you have a lot of space to decorate, you may want to use these printable wall art pieces. As simple as printing and putting them in a frame, you can bring a little bit more of the holiday into your home. Each one is unique and has a way of setting the tone for the entire Thanksgiving holiday.
Thanks and Giving Print Quote

Give Thanks to the Lord For He is Good Printable

8×10 Set Thanksgiving Prints

Set of 4 Vintage Vegetable Illustrations

Vintage Farm Style Turkey on Wood Instant Digital Download

Thankful Thanksgiving Floral Wreath Wall Art Printable

Vintage Digital Scrapbooking Packs for Thanksgiving
If you prefer to create your own decorations, these cool printable papers are a good place to start. Use them as backgrounds for your own signs, gift tags or banners. Or use them for scrapbooking your memories from the day.
 Autumn Memories

 Thanksgiving Paper Pack

&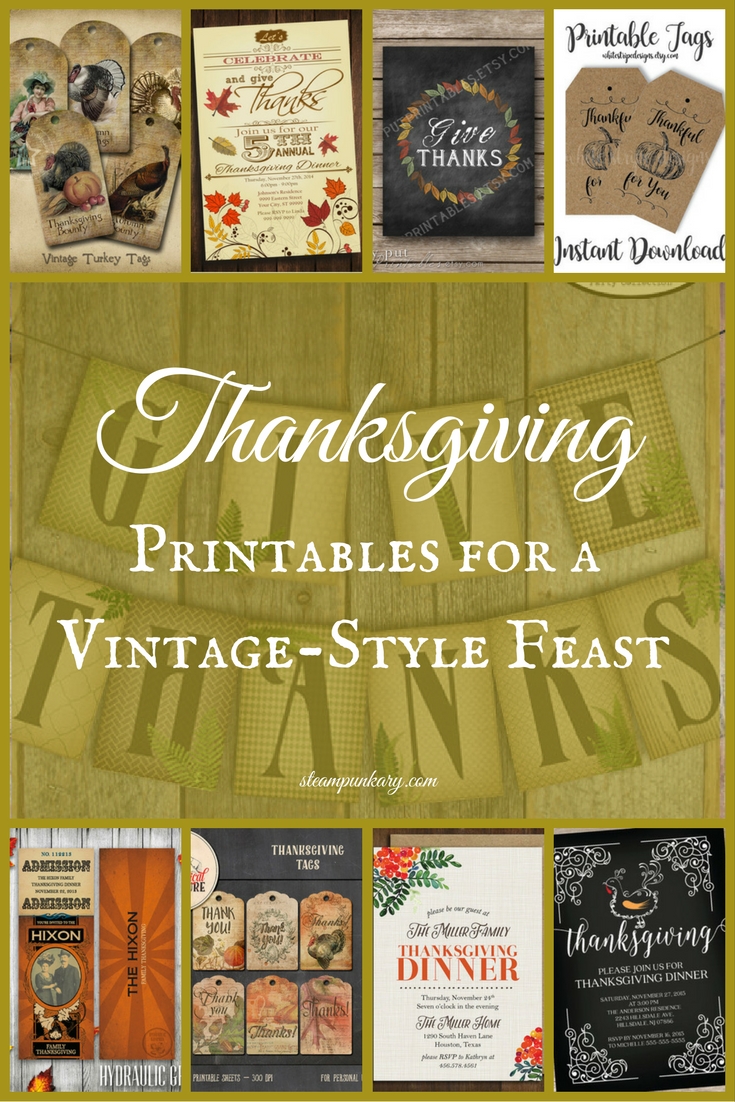 (Visited 514 times, 1 visits today)