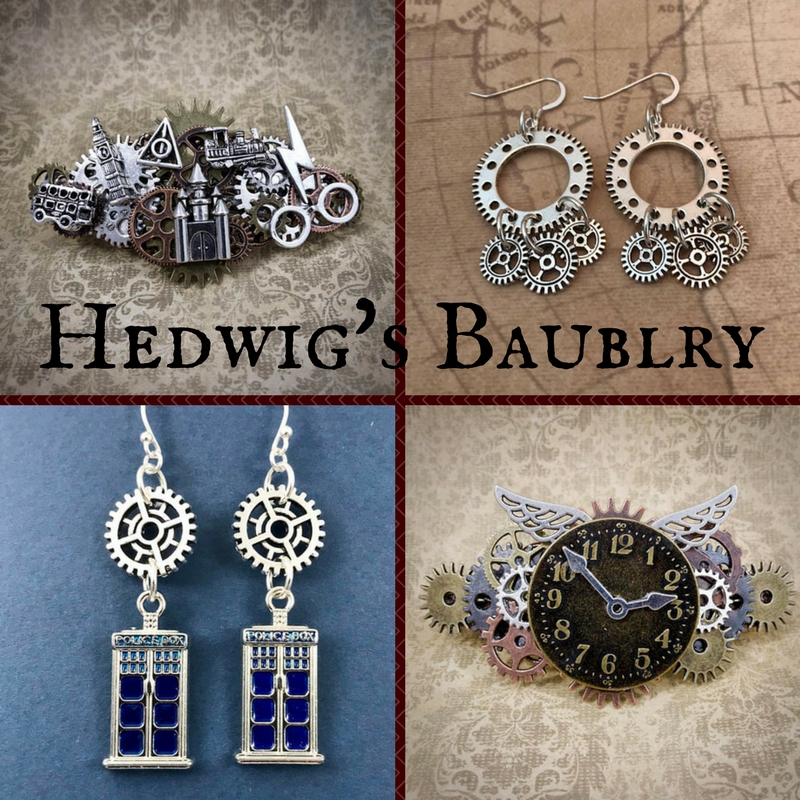 Hedwig's Baublry is an Etsy shop based in Sugar Hill, Georgia ran by shop owner Bonnie Gokey. Her shop specializes in Steampunk jewelry and accessories for those with sensitive skin. Bonnie makes all of her jewelry and hair pieces with nickel-free metal alloys so that they will not cause skin irritation. Due to her own allergies to metals, she began searching for and buying sterling silver hooks and earring backs to replace those that caused her skin irritations. This quickly led to inspire her to begin creating her own jewelry and accessories. In her shop, you will find a variety of hair ornaments, including barrettes, headbands, decorative hair combs and more. If you are sensitive or allergic to other types of earring backs and jewelry, you can shop with confidence at Hedwig's Baublry, knowing the items are nickel-free.
From Bonnie: "I've always had an affinity for clockwork, fantasy, and industrial design. About 10 years ago I realized there was a name for this genre of art and realized that I had found my tribe. When I started Hedwig's Baublry the main focus was creating barrette designs with gears and clockworks in my beloved steampunk style, but then I wanted to expand my capabilities and grow as an artist. I started with dragonflies and undersea life. This success quickly morphed into a Cthulhu theme. Once I saw how much I loved these themes, it was easy to apply it in other areas of my life I enjoyed, especially the geeky ones. I started with Harry Potter and Doctor Who – I'm a fangirl for both. I'm adding new themes on a regular basis. The Christmas Ornaments were a particular hit this year at Hedwig's Baublry which just shows that steampunk can be great for any occasion. No one was more shocked than me that my shop has been a success!"
EARRINGS
Doctor Who Steampunk Earrings || Tardis, Gallifreyan-like Gear Dangle Earrings
These earrings are made from silver and measure 2.5 inches long. They feature a Steampunk gear with a Tardis from the Doctor Who television series dangling from it. Charms and gears are made from nickel free Tibetan silver and earring hooks are made from high-quality nickel- and lead-free solid sterling silver. Perfect for Doctor Who fans with sensitive ears.
Tibetan/Antique Silver Steampunk Gears Dangle Earrings
These earrings are made from silver, with an ear wire and a drop length of three inches. A large circular gear has three mini gears dangling from it. Even though these earrings have a steampunk theme, they could easily be paired with any outfit from casual to dressy. Sterling silver contains no nickel, perfect for sensitive ears.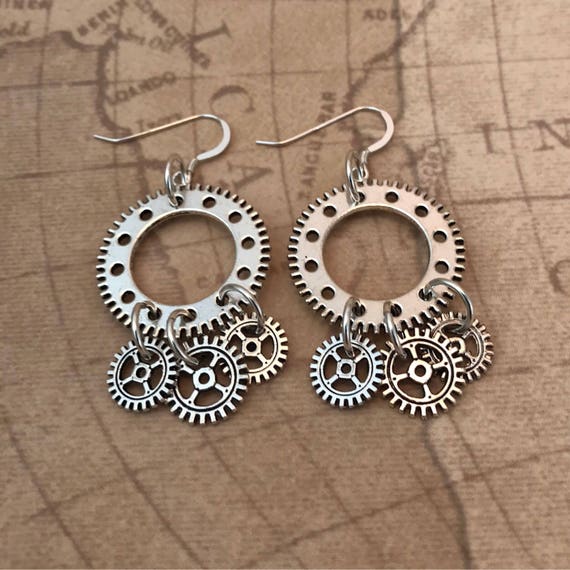 Antique Silver Steampunk Gears Dangle Earrings

Steampunk Clock Face and Gears Dangle Earrings
These earrings are done in an avant-garde style and feature ear wire closures. They have a drop length of 2.5 inches and are made of silver. Earrings feature a large clock face with a gear cog connector. Versatile enough to be used as part of a steampunk cosplay costume, or for every day wear. All materials are nickel-free and perfect for those with sensitive ears.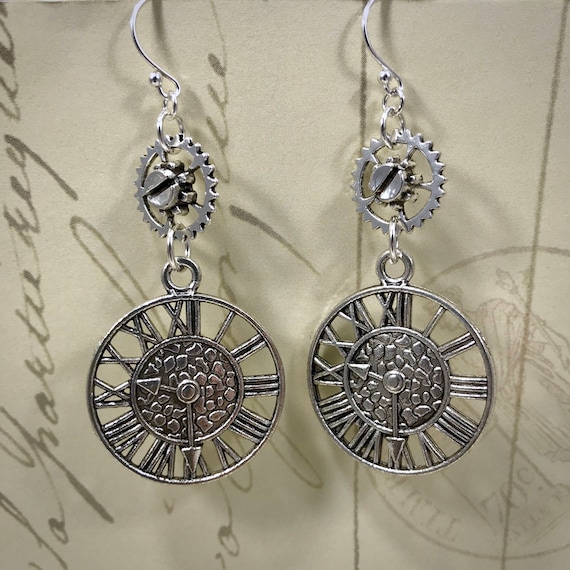 Steampunk Clock Face and Gears Dangle Earrings

BROOCHES
Time Flies Steampunk Brooch || Clock, Wings, Gears Pin
This brooch is made from bronze, copper, and silver. It measures three inches long and one inch wide. The pin features a clock face with wings in the center, surrounded by various steampunk gears on either side. Makes the perfect finishing touch for any cosplay costume or steampunk outfit. This is a cute play on the phrase "time flies."
Steampunk Time Flies Brooch || 2″ Pin Six Point Pin With Clock Face With Gears And Wings
This brooch measures two inches wide by two inches long. Made from bronze, copper, and silver. This is a six-pointed brooch that has a gear at each point, with a smaller circle of gears encircling a clock face with wings in the center of the pin. Pin features a tie-tack back and butterfly clasp. Great for adding a touch of Steampunk to any outfit, or for representing how "time flies."
BARETTES
Steampunk Time Flies Barrette || Hair Clip with Clock face and Wings Pin
If you're looking for great steampunk hair ornaments, look no farther! This barette is made from bronze alloy, copper alloy, and antique silver alloy. Gears of various metallic colors surround a center cock face with wings. Barette is a true French barette, made of a steel two piece construction. Stamped with "Made in France" on the back.
Harry Potter Inspired Steampunk Barrette || Lightning Scar Glasses, Knight Bus, Big Ben, Deathly Hallows Symbol, Hogwarts Castle & Train
This barrette is made from metal embellishments, bronze, silver, and copper. This is a true French barrette with a sturdy construction that features a Harry Potter and Steampunk theme combined. It features a base of various steampunk gears and is embellished with Harry Potter's lightning bolt scar and glasses, the Deathly Hallows symbol, Big Ben, the Knight bus and the Hogwart's Express train. Makes the perfect gift for any Harry Potter fan who likes hair ornaments.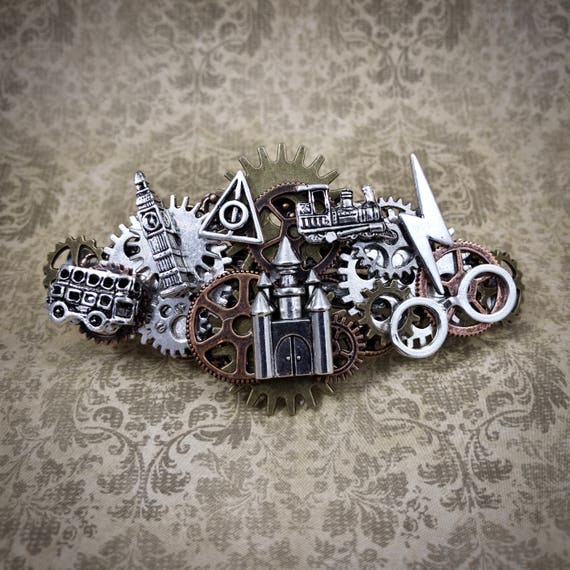 Harry Potter inspired Steampunk Barrette

Steampunk Princess Bride Barrette
Made from bronze, copper, and antique silver alloys, this barrette features a base made of various steampunk gears. Perfect for the fan of the Princess Bride, the barrette is embellished with The Man in Black's mask, Dread Pirate Robert's pirate ship, Fezzik's wheelbarrow, an "As You Wish " charm, Inigo Montoya words, Miracle Max's chocolate pill made with a real chocolate fresh-water pearl, and the Impressive Clergyman's famous quote of "Mawage, tru wuv."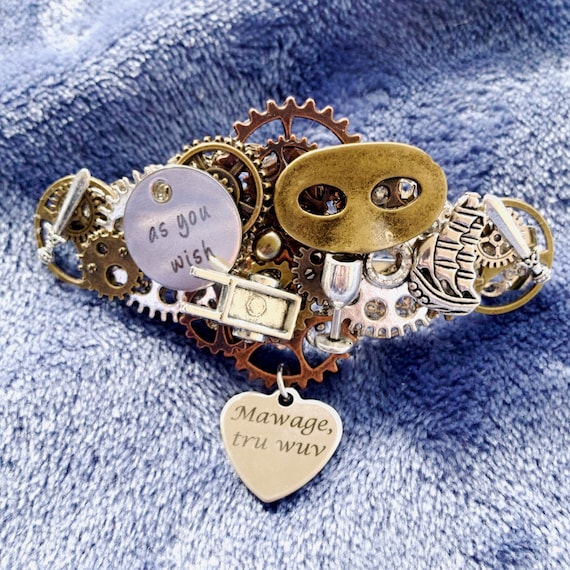 Steampunk Princess Bride Barrette

Steampunk Gears and Clock Hand Crown Barrette
This barrette is constructed from a metal barrette, gears, charms, and metal pieces. Industrial style crown features numerous small gears in various metallic colors clustered together to form the crown base. Silver metal cogs, a tiny dragonfly, and clock hands are used to create a unique and interesting crown. Makes a great hair embellishment that will make you feel like a queen or a princess.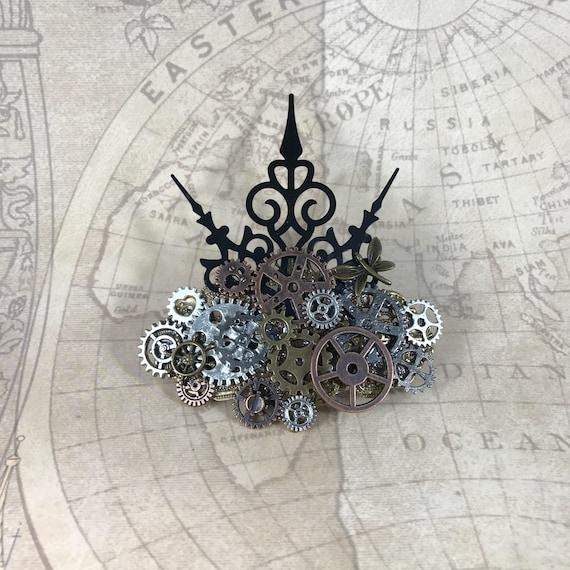 Steampunk Gears and Clock Hand Crown Barrette

Steampunk Cuddly Cthulhu and Gears Barrette
Made from metal embellishments, bronze, silver, and copper, this barrette is sure to add a little steampunk to your life. It features a nautical steampunk theme with a base of multiple clockwork gears on which sits a cuddly Cthulhu, shells, and a starfish. Very interesting and ornate piece, sure to inspire conversation.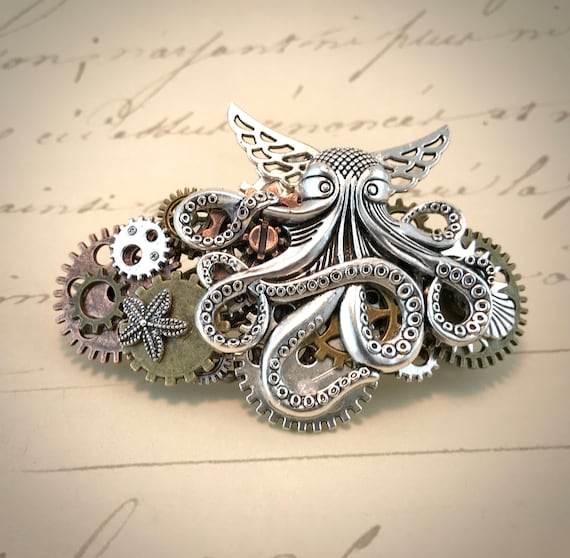 Steampunk Cuddly Cthulhu and Gears Barrette

HEADBAND
Steampunk Lunar Chronicles Headband || Cinder and Kai, Cress and Thorne, Winter and Jacin, Scarlet and Wolf
Looking for something extra special to wear in your hair? This headband fits the bill! Inspired by the Lunar Chronicles, this headband is made from silver alloy, copper alloy, and bronze alloy. It features the Mechanic, the Prince, the Wolf, the Guard, the Princess, the Stargazer, the Pilot, and the Criminal. Very detailed piece that is sure to make your hairdo sparkle.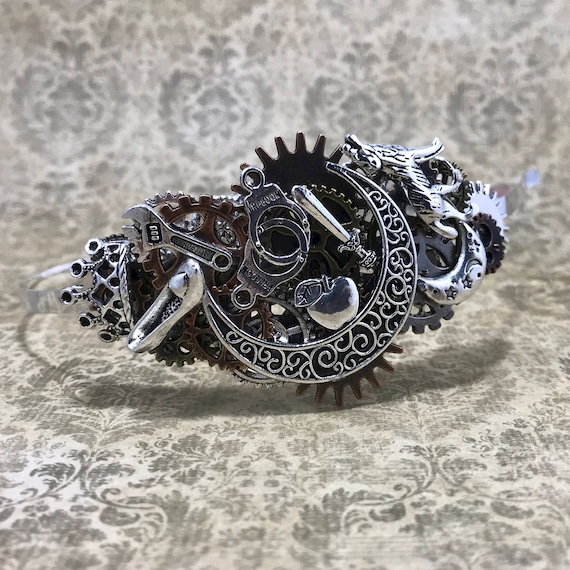 Steampunk Lunar Chronicles Headband

ORNAMENT
Celestial Steampunk Ornament || Stars, Moon, Earth, Saturn, Intricate Tree Decoration
Made from bronze alloy, silver alloy, and copper alloy. The base of this ornament resembles a six pointed star or even a snowflake. Features a design of a large moon surrounded by several five pointed stars, Saturn, and the Earth. This would make a very pretty holiday tree decoration, especially for someone who loves Steampunk.
Pin It to Save for Later

(Visited 401 times, 1 visits today)
Check Our Related Pages Before You Go!