Pirate costumes are popular for Halloween or cosplay, and they can be an ideal base for a steampunk look. Depending on how much you want to invest in your costume, you add several layers to your ensemble. For those who love a handmade costume with a custom fit, these incredible custom-made pirate costumes from Jodi's Costumes will be an exciting find.
Custom-Made Minuteman Wool Frock Coat
All of the costumes on this page are made to order by Jodi's Costumes. Therefore, allow time to have the costume made. Sometimes, there are already-made costumes that are in stock ready to ship, but check the product page for that information. This wool frock coat shown below is a great piece to build a costume wardrobe from. You can wear it over several types of costumes, changing it with accessories to alter its look.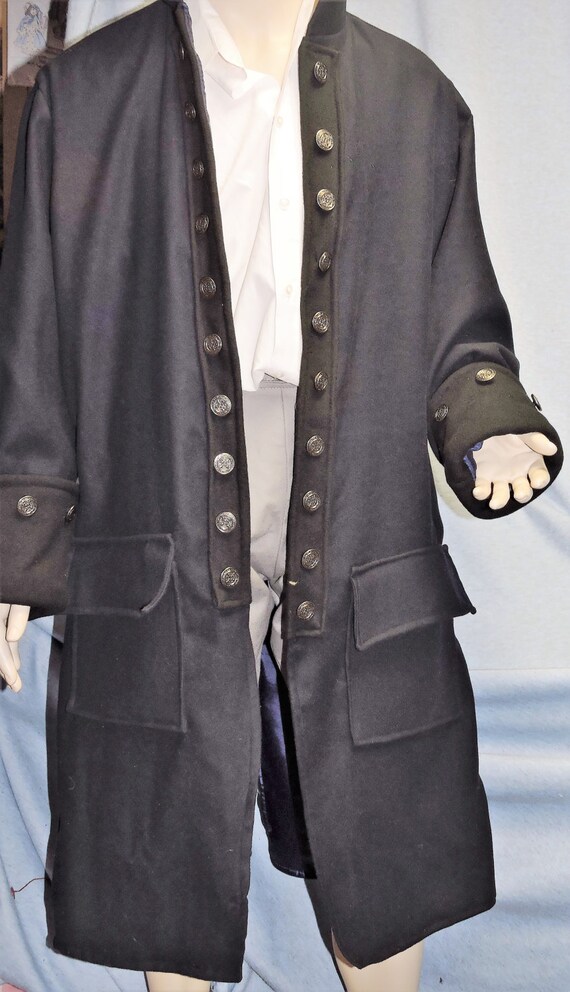 Custom Made Minuteman Wool Frock Coat

Custom-Made 2-Piece Renaissance Pirate Jack Sparrow Vest and Coat
This is a made-to-order costume with two pieces, the vest and coat. Remember that you should use the image as a guide since all of the fabrics and details may change slightly depending on which fabrics are in stock and what you want in your costume. The large cuffs and stitching on this outfit are stunning and very much indicative of the period. To learn more, click through to the product page.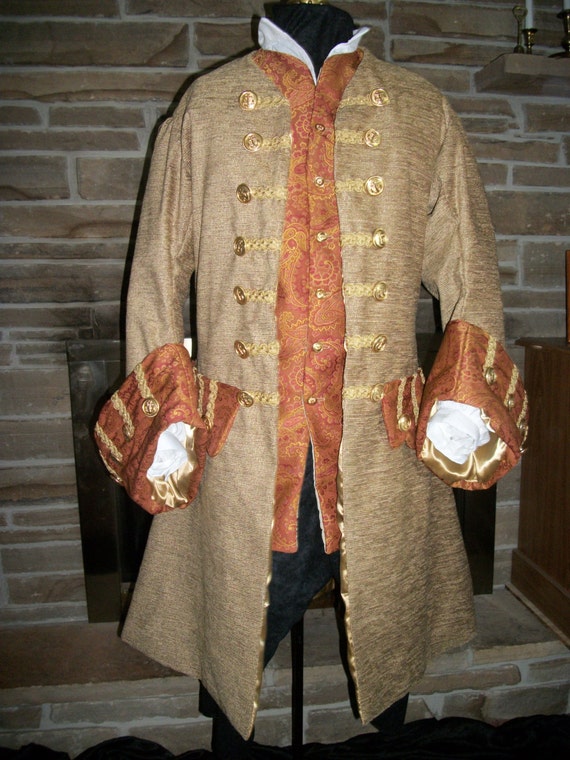 Custom Made 2pc. Pirate Jack Sparrow Frock Coat Vest only

Custom-Made Black Sails Blackbeard 3-Piece Renaissance Pirate Frock coat, Vest and Shirt
A stunning combination of costume apparel items which include the frock coat, vest or waistcoat and the shirt beneath them. Created in Renaissance style, this costume can be worn to many cosplay events throughout the year with different accessories for an array of looks. While designed as a pirate costume, you can also dress up as a Renaissance gentleman, royalty or other related characters. The detailing on these items are superb and really make this costume stand out.
Custom-Made 3 piece Renaissance Pirate frock coat, vest and shirt

Custom-Made Captain Teague Pirates of the Caribbean Frock Coat w/Full Trim Details
You can get closeups on the unique details of this cool Pirate frock coat by clicking through to the product page. There are several images with a closer view. However, you can certainly see the potential that this one coat has with a few added accessories. It is easy to steampunk it up by adding steampunk boots, pirate hat and a steampunk gun. Oh, and don't forget to wear a shirt and pants.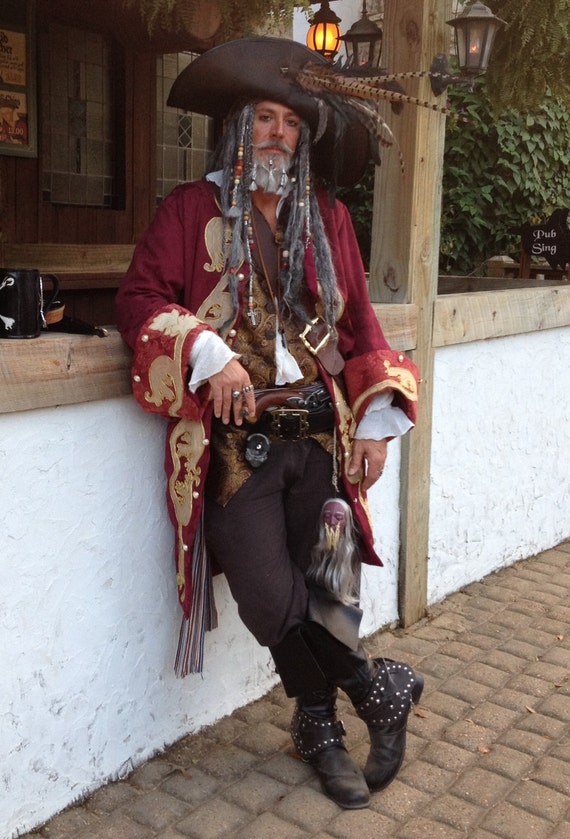 Custom Made Captain Teague Renaissance Pirate POTC frock coat with full trim details

Custom-Made Captain Jack Sparrow 4-Piece Pirate Frock Coat, Pants, Shirt and Vest
If you want the whole shebang with a Captain Jack Sparrow frock coat, pants, shirt and vest custom-made for yourself, then this is the item to order. You don't have to be Captain Jack. You can change your hair and beard to be another pirate. However, this costume grouping allows you to wear some or all of the pieces together. You can also incorporate these pieces with other costume elements you already have.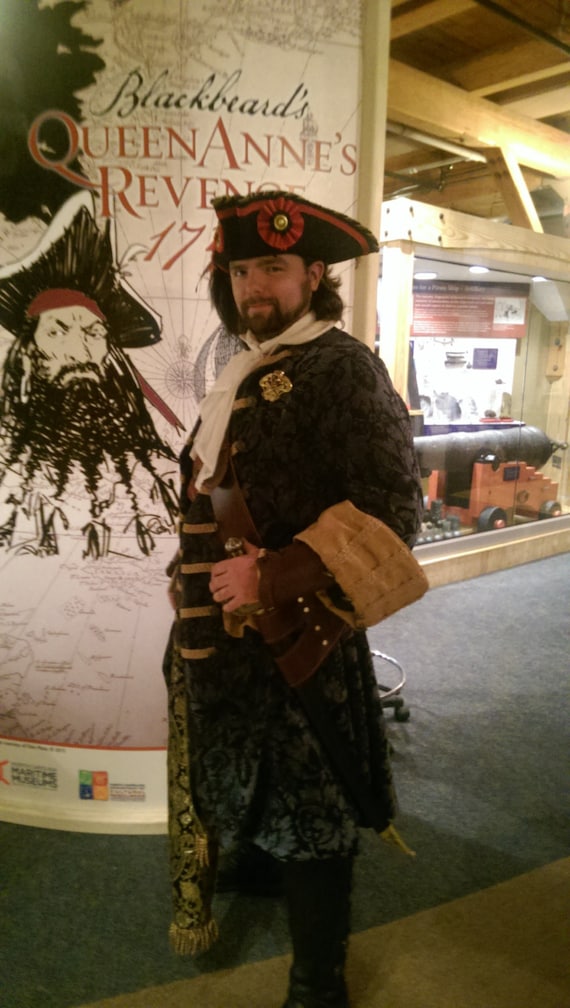 Custom-made Captain Jack Sparrow 4 pc Pirate frock coat pants shirt vest costume

Custom-Made 4-Piece Ensemble–Jack Sparrow Pirate Captain Frock Coat, Vest, Shirt, Breeches
It is hard to select our favorite pirate costume from Jodi's Costumes. All of them are so luxurious and incredibly detailed. This costume is 4 pieces of apparel–frock coat, waistcoat, shirt and breeches in the style of Pirates of the Caribbean Captain Jack Sparrow. The model shown below looks exactly like Captain Jack, but of course, you can use these pieces for other roles. You can see images of each piece separately by clicking through the link below.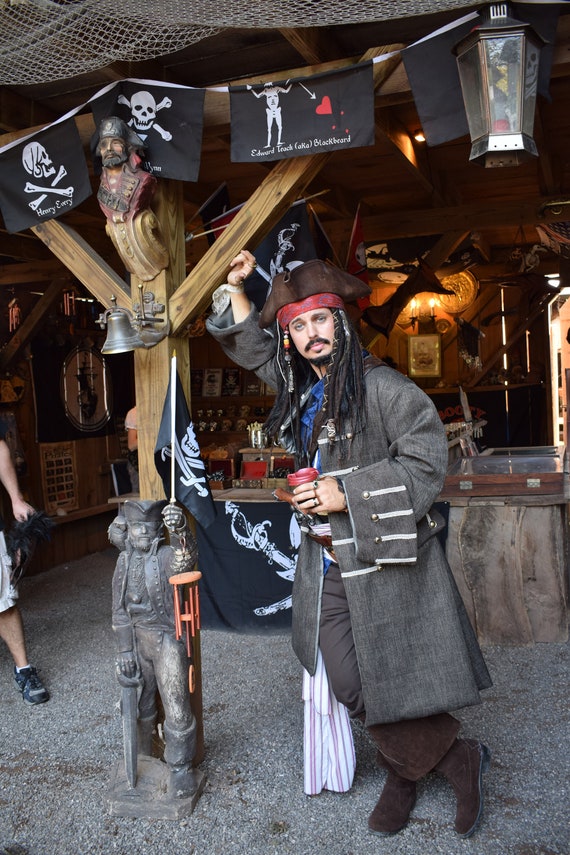 Custom made 4 piece ensemble set Jack Sparrow frock coat vest shirt breeches

Custom-Made Child or Teen 4-Piece Pirate Costume–Frock Coat, Shirt, Vest and Breeches
Adults aren't the only ones who like to cosplay. This Jack Sparrow outfit is cut for children or teenagers. You can reuse this costume throughout the year for events, plays or make-believe. There are 4 pieces included with this set–frock coat, shirt, vest and breeches. Remember to allow for the time it takes to make this costume to order.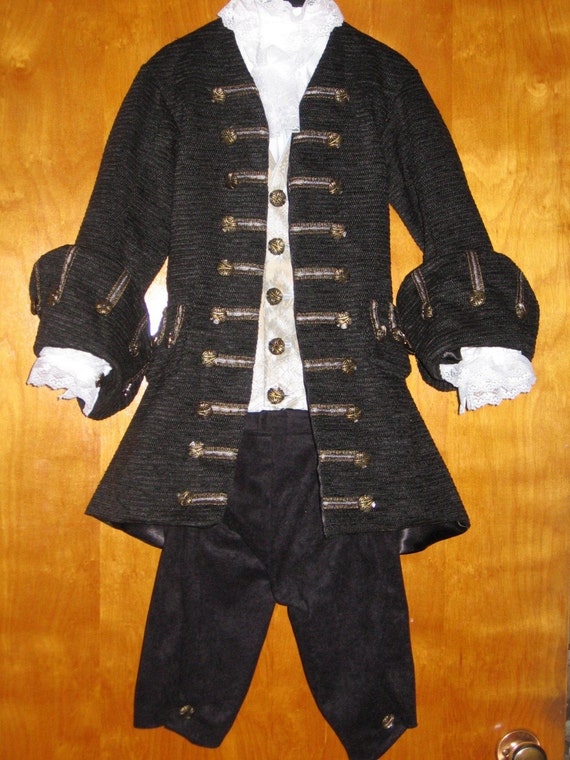 Custom-Made Child or Teen 4-Piece Pirate Costume

Custom-Made Black Sails Captain Jack Rackham Linen Frock Coat
Throw this frock coat over a pair of jeans, shirt and boots and you have a pirate costume. Add a pirate's hat and cutlass and you are set to go. This is a great multi-purpose coat that can be used for several types of costumes from the Renaissance era with a change of pants and shirt or accessories. Start collecting costume items to use for cosplay or just a fun costume party.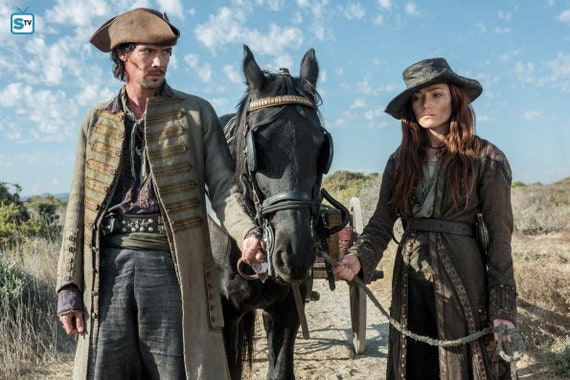 Custom-Made Black Sails Captain Jack Rackham Linen Frock Coat

Custom-Made His & Hers 5-Piece & 3-Piece Ensembles–Jack Sparrow & Elizabeth Swann
This is a costume set designed for two with a 5-Piece costume for Jack Sparrow and a 3-Piece costume for Elizabeth Swann. His costume includes coat, vest, shirt and pants with a sash. Her costume includes chemise, overdress with corset and under-dress. This is a big undertaking for Jodi's Costume's designer so remember to allow a lot of time for completion. You will love it when you get it–and it will be made to fit you perfectly. Click through for more details and options.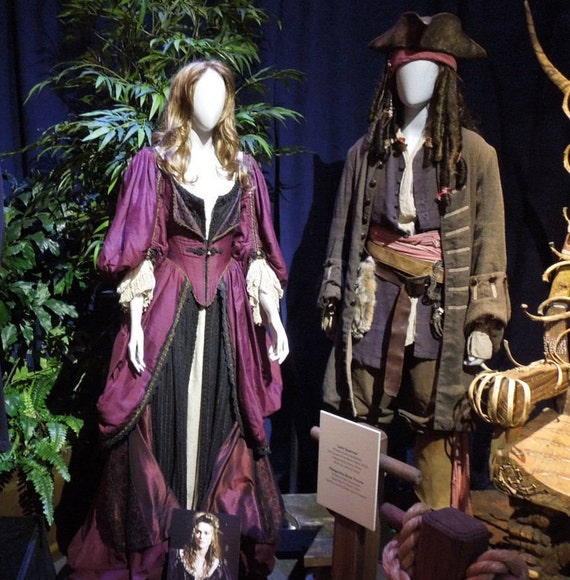 Custom made His and Hers Costumes Jack Sparrow and Elizabeth Swann

Custom-Made Pirate Frock Coat with All the "Bells and Whistles"
This frock coat is somewhat different than others shown earlier in that it includes extra buttons and trims, a fold-over functional button collar, a slit in the back for a sword and functional pockets with functional buttons. It is also fully lined and can be made of velvet, corduroy, duck cloth, or upholstery-type fabric. You can receive samples or pictures of various fabrics and materials to select for your unique costume.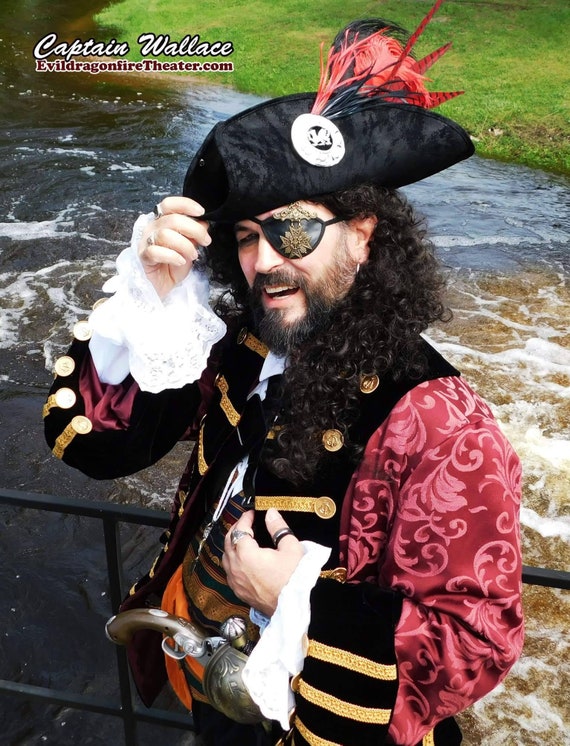 Custom Made Pirate Frock Coat with all the "bells and whistles"

Custom-Made Barbossa Pirate Coat
Jack Sparrow isn't the only famous pirate from Pirates of the Caribbean. Barbossa has a unique looking coat that he wears. You can have your own Barbossa-style frock coat which includes the following details–split sleeves that have a button or frog closure at the center, cuffs have trim around the top and button on the side, extra trim around the front edges, large, convenient "working" pockets in the coat, optional vent in the back to accommodate your sword with 2 buttons at the top of the vent, deeper, wider cuffs and a more tailored body with a wider, flared bottom, complete with 2 side godets, giving it that great "swashbuckler" feeling.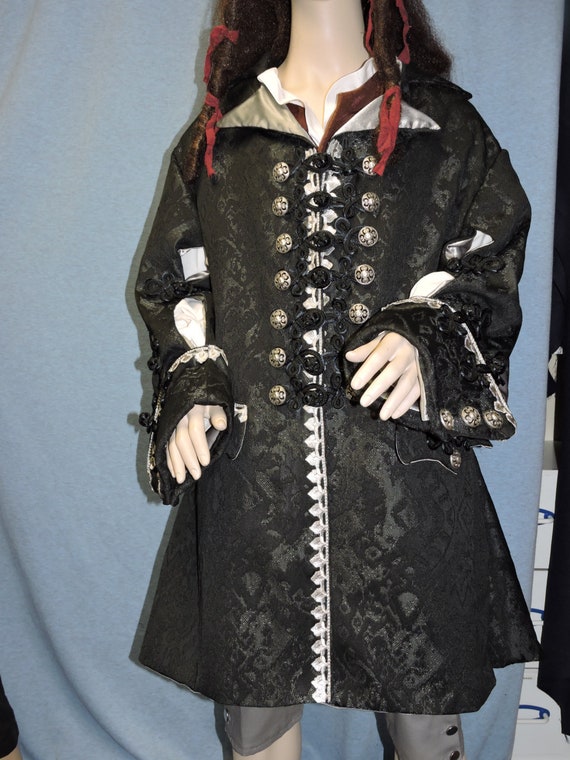 Custom Made Barbossa Pirate Coat Custom made in and fabric of your choice!

Pirate Frock Coat in Captain Jack Sparrow Style (Pirates of the Caribbean)
This is a completely custom, made-to-order coat in the fabrics, details of your choice. You have options for buttons, colors, texture and more. Click through for more details on how to order this coat.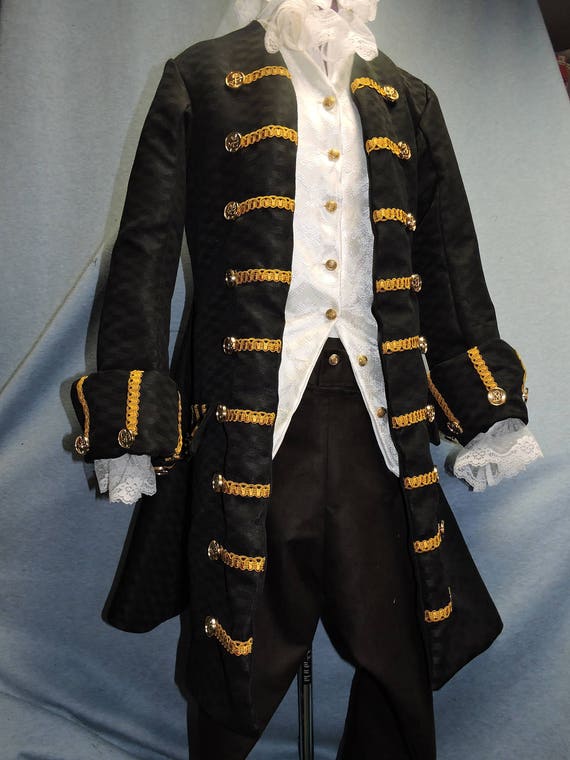 Pirate frock coat, POTC, Jack Sparrow, several styles, Custom Made any size, any color.

Custom-Made His & Hers Pirate Costumes
Get matching or contrasting His and Hers Pirate costumes for your next couples costume event. Both costumes include a frock coat, shirt and pants. He gets a vest and she gets a corset. Great for cosplay, Halloween or Mardi Gras. Mix and match these items with other costume elements for a variety of unique ideas.
Custom Made His and Hers Pirate Costumes

Custom-Made Elizabeth Swann 3-Piece Set–Linen Shift, Overdress w/Corset & Under-Dress
Who needs Jack Sparrow when you can dress up as Elizabeth Swann or another pirate wench from a movie or book? Elizabeth is a true heroine in the Pirates of the Caribbean movies and this period costume can be reused for many other cosplay ideas. Click through the link below for more ordering information.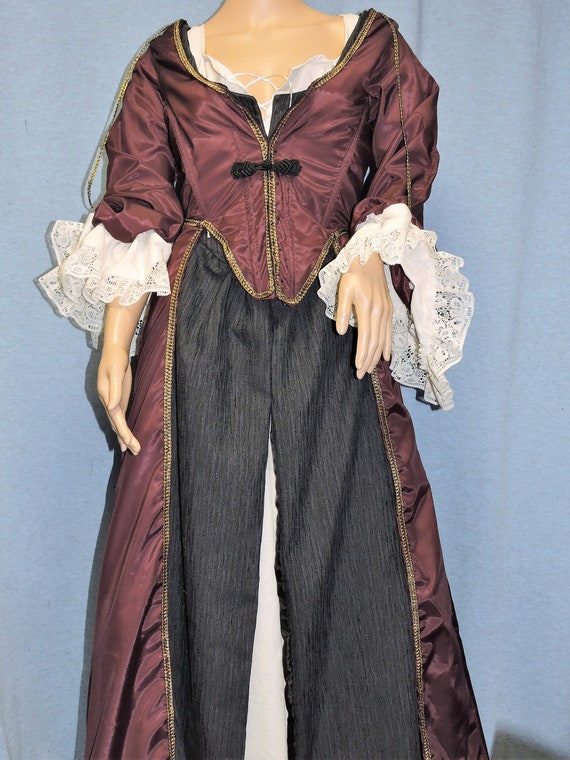 Custom-Made Elizabeth Swann 3-Piece Set

Custom-Made Pirate Frock Coat, Jack Sparrow Style in Wool Broad Cloth
Like the other frock coats listed on this page, this is made to order in wool broad cloth with functional buttons in any size and colors that you want. You provide measurements per the measurement guide that you will receive and then select the colors of fabric and trim that you want. This is a streamlined version of the some of the more elaborate coats above.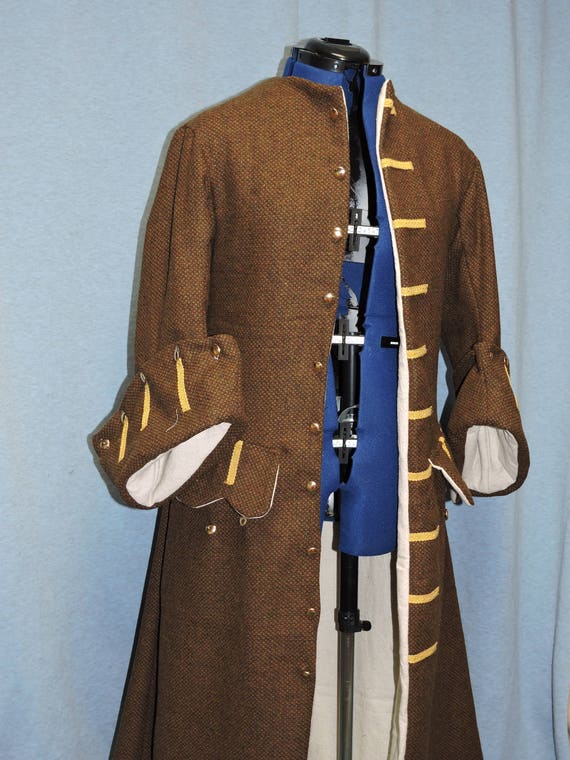 Custom-Made Pirate Frock Coat, Jack Sparrow Style in Wool Broad Cloth

Pin It for Later
Not looking for a pirate costume for your next cosplay event? Then pin the image below for your next costume party.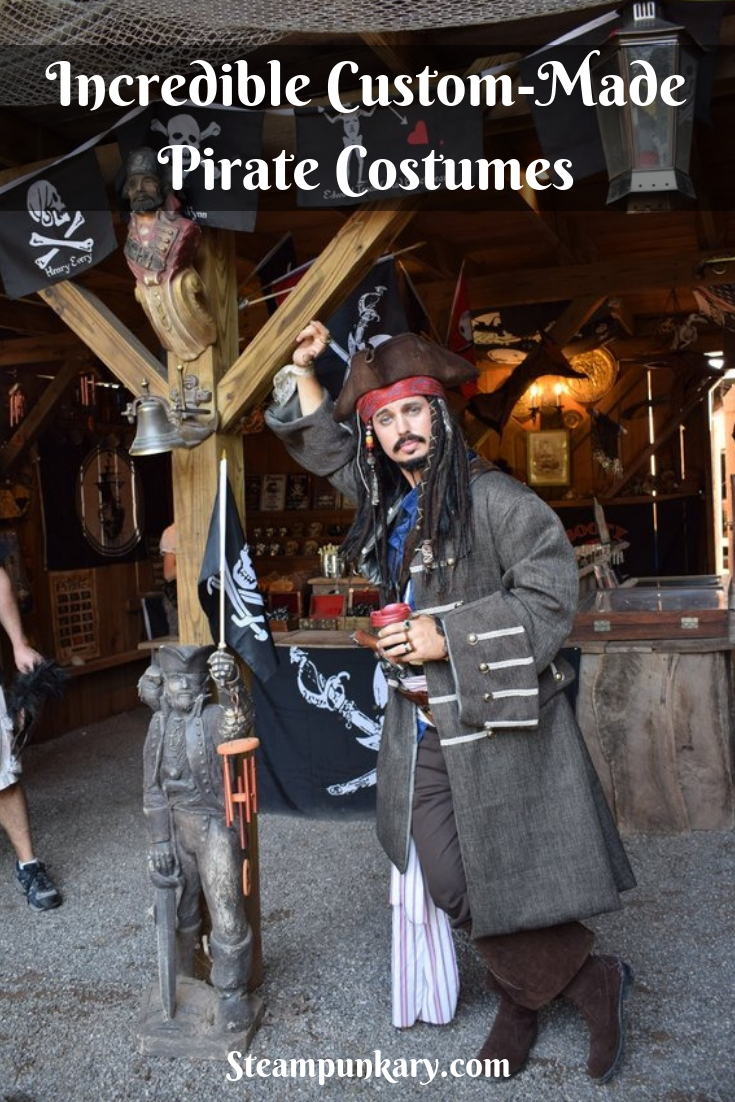 (Visited 2,133 times, 1 visits today)