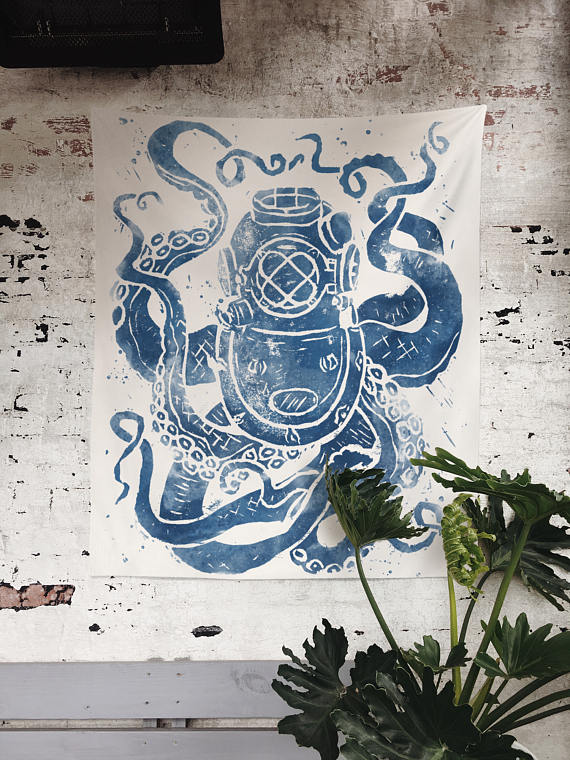 The kraken is a giant legendary sea monster that dwells in the ocean in many works of fiction. The kraken is especially popular in works of science fiction or of the steampunk genre. Looking something like a cross between a huge squid and giant octopus, the kraken is not a monster to mess with! If you are looking for a great gift idea for a man who likes nautical or steampunk themes, kraken gifts for him work well. Here we look at some kraken gifts for him available through Etsy sellers. These would make great gifts for holidays, birthdays, anniversaries, and even Father's Day.
Kraken Hat, CUSTOM ORDER
This handmade hat can be customized in colors of your choice and is crocheted from acrylic yarn. Sized for an adult or large child, the hat measures 22 inches, with the sack on the back being 7 inches. Stuff with lightweight shopping sacks for a poofy look. Complete with large eyes and tentacles that hang down in the front and back. Super cute novelty gift for the boy or man in your life.
Kraken – Original T Shirt Design
This tee is available in a variety of sizes to fit both men and women. Made from 52% cotton, 48% polyester blend. This super soft shirt is a Heather slate color and has an image of the mythical kraken on the front in black.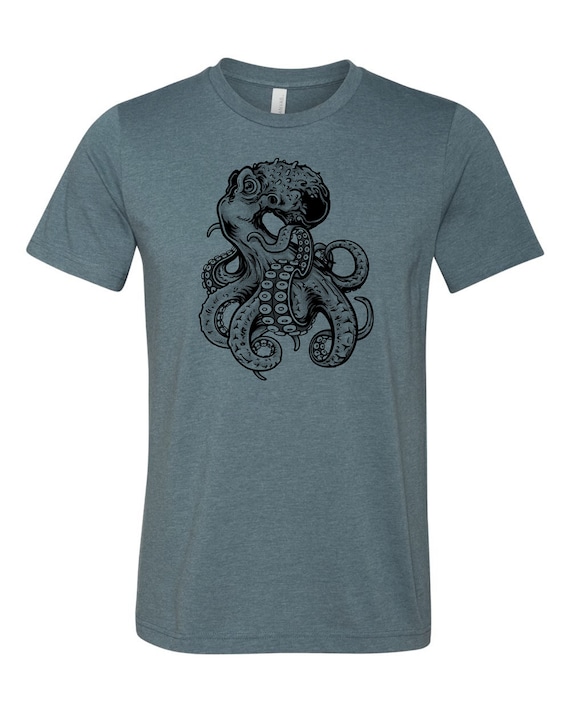 Kraken – Original T Shirt Design

Tentacle Bookends
These great bookends measure 6.5 inches by 6.5 inches by 4 inches and are cast in poly plaster and hand painted. They are made to order by hand. Makes a perfect gift for the lover of steampunk and science fiction novels.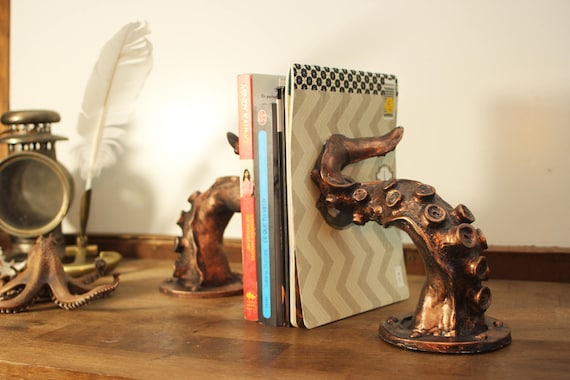 Tentacle bookend steampunk (pair)

Kraken Cane
This is a hand made item constructed of varnished oak, resin with vinyl powder, and a rubber tip. Cane measures 38 and 1/4 inches tall , with the head measuring 4.5 inches by 2 and 1/4 inches. Head depicts a kraken wrapped around the stick portion of the cane. Cane is black varnished oak and is 3/4 inches thick. Both a practical and novelty piece for any kraken lover.
Kraken Tentacles Tealight Holder
This tealight holder measures 3 inches tall and is cast in a UL flame resistant resin. Item is hand painted in an antiqued bronze tone. Designs depicts the kraken's tentacles wrapping around the candle. Makes for a great Steampunk look. Great gift for the guy in your life.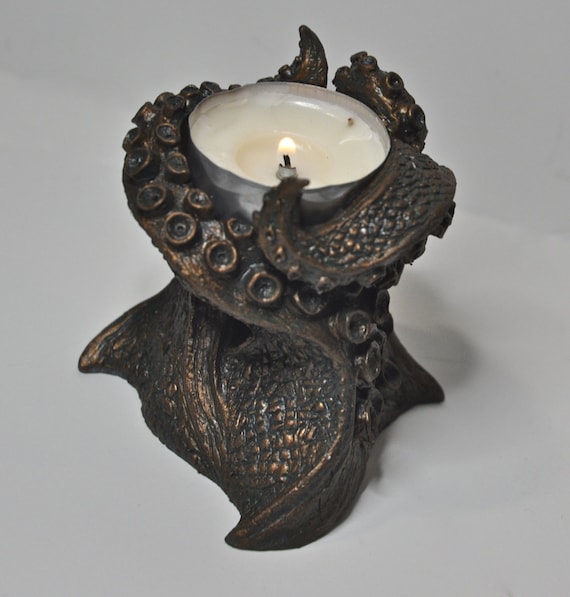 Kraken Tentacles Tealight Holder

Kraken Glassware Mug, Tentacles
This is a 16 ounce beer mug made from heavy, clear glass. Mug has kraken tentacles wrapped around the mug in white etching. Makes a great gift idea for your favorite fella. Makes a super cool addition to any beer mug collection as well.
Kraken Tentacles Wall Decal
This great vinyl wall decal comes in two different sizes and a wide variety of color options. Makes the perfect addition to a boys' bedroom or to any nautical bathroom theme. Adhere the vinyl decal to the side of any door for an attractive wall decor. The kraken's tentacles spread out along the side of the door, making you wonder what's on the other side.
Mecha Kraken Statue, Cyberpunk Steel Finish
This statue is made from hand painted resin. The kraken hovers above the base from a metallic steel rod. The robotic Steampunk octopus has a metallic steel hand painted finish and eerie green eyes. Very futuristic and Steampunk! Makes a great art piece to display in a man's study or den.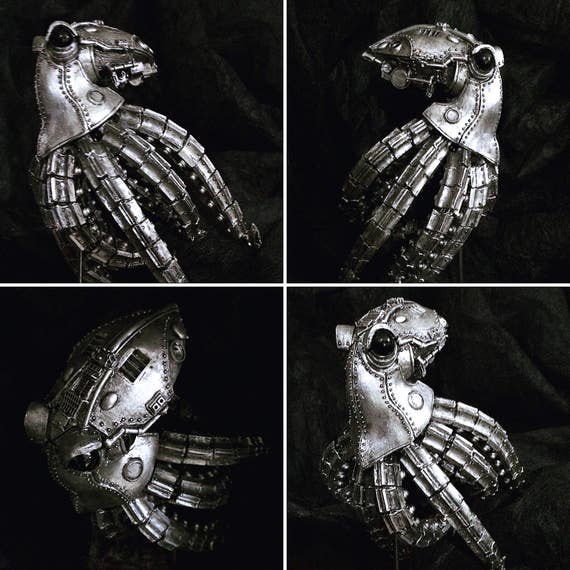 Mecha Kraken Statue, Cyberpunk Steel Finish

Kraken Vase, Pewter Finish
This vase is sculpted from resin and done with a pewter finish. Measures 8 inches tall. Highly detailed piece shows every detail of this large sea creature. Vase opening is where the kraken's mouth would be. The tentacles form the base of the vase. Makes a great centerpiece, with or without flowers.
Custom Kraken Hookah
This is a custom made hookah constructed from a recycled liquor bottle. Bottle label depicts a label for Kraken Rum in colors black, gray, and white. When ordering, choose from black, red, blue, and green for your hose and bowl color. Choose number of hoses ranging from one to four.
Octopus Toilet Paper Holder – Kraken Decor
This kraken makes a decorative and useful bathroom accent. Kraken measures 7 inches long, 8.5 inches wide and projects 4 inches from the wall. Hangs from two key hole mounts. Toilet paper roll is made from a hard resin and is available in 24 color options. Choose from a solid or distressed finish.
Kraken Baseball Cap
This snapback baseball cap is made from wool and acrylic. Cap is adjustable and comes in a standard adult size. Cap features an embroidered design of a kraken taken from the artist's 2015 painting entitled "Aktopa." Kraken is a bright gold color against a black background.
Etched Kraken Tentacles Glassware Set
This is a set of four drinking glasses that feature an etched glass design of kraken tentacles. These restaurant grade pint glasses make a unique gift idea for the lover of steampunk or nautical themes. Highly detailed and sure to be a hit.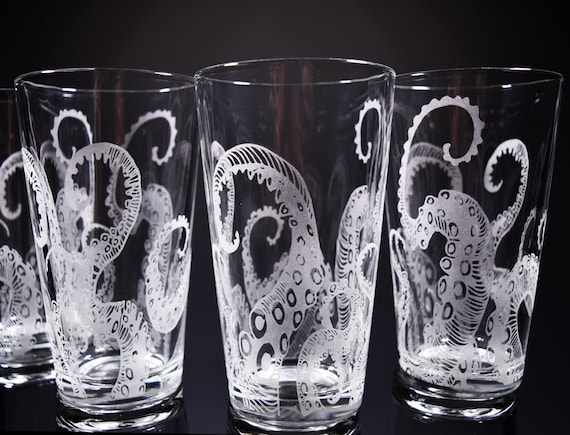 Octopus, Tentacles, Drinking Glass

Kraken and Ship Whiskey/ Wine/Tankard Glasses, MADE TO ORDER
The scene on these glasses depicts a ship sailing on choppy ocean waters that is being attacked by a kraken. Makes the perfect gift idea for the man in your life and is available in several galls style options. Choose from wine glass, plain tumbler, rocking bottom glass, pint tankard, half pint tankard, or champagne glass.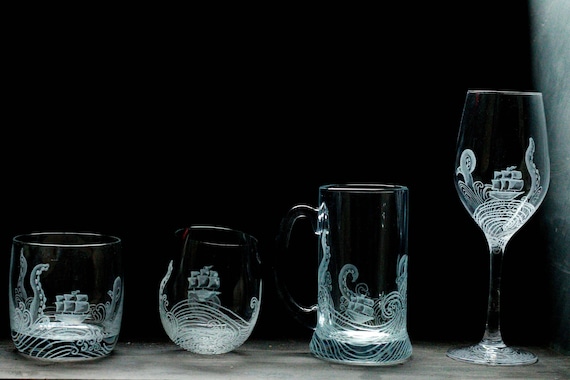 Kraken and ship Whiskey/ Wine/ tankard glass, MADE TO ORDER

Tentacles Wall Decal, Vinyl Sticker
This great vinyl wall decal comes in four different sizes. Choose from 30 different colors to match your room decor perfectly. Decal shows kraken tentacles emerging from behind a wall, doorway, large piece of furniture, etc., wherever you choose to display it.
Octopus Tentacle Wall Decal for Bathroom
This a waterproof wall decal made from German matte vinyl. Choose from four different sizes and a wide variety of colors. Use this decal to create a great nautical bathroom theme. Perfect for the bathroom because it's waterproof. The design features kraken tentacles reaching out from the wall.
Kraken Print, Watercolor Painting
This painting is available in three different size options. Watercolor depicts the deep blue sea with a bluish-purple kraken reaching up to snag an unsuspecting ship sailing past. Makes the perfect addition for any nautical decor theme.
Kraken Silver Coin Ring
This is a hand made ring created from one ounce of fine silver. The rings has a scene carved into it that depicts the kraken attacking a Viking ship from the murky ocean waters. This would make a great gift and could even be used as a wedding ring for someone who loves Steampunk or nautical themes.
Kraken and Ship in a Bottle
In this ship in a bottle, the kraken lies in wait beneath the surface as the tiny sloop ship passes by. Ship is made from home grown, hand milled bamboo and the scene rests within a 750ml bottle of rum.You can see one tentacle reaching upward and know what awaits the ship and its passengers.
Kraken Whiskey Tumbler
This tumbler has a kraken deeply etched into the bottom base of the glass, giving it a great three dimensional effect. Great for actually using as a glass or for adding to a collection. Truly a gift a guy would love.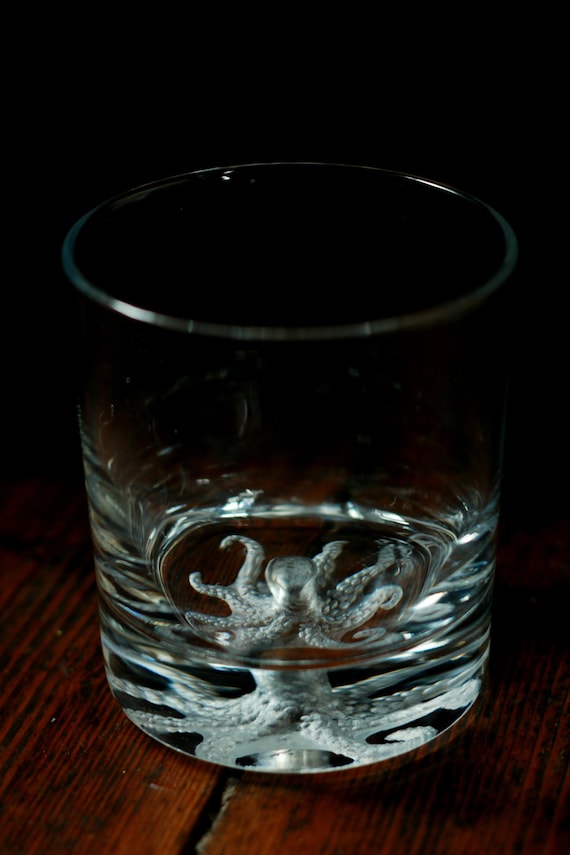 Kraken Whiskey Tumbler, MADE TO ORDER

Kraken Tentacle Mug, Red
This is a steampunk mug of writhing Kraken tentacles against a background of riveted plates and a curved tentacle handle. It measures 5.5″ tall, and is cast in a food grade resin and hand-painted with a stainless steel cup insert. It is good for both hot and cold beverages- steel cup is removable and is dishwasher safe, Resin mug is hand wash only. Great detail and a super cute gift idea.
Deep Sea Diver Wall Tapestry
This wall tapestry is made from 100% lightweight polyester and is individually cut, printed, and sewn in the US. Made from eco-friendly inks in an indigo color. Design features a kraken wearing a deep sea diving mask, with tentacles surrounding it. Perfect decor for a nautical theme.
Men's Kraken/Octopus T-Shirt, Steampunk Clothing
Choose from sizes small through extra large. Gray shirt is made from cotton and features a design of a kraken at the captain's wheel of the ship. Makes a great gift idea for any fan of Steampunk or nautical themes.
Pin It for Later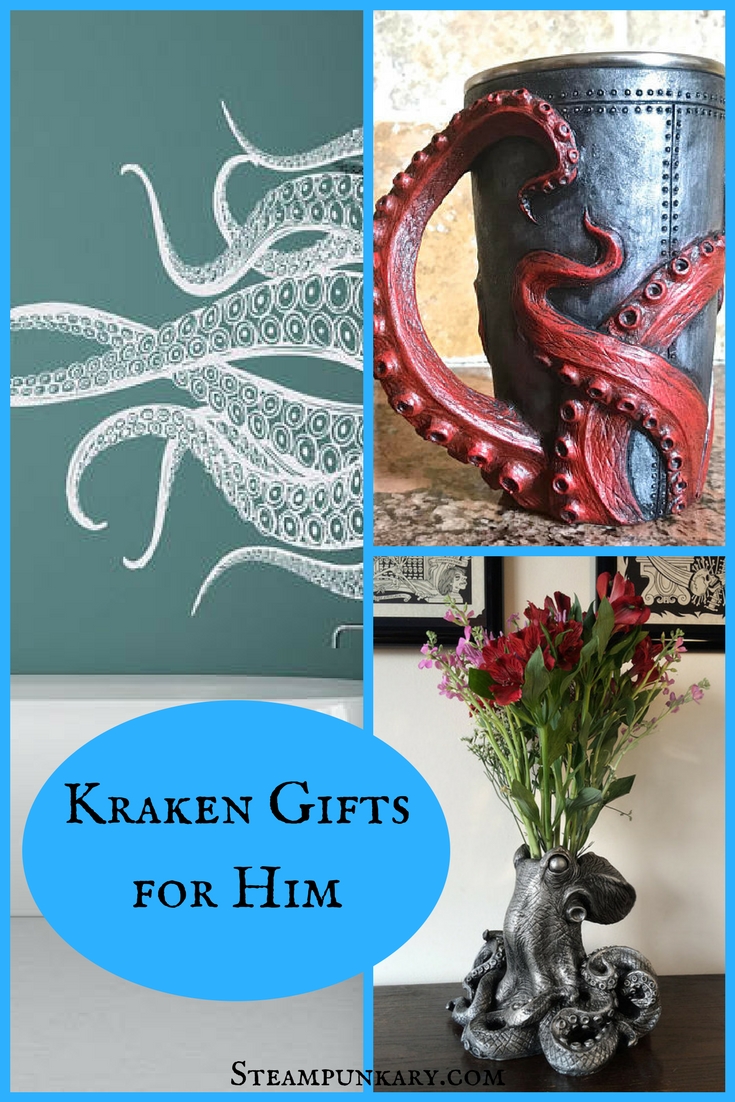 (Visited 1,039 times, 1 visits today)